The whole of last week, I thought I was craving pie. A good Aussie meat pie with chunks of meat in a rich gravy encased in buttery flaky pastry. I saw it somewhere and then somewhere else and then I craved it. Several times during the week at dinner and even breakfast I told my husband 'I wish I was having pie, instead'. Yet when I stood in the bakery facing the most fabulous choices of pies, my eyes travelled to the cakes, muffins and tarts on the shelves next to them. 'Carrot cake' I told the lady at the counter , much to my husband's surprise. In my mind, I told myself  'Carrot cake with cream cheese icing and toasted walnuts…YUM! Sometimes for me, the line between what I think I want to eat and what I really want to it can get a little blurry. Possibly the little side-effects that come with dealing with food all the time. Possibly I am eating too much with my eyes lately.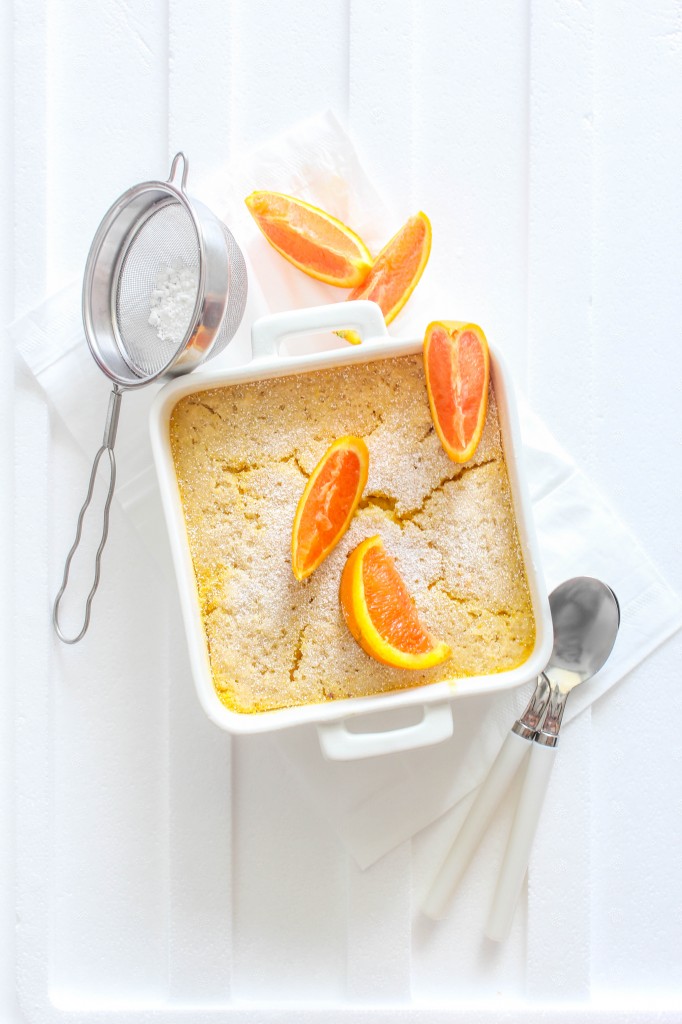 But there are some things that I know will never fail to satisfy my innermost cravings and those that I can eat with my eyes, mouth and heart wide open. Like the curries of my childhood (heady with the smell of ginger, garlic and Garam masala), heavily buttered toast, cupcakes over muffins (any day) loaded with sprinkles, chocolate chips (instead of pepitas or cranberries) on my oatmeal, at least half a cup of parmesan cheese on my pasta and gooey warm puddings that hide sauces underneath. Agreed that I have to shed of some of (okay, a lot of) the winter weight I have gained but it's Spring, it's still cold and puddings are very much on.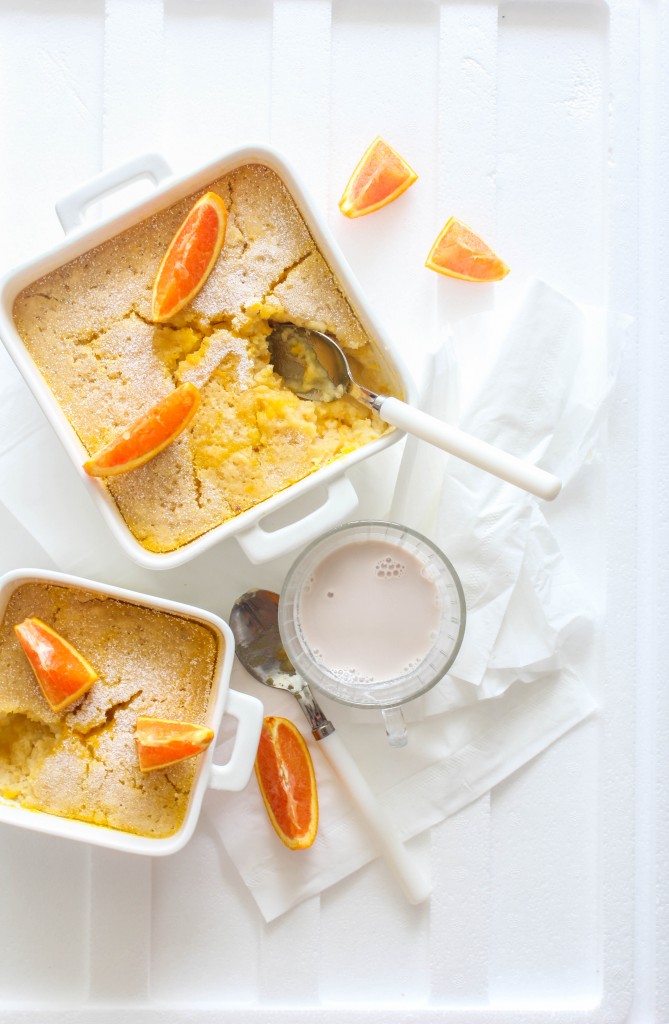 This pudding excites me over any other pudding I have ever made because it has almond milk in it. Regular milk will work just as fine but if you have almond milk at home or planning to get some, try this pudding. It is every bit citrus-y as much as it is nutty and livened with a gorgeous sauce beneath. I was already a big fan of the orange-almond combo and could have loved the cake alone. The thick sauce is an added bonus. Comfort food at it's best!
It is quite an easy pudding to make. The only thing you need to take care of is to not to over-cook the pudding or you will not have enough sauce left. A tad bit undercooked is better than making a cake out of the pudding. The basic pudding recipe was adapted from here. When I made it the first time, I thought it could do with more sauce which is the true essence of a self-saucing pudding. So I made some adjustments to the recipe, experimented with almond milk and it turned out the way I wanted it to be. I baked the pudding in two baking dishes as I did not have a large one. In that case, you may need to reduce the baking time by 10 minutes.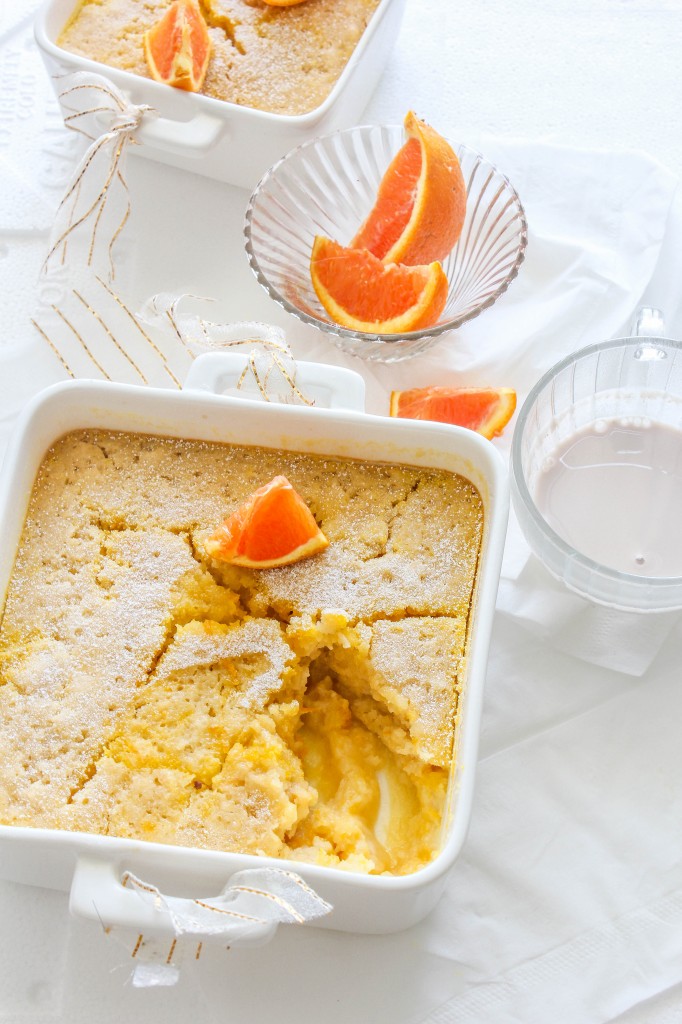 Orange Almond Self-Saucing Pudding
Serves 6
Melted butter, to grease
1 cup self-raising flour
1/2 cup castor sugar
1/2 cup almond meal
1 tablespoon finely grated orange rind
3/4 cup almond milk
1 egg
50g butter, melted, cooled
1 tablespoon  cornflour
1/2 cup castor sugar, extra
2 cups fresh orange juice
1 tbsp. Cointreau (or any other orange liqueur, optional)
Icing sugar, to dust
Preheat oven to 180 degree C (fan-forced 160 degrees C)  Brush a 1.5L (6-cup) capacity oven-proof dish with melted butter. Place on a baking tray lined with non-stick baking paper. Sift flour into a large bowl. Stir in the sugar, almond meal and orange rind.
Whisk the almond milk, egg and butter in a jug until combined. Add to the flour mixture and use a wooden spoon to stir until smooth and combined. Pour into the prepared dish. Use the back of a spoon to smooth the surface.
Combine cornflour and extra sugar in a bowl. Sprinkle over the pudding mixture. Place orange juice in a small saucepan over medium heat. Bring just to the boil. Remove from heat and add the Cointreau (if using). Gradually pour over the back of a spoon onto the mixture.
Bake for 45-50 minutes or until a cake-like top forms and a skewer inserted halfway into the centre of the pudding comes out clean.
Set aside for 5 minutes to stand. Dust with icing sugar and serve hot with custard or vanilla ice cream.