Let's talk about colours! Or the absence of them. Can you imagine a world without colours? How boring would that be! Colours contribute to our visual experience. They help us to relate to our environment. They stimulate imagination and creativity. One of the earliest and basic things we learnt as kids were to recognise and differenciate between colours. We painted the yellow sun, wanted to dive into the blue sea, ride the red bike and messed up the brown cake. Most of us loved it. Because it simplified our understanding of the big world around us and gave us our first powers. The power of choice! I can tell you how big and powerful I felt at 4 years when I was allowed to choose the colour of my birthday dress.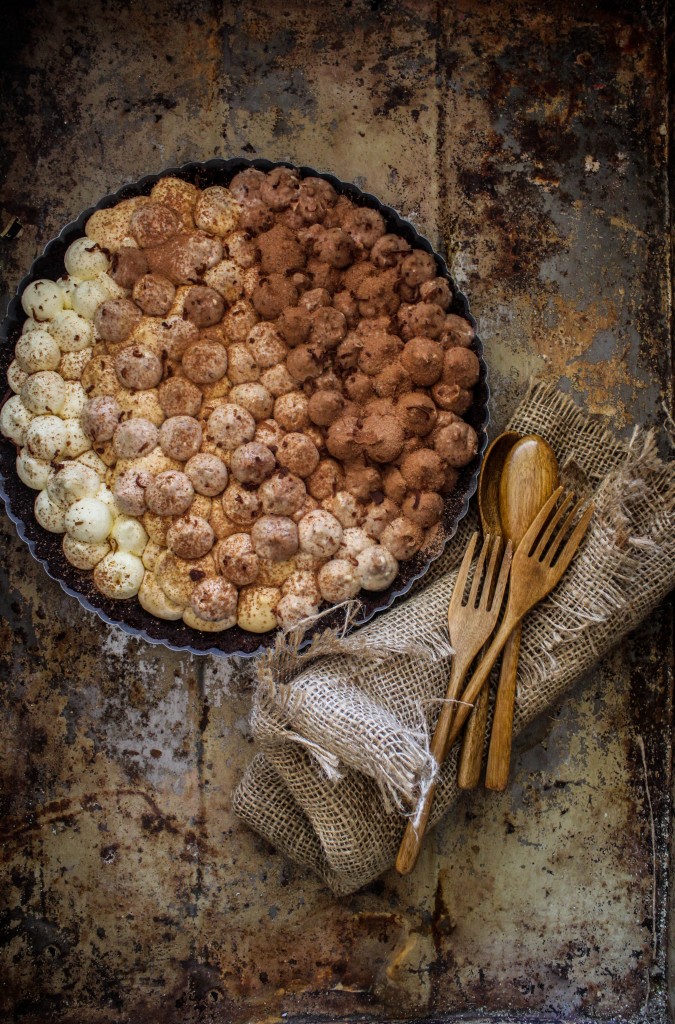 As bloggers, photographers, food enthusiasts colours have never been more important to us. How much do we love Pinterest!  Being a colour fanatic myself, I love what I can do with the pictures and recipes on of my blog. I feel empowered, in a humble way. On the topic of colours, Ombre is amazing! It is a feast for the eyes. When you add Chocolate and Cheese to it, it is a feast for the soul.
Getting the Ombre effect on a tart was impossible without piping the filling onto it. I didn't want to make a cake as there are plenty of beautiful ones out there. So I decided to go with the usual no-bake crust that I use to make my cheesecakes, only in tart form. I started out with a base cheesecake mixture, then divided it into three bowls and mixed the 3 types of chocolate individually. Then it was a matter of filling up a piping bag and piping in the filling (starting with white) in a shaded effect.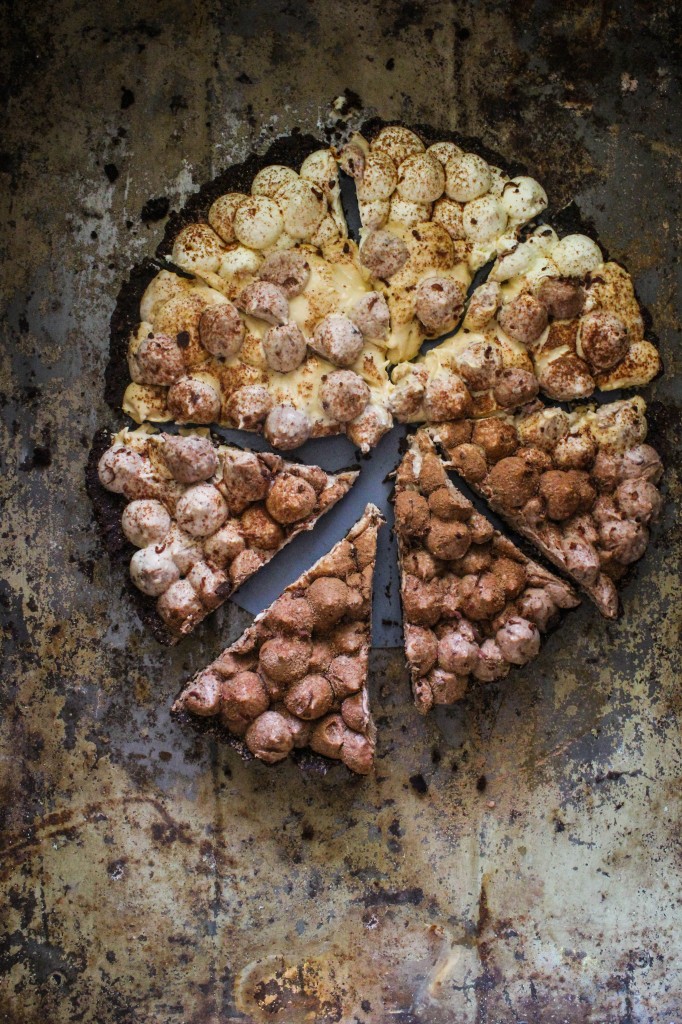 This recipe is easier than it looks. Like a no-bake cheesecake, this is best stored in the refrigerator. Because this is a large tart, the tart  crust might be slightly delicate to deal with, so do be carful while releasing the sides of the tart pan. I have not used gelatine in this recipe, which I would usually do to get a firmer texture for my cheesecake. Since, I intended to pipe the cheesecake filling, I reduced the heavy cream content so it was firm enough to hold shape. If you are going to use a single piping bag, needless to say, it is best to start with the white chocolate filling.
This Ombre tart is my contribution to the Sweet Adventures Blog Hop for the month of July. This is hosted by the lovely JJ of 84th &3rd and the theme as you might have guessed is Ombre. Do check out the other creations at the bottom of the post.
Starting with something sweet on a Monday morning is my best start to a week. I hope you are off to a colourful & sweet start too!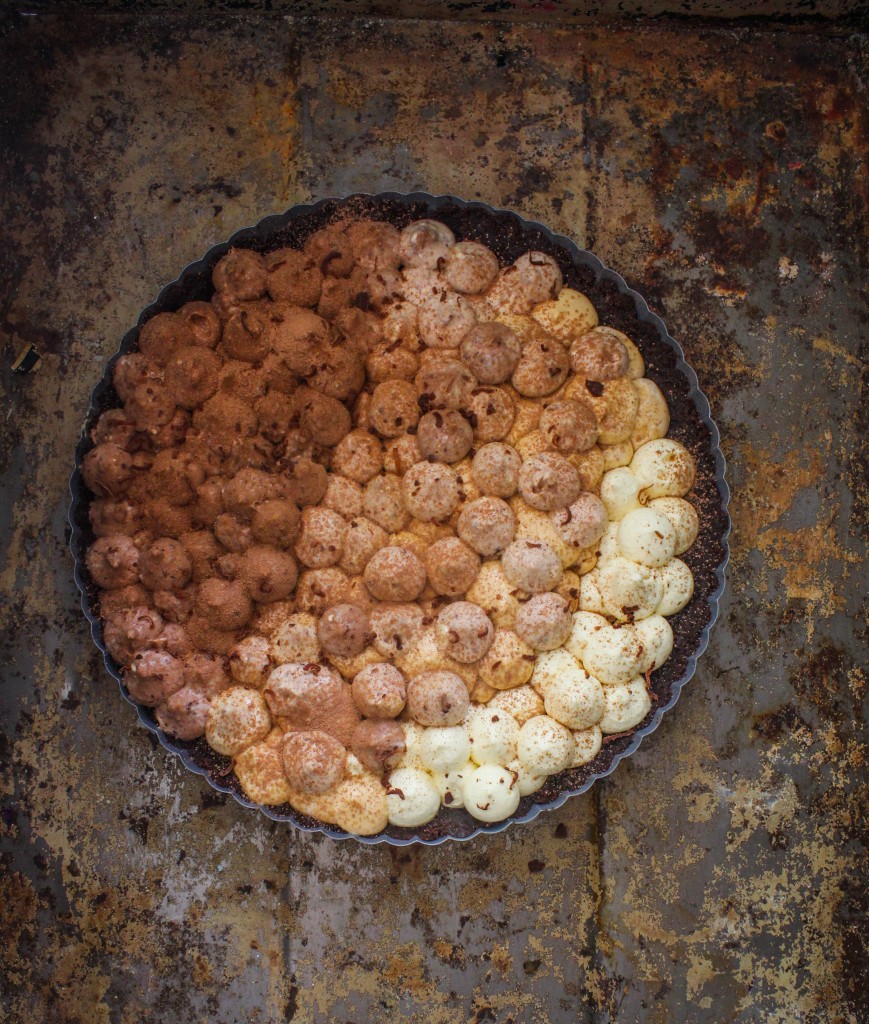 Ombre Triple Chocolate Cheesecake  Tart (No Bake)
Serves 8-10
300g chocolate cookies
100g unsalted butter, melted
200g dark chocolate, melted and brought to room temperature
150g milk chocolate, melted and brought to room temperature
150g white chocolate, melted and brought to room temperature
500g cream cheese, room temperature
1/2 cup Castor sugar
250 ml heavy or thickened cream
cocoa powder, to serve
chocolate shavings, to serve
Grease a 23 cm Tart pan (with a removable base) and line the base with baking paper.
Place the cookies in a food processor. Process until fine crumbs. Add melted butter and mix to combine. Using your fingertips, press biscuit mixture over base of prepared pan. Refrigerate for 30 minutes or until firm.
Using an electric mixer, beat cream cheese and sugar in a large bowl until smooth. In a separate bowl, whip heavy cream to stiff peaks. Fold through cream in the cream cheese mixture, gradually. Divide this mixture equally among 3 bowls. Mix the dark, milk and white chocolate individually into a bowl of the cream cheese mixture. Fold in till smooth and blended.
Fill up a piping bag fitted with a large round nozzle with the white chocolate cheesecake filling. Meanwhile, refrigerate the other two bowls. Pipe cheesecake kisses onto 1/3rd of the tart base. (I have done two overlapping layers). Repeat with the milk and dark chocolate cheesecake fillings till the entire tart base is covered. Refrigerate for 4 hours or until set. Sprinkle with cocoa. Decorate with chocolate shavings. Serve cold.