Responsibility is a such a big word. To some it means power…ownership to others…trust..possession and perhaps so much more to the rest. As the eldest of three children, the very first responsibility I was entrusted with was my baby sister. I was five something when she came. And to me that responsibility meant a metamorphosis. A slow but steady transformation of my entire being.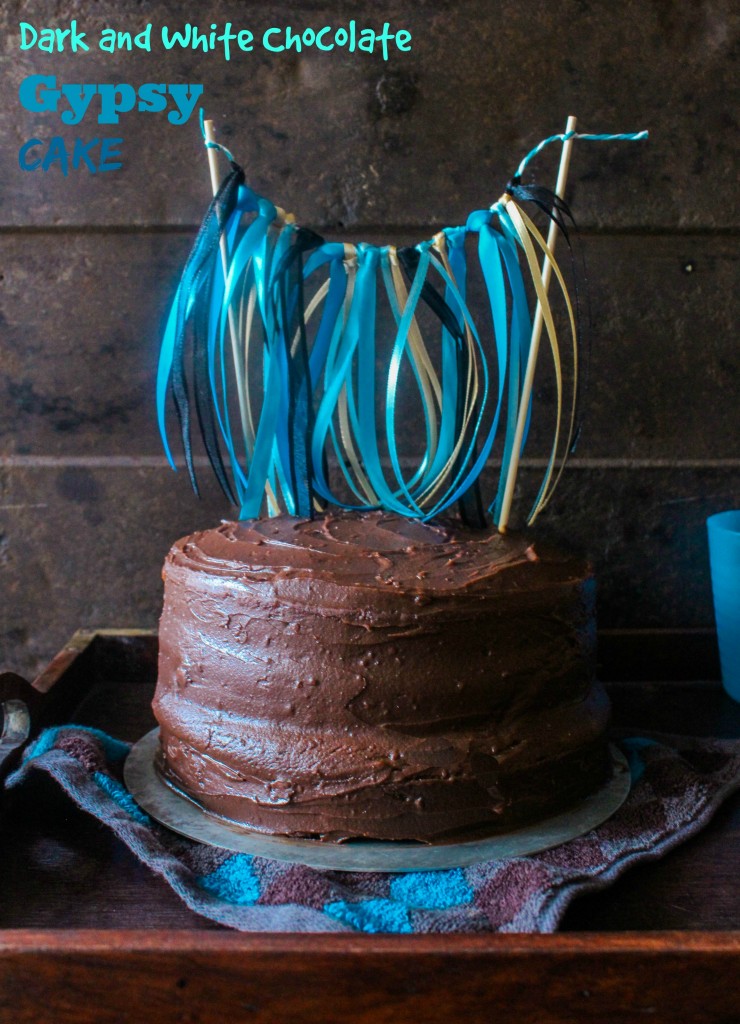 As much as many would like to disbelieve today (yes, I talk a lot), I was a quiet and introvert-ish child. Perhaps the only conversations I would have were with my dolls, blankets and pillow. I would refuse to go to anybody or play with other children and hide behind the comfort of my mother's back when I spotted another human being. Being a mother myself today, I can only imagine what a stress I might have been to my parents. Then came the little girl, cooing and gurgling into my world. At times I hated her for taking away the attention of my parents but unable to resist her charm as she stuck out her little fingers every time I went near her and returning my cold stares with her toothless grin. As I grew to love her, confide in her..I found myself being so utterly protective of my sister. That remains even today. With her arrival, I found my voice..I learnt to share..to open up and the world became a happier place for me. We grew closer, bonded like only sisters would and shared a friendship that was comparable to none other. We still do.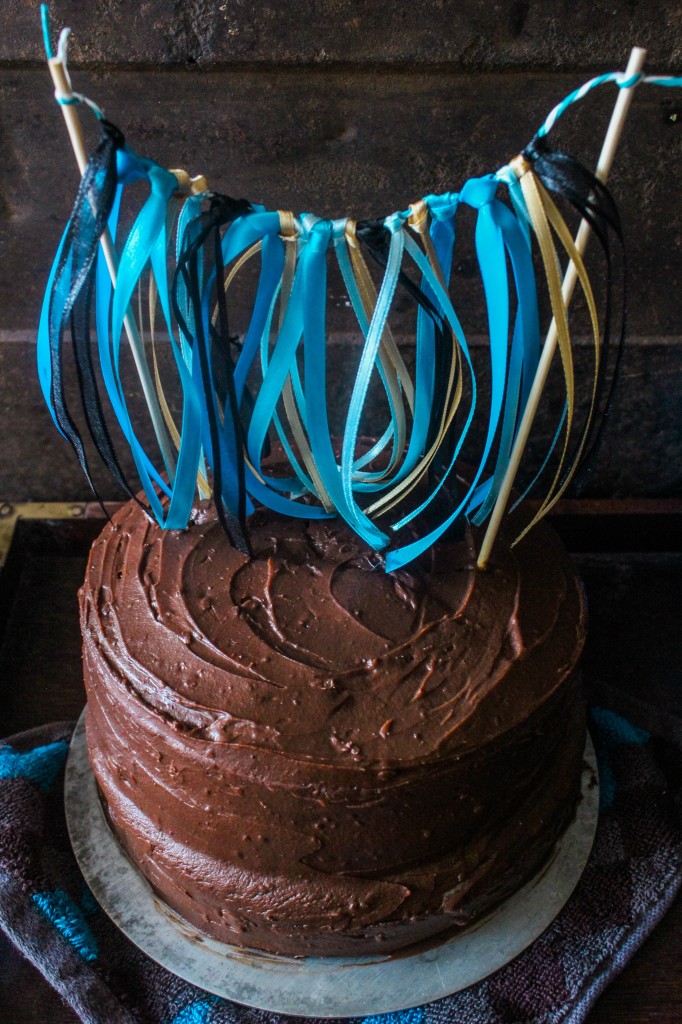 The little sister of mine celebrates her birthday today. Miles away but she knows I will be baking a cake for her. She wanted 'a chocolate cake with a lovely topping…walnuts, almonds, orange'. But instead of a topping, I made a bunting filled with things she loves..frills, shiny ribbons, bold, bright blues. When my husband walked in from work in the evening..he took a good look at it and said 'it's got a gypsy-like appearance'. So the cake got a name.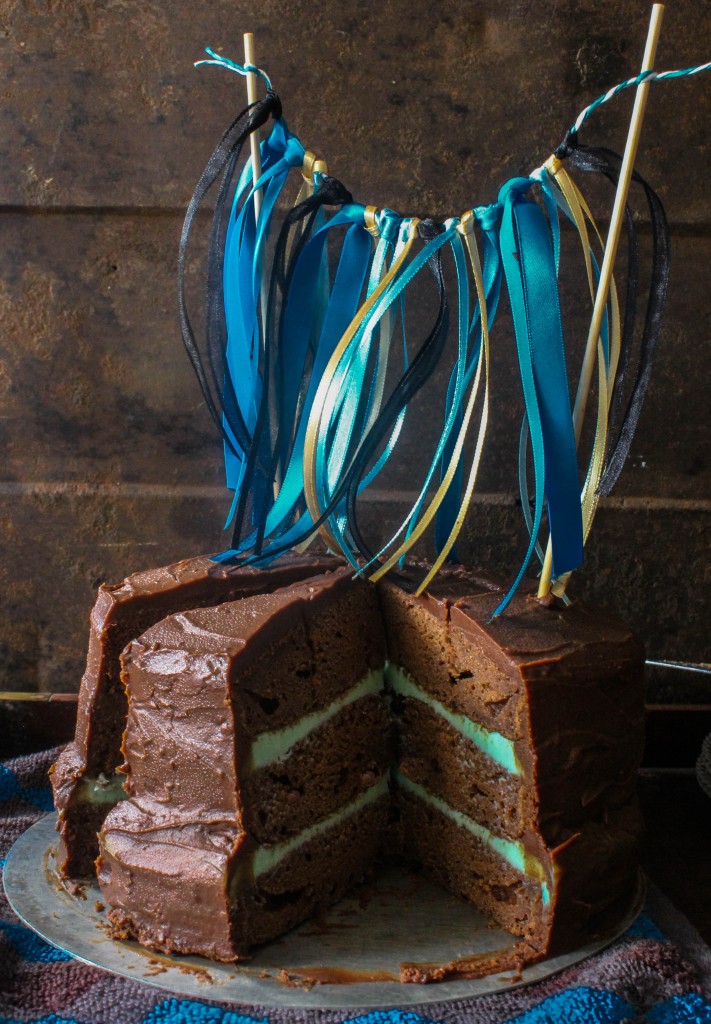 The cake is a devil's food cake with layers of white chocolate ganache sandwiched between the cake and covered in a combination of dark and milk chocolate ganache. The white chocolate ganache has been tinted blue to go with the bunting. Basically, this is a gorgeous celebration of chocolate. I baked the layers in three 7 inch pans. Not very difficult to make because you can reduce the number of layers or make one cake and split it into layers. The dark and white chocolate ganache don't require a lot of effort and you can go as fancy or as simple as you want with covering the cake with frosting. I've used a combination of dark and milk chocolate as my little boys are yet to enjoy the bittersweet flavour of dark chocolate. You can use dark chocolate alone, if that suits you. If you are concerned about the presence of mayonnaise in the cake, I was too but you don't taste it at all. Instead it adds a richness and moisture to the batter. The bunting is a great way of sprucing up a simple cake and giving it a celebratory appearance and you can certainly go crazy with colours and prints.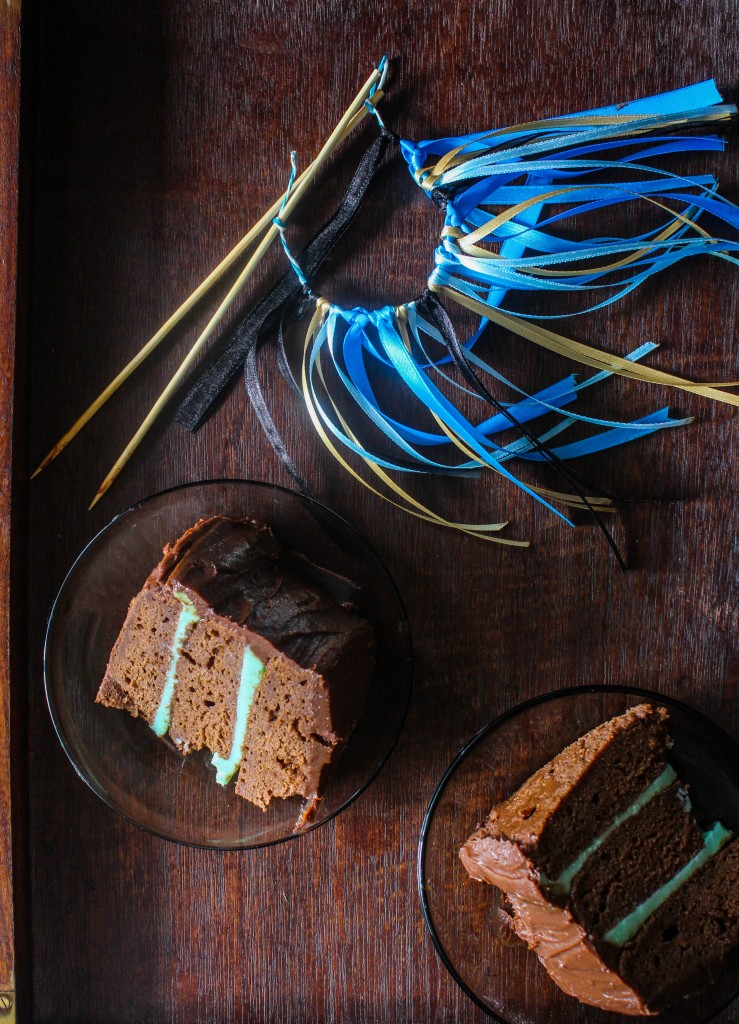 As you can see, I had to cut the cake and eat it myself, thinking of my sister all the way. The cake will go but the frills will remain. At least I will know I have a part of the cake specially reserved for her. Till we meet. And the good news is.. that day is not far.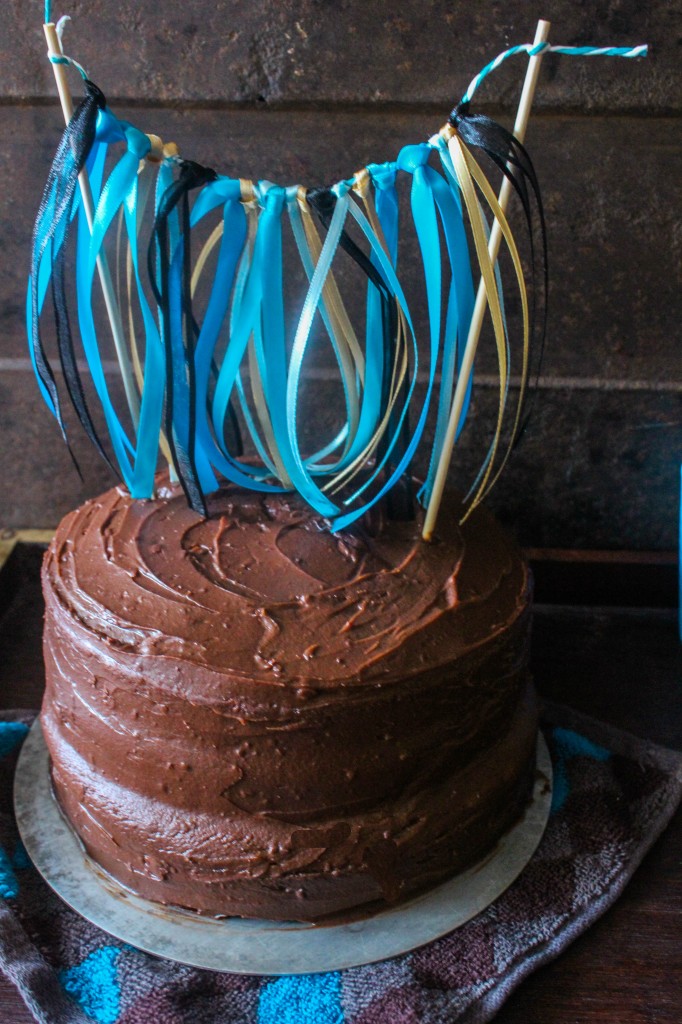 Dark and White Chocolate Gypsy Cake (adapted from Sweetapolita which in turn has been adapted from Fine Cooking)
Serves 8-10

For the Cake:
3/4 cup (170 g) unsalted butter, softened
2 cups (460 g) packed dark brown sugar
2 teaspoons (10 ml) pure vanilla extract
3 eggs, at room temperature
1-3/4 cups (220 g) all-purpose flour
3/4 cup (90 g) unsweetened Dutch-processed cocoa powder
1-1/4 teaspoon (7 g) baking soda
1 teaspoon (5 g) baking powder
1 teaspoon (10 g) kosher salt
1-1/2 cup (360 ml) buttermilk, at room temperature
1/4 cup (59 ml) mayonnaise
For the White Chocolate Ganache
250 g good quality white chocolate, finely chopped
150 ml thickened or heavy cream
Blue Food Colouring (optional)(I used a gel based food colour)
For the Dark Chocolate Ganache
300 g dark chocolate, finely chopped
100 g milk chocolate, finely chopped (can be left out if using dark chocolate only)
300 ml thickened or heavy cream
To make the Cake: Preheat oven to 180 degrees C.  Butter three 7-inch round cake pans, line with parchment rounds, and dust with flour, tapping out the excess.
In a stand mixer fitted with the paddle attachment, beat the butter, brown sugar and vanilla on medium-high speed until lighter in color and slightly increased in volume, about 5 minutes. Lower the speed to medium and add the eggs, one at a time, mixing until each is fully incorporated before adding the next.
Sift the flour, cocoa powder, baking soda and baking powder into a medium bowl. Add the salt to the dry ingredients after sifting, and whisk dry ingredients.
Alternate dry ingredients and buttermilk into creamed mixture, beginning and ending with dry ingredients. Mix until just incorporated, or finish by hand gently. Fold mayonnaise into batter with a whisk, until just blended.
Divide the batter evenly between the prepared pans. If possible, weigh the batter in each cake pan for a uniform weight. This ensures even layers. Smooth with small offset palette knife, and bake for about 30 minutes, rotating once after 20 minutes. Cake is done when toothpick or skewer comes barely clean. Try not to over-bake.
Let pans cool on wire rack for 20 minutes, then invert cakes onto racks, gently, peeling away parchment rounds. Let cool completely. Cake can be baked the night before and stored in an airtight container overnight before assembly
To make the White Chocolate Ganache: Place chocolate in a large mixing bowl. Heat cream over low-medium heat in saucepan until just boiling, pour over cream and set aside for 5 minutes. Use a whisk to combine mixture until smooth. Add food Colouring if using, little at a time till the desired shade is reached.
To make the Dark Chocolate Ganache: Place chocolate in a large mixing bowl. Heat cream over low-medium heat in a saucepan until just boiling, pour over cream and set aside for 5 minutes. Use a whisk to combine mixture until smooth. Chill until it thickens and just holds
its shape but is still pourable.
Assembly: I find it best to chill the cakes before frosting. Place one layer of chocolate cake on your cake stand and cover with white chocolate ganache.
Sandwich second layer on top and repeat. Using a spatula, spread the dark chocolate ganache over the outside of the cake. Chill cake before serving. Remove from refrigerator at least 30 minutes before serving.