I just wanted to bake cookies. For no rhyme nor reason. Do you really need a reason to make a cookie or a reason to eat one? If I am not doing anything else, I just have to get my hands whisking some kind of dough. I have to be cleaning away bits of dough, wiping away tiny drips of melted chocolate or scraping bowls till I am convinced I cannot scrape out any more for a cookie, brownie or cake batter. The mousse and cheesecake variety have a different outcome where scraping can be replaced with licking and I have takers. My kitchen and countertops tell a story that I like to see and experience every day. I like to keep a tab on my stock of chocolate, sugar, butter and eggs so I can shop for refills before I run out of them. My head, heart and hands are so in tune with this that I don't feel like myself if I go for several days without baking my favourite things…or rather just baking something sweet.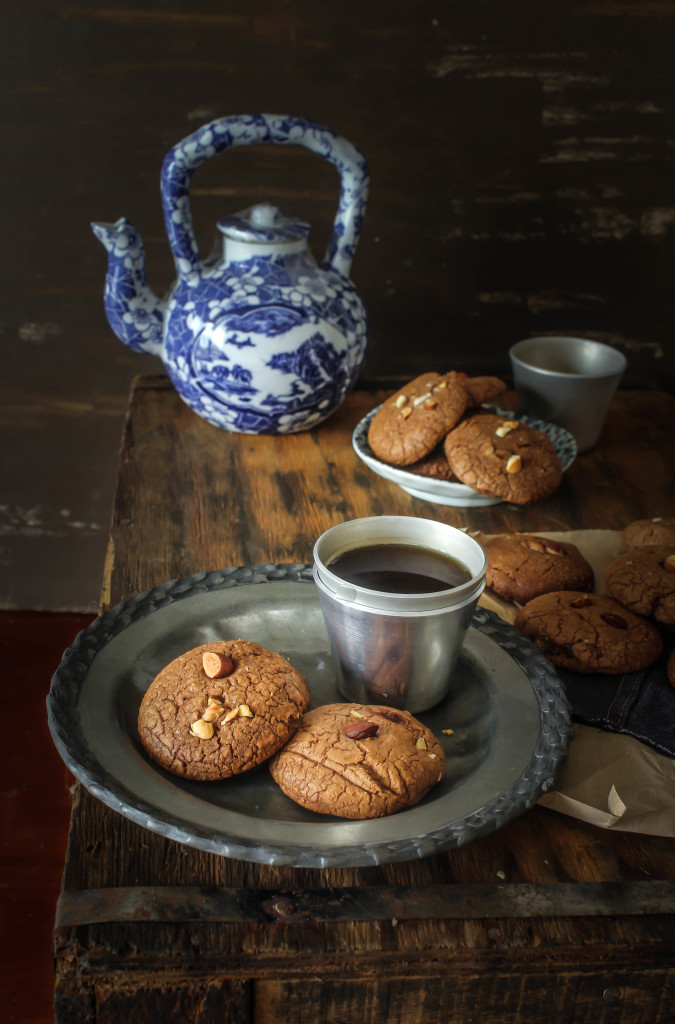 So I took out chocolate, rummaged through my cupboards for almond meal (I blame that on moving houses several times), studied my spice rack and in minutes I was mixing together a luscious, thick batter. There is huge sense of satisfaction that comes with rolling balls of dough between your palms. You know you are in your final stages of giving shape to something spectacular from a few things that were mere ingredients minutes ago. The thrill of opening the oven door as you are greeted by the whiff of freshly baked goods.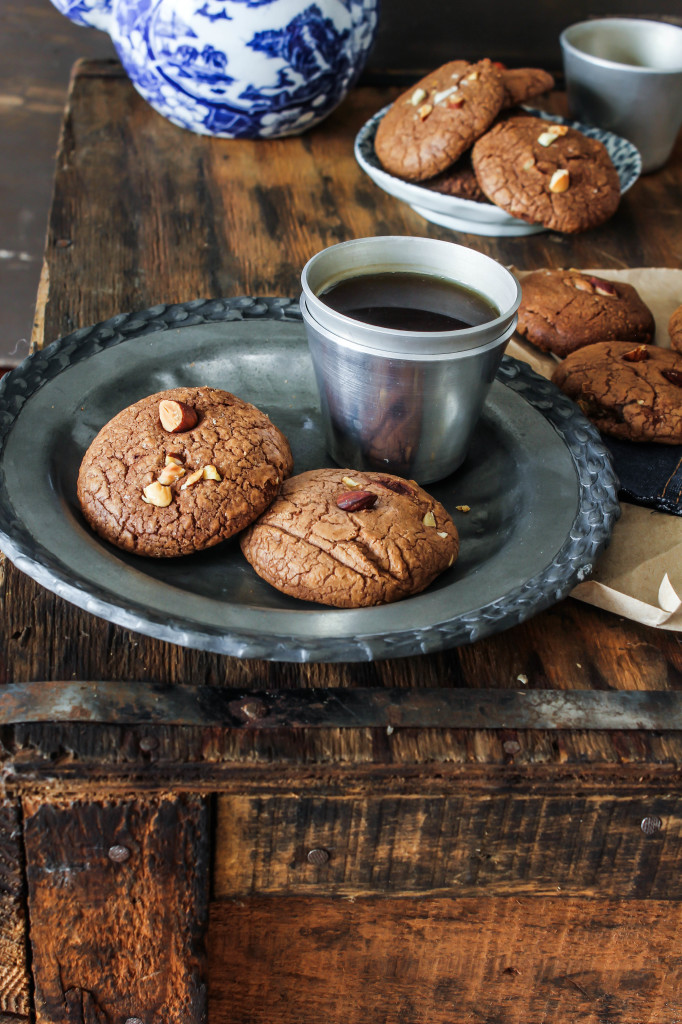 These cookies are like little brownie bites. The batter is similar as well. Almond meal adds a slight nutty texture while powdered ginger gives it a warm, spicy feel. You could replace the almond meal for the same amount of plain flour or leave the ginger out if you want plain chocolate cookies. I have also used glace ginger pieces in the batter which tastes amazing with the chocolate. The recipe makes a lot of cookies but they were gone quite quickly in my house. I baked them in two batches, one slightly longer than the other. The first batch resulted in soft chewy cookies while the second one came out to be crisper ones. I prefered the chewy ones as they did taste like brownies.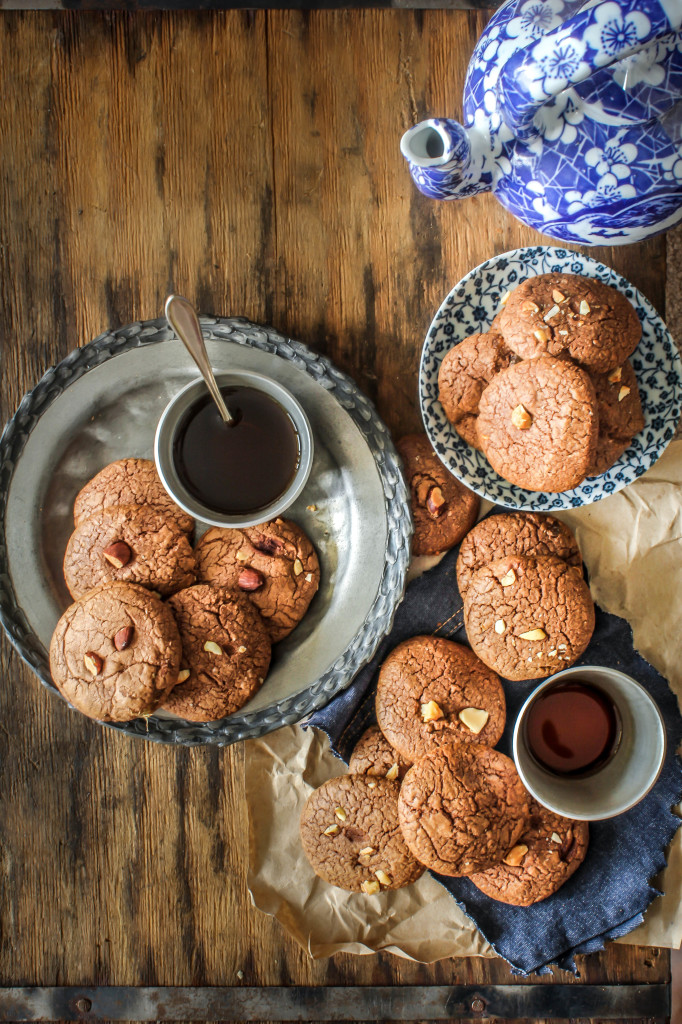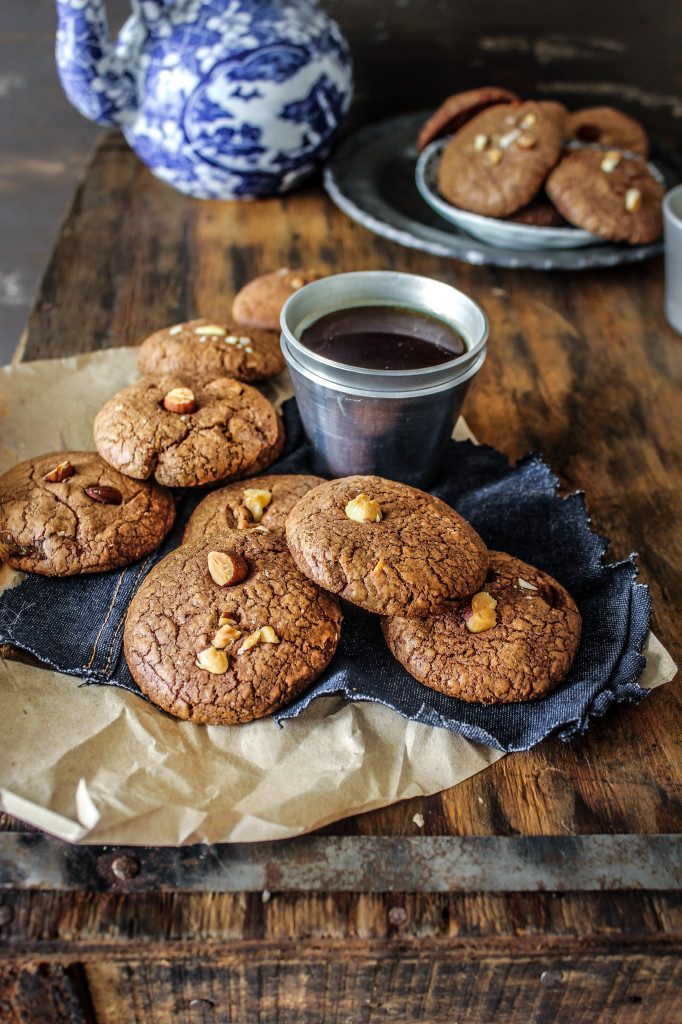 Chocolate Almond Ginger Cookies
Makes 24 medium cookies
120 g unsalted butter, chopped
120 g dark chocolate, chopped
2 eggs
1 teaspoon vanilla extract
1 firmly packed cup brown sugar
1/2 cup castor sugar
1 1/4 cups plain flour
1/2 cup almond meal (ground almonds)
1/2 cup cocoa powder
2 teaspoons ground ginger
1/4 cup glace ginger, finely chopped
toasted whole almonds (10-12), roughly chopped
Preheat the oven to 180°C and line a baking tray with baking paper.
Place butter and chocolate in a heatproof bowl set over a saucepan of simmering water (don't let bowl touch water) and stir until melted. Remove from heat and set aside to cool slightly.
Meanwhile, whisk eggs, vanilla and sugars with electric beaters until thick and pale. Add the chocolate mixture and stir to combine. Sift over the flour and cocoa. Add the almond meal and ginger. Fold in the glace ginger and chopped almonds. If the batter is too sticky to handle, stick it into the fridge for 15-20 minutes.
Roll tablespoons of dough into balls and place onto the baking tray, leaving room between them to expand (about 4 cm). Bake, rotating tray halfway, for 14 minutes or until set. Cool on the tray for 5 minutes, then transfer to a wire rack to cool completely.