If someone ever asked me what I miss most about summer, my answer would be the daylight and BERRIES! With the evenings getting colder and darkness setting in by mid afternoon, I am almost ready to retreat into a hibernating mode. While Summer is nowhere near and little that I can do about daylight, there is technology and there are Berries. If not fresh, then frozen!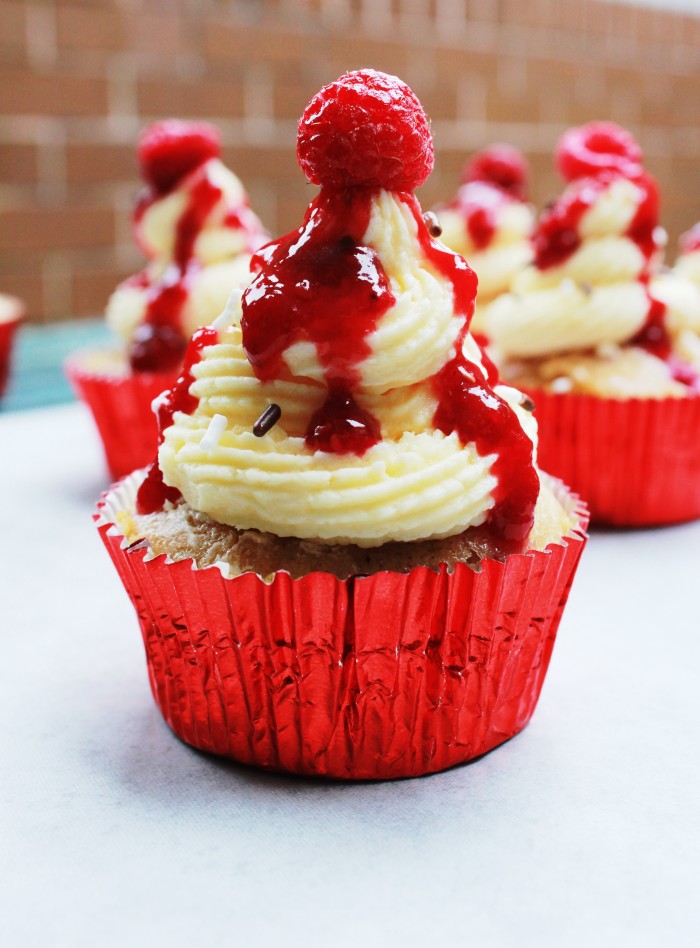 As much as I love the colourful little jewels of deliciousness, I have always shied away from freezing them or buying frozen pre-packs. There is definitely a freshness that seasonal berries would contribute but I realised there is a lot that can be done with frozen ones. Looking at the prices of fresh raspberries at this time of the year, I finally convinced myself to get a frozen pack. And since then, I have been reading up on how to freeze berries during season.
Buying fruits in bulk during season and preserving them is not only a great way of saving money but allows you to enjoy your favourite fruits all year-long. Honestly, with whatever I have read, it is a simple process with no fancy equipment.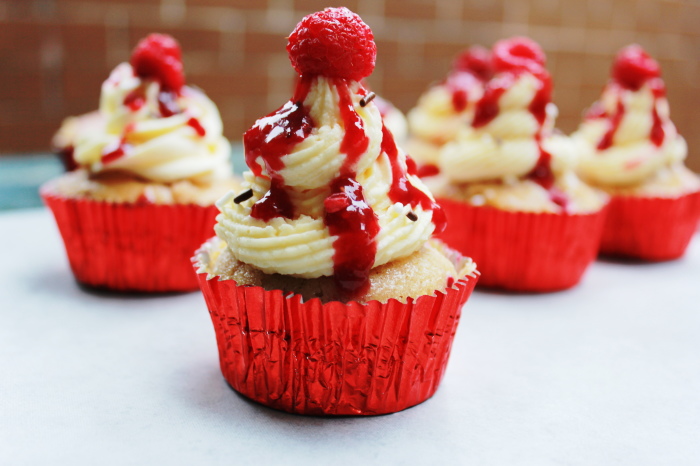 Pretty pleased with the way my cupcakes turned out I made 2 more desserts and I thought they looked spectacular and tasted just as good. I can't wait to post them all. The cupcakes by themselves were great but I wanted to turn it into a raspberry celebration so I made a white chocolate ganache frosting and drizzled some home-made raspberry sauce. So, there you go..my raspberry celebration cupcakes!
Sorbets, mousse, smoothies, jams, sauces, fillings for cookies and cupcakes there is so much that can be done with frozen berries. There is a lot of information available on the net on freezing fruits too. The forthcoming summer, I am looking forward to freezing and stocking up my berries and using them in every possible way. How about you?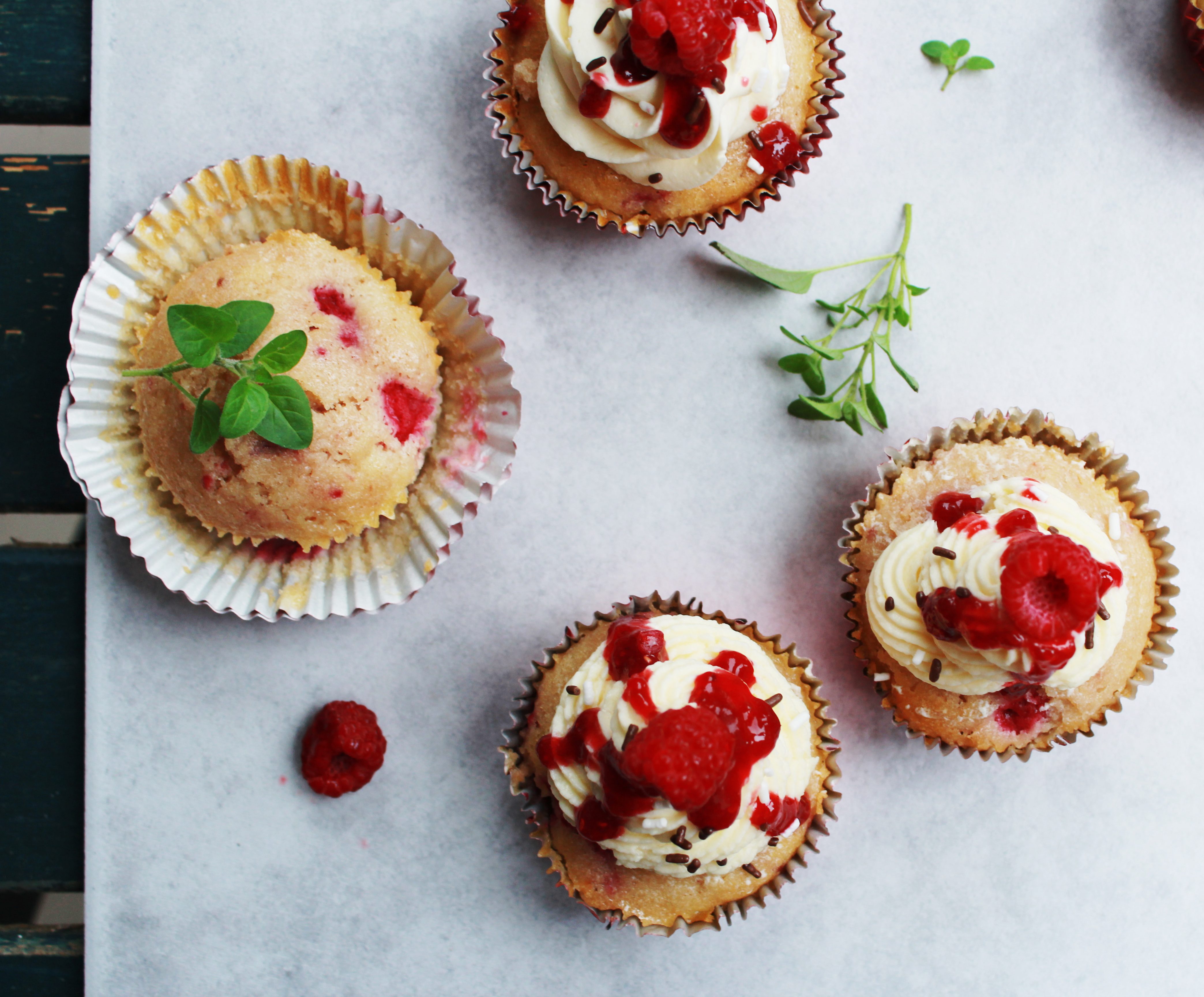 I also wanted to give you a little heads up on some progress I have made with the software part on my blog. I have finally manged to import my Tastespotting, Foodgawker badges. Also, subscriptions are available through Feedburner now. For existing subscribers, I have already moved it manually. Let me know if you are facing any issues. My Recipe Index page is updated too. I cannot tell you how relieved I am at the moment. Now, all I need is to bite into my little red cupcakes.
And Celebrate…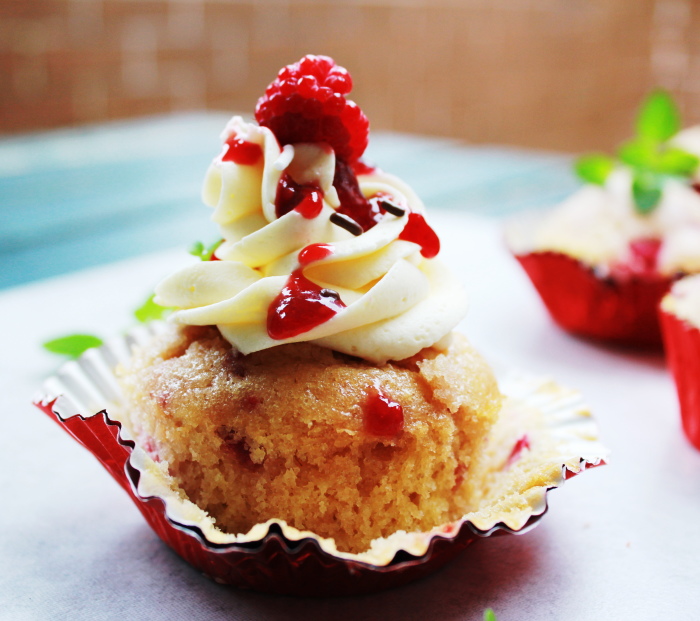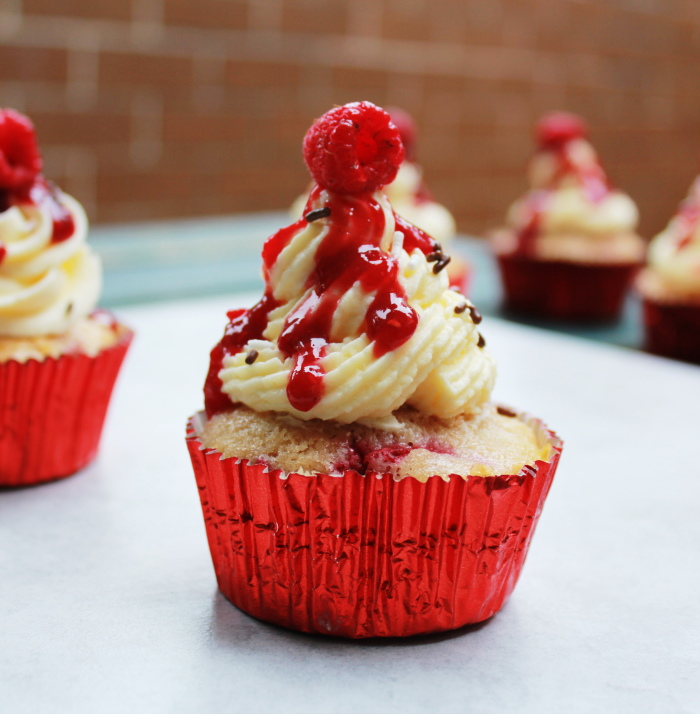 Raspberry Celebration Cupcakes with White Chocolate Ganache Frosting
The recipe can be totally adapted to use fresh raspberries
Raspberry Cupcakes (cupcakes adapted from Coles recipes)
Serves 10
100 g Butter, at room temperature, chopped
1/2 cup Caster Sugar
1 tsp Vanilla Essence
2 Eggs
1 cup Self-raising Flour (or 1 cup all-purpose flour plus 1 tsp baking powder)
1/3 cup Milk
1 cup Frozen Raspberries, thawed
Preheat oven to 170°C or 150°C fan forced and line 10 medium muffin tins with paper cases. Using electric beaters, beat butter, sugar and vanilla until pale and creamy. Add eggs one at a time, beating well after each addition.
Fold in half the flour, then all the milk, then remaining flour, until just combined. Fold through raspberries. Spoon into prepared cases. Bake for 20 mins, or until the cakes are springy to a light touch. Leave in tin for 5 mins, then lift out onto a wire rack to cool.
To serve, pipe swirls with white chocolate frosting (recipe below) or spoon frosting over cupcakes. drizzle with raspberry sauce (recipe below)
White Chocolate Ganache Frosting
200 g white chocolate, finely chopped
1/2 cup thickened cream
100 g butter, chopped
Place white chocolate and cream in a microwave-safe bowl. Microwave on high, stirring every minute, until the chocolate melts and the mixture is smooth. Add butter and stir until it melts and the mixture is smooth. Refrigerate for 1 1/2-2 hours or until the mixture is thick and spreadable. Pipe onto cooled cupcakes.
Raspberry Sauce
Makes about 3/4 cup
250 g frozen Raspberries
2 tbsp Castor sugar
1 tsp lemon juice (optional)
Place frozen Raspberries and sugar into a large non-stick frying pan. Stir to combine. Heat over medium heat until bubbling. Reduce heat and simmer for 5 minutes or it takes a thick syrupy consistency. Using a metal spoon, crush Raspberries until pureed.
Remove from heat and set aside to cool. (If you do not like the seeds, strain the mixture once pureed)