If you have been with me for a while now, you would know how much I like dressing up my desserts. Layers, swirls, drizzles, sprinkles…I can go on adding elements as long as they balance each other out. It's like my favourite playtime fun as a little girl…dressing up my dolls in pink,with lace and frills, matching hairclips and shoes and so. I come up with ideas and love watching it all come together. Some turn out as I visualised, some don't but there's always a learning somewhere.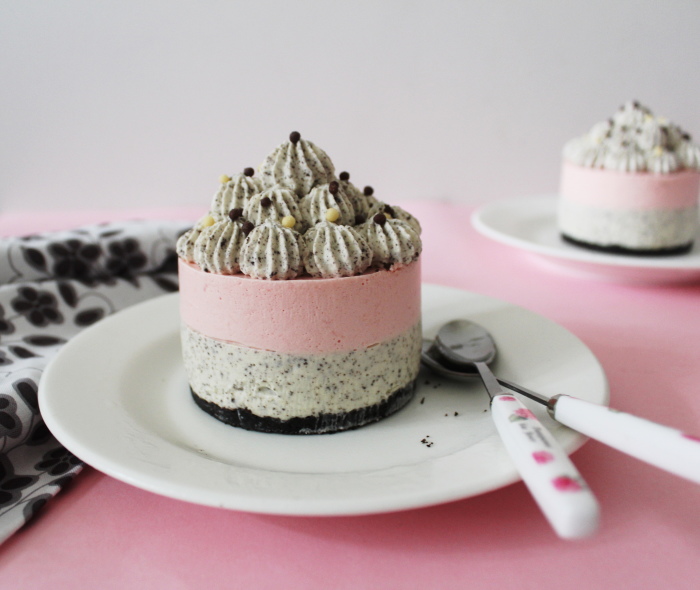 Till about a couple of years ago my desserts would never go below 4 layers. I had the time and the patience. It's a different situation now with two little heads constantly peeping into the refrigerator and wanting to know when they can eat. The refrigerator door is opened and re-opened at frequent intervals. The reason.. ' I'm checking if it has set'. I am loving the latest additions to the vocabulary. However, the more important reason is that I have 'borrowed' Oreo cookies for my dessert. So you understand, everybody has an equal claim to it.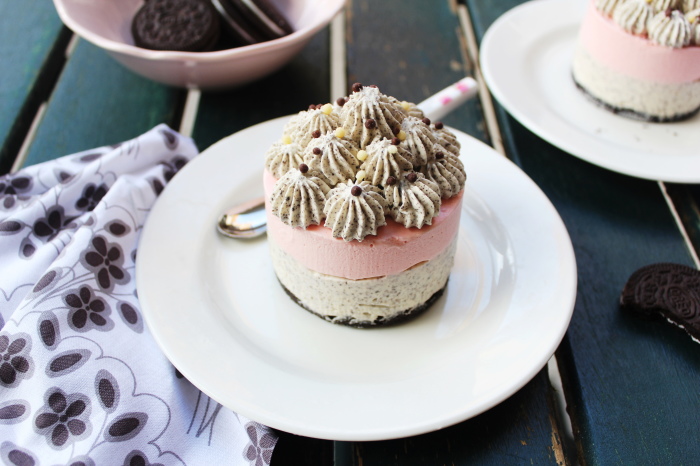 This is a big dessert but not really heavy. The cheesecake is on the richer side on account of the cream cheese so I decided to go with a lighter mousse. I have not used my usual egg-cream mousse recipe here, though personally I prefer that one. You can easily leave out the top layer and serve it with some fresh strawberries instead. Oreos are great even when they are crushed and they add a lovely texture to the cheesecake. The different layers can be made simultaneously and refrigerated to be assembled later or they can be made as and when the layer below is setting.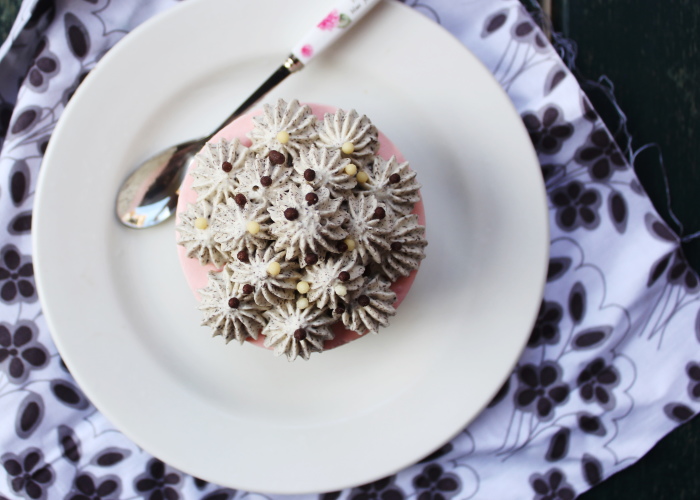 No Bake Oreo Cheesecake Strawberry Mousse Duo
Yields 4
For the Oreo crust
150 g Oreo biscuits, divided (half to be used for the crust and half for the cheesecake)
40 g butter, melted
For the cheesecake
200 g cream cheese, room temperature
2 tbsp castor sugar
1/2 cup heavy/whipping cream, whipped to soft peaks
1 tsp powdered gelatine
1 tbsp warm water
For the strawberry mousse
1 cup strawberries, hulled and chopped
3 tbsp castor sugar
1 tsp powdered gelatine
1 tbsp warm water
1 cup whipping cream, whipped to soft peaks
2 drops pink food colouring
Process biscuits until they resemble fine breadcrumbs. Remove half the mixture and keep aside. To the remaining half, add the melted butter and process to combine. Place 3 ring moulds on a baking tray. Divide the mixture between the ring moulds and press against the base and edge to form the crust. Refrigerate for 30 mins or until firm
Meanwhile, make the Oreo cheesecake. Soak the gelatine in warm water and microwave for 10 seconds for it to dissolve completely. With an electric mixer, beat the cream cheese and sugar until smooth. Fold in the cream and the biscuit crumbs. Add the gelatine and mix to combine. Pour the mixture into the ring moulds on top of the crust till half filled. Refrigerate for 3 hours or until set. Reserve (refrigerate) the rest for top layer to pipe onto the strawberry mousse.
For the strawberry mousse, process strawberries and sugar to a smooth pulp. Strain and keep aside. Dissolve gelatine in warm water and microwave fo 10 seconds to dissolve completely. Cool and add to strawberry pulp. Fold the strawberry pulp slowly into the whipped cream. Add 2 drops of food coloring and mix well till colour is uniform. Pour over the chilled Oreo cheesecake. Refrigerate till set, about 3-4 hours.
To serve: Release the dessert by gently lifting the ring moulds and applying gentle pressure from below. Fill up a piping bag with the reserved Oreo cheesecake. Pipe onto the strawberry mousse and decorate with sprinkles. Refrigerate till set.
Note: If you do not have ring moulds or mousse rings at home, you can layer the dessert in serving glasses.