Stuffed tomatoes with ricotta cheese and basil pesto. An easy, healthy and delicious dish that can be served as a side or an appetizer.
With a heavy heart I said goodbye to my favourite fruit and vegetable market last week. They closed down. When I moved into my current locality about 6 months ago, my liking for the neighbourhood went up by several notches when I discovered this store. Remember, I had shared this with you in this pumpkin post. I spent many mornings looking around, admiring the array of fresh herbs, fruits, vegetables and deli sections, googling up recipes and carrying back more than my hands or my refrigerator would permit.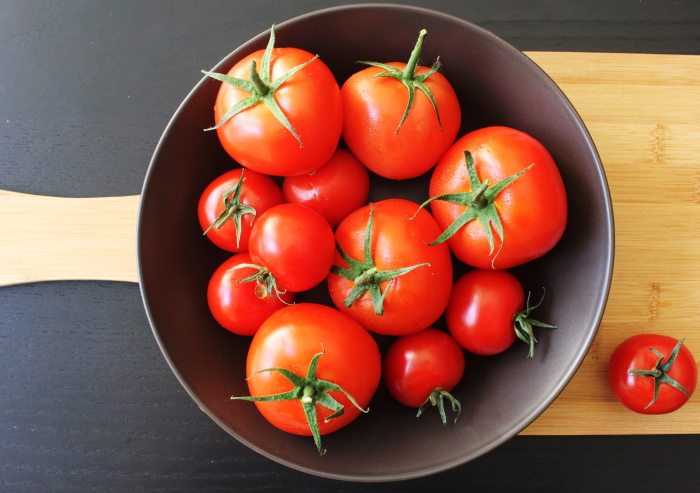 To say that they inspired me to cook, will not be exaggeration. As bloggers dealing with food, we are constantly looking for inspiration whether it comes from the Internet, cookbooks, a delicious dish we ate at a restaurant or a fresh produce market. What do you think?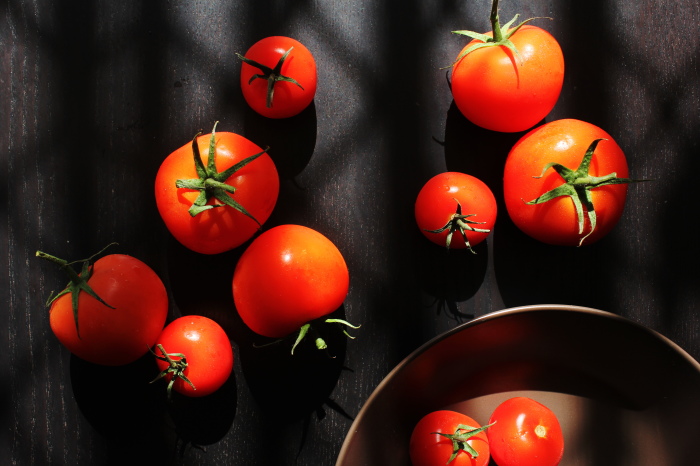 I couldn't help notice these bright, plump truss tomatoes during one such visit…so I bought them home. There are of course a million things that could have been done with them but I wanted to keep their shape and structure intact. Hence the recipe for stuffed tomatoes.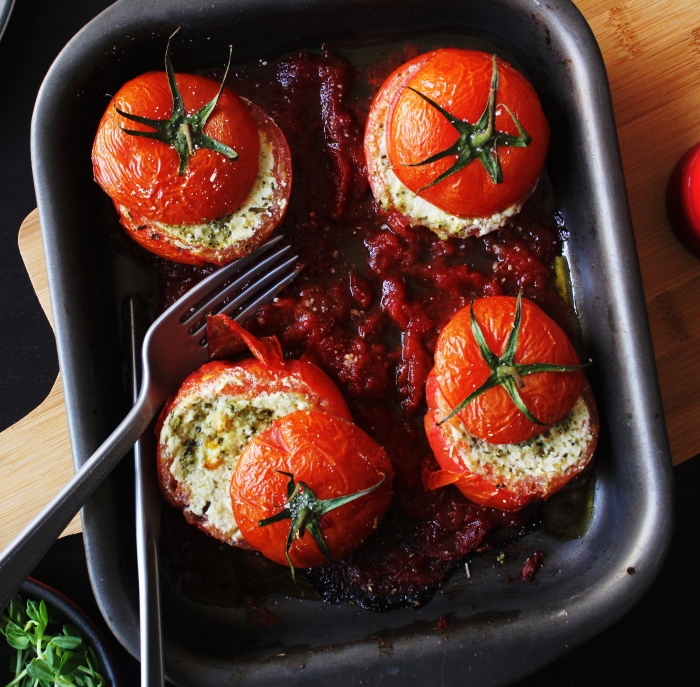 I can hardly call this a recipe. Mix everything together and stuff inside tomatoes. If you love stuffed tomatoes or looking for something quick and tasty or like me love classic Italian flavours, then this will not disappoint. I love home-made pesto and I experiment with a different nut or herb each time. The one I used here is a basil cashew nut combination. I may post the recipe later if someone is interested. You can also use a store-bought one. To make a little sweet, tangy gravy along with the tomatoes, I have added passata to the tray with a little honey. It can be substituted with tomato puree or paste but you will have to increase the seasoning to get the same flavour as passata can be quite intense.
This dish will make a great side but you can also eat it on it's own with some crusty bread.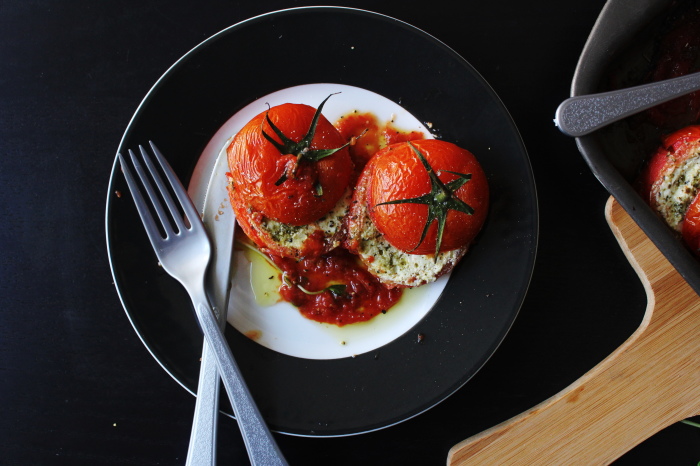 Ricotta and Pesto Stuffed Tomatoes
4 (about 500g) medium truss tomatoes or regular tomatoes
150g fresh ricotta
2 tbsp finely grated parmesan
11/2 tbsp basil pesto
1 tsp grated lemon zest
salt and pepper to taste
1 cup (250 ml) passata or tomato puree
1 tbsp honey
a handful of fresh herbs (basil, parsley, chives)
Extra virgin olive oil to serve
Preheat the oven to 180 degrees C. Cut the tops of the tomatoes and reserve. Remove and discard the seeds.
Pour the passata, honey and seasoning in a baking dish and stir with a spoon.
Combine the ricotta, parmesan, pesto, lemon zest in a bowl. Season with salt and pepper. Divide the mixture between the tomatoes and place in the baking dish. Cover the tomatoes with the tomato tops. Drizzle with olive oil.
Bake for 20 minutes or until tender.
To serve, place tomatoes on a plate along with the gravy. Drizzle with extra virgin olive oil and garnish with fresh herbs. Sprinkle with cracked pepper.