Ferrero Rocher cake with a biscuit base, a chocolate mousse filling, chopped ferrero rocher chocolates and chocolate ganache to finish.
Talking about blogger perspective, do you know what I love about Chocolate? That it is not seasonal. When you are a blogger you tend to keep track of what is seasonal, what your readers come to you for, what is trending on Pinterest and so on. Basically the bottom line is that I am completely in denial of the fact that we have left summer behind.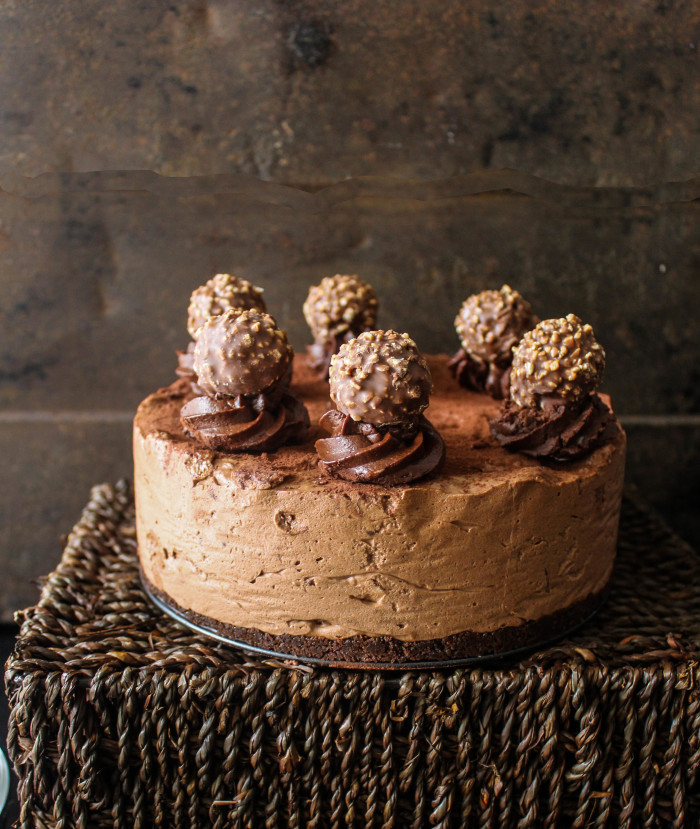 When I walk into the fruit market I am not too happy with the sight of berries, plums, peaches and nectarines being replaced with Persimmons, Guavas and Pomegranates. I like them too but nothing like berries and stone fruits. In fact the last of the summer fruits are still available but naturally at a higher price. So till I begin to take interest in autumnal produce I am finding comfort in the safe and faithful hands of chocolate. If you are on the other side of the world, I know you are smiling as you read this…in anticipation of what lies ahead of you (the glory of spring and summer) in the forthcoming months. Lucky you! But you are certainly not deserting me because I have a few summery recipes reserved for you in my folders. See what I mean by blogger perspective!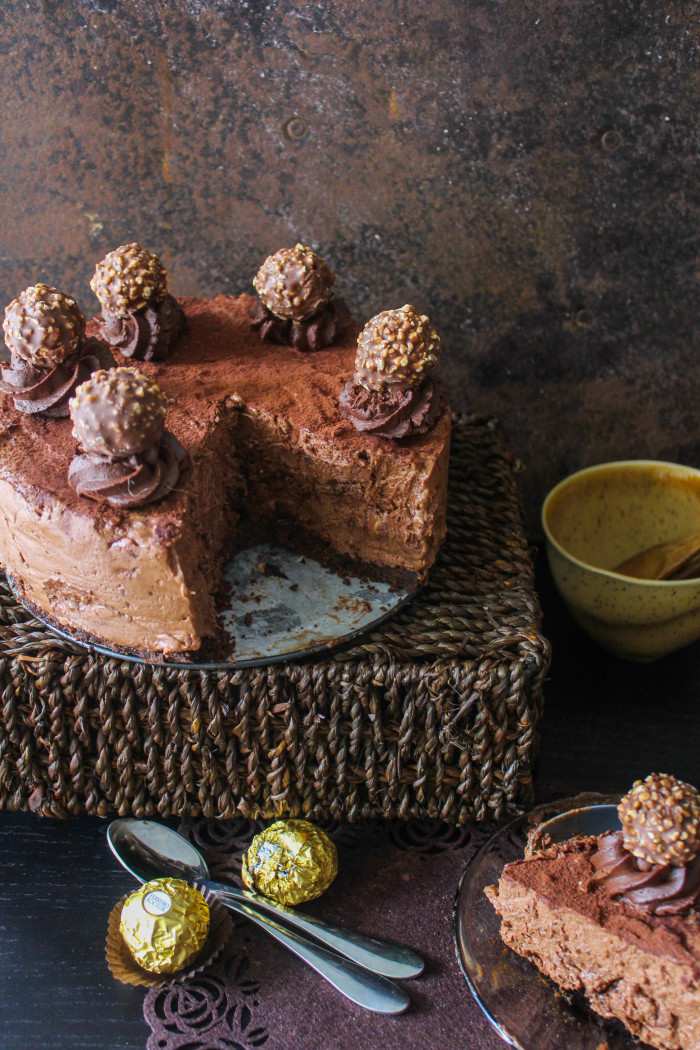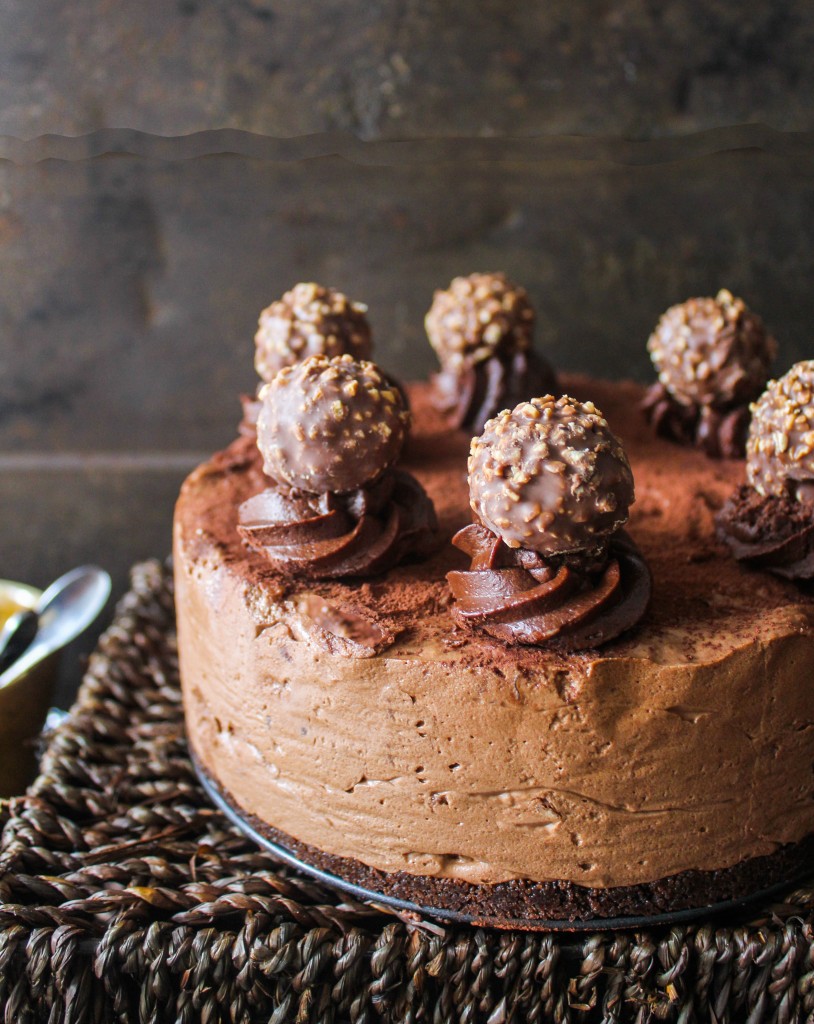 Back to the cake, it is an easy eggless cake to put together. Chocolate, cream and the star in the recipe. The base is a plain chocolate cookie crust. The swirls as you can see are dark chocolate ganache topped with a Ferrero Rocher. There are crushed Ferrero Rocher chocolates inside the mousse which is the only difficulty I had to deal with. I filled up a plastic bag with the chocolates and smashed them with a rolling-pin. The teeny bit of liquid chocolate inside the candies made it sticky inside the plastic bag and I had to do a few folds with the mouse mixture to distribute them. Which spoiled the textural element I was after (look wise). But the taste is yet amazing with crunchy bits of Ferrero Rocher hiding within creamy chocolate mousse. It is a rich cake so small portions are good enough.
I wanted a taller cake so I used a 19 cm springform pan. A larger pan can be used but the resulting cake will be lower in height.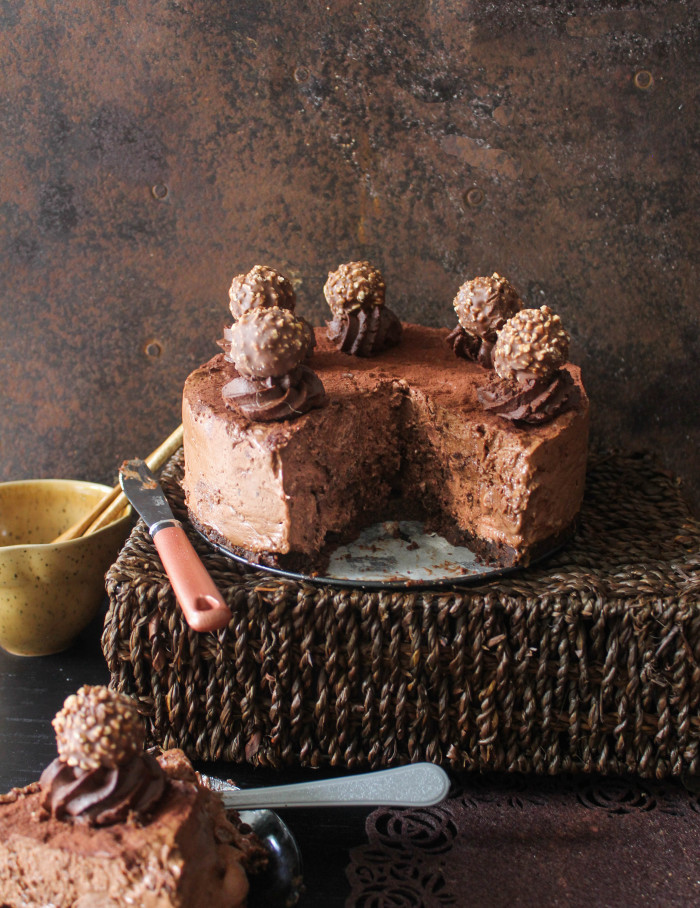 Ferrero Rocher Mousse Cake
Serves 10-12
For the Mousse Cake
220g plain chocolate cookies
75g butter, melted
3 teaspoons gelatine powder
600 ml thickened or heavy cream
300 g dark chocolate
100 g milk chocolate
10 Ferrero Rocher chocolates, crushed in a plastic bag with a rolling-pin
6 Ferrero Rocher chocolates, to decorate
cocoa, to dust
For the whipped chocolate Ganache
150 g dark chocolate
1/2 cup thickened or heavy cream
Grease a 19 cm round Springform pan. Line the base and sides with baking paper. Place the cookies in a food processor. Process until fine crumbs. Add melted butter and mix to combine. Using your fingertips, press biscuit mixture over base of prepared pan. Refrigerate for 30 minutes or until firm.
Place both the chocolate in a heatproof bowl over a saucepan of barely simmering water. Stir until melted then cool to room temperature. Meanwhile,  bring 1/4 cup cream to a simmer in a saucepan over medium heat. Remove from heat. Soak gelatine in 2 tbsp. cold water for 3-4 minutes or until soft. Add to hot cream and stir until dissolved. Cool to room temperature. Using an electric mixer, whisk remaining cream to stiff peaks. Working quickly, add chocolate and gelatine mixture to cream and whisk for 1-2 seconds or until chocolate is 1/2 incorporated. Using a spatula, gently finish folding in. Add the crushed Ferrero Rocher chocolates and gradually fold into the mousse.
Spoon over the base of the cookie mixture. Smooth out the surface with a palette knife or the back of a spoon. Cover. Refrigerate for 4 hours or until set. Lightly dust with cocoa powder. Fill up a piping bag with a large star nozzle and pipe ganache around the cake. Top with Ferrero Rocher Chocolates.
To make the whipped ganache: Place chocolate pieces in a large bowl. Heat heavy cream on medium high until it comes to a boil.  Remove from heat and immediately pour cream over chocolate and stir until completely mixed and glossy. Allow the ganache to cool completely and whip to a stiff consistency.