Peeking through my cold frosted window every morning, hoping to get a glimpse of the sun, I am coming to embrace the changes of the season. The sun is late in rising and so are we. Perhaps that is a convenient way for me to interpret the changes that come about with cold weather. Sleep is so dear and so welcome. Or is it Citrus that makes it obvious. Citrus fruits are everywhere and the only excuse for not using them in a recipe is probably eating them as they are. Maybe not lemon and lime. My new way of enjoying them are squeezing the juice into tea. But Oranges..there are more dishes to try on my wish list than I could fit into one season.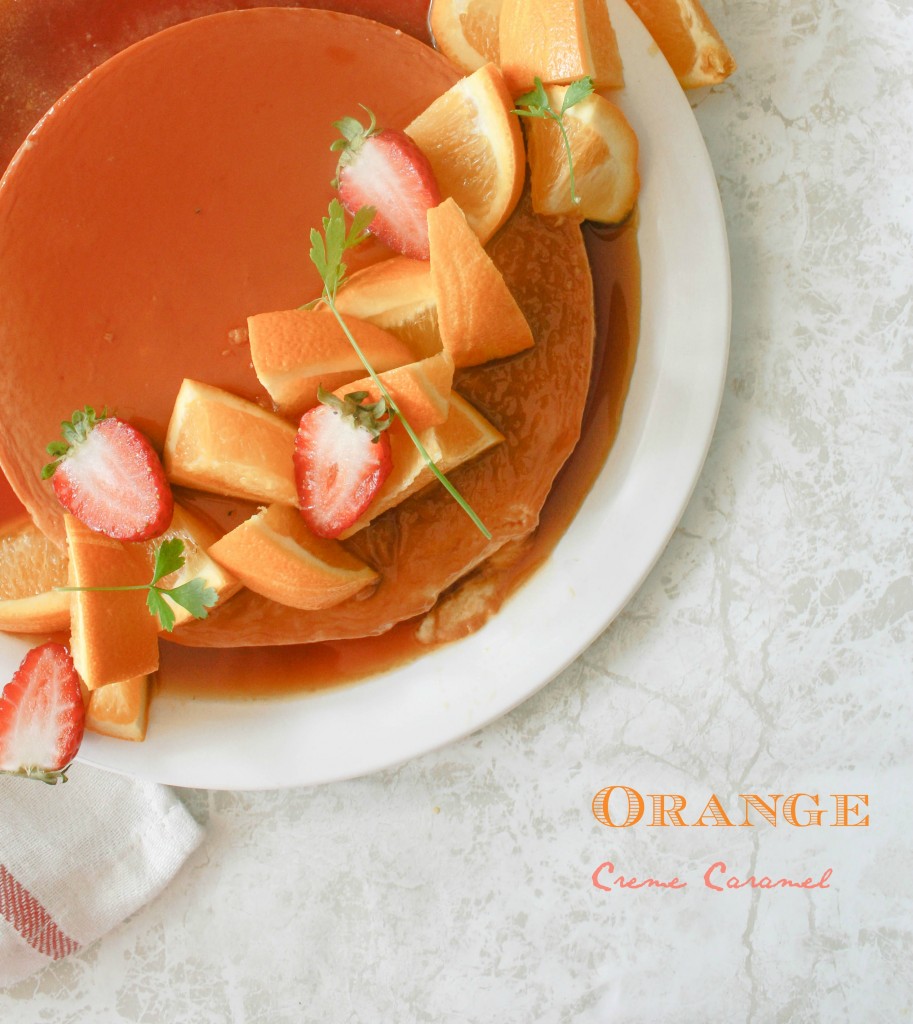 Crème Caramel, a dessert that I can associate with my growing up years. When tortes, tarts or for that matter even mousse was not that popular where I lived. It was served in smaller individual portions and I liked it that way. But today, convenience takes precedence over anything else and a single round pan works great for me. It has the charm of a after-dinner centrepiece much like a cake without a lot of effort.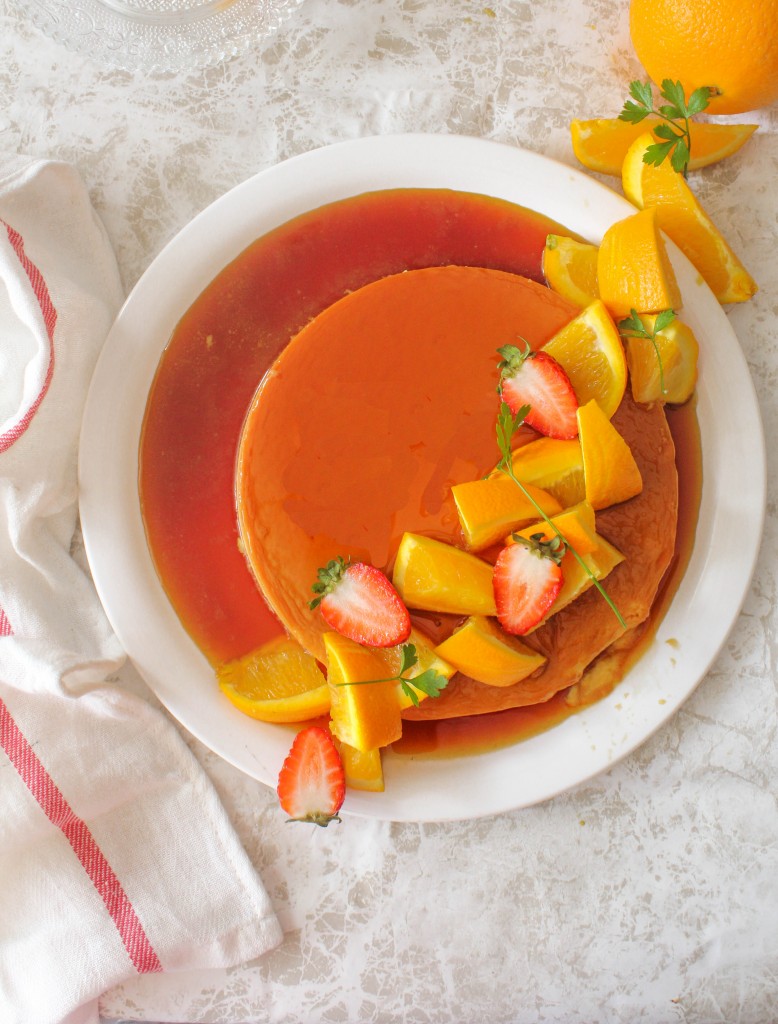 There are many flavour variations of this dessert out there and a few different recipes too. I have tried out a few and I find that a combination of eggs and egg yolks yields a fabulous texture. Smooth, creamy but enough to hold shape and can be easily sliced into portions.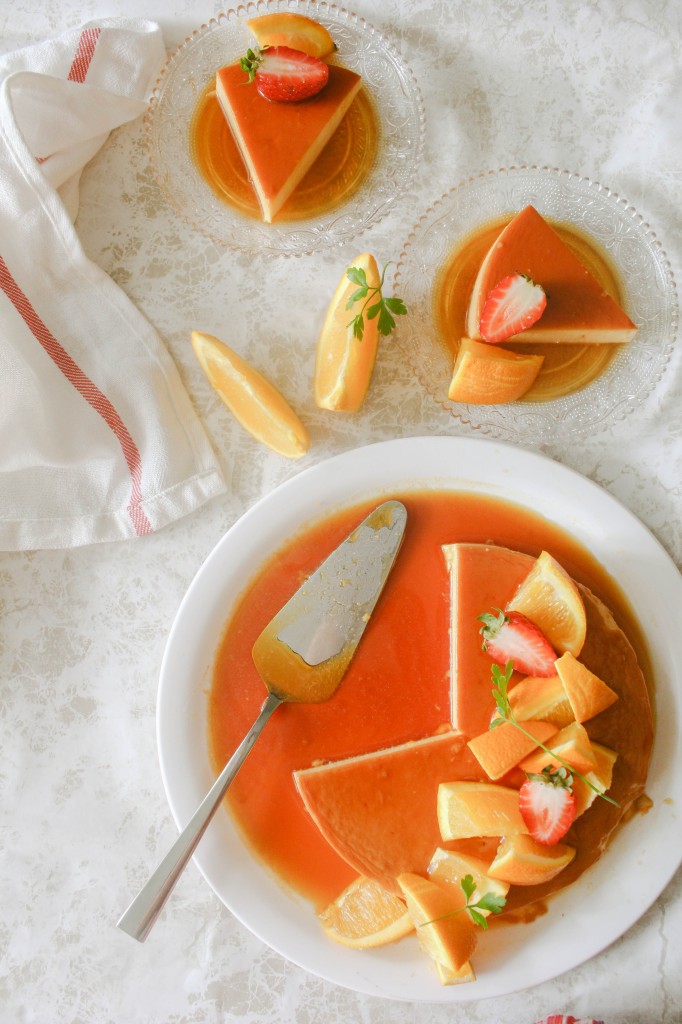 Orange Crème Caramel (adapted with variation from Coles recipes)
Serves 6
3/4 cup castor sugar (for the caramel)
1/4 cup water
1 cup milk
300 ml heavy or thickened cream
2 tsp orange zest
1/4 cup castor sugar (for the custard)
3 eggs
3 egg yolks
1 orange, sliced into small wedges
1/2 cup strawberries, hulled and sliced
Preheat oven to 160 degrees C. Place sugar in a medium saucepan with 1/4 cup water. Stir over low heat, without boiling, until sugar has dissolved. Increase heat slightly and bring to the boil. Cook, without stirring, for about 7 mins, or until mixture is a deep golden-caramel colour. Use a wet pastry brush to brush away any crystals from the side of the pan.
Stand a 19 cm round cake tin in a baking dish, and pour the caramel over the base of the cake tin (take care as the tin will get hot). Set aside to cool completely.
Combine milk, cream and orange zest in a saucepan. Bring to the boil, then immediately turn off the heat. Stand for 5 mins.
Whisk extra sugar, eggs and yolks until combined. Pour milk mixture onto egg mixture, stirring constantly. Strain the custard into cake tin over the caramel. Pour hot water around the tin to come halfway up the sides. Bake for 50 mins to an hour, or until set. Cool completely, then refrigerate overnight. Turn out onto a serving plate and cut into wedges. Serve with fresh oranges and strawberries