This winter seems so long. And colder than I like it. I think I say this every year and by July I am almost desperate to get to the other side of winter. I can't wait to feel the rays of the sun on my bare skin and the daylight to linger on till it's time to go to bed. I can't wait for the change in scenery and the spring blooms. Having said that, there are some joys of winter that I treasure. Catching up with friends over cups of hot chocolate. Bowlfuls of steaming hot Laksa. And sharing a hearty winter roast with family.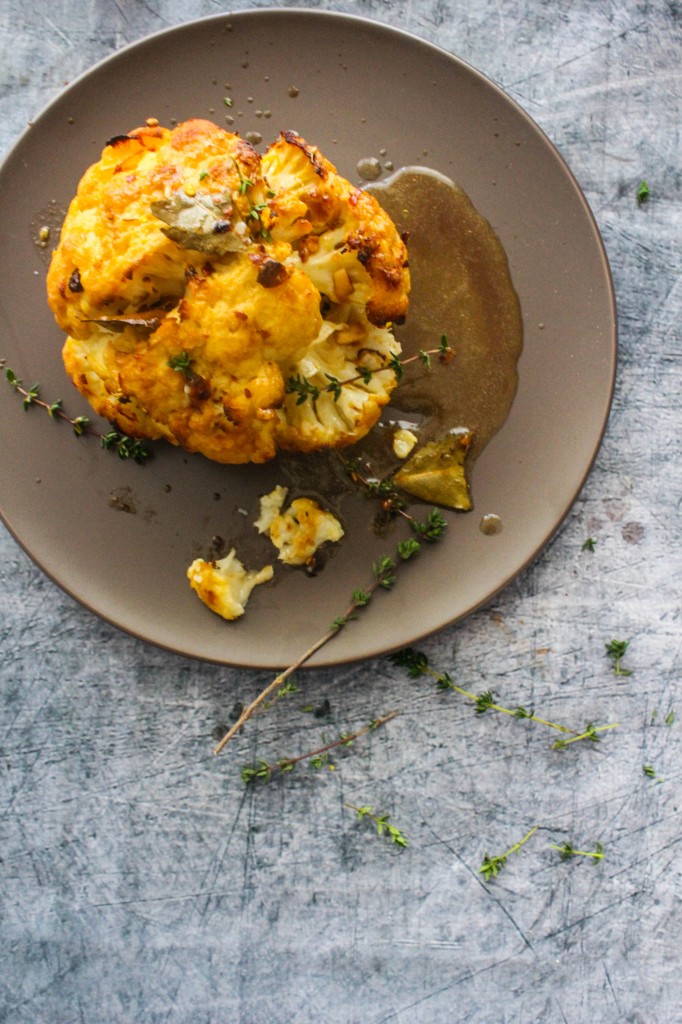 I have roasted cauliflower florets in so many different ways before…basically experimenting with a variety of marinades. Roasting an entire cauliflower head not only sounded interesting but such an amazing dish to share on the table. Roasting not only sweetens the florets but gives it a crispy, nutty texture that is absolutely delicious. The chilli flakes provide the perfect amount of heat to balance the sweetness.The recipe involves cooking the cauliflower head in two stages. First, boiling it in a flavourful stock to tenderise it. Then finishing it in the oven to get the charred caramel brown crispy exterior.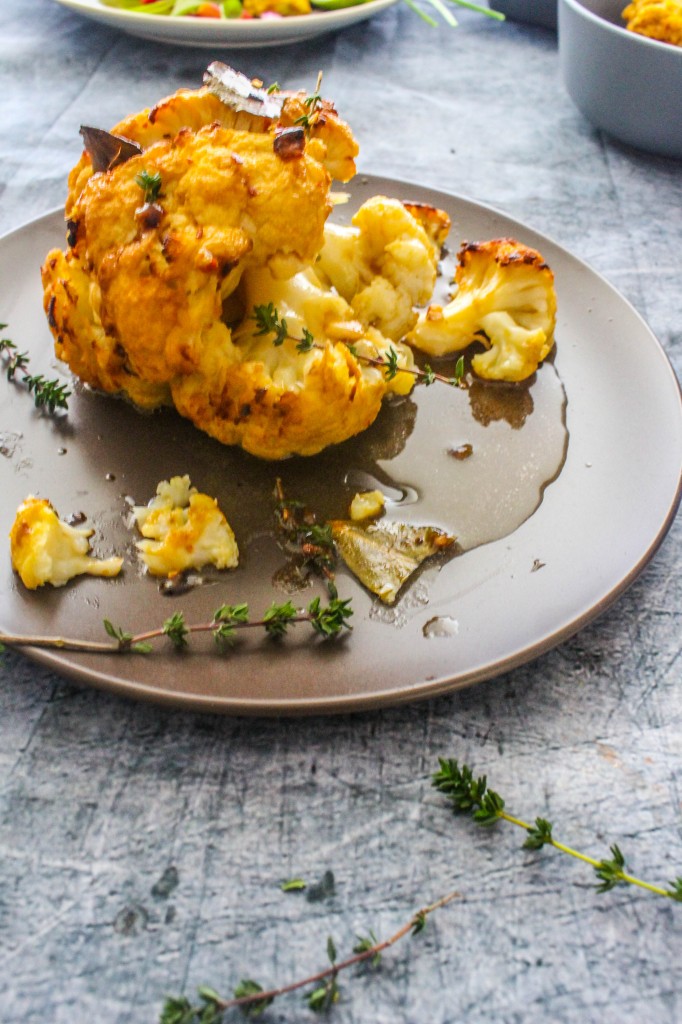 There are many recipes that involve only the roasting method and parboiling is not necessary but I can say that the flavours are so much more intense in this two-stage recipe. The florets are crunchy yet melt-in-your mouth. The resulting dish not only looks but tastes spectacular as well. This would make a great side to go with meat or fish dishes or a delicious main for vegetarians served on its own with a light salad.
Whole Spice Roasted Cauliflower (adapted with variation From Donna Hay magazine, June edition)
Serves 4-6
1.5 litres vegetable stock
50 g unsalted butter
1/4 cup extra virgin olive oil
2 tsp dried chilli flakes
1 bay leaf
1 tbsp. fennel seeds
Salt and pepper to taste
1 large cauliflower head (approx. I kg)
fresh sprigs of thyme
Place the stock, butter, olive oil, chilli, bay leaf, fennel seeds, salt and pepper in a medium saucepan over high heat and bring to a boil. Add the cauliflower, reduce the heat to medium, cover with a tight fitting lid and cook for 20-25 minutes or until the cauliflower is just tender when tested with a skewer. Drain, reserving the cooking liquid (I had about a cup left).
Preheat oven to 200 degree C. Place the cauliflower and thyme sprigs in a deep baking dish that has been lined with non-stick baking paper or aluminium foil. Pour half the reserved cooking liquid over the cauliflower and roast for 20 minutes. Pour over the remaining cooking liquid and roast for a further 20-25 minuts or until golden.