We are quite fortunate to be able to cook with cauliflower all year round in Sydney. This was not the case where I grew up. Cauliflower was seasonal and even though one would find them in bigger markets, they would not taste great. My mother would want to buy the ones that were sold on the roadside, straight off the fields and she seemed very pleased if she could get her hands on them. We knew what we would be eating that night. They would be turned into a curry or a stir-fry with plenty of spices. I always loved cauliflower, whatever the dish. It was much later that I discovered that it tasted delicious even when it was cooked in the oven. And a lot healthier.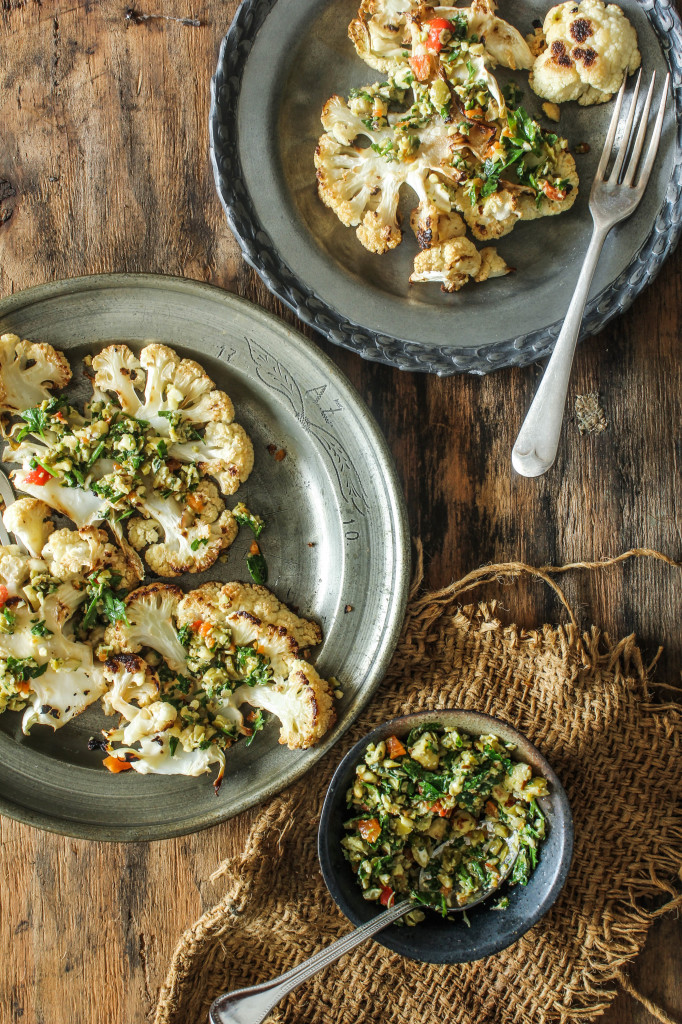 This dish is as simple as it looks. Take a whole cauliflower head and slice it into steaks. I love that word…steak! Makes dinner sound very exciting. Brown them slightly on a pan and roast them. Then you can go with a salsa, dressing or a sauce of your choice. I chose to make a salsa as I came across a wonderful assortment of roasted nuts that I reviewed recently (that will be published next on the blog). I wanted the cauliflower and nuts to shine in the recipe so I kept the flavours simple. But they really go well together and make the dish a wonderful side to be served to family and friends.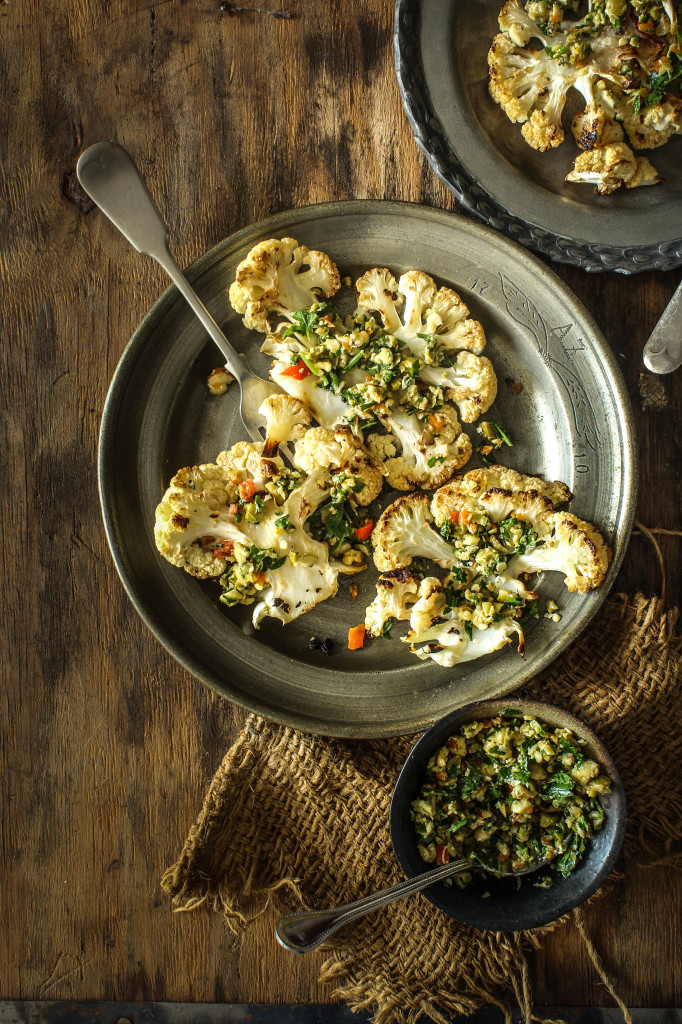 I had a chaotic morning today as my site went down completely. If you were one of those trying to access my posts, I apologise for the inconvenience. Initially I had no clue what went wrong. I was performing a normal update operation when the screen went white. After that neither could I login nor view any of my content. I don't take pride in the fact that I have very little technical expertise in such matters so like always I called up my husband, my backbone. Hubby is not an expert either but he enjoys a few challenges. It was a busy day for him as well, yet he managed to quickly send me a few trouble shooting links. I did not get much from those but I realised that I had to resolve this. Alone. My blog…my beloved blog had to be up and running again. I was almost terrified at the thought of losing my content. Finally, I googled up help topics,watched a few videos and contacted Bluehost, (where I host my website). After what seemed like a lot of exchange of messages the blog came back to life. Apparently it was an issue with a plug-in. They had to deactivate all my plug-ins to restore the site. It was a huge relief even though I knew I would have to manage all my plug-ins and widgets all over again. The only reason I am sharing this is so it could help someone in a similar situation.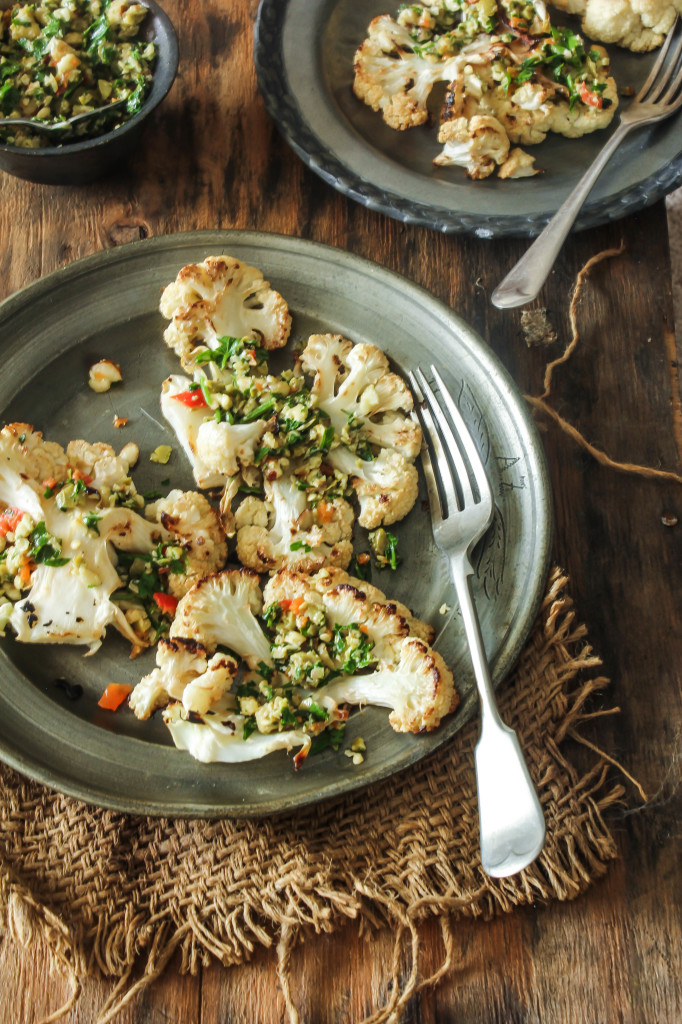 I hope you all are having a fabulous week. Two days hence, we have Orientation Day for our boys in their new school. I am excited but also a little sad.
Motherhood is amazing….it is so much about self-discovery as much as it is about nurturing minds and bodies.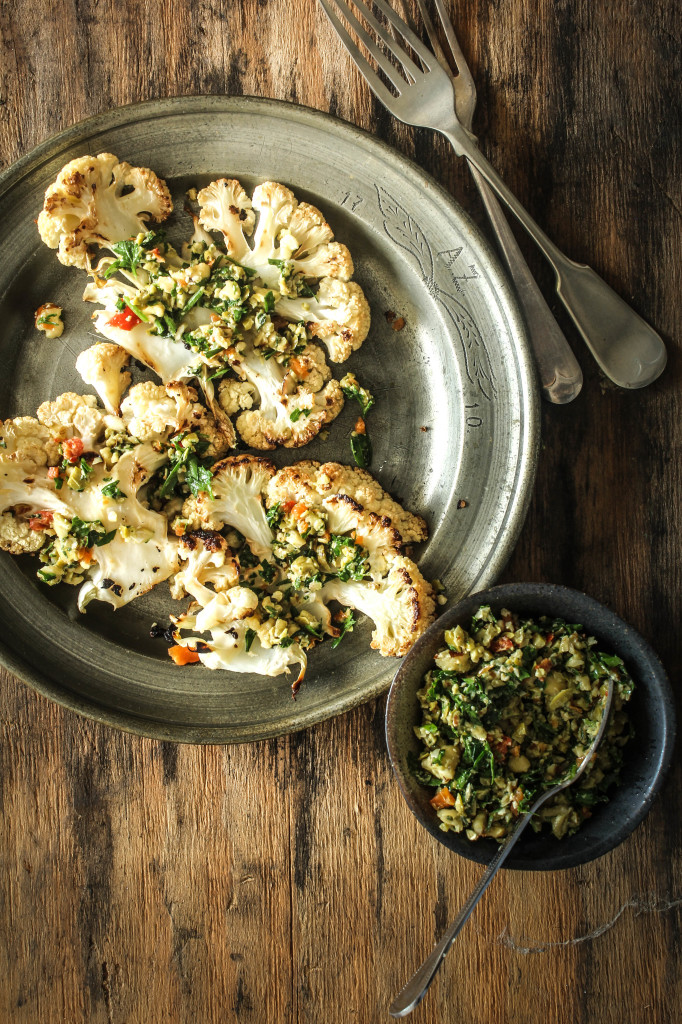 Cauliflower Steaks with Chilli, Lemon and Nut Salsa
Serves 4
2 tablespoons olive oil
1 large cauliflower head , cut cross-ways into four 1.5 cm-thick pieces
salt and pepper. to season
1/2 cup roasted nuts (I used a mix of almonds, hazelnuts and walnuts)
2 cloves garlic
2 red chillies
1/4 cup green olives
1/4 cup extra virgin olive oil
1 tablespoon lemon juice
1/2 cup chopped fresh continental parsley
2 teaspoons chopped fresh oregano
Preheat oven to 180 degrees C.  Line a large baking trays with foil. Heat 1 tbsp of the olive oil in a non-stick frying pan over medium-high heat. Add  2 cauliflower pieces to the pan. Cook, turning, for 4-5 minutes or until golden. Transfer to a prepared tray. Season. Repeat with the remaining olive oil and cauliflower pieces. Roast cauliflower for 12-15 minutes or until tender.
Meanwhile, combine the nuts, garlic, chillies, olives, lemon juice, extra virgin olive oil, parsley, oregano in the bowl of your food processor and process till the ingredients are roughly chopped (not a fine paste).
Transfer the cauliflower to a platter. Top with the chilli, lemon and nut salsa..