Nutmeg bars are so perfect for this time of the year when a substantial amount of baking is on the agenda and everyone is getting into the spirit of Christmas including our ovens and our kitchens. I have lived on my spices all my life but there is something magical about using them in sweet recipes around Christmas. Till about a few years ago, Nutmeg was a secret ingredient for me to enhance the flavours of Indian meat dishes and my favourite Biriyani. It was only when I tried it in a a cake that I found it equally amazing in desserts.
If you are looking for a recipe that is quick to make without hard-to-find ingredients and makes a great edible gift for friends and family, this is it. They are ready in no time. What impressed me the most about these, are the dual textures within the bars. We  mix together some flour, butter and sugar like a shortbread mix, layer half the mix on a baking tray. To the other half, we add the rest of the ingredients and put together a cake like batter. We then pour it over the shortbread layer. The resulting bars have a slightly crunchy base with a cake like top. And they smell amazing as much as they taste great. The nutmeg is subtle but adds a special something to the caramel flavour that is so typical of brown sugar.
I came across this recipe on Taste. They looked so worth making that I made them in a jiffy and I had to share them. Next time I make them I am going to add dried cranberries for a more festive look.
Give these a try. You won't be disappointed.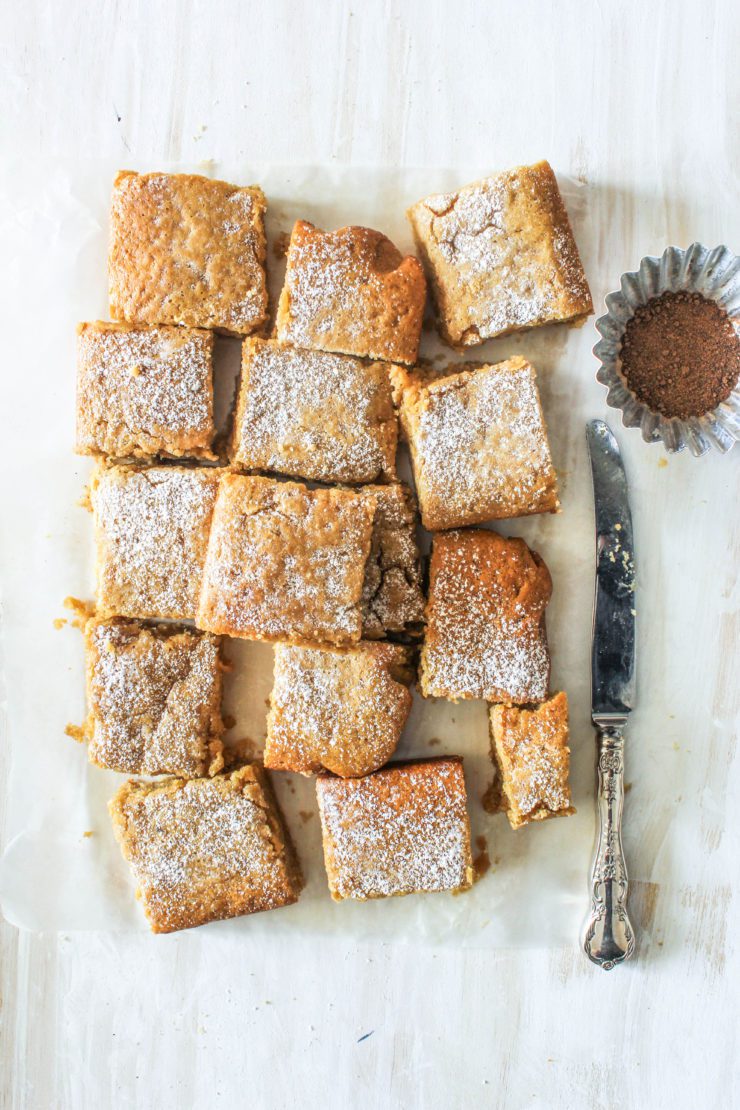 Easy Nutmeg Bars (adapted with variation from Taste.com)
Yields 12 bars
2 cups brown sugar
2 cups self-raising flour
100g unsalted butter, softened
1/2 cup walnuts, chopped
1 teaspoon bicarbonate of soda
1 cup full-cream milk
1 egg
1 teaspoon ground nutmeg
Icing sugar, to dust
Preheat oven to 180 degrees C. Grease and line a rectangluar pan (28 cm by 18 cm) with baking paper.
Place the sugar, flour and butter in a food processor and process until the mixture resembles breadcrumbs. Spread half the mixture in the base of the pan and sprinkle with the pecans.
Place the bicarbonate of soda and milk in a bowl, and stir to dissolve the soda. Add the egg and the nutmeg and stir to combine.
Stir in the remaining crumb mixture and pour over the base. Bake in the oven for 30 minutes. Set aside to cool, then cut into squares. Serve dusted with icing sugar.