This is the most decadent, delicious and to-die-for dessert I have made this year. The year is just about over so there is great scope that the statement will remain unchanged. I think the holiday eating has just started and before we move on to detox smoothies and leafy green salads, there's enough reason to end the year on a sweet note. Yes?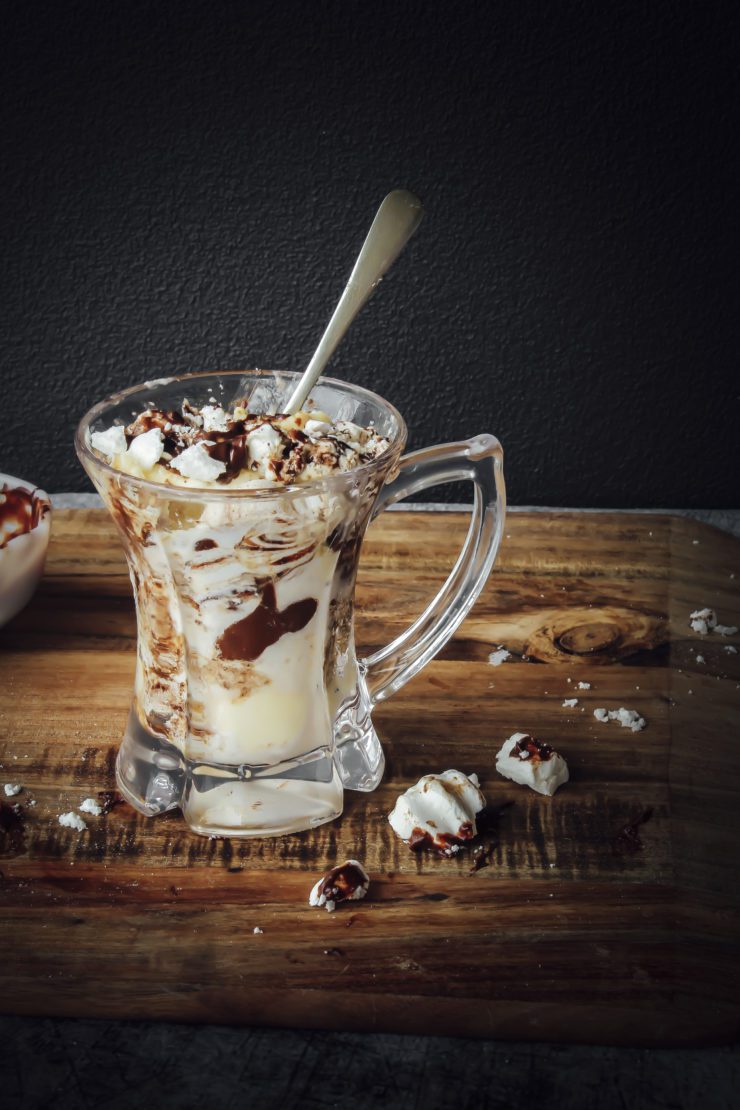 This Tiramisu inspired dessert has the flavours of the Tiramisu combined with crispy meringue and vanilla ice cream making it the perfect 'Mess-y' treat that you can put together quickly and without having to worry about perfection. The perfection here is the 'Mess' that consists of Chocolate swirl coffee meringue, Mascarpone cheese, Vanilla Ice cream and Mocha sauce. All you do is just make the meringue and layer the ingredients in glasses. The taste is totally reminiscent of the Tiramisu. And I haven't even come to the most amazing part…because we are replacing the sponge fingers with coffee meringues, it becomes a gluten free treat that you can make for friends and family who avoid flour.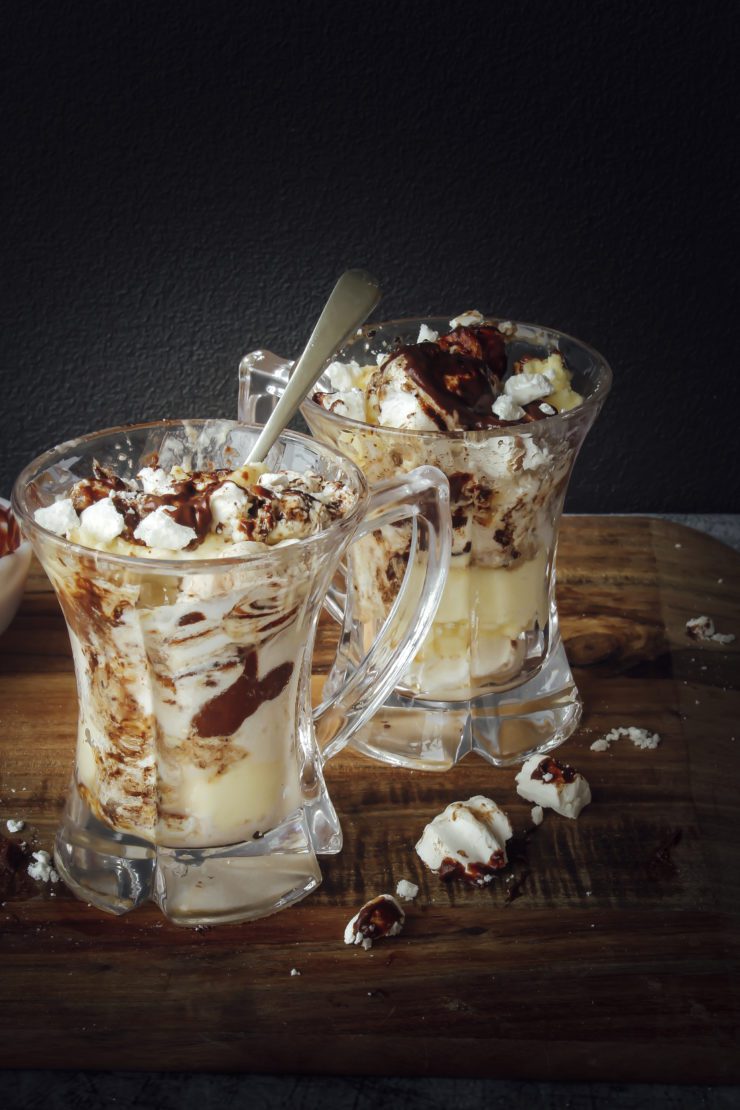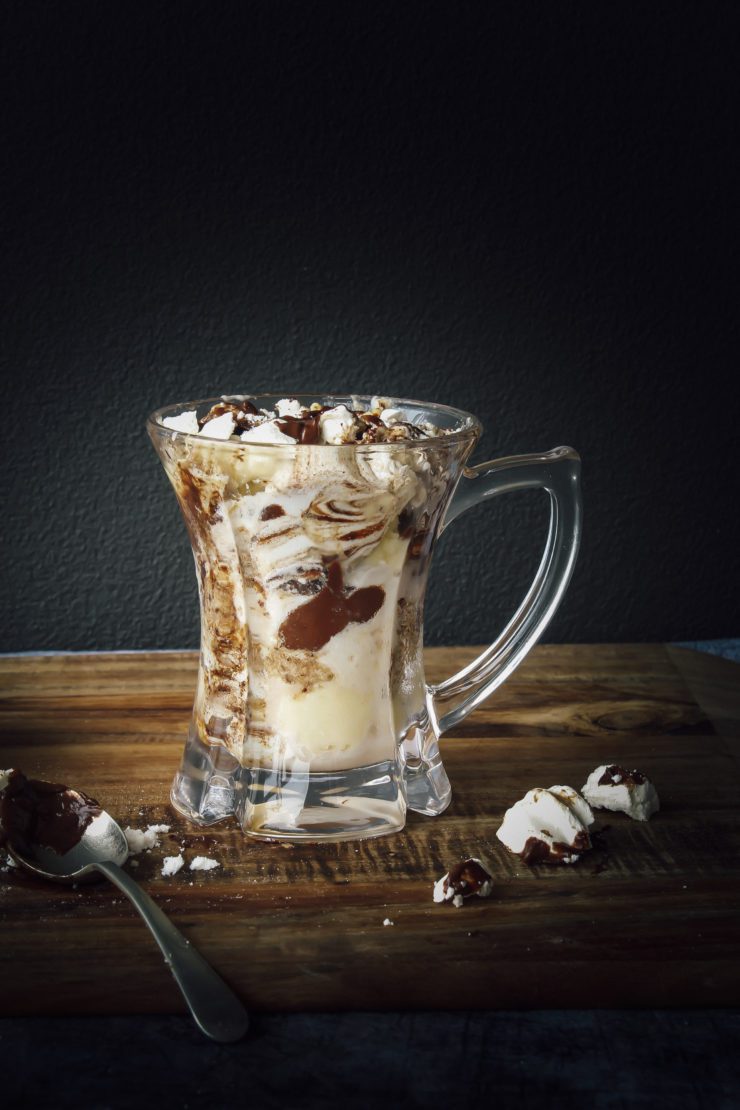 If you have never  made meringue before, worry not! We are not looking for perfect exteriors or beautifully piped swirls. You just whip the egg whites to stiff peaks (when the meringue peaks holds shape as you lift the beaters), gently fold in the coffee and chocolate and bake. This can be done up to a day in advance and stored in air tight containers. Our weather is really warm at the moment so I made it the same morning before assembling. The recipe is just so forgiving. Even if your meringues don't turn out great and are more marshmallow-y than crispy (like my first batch turned out), it won't make a difference in the taste at all.
Make yourself this little treat this year. I can tell you, you deserve it!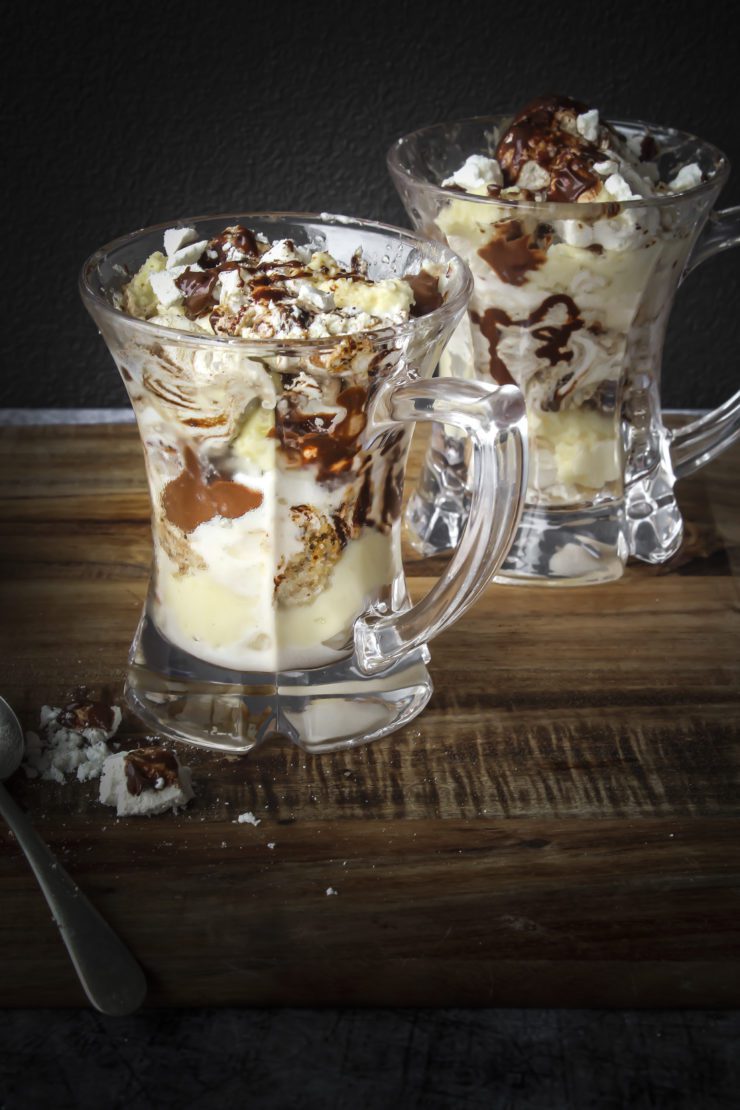 Tira-Mess
Serves 2
10 Chocolate Swirl Coffee Meringue, whole or crushed (recipe below)
3/4 cup Mascarpone Cheese, (room temperature) mixed with 2 tbsp castor sugar till smooth
3/4 cup vanilla ice cream
Mocha sauce (recipe below)
Place 2 of the meringues at the base of the serving glasses. Spoon half the Mascarpone over the meringues. Add half the vanilla ice cream. Pour some Mocha sauce. Repeat once more till you reach the top of the serving glass.
Chocolate Swirl Coffee Meringue (Makes approx 10)
2 large egg whites
1/2 cup castor sugar (superfine sugar)
1/4 tsp cream of tartar (optional)
1 tsp instant coffee powder
50 g dark chocolate, melted and cooled
Preheat oven to 160 degree C (140 degrees for fan-forced) . Line a baking tray with  baking paper. Use an electric beater to beat the egg white and cream of tartar (if using) in a clean, dry bowl until firm peaks form. Gradually add the sugar, 1 tablespoon at a time, whisking well after each addition, until the mixture is thick and glossy. Fold in the coffee powder.
Drizzle with chocolate sauce and gently scoop up meringue with a tablespoon and place them on the prepared tray, leaving space between each meringue.
Bake in oven for 30 minutes until crisp. Turn oven off. Leave meringues in the oven, with door ajar, for 1 hour to cool completely.
Mocha Sauce
100 g dark chocolate, coarsely chopped
1/2 cup single/pouring cream
1 tsp instant coffee powder
To make the mocha sauce, place the dark chocolate, thickened cream and coffee in a medium saucepan over low heat.
Use a metal spoon to stir until the chocolate melts and the mixture is smooth. Cool to room temparature. Store excess in refrigerator and warm up before serving.