Meringue rose cookies are so versatile and there is no limit to the way they can be colored, decorated or served. It is incredible how a little bit of egg white and sugar can whip up into magical creations. And they are free of gluten. I make meringues quite often and love that they make great edible gifts. Meringue roses look really pretty and the added bonus is that by sandwiching fillings between two roses, they turn into a treat that is even tastier than a cookie,  minus the flour. Whether it's chocolate ganache, buttercream or cream cheese frosting there are innumerable flavours to play around with. Also, they can stay crunchy for days if stored well.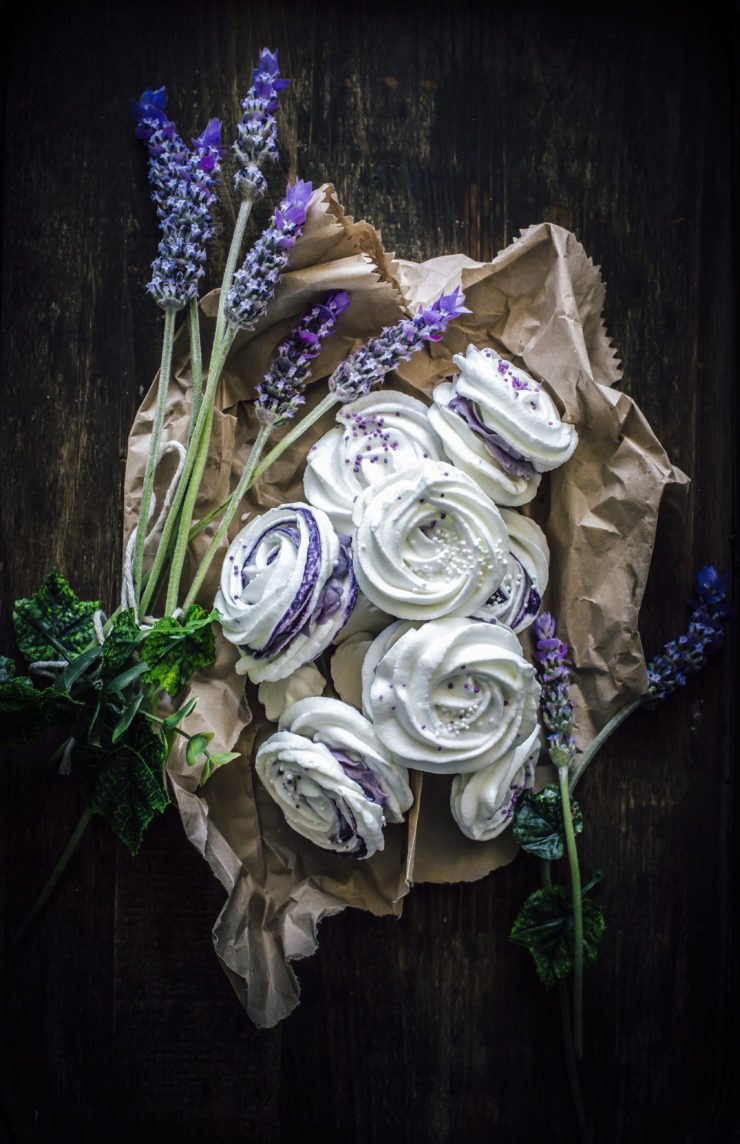 I used culinary lavender that was sitting in my cupboard for months. Every time I open the jar, I am transported to a a different world. That is how the meringue rose cookies smell as well. To get the two toned effect I generally streak one side of my piping bag with gel food colour using a long skewer before filling up with the meringue. If you haven't made meringue roses before here is a video tutorial that might help you to understand the technique.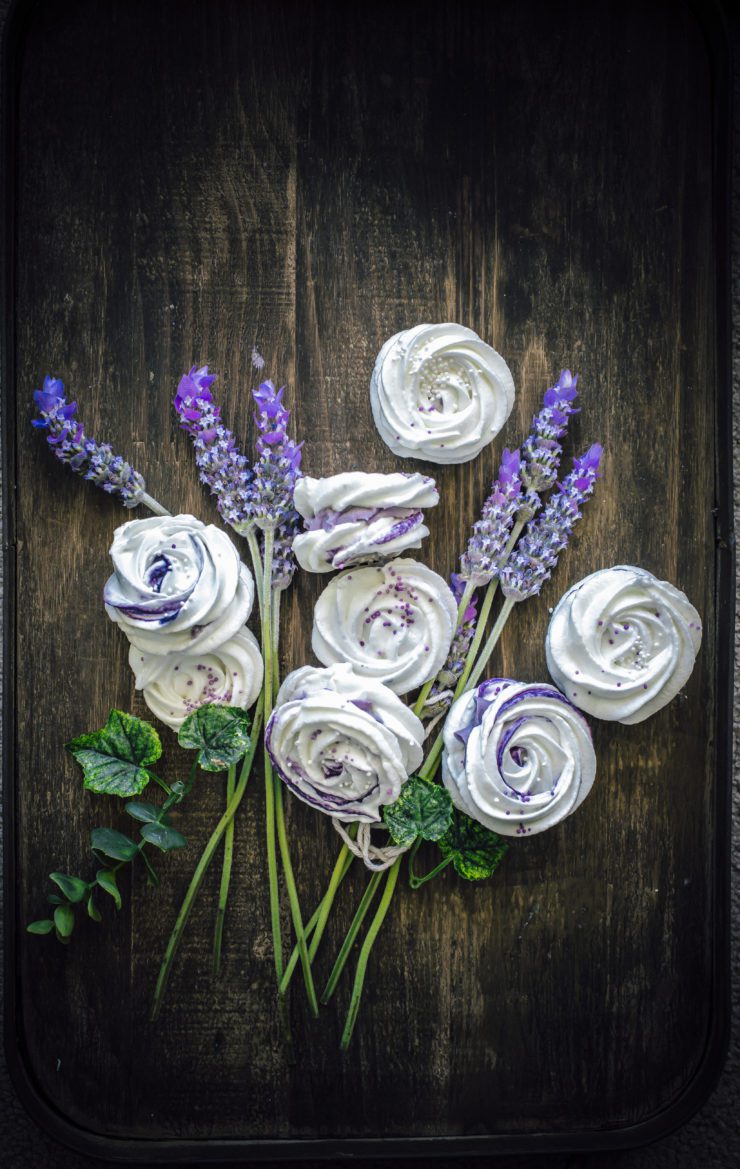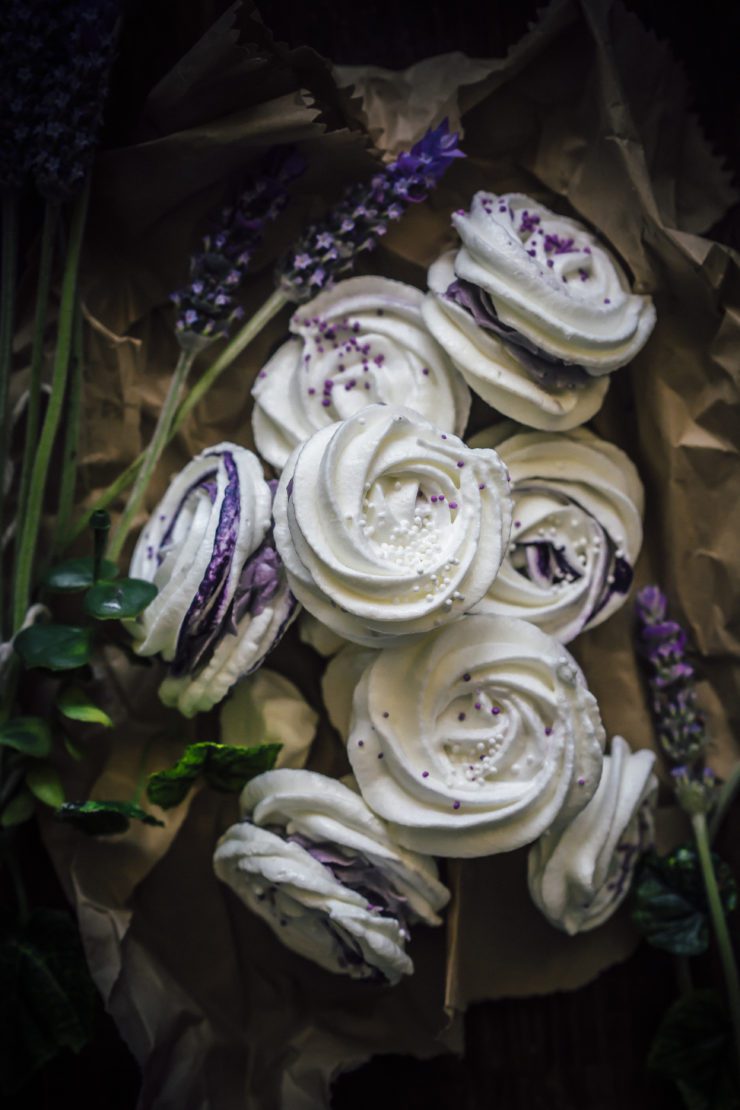 Meringue Rose Cookies With Lavender Cream Cheese Filling
Makes 24
For the Meringue Roses
2 egg whites
1/2 cup caster sugar
Violet gel food colour
Sprinkles (optional)
For the Lavender Cream Cheese Filling
220 g cream cheese, softened
100 g unsalted butter, softened
21/2 cups icing sugar
1 tsp culinary lavender buds, ground
purple/violet food colour
To make the meringue roses: Preheat oven to 110 degrees C (90 decrees c for fan-forced ovens) Line two baking trays with baking paper.
Using a toothpick or a wooden skewer streak your piping bag that is fitted with a Wilton 2D tip in various places with your chosen gel food colour. I usually mount mine in an empty glass to stay intact.
Use an electric mixer to whisk the egg whites in a clean, dry bowl until soft peaks form. Gradually add sugar, 1 tablespoon at a time, whisking well between each addition, until meringue is thick and glossy and sugar is completely dissolved.  Spoon into a piping bag fitted with a closed star (Wilton 2d) nozzle. Pipe meringue roses onto the lined tray. Decorate with sprinkles if using. Bake for 60 minutes or until meringues are dry to the touch. Turn off oven and leave, with door ajar, to cool completely.
Once cooled,  spread or pipe lavender cream cheese filling (recipe below) on one meringue rose and top with another. Repeat until all the roses have been used up.
To make the Lavender Cream Cheese Filling : Using an electric or hand mixer, gently beat the cream cheese and butter together until smooth. Add the sugar, little at a time until blended. Add the dried lander and food colour and mix well.