You have no idea how excited I am this year to jump onto the Christmas baking bandwagon. I am late every year and am just not able to bake or share enough. Last year we were overseas for 7 weeks and I was filled with guilt and sadness when I saw the amazing stuff getting shared on social networks. So my baking has taken off in early in October already. The cherry on the cake was that I got the opportunity to create recipes for different brands for their Christmas campaigns. All the stuff I love. Baubles, ribbons, red creations, edible wreaths, boozy treats and new ingredients. You will see most of them in December, while I feel festive every single day in my little studio.
You can't think of Christmas baking without cookies and Linzers are one of the most loved cookie around the world. Recently I had created these Linzers with Quince paste as the filling for the Maggie Beer group and I have to say that the quince paste was love at first bite. Such an unique and amazing flavour! I had tasted fresh quinces before in tarts and cakes but this was beyond delicious. Slightly Sweet and slightly sour like a big flavour punch in your mouth! If you are tired of Jam, Nutella, lemon curd, and chocolate ganache, try this new flavour. It works really well with the nutty texture of Linzer cookies.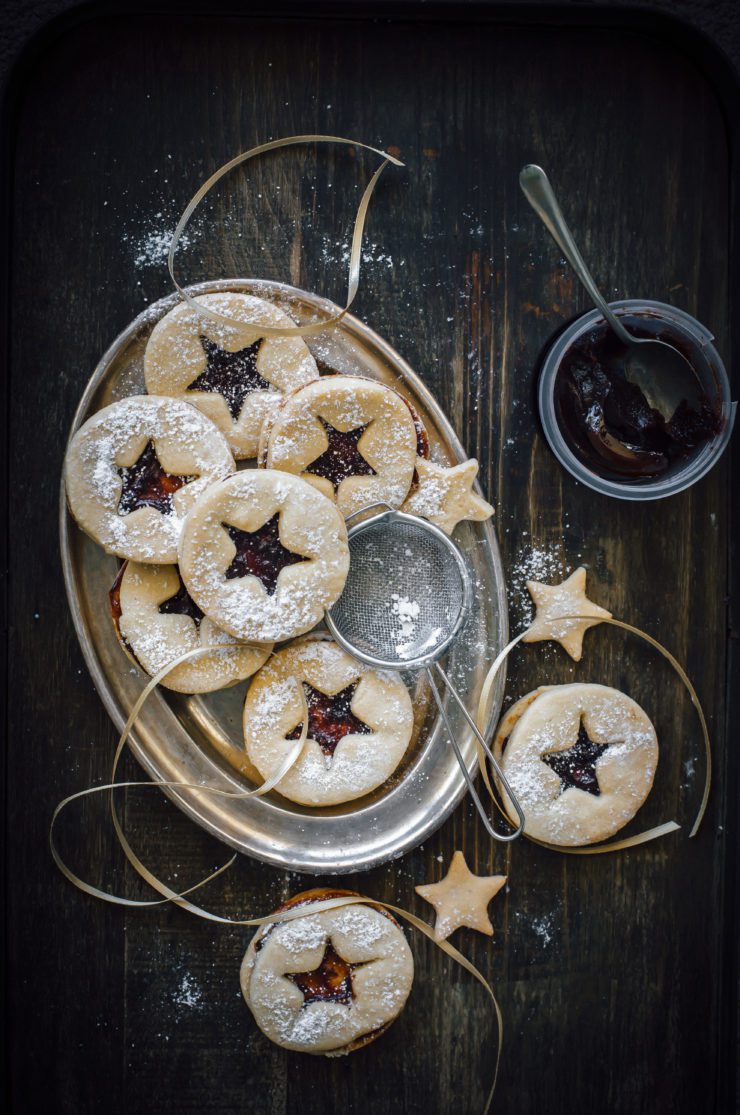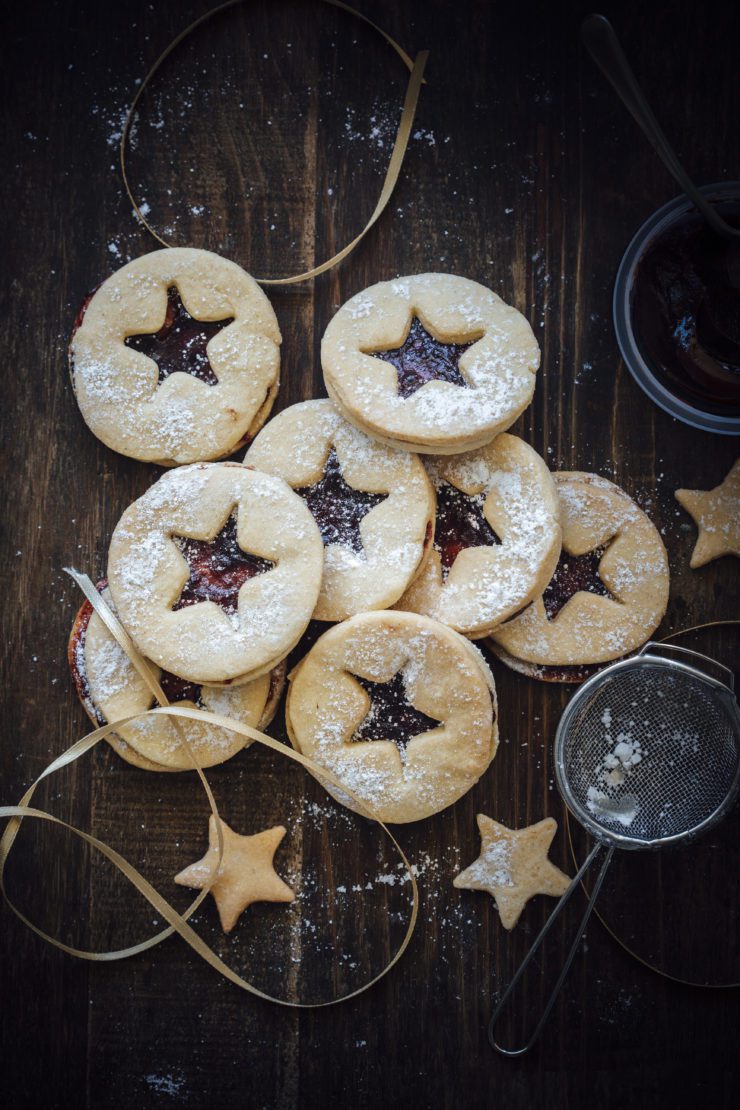 Linzer Cookies With Quince Paste
Makes 20 sandwiched cookies
1 cup hazelnut meal (ground hazelnuts)
2 cups plain flour
1/2 tsp ground cinnamon
1/2 teaspoon salt
1 cup (226 grams) unsalted butter, room temperature
3/4 cup castor sugar
1 tsp vanilla extract
2 egg yolks
1/2 cup Quince paste, warmed in the microwave with 1 tbsp water
Icing Sugar, to dust
In a bowl whisk together the flour, cinnamon and salt.
In the bowl of  your electric mixer (or with a hand mixer), beat the butter and sugar until light and fluffy (about 2-3 minutes). Beat in the  vanilla extract and egg yolks. Finally, beat in the ground hazelnuts and then the  flour mixture. Divide the dough in half, cover each half with plastic wrap,  and refrigerate until firm (30-60 minutes, or up to two days).
Preheat oven to 180 degrees C. Line two baking sheets with parchment  paper.
Remove one ball of  dough from the refrigerator. On a lightly floured surface roll out the dough  until it is about 1/4 inch (.5 cm) thick. Using a 3 inch (7.5 cm) cookie cutter  (round, square, heart, etc.) cut out the cookies. Place the cookies about 1  inch (2.5 cm) apart on the prepared baking sheet. Use a smaller cookie  cutter to cut out the centers of half of the cookies on the baking  sheet. Re roll any scraps and cut out the remaining cookies. Repeat  with the second ball of dough. (Note: If you find the  cookies are soft, place the baking sheets with the unbaked cookies in the  refrigerator for about 10 minutes to chill the dough. This will prevent the  cookies from spreading and losing their shape when baked.) Bake the cookies for about 12 minutes or until lightly browned around the edges. Remove from oven and place on a wire rack to  cool.
Place the cut out cookies  on a baking sheet and lightly dust the tops with  icing sugar. Spread a thin layer of Quince paste on the bottom surface of the cookie. Place the cut-out cookie on top and gently sandwich them together.