Sydney is so hot at the moment! Even as I write this, I can't bear to look at the window facing me which is ablaze with the bright sun rays literally blinding my eyes. It's still Spring technically but every bit like summer. I am still waiting for the stone fruits to arrive, meanwhile there are strawberries. There are always strawberries, whatever the season in Australia which makes life easier for me. Because, who does not love strawberries? Healthy or indulgent..there are a zillion ways of eating them. So this Layered Strawberry Cake aka Strawberry Lovers Cake (because it has all things strawberry in it) is made of a layered strawberry-vanilla marble cake, strawberry mousse, fresh strawberries and strawberry wafers. Besides tasting delicious, it smells so amazing!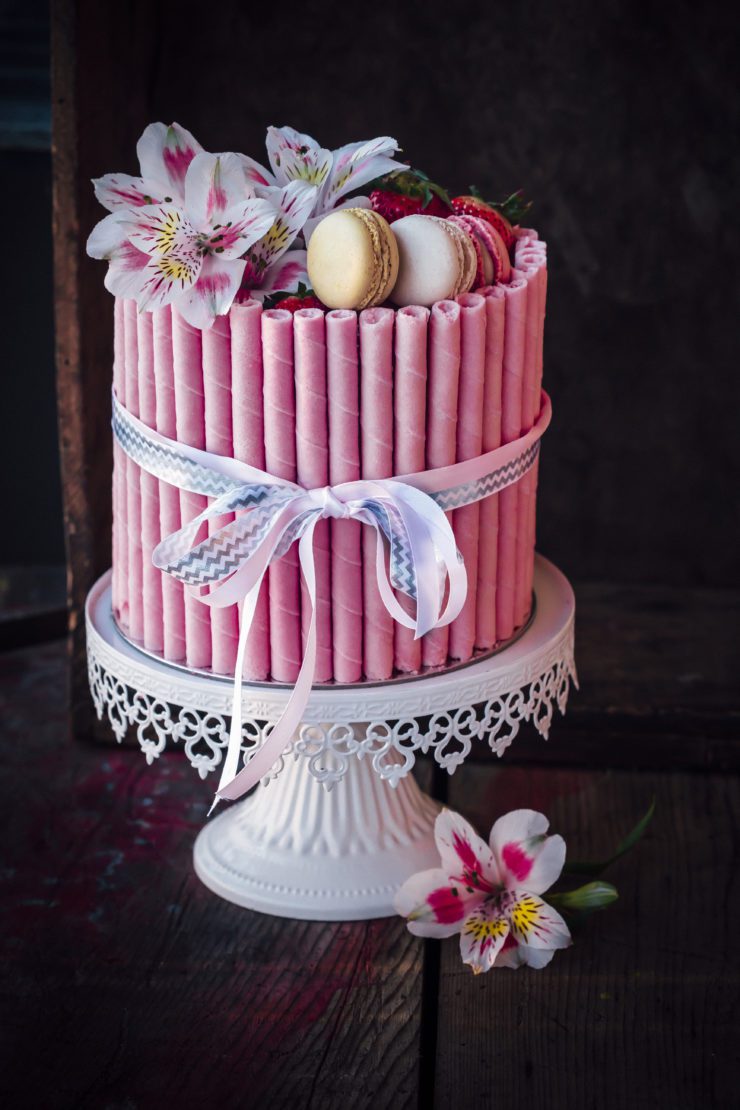 For a long time I was intending to make a Charlotte. There is something very delicate about the way different layers of cream/custard, sponge and fruit are encased between a circle of ladyfinger biscuits. Yes, that was the initial intention but as always I got swayed and so much that it just turned out to be another cake with a different kind of filling. These long, thin strawberry wafers  usually arrive during Christmas every year along with all the colourful candies. They were a tad bit too tall for the height of my cakes but filling the top with fresh strawberries made them just the right size for a cake like this. If you are planning on making the Layered Strawberry cake and can't find the exact wafers, you could use regular wafers as well, but a two-tiered cake would be more suitable.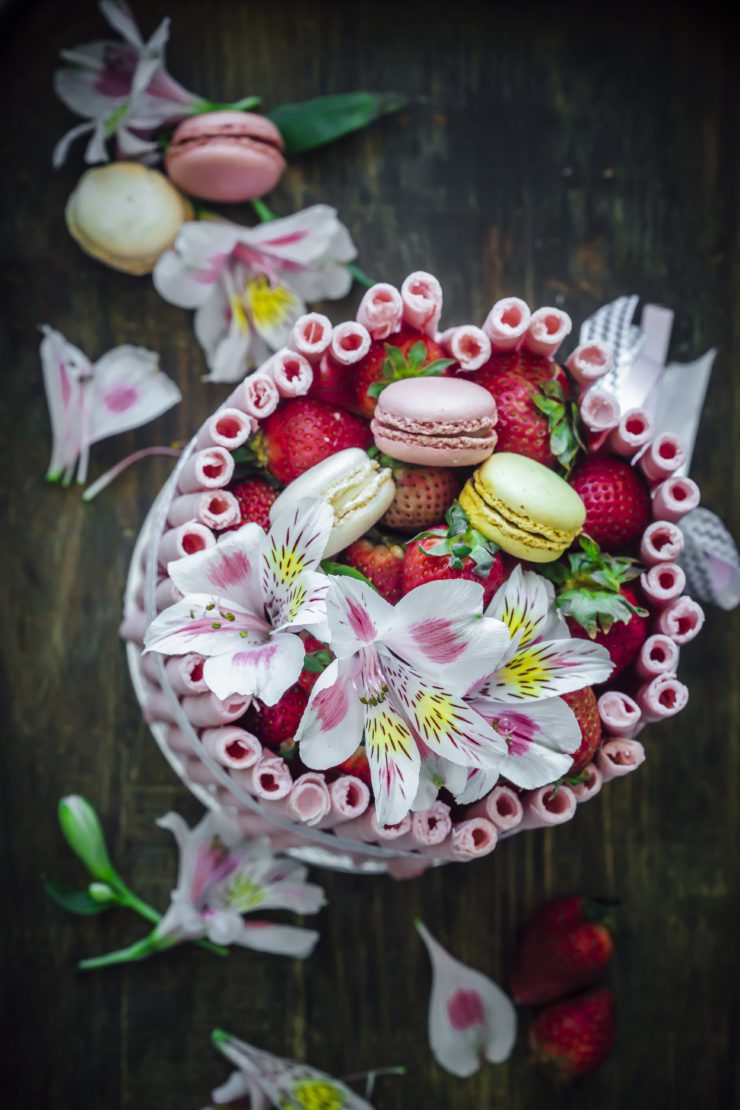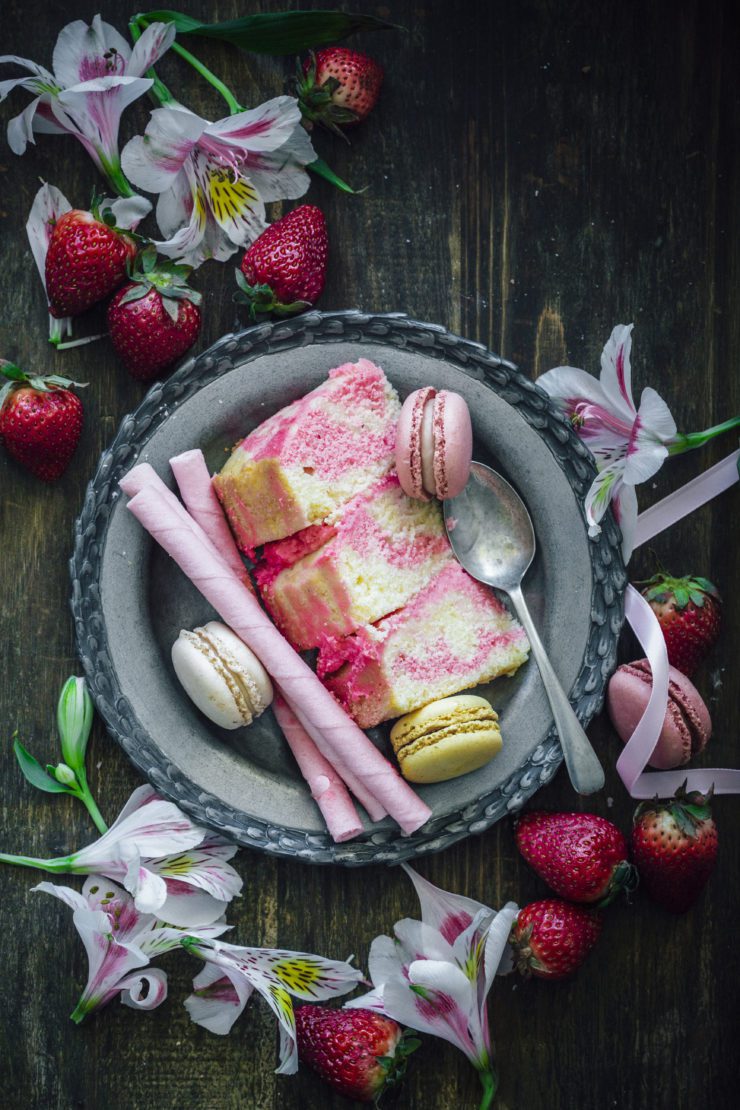 It is best that the layers are made ahead and assembled on the day of serving the cake. The mousse will hold up at room temperature for a couple of hours only. The other option is to refrigerate the assembled cake but in that case, it's best to sprinkle the cake layers with some strawberry infused simple syrup to prevent them from drying out. Simple syrup is made by heating equal parts of water and sugar till sugar dissolves completely. The cooled syrup is great for sponge cakes and such when you want them to remain moist for days, especially while refrigerating.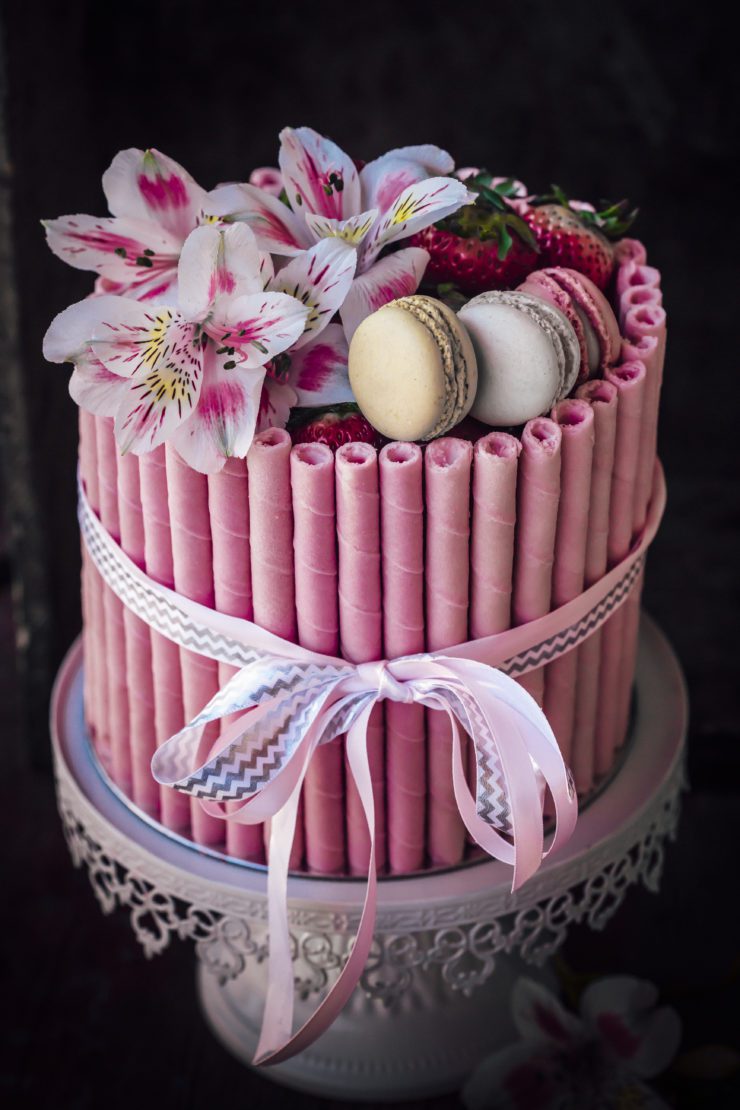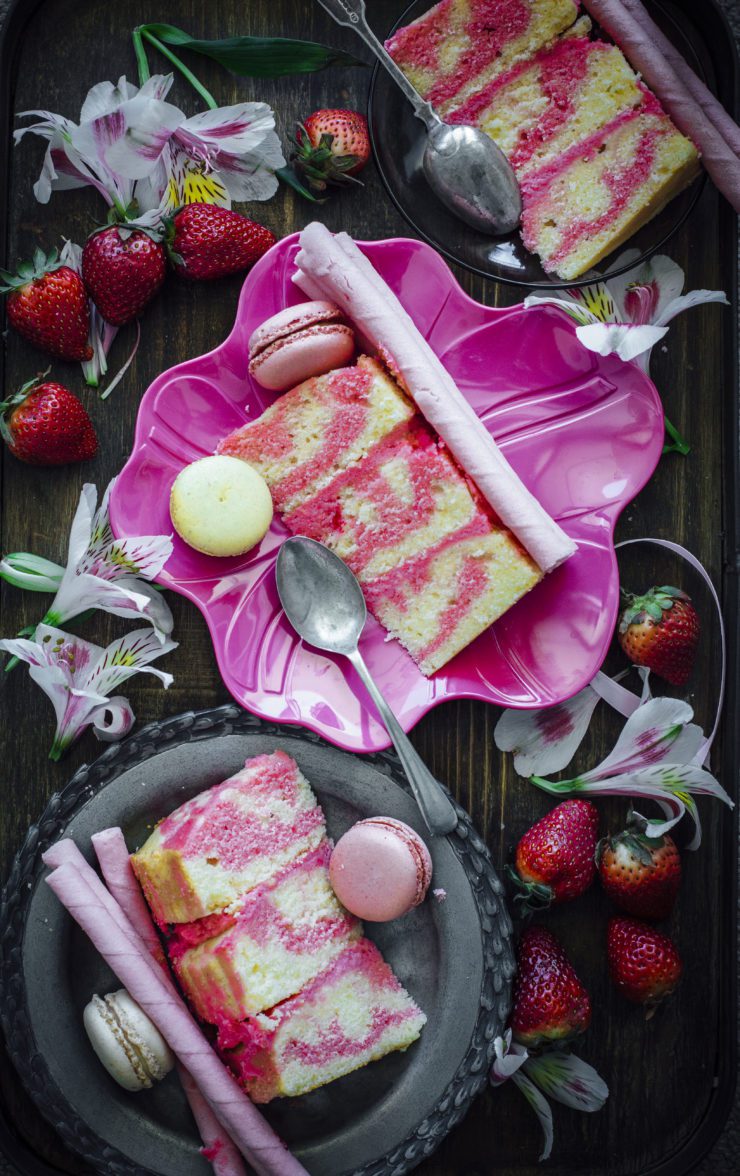 Layered Strawberry Cake
Makes a 3 layered 6 inch round cake
Strawberry-Vanilla Marble Cake (adapted with slight variation from this recipe)
250 unsalted butter, softened, plus extra for greasing
250 g caster sugar
5 large egg , lightly whisked
2/3 cups (approx 85 g) plain flour
100 g full-fat Greek yogurt
2 cups (approx 250 g) self-raising flour
1/4 cup milk
1 tsp pure vanilla extract
1 tsp strawberry extract
few drops pink food colour
Pre-heat oven to 160 degrees C (140 degrees C for fan forced ovens). Grease 3  round, 6 inch cake tins and line the bases with non-stick baking paper.
Using electric beaters or a tabletop mixer, beat the butter, sugar and ¼ tsp salt together until pale and fluffy, then pour in the eggs, one at a time, giving the mix a really good beating before adding the next. Add 1 tbsp of the plain flour if the mix starts to look slimy rather than fluffy. Beat in the yogurt.
Mix the flours; then, using a large metal spoon, fold them into the batter, followed by the milk. Remove half the mixture into a different bowl. To the existing bowl of batter add the vanilla extract. To the second bowl add the pink food coloring and strawberry extract and mix till blended. Spoon and divide the mixtures equally among the three tins and swirl with a long wooden skewer to create the marble effect. Bake the batter for 30-40 mins or until well risen and golden – a skewer inserted into the middle should come out clean.
Cool the cakes for 15 minutes in the tin. Then turn onto a wire rack to cool completely. Spread a think layer of mousse between the cake layers. Lightly frost the outside of the cake with the mousse and quickly place the wafers around it for them to stick to the cake. Top with fresh strawberries. Decorate with flowers and macarons.
1 sachet (7 g) unflavored gelatin
2 cups fresh strawberries, sliced
Sprinkle gelatin over 1/4 cup water in a small bowl; let stand 5 minutes. Process 2 cups sliced strawberries and 1/4 cup granulated sugar in a blender or food processor until smooth, stopping to scrape down sides as needed. Transfer strawberry mixture to a small saucepan; bring to a boil over medium-high heat. Remove from heat. Add gelatin to strawberry mixture, stirring constantly until gelatin dissolves. Cover and chill until consistency of unbeaten egg whites, stirring occasionally (about 30 minutes).
Beat cream at low speed until foamy; increase speed to medium-high, and beat until soft peaks form. Fold whipped cream into strawberry mixture until well blended. Cover and chill 30 minutes or just until mixture is thick enough to hold its shape when mounded.