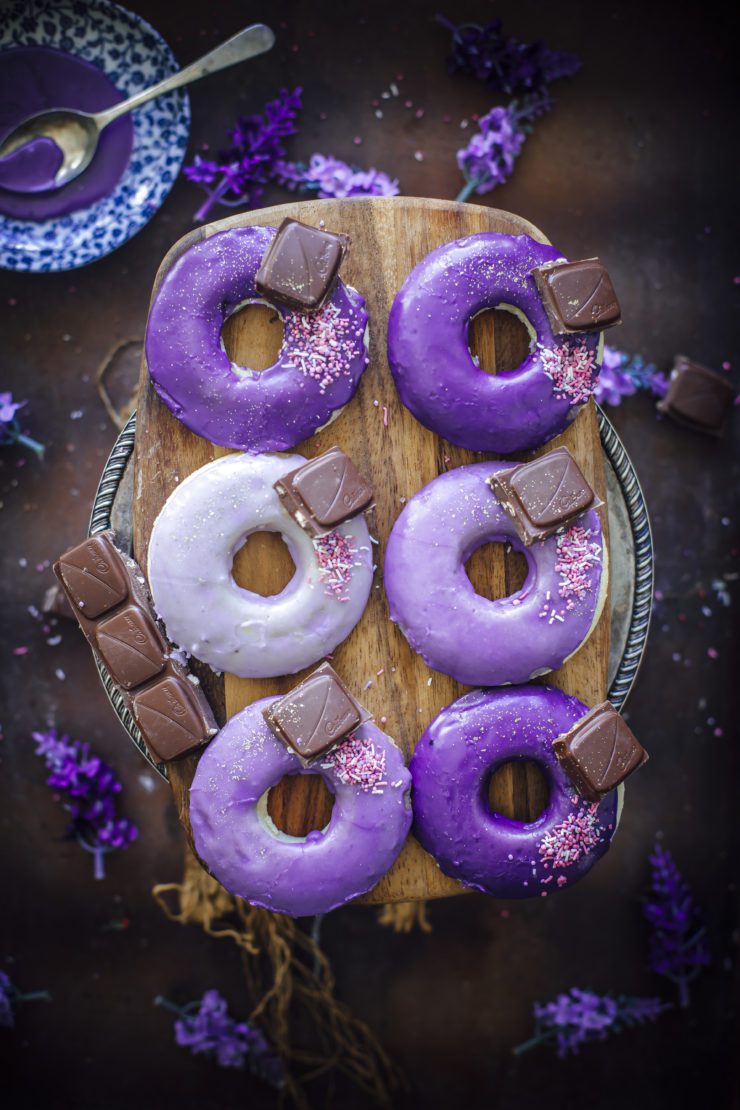 I have not been a fan of doughnuts in my childhood as much as I am today. Baked doughnuts are the perfect little portable treats that you can dress up, then wrap up in a pretty box (without fear of being ruined) to present to friends and family. Being known as a baker in my social circles, it's not unusual for me to gift edible treats to people who love them over other things. After all hand made things have their own special significance. This year I've moved over cakes  and made lots of doughnuts and tartlets for my favourite people. Taking a frosted, decorated cake along is such a challenge because they never reach the destination in one piece. It definitely works with patisseries and bakeries but being a home baker, you don't really have that kind of equipment and packaging at home. Doughnuts on the other hand are easier and individually portioned so they a joy to all (other than my husband who thinks only children eat doughnuts).
As you can see I had a lot of fun with the glaze. The best part is that I glazed them all in one single bowl. So don't worry about having to clean up multiple dishes which is my only concern always with ombre style desserts. Culinary lavender is worth stocking up in your pantry if you are a fan of the fragrance or just want to be creative. The buds usually last for a year so you can use them for a variety of desserts and treats. My girlfriends go gaga over floral treats so in my house lavender and rosewater need to be stocked up frequently. If you don't have lavender at hand, you can substitute with pure vanilla extract.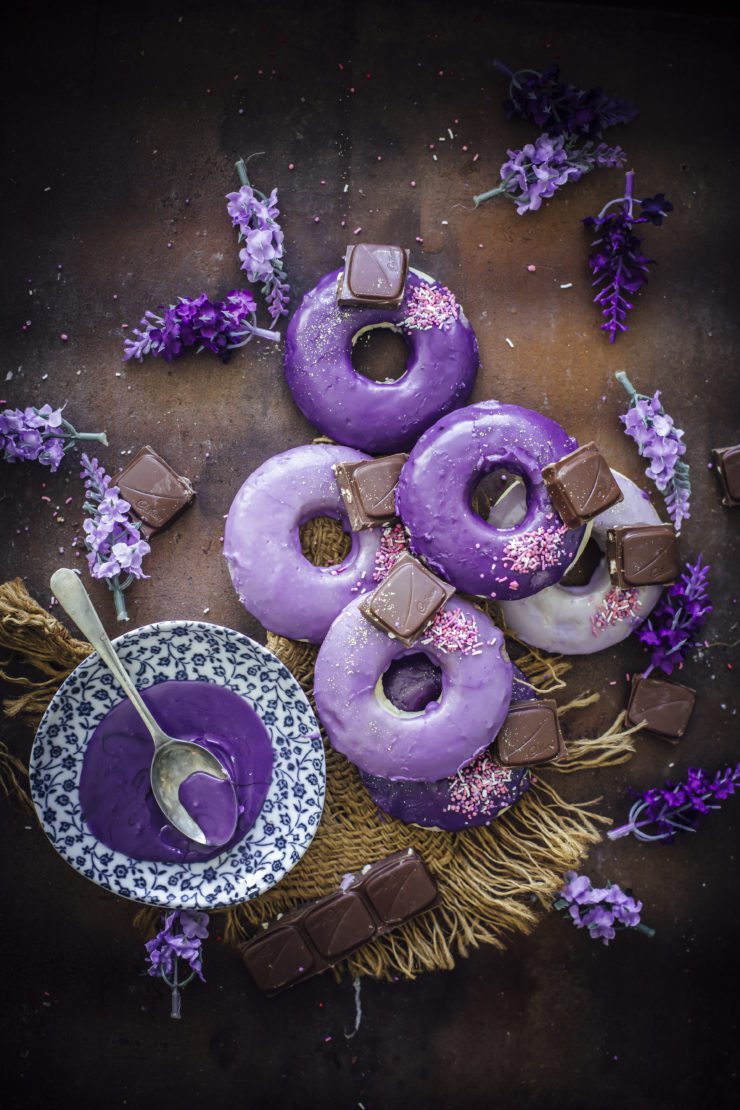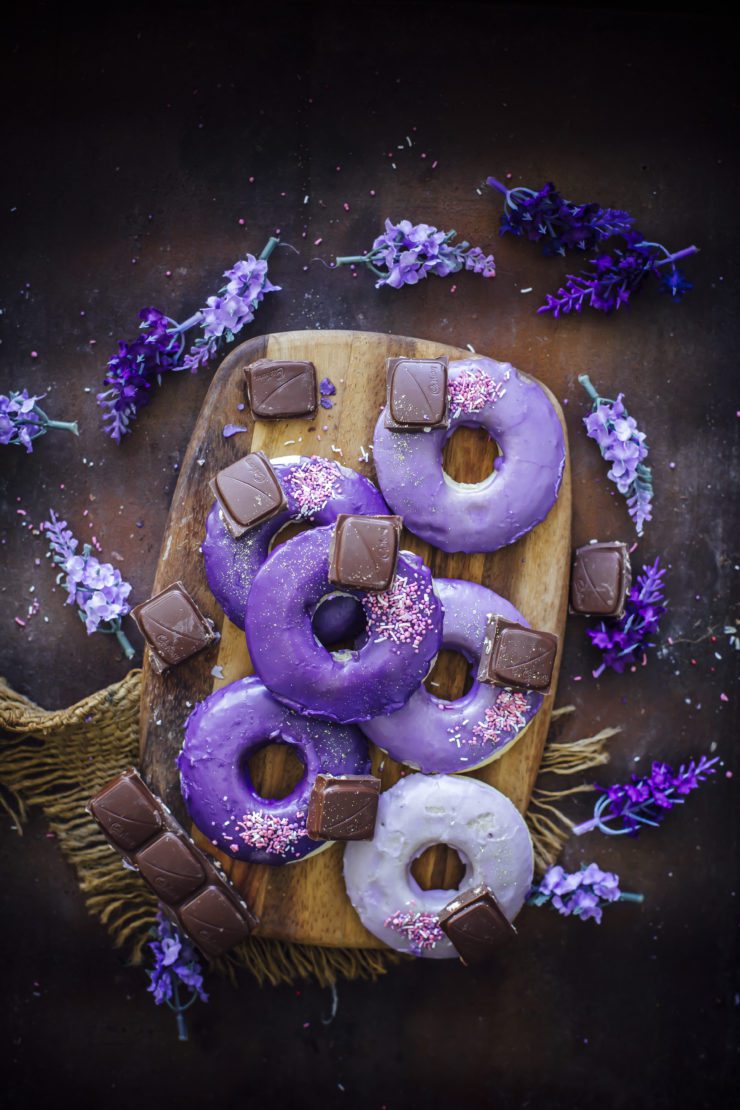 Baked Lavender Doughnuts
Yields 6 regular doughnuts
1 cup self raising flour
1/3 cup castor sugar
1/2 tsp ground culinary lavender
1/4 tsp salt
30 g unsalted butter, melted and cooled
1 egg
100 ml milk (1/3 cup + 1 tbsp)
Vanilla Glaze
1/2 cup icing sugar
1 tsp vanilla glaze
1 tbsp milk (or more if needed)
Purple gel food colour
Preheat oven to 180 degrees C. 160 degrees C for fan forced ovens). Spray a non-stick doughnut pan with cooking spray and leave aside.
In a large bowl mix together the flour, sugar, lavender and salt. In a different bowl, beat together butter, egg and milk. Add wet ingredients to the dry ingredients and mix well until fully blended. Do not over-mix.
Spoon the batter into the doughnut cavities till each cavity is about 3/4 full. Bake in the preheated oven for 8-10 minutes.
Remove from oven. Leave in pan for 2-3 minutes. Turn onto a wire rack to cool completely.
To make the Vanilla Glaze, in a medium bowl whisk the sugar, vanilla and milk. Mix well till blended. If mixture is too thick add a little more milk (remember mixture thickens upon cooling).
Add a very small qualtity of purple food colour (for the first two doughnuts). Dip two doughnuts, one at a time, letting the excess glaze drip off into the bowl. Place on the wire rack to set. Decorate with sprinkles and top with chocolate.
For the next two doughnuts, add a bit more food colour to the same bowl. Dip the next two doughnuts in the same way as the first ones. Add more food colour to the glaze for a deeper purple. Glaze the remaining doughnuts. Decorate.