What makes a dessert totally irresistible? Well, if you ask me, it is a lot of things put together in perfect harmony. Taste, colour, flavour, texture and so on. When we think of desserts, we automatically think of sweet sensations in our mouth but did you ever wonder why a lot of recipes often include a pinch of salt? Salt is supposed to not only enhance the sweetness and uplift the experience but it brings out the existing flavours in the most delicious way. Just like salted caramel tastes better than caramel!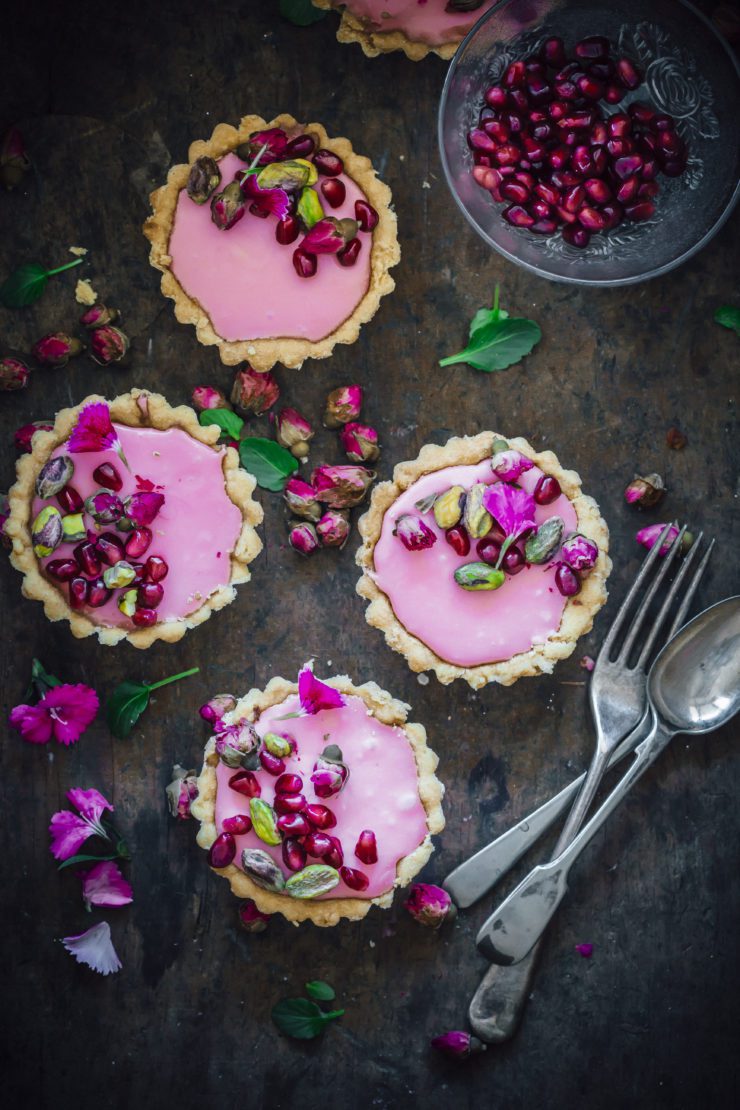 A few months ago I created a few salted dessert recipes for a magazine that I thought were too delicious not to share over here. This one is my favourite because it involves rosewater (obviously) with lots of crunchy surprises from the fresh pomegranate arils and the pistachios and it looks pretty too. As a little twist to the already amazing tasting dessert, I added salted pistachios instead of the plain ones. Sometimes a tiny little addition or substitute in a recipe can become a game changer. You really need to taste this one. It's something very, very special.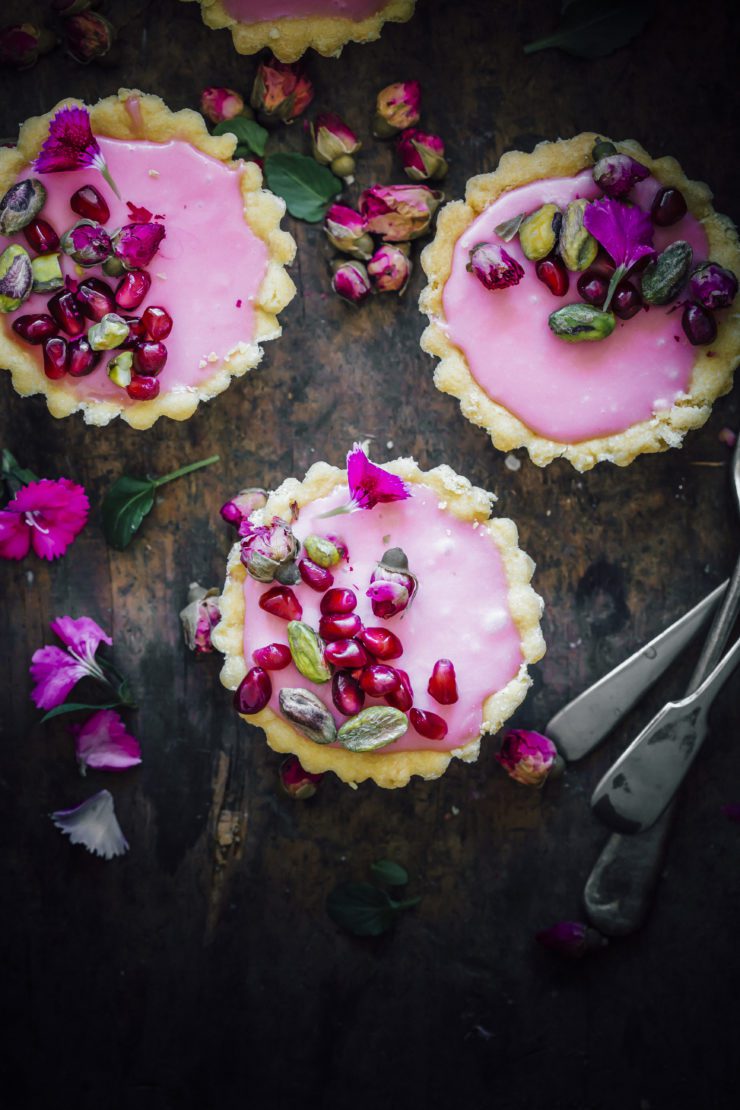 If you want to make one single tart instead smaller tartlets, you can of course do that. It will yield an 8 inch round tart. The pastry or base here is baked while the filling is not. By all means you can use a no-bake crust using cookies or even a store bought pastry shell if that makes things easier for you.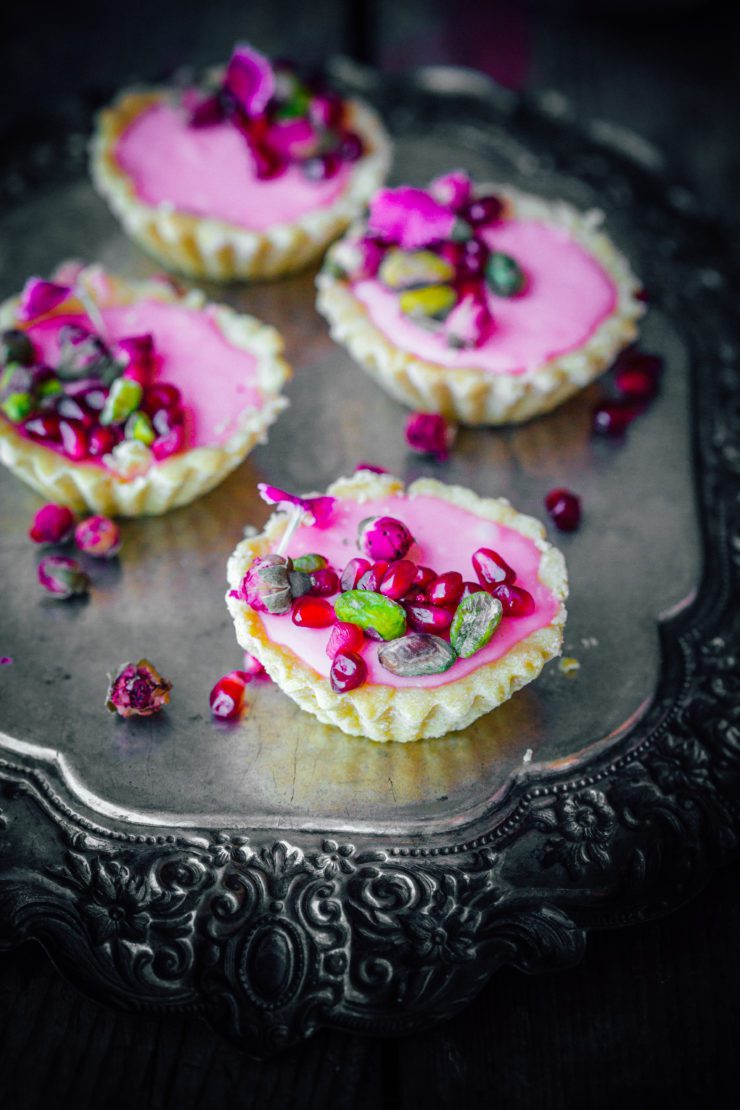 Rosewater Tartlets With Pomegranate And Salted Pistachios
Makes 6 tartlets
For the pastry
1 cup plain flour
1/4 cup, icing sugar mixture
100 g chilled butter, roughly chopped
1 egg yolk
For The filling
150 ml heavy cream
250 g white chocolate, roughly chopped
1 tsp rosewater
1-2 drops pink food colouring (optional)
fresh pomegranate, to serve
dried edible rose petals, to serve
salted pistachios, to serve
To make the pastry
Process the flour, icing sugar and butter in a food processor until mixture resembles fine breadcrumbs. Add the egg yolk and process until mixture just comes together. Gently knead on a lightly floured surface until smooth. Shape into a disc. Cover with plastic wrap and place in the fridge for 15 minutes to rest.
Roll the dough on a lightly floured surface to a 3 mm-thick disc. Line six, 7 cm fluted tart pans with a removable base with the pastry. Trim edges. Place in the fridge for 30 minutes to rest.
Preheat oven to 180 degrees C. Place the tart pans on a baking tray. Line with baking paper and fill with pastry weights or dried rice or beans. Bake in the preheated oven for 10 minutes.
Remove paper and weights and bake for a further 15 minutes or until pastry is light golden. Remove from oven and let cool inside cases to room temperature.
To make the filling
Meanwhile, bring cream to the boil in a medium saucepan. Remove from heat. Stir in chocolate and rosewater. Stir until chocolate is melted and smooth.
Add food colouring and blend well. Allow to cool. Pour cooled white chocolate ganache over cooked tart bases. Place in the refrigerator to set completely.
When serving, top with fresh pomegranate seeds and salted pistachios.