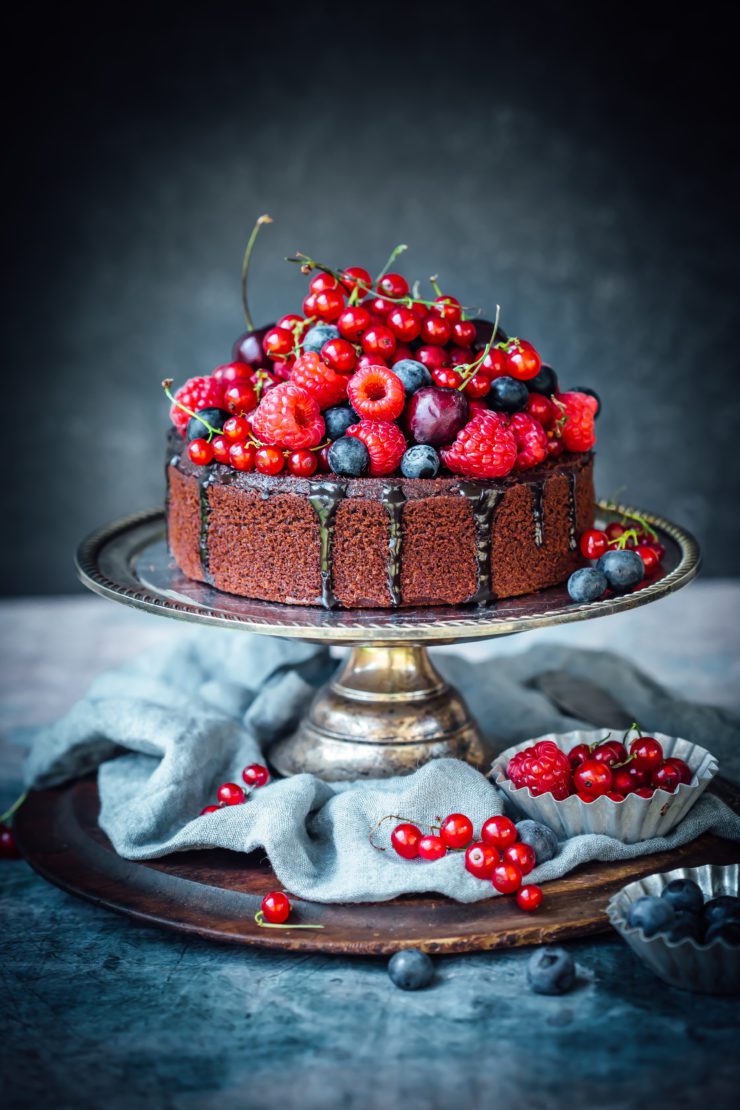 This cake has been on my must-try list for years. I've heard as well as experienced in many occasions that oil lends a softer, moister crumb. But since I like butter too much, I've just been putting it off. The reason? We whip butter in most cases with sugar to get that tall, light, fluffy texture which is not possible with oil.  And of course the flavour and taste of good old butter. I'm a fan!  However, with the New Year comes new resolutions and the willingness to experiment a bit more than I would usually do the rest of the year. So I gave it a go. The first time, the the cake turned out a bit dry but nevertheless it was gone in minutes as the kids were at home and I was after all baking the first chocolate cake of the year.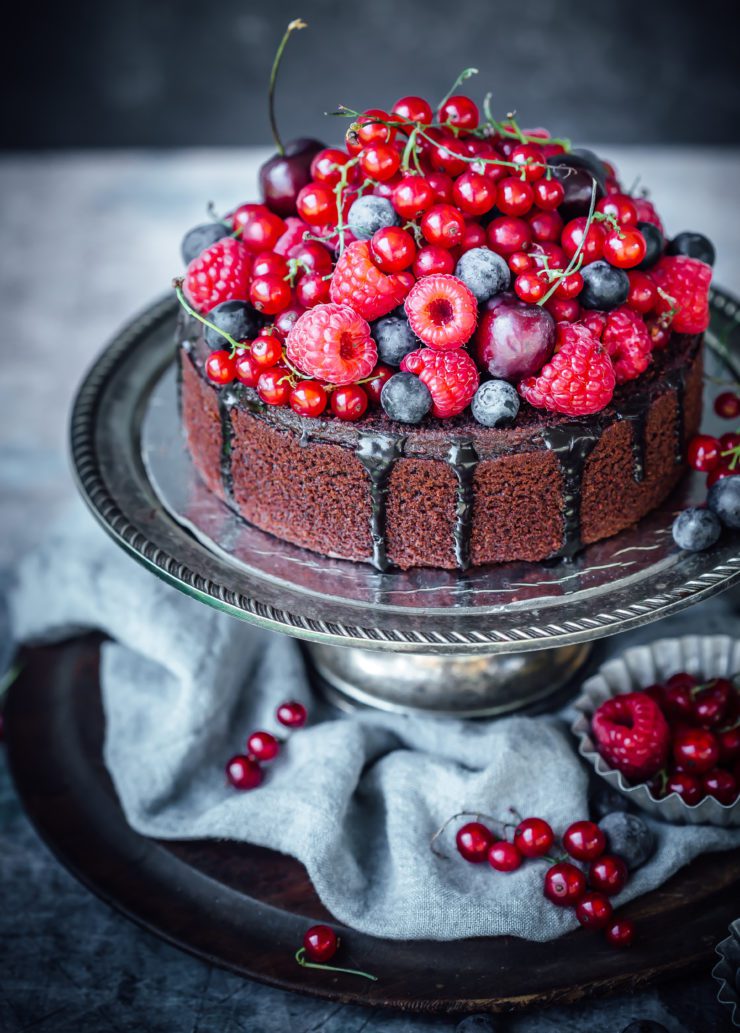 The second time I added warm water to the cocoa powder instead of adding it with my dry ingredients. It was a success. The cake was a moist, chocolatey deliciousness that tasted amazing with a chocolate ganache topping. The biggest plus is that it is such an easy cake to put together. Simple and sweet. Including olive oil and cutting out butter also makes it a bit healthier if you're counting those calories this month.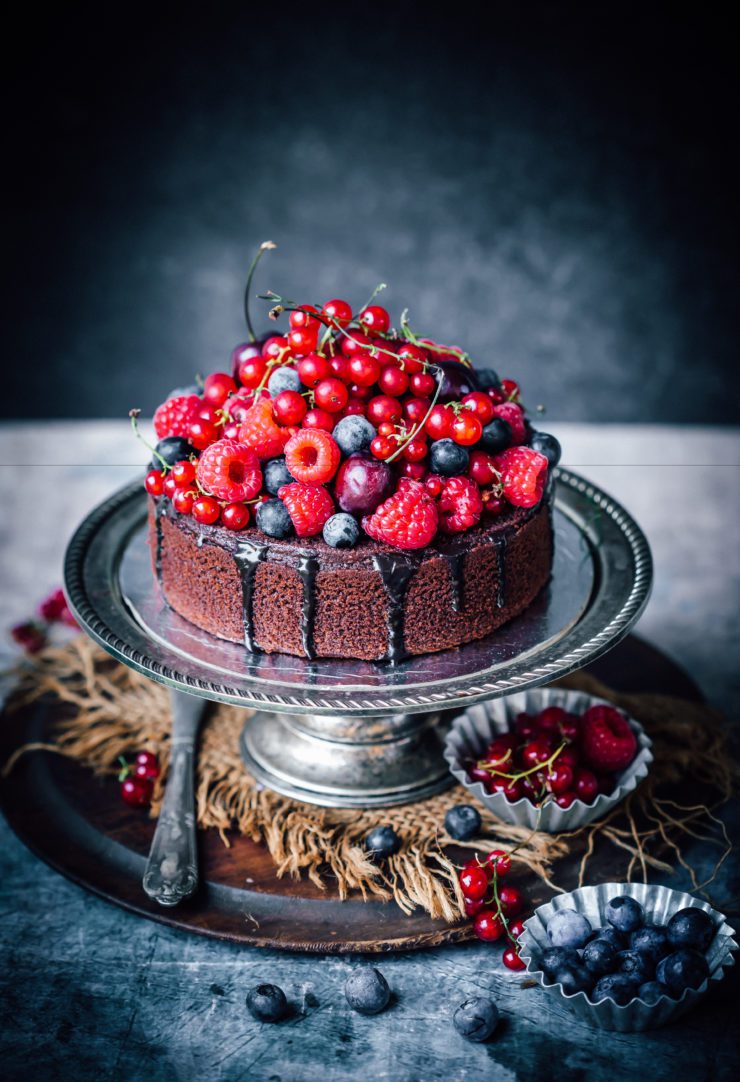 Chocolate Olive Oil Cake
Makes a 6 inch round cake
1/2 cup cocoa powder (preferably Dutch Processed)
1/2 cup warm water
1 cup castor sugar
2 large eggs
1 tsp vanilla extract
1 cup self raising flour
1/3 cup plain flour
2/3 cup olive oil
1/4 cup milk
Chocolate Ganache
150 g dark chocolate, roughly chopped
1/4 cup thickened/heavy cream
To make the cake : Preheat oven to 180 degrees C. Grease the base and sides of a 6 inch round pan and line the base with baking paper.
In a small bowl mix the cocoa powder and water together to make  a smooth paste.
Using an electric mixer or by hand in a large bowl, beat the eggs and sugar together till pale and creamy. Add the vanilla extract and beat again. Add the flours, olive oil, milk and cocoa mixture and fold till well combined.
Pour into prepared pan and place in the oven. Bake for 35-40 minutes or until a skewer inserted into the middle of the cake comes out clean. Remove from oven. Leave aside for 5-10 minutes to cool slightly, then turn onto a wire rack to cool to room temperature. Once cooled completely, drizzle with chocolate ganache. Leave aside for 10 minutes for ganache to set. Top with fresh berries.
To make the ganache: Place the chocolate and cream together in a microwave safe bowl or cup. Microwave on medium in short bursts of 10-15 seconds until cream reaches boiling point (do not boil). Leave aside for 1 minute for the chocolate to melt. Stir with a spoon till well blended. Pour or drizzle over chocolate cake.