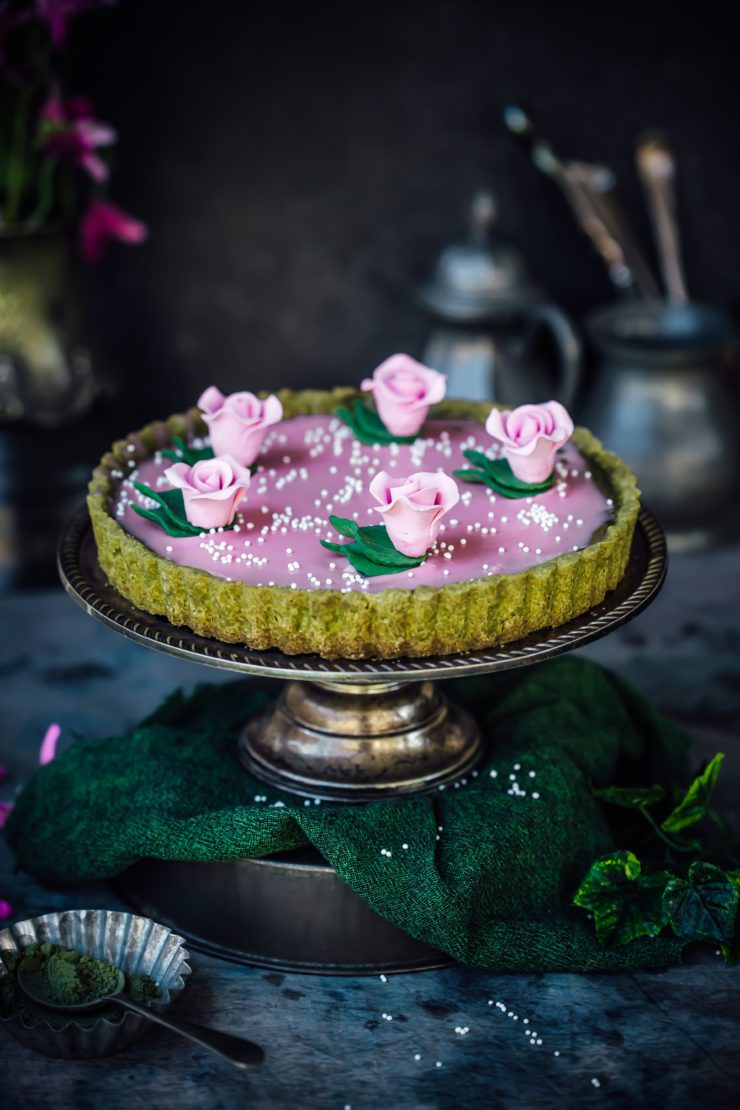 If you are a lover of Matcha green tea, I have the perfect dessert for you. If you're not or  perhaps unfamilar with it, that is about to change! My husband loves drinking green tea but I have never shared the same love for this healthy superfood with amazing health benefits. However, what I immensely love are the desserts infused with matcha tea powder. Not only do they look fabulous in that stunning shade of green but they taste pretty unique as well. I cannot think of a better pairing than white chocolate because they just complement each other in the most delicious way.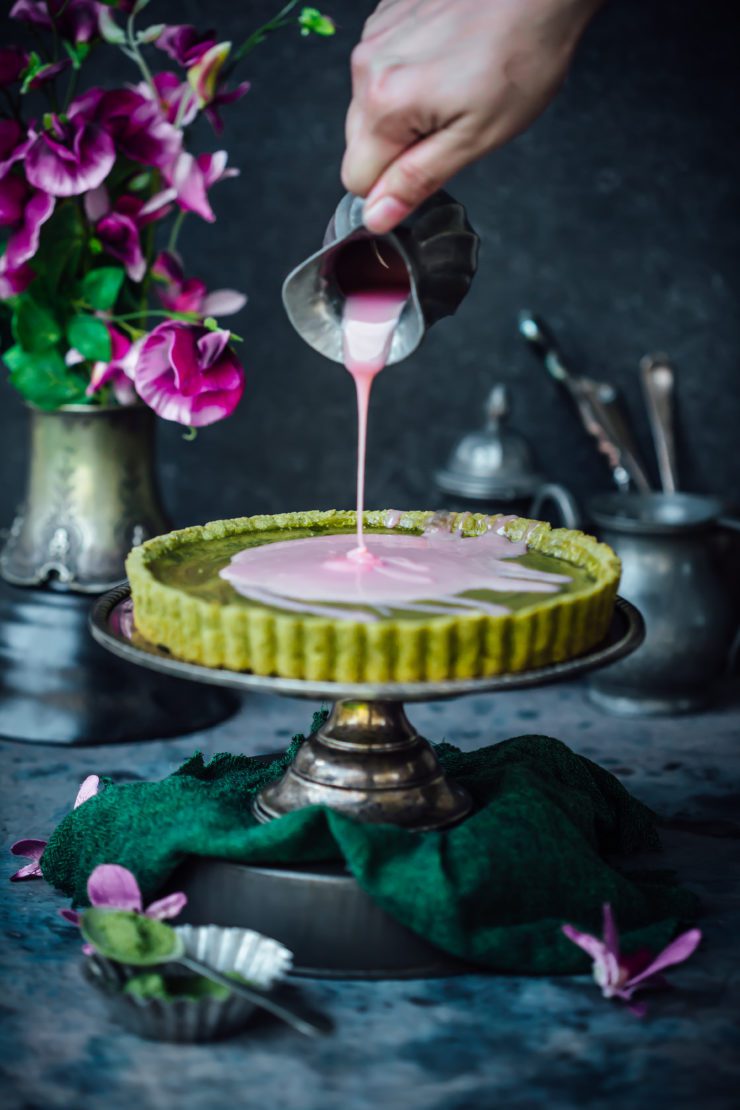 I've used matcha tea powder in the tart shell as well in the filling. In fact, though the tart dough took on the beautiful green colour quite easily, I was a little bit skeptical if the tart shell would remain green upon baking or turn into a golden brown rendition of the same. I was pleasantly surprised that the colour intensified in both the shell and the filling. My favourite part were the cross section of the slices.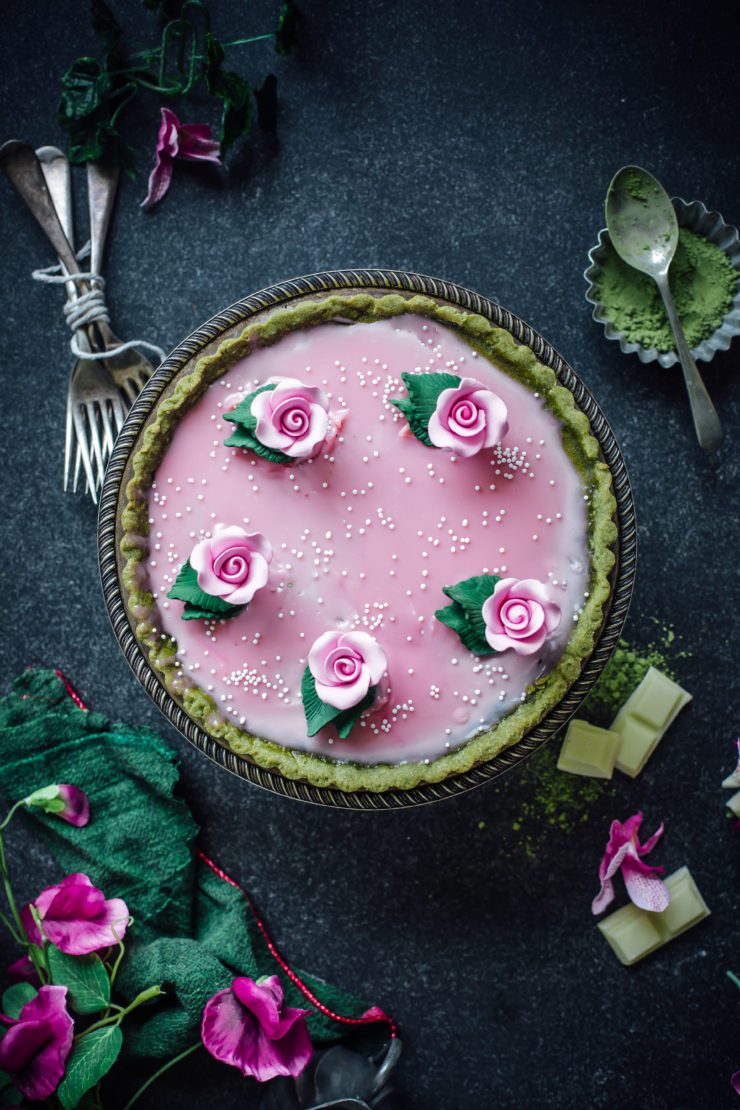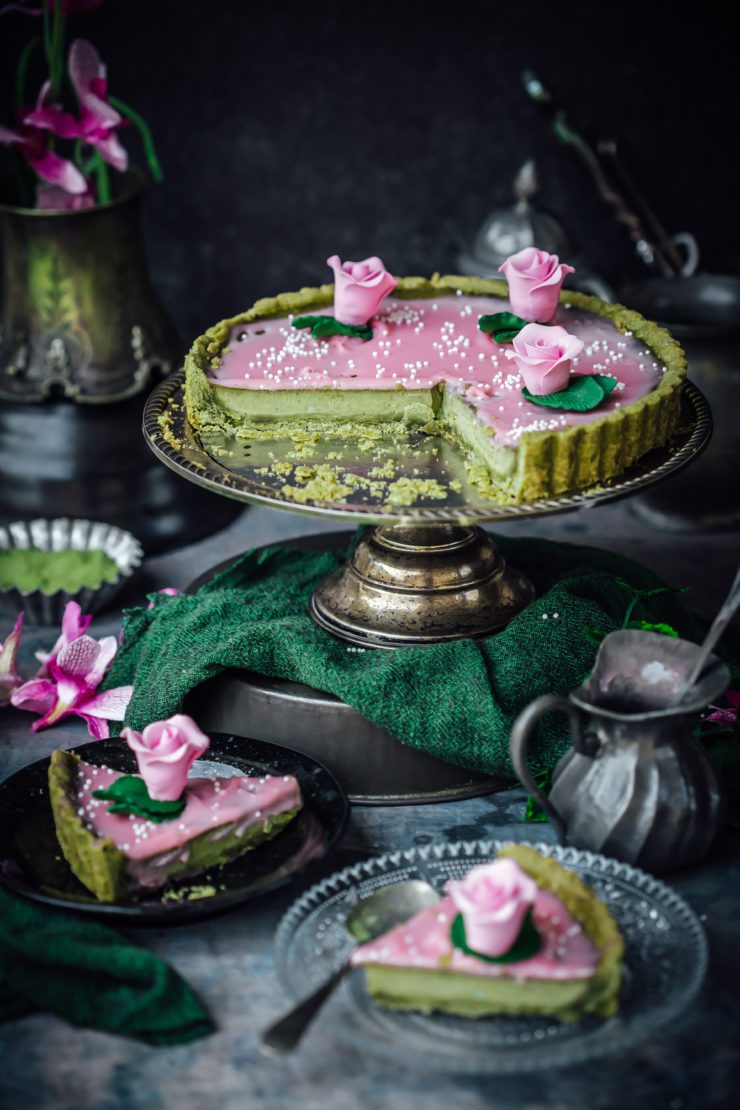 With Valentine's day around the corner, I had to dress up the tart of course.  Initially I thought of using candied rose petals but I've done that last year so I went with sugar roses this time.  I love going to High teas which are quite popular in Australia and somehow this tart reminds me of a High tea treat for girls. I'm very tempted to try out smaller tartlet versions of this for my next get-together with girlfriends:-)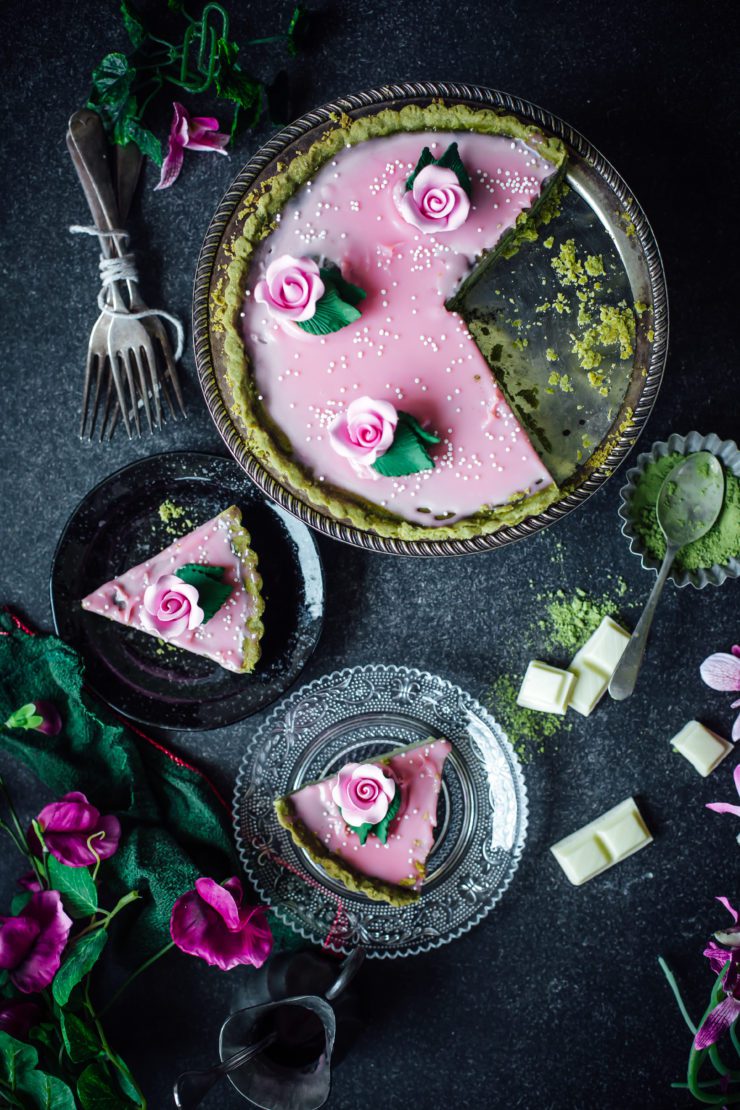 A few days ago I asked my followers on Instagram what kind of desserts would they love for Valentin's day. Rich chocolate ones or pretty pink ones? I got a few responses stating pink chocolate desserts. Now there can be many possibilities like a Neapolitan dessert, a raspberry/pomegranate infused chocolate dessert or a pink colored white chocolate treat. You know which one I chose for this tart but if you had a preference, which one would it be?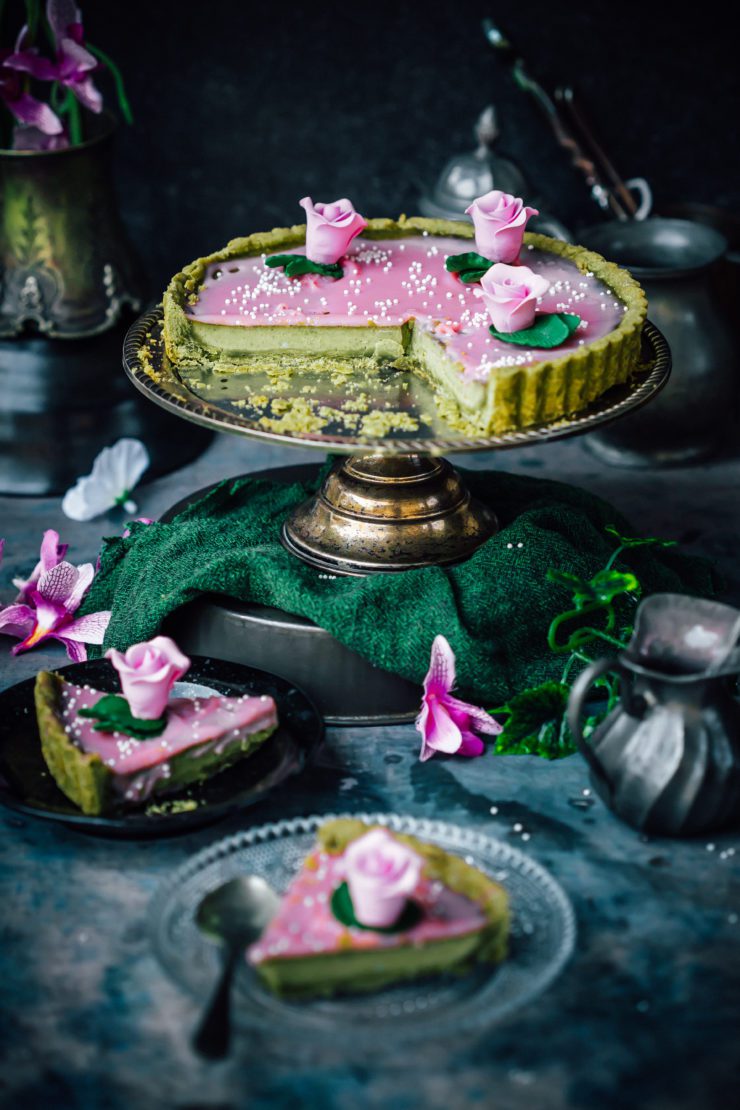 Matcha and White Chocolate Tart
Makes a round 8 inch tart serving 6-8
For the pastry

For the filling
1 tbsp matcha powder
3 eggs
150 ml single cream/pouring cream
1/4 cup castor sugar
For the pink Ganache
150 ml heavy cream
250 g white chocolate, roughly chopped
1 drop pink food coloring
To make the pastry, process the flour, Matcha, icing sugar and butter in a food processor until mixture resembles fine breadcrumbs. Add the egg yolk and process until mixture just comes together. Gently knead on a lightly floured surface until smooth. Shape into a disc. Cover with plastic wrap and place in the fridge for 15 minutes to rest.
Place tart pan onto a large baking tray/sheet (makes it easier to move the pan in and out of the fridge.). Roll the dough on a lightly floured surface to a 3 mm-thick disc. Line a 19 cm fluted tart pan with a removable base with the pastry.  Alternatively, press the dough with your fingers around the base and sides of the tart pan covering it entirely. Trim edges. Place in the fridge for 30 minutes to rest.
Preheat oven to 200 degrees C (180 degrees C fan-forced). Place the tart pan on an baking tray. Line with baking paper and fill with pastry weights or dried rice or beans. Bake in preheated oven for 10 minutes. Remove paper and weights and bake for a further 10 minutes or until pastry is light golden. Remove from oven. Cool for 10 minutes. Reduce oven to 150 degrees C.
Meanwhile, make the filling . Take two tablespoons of the cream in a small bowl and add the matcha powder. Whisk together till well blended. Whisk the eggs, remaining cream, sugar, and matcha paste together in a large bowl. Strain through a fine sieve directly onto the tart shell. If you're not comfortable doing this, strain first into a jug and then pour onto the baked tart shell.
Bake for 20-25 minutes or until custard is almost set. Remove from oven. Set aside for 15 minutes to cool to room temperature. Place in the fridge for 30 minutes to chill.
Once set completely, pour over pink white chocolate ganache (recipe below). Place again in the fridge to set (about an hour). Decorate with sugar roses/edible flowers/grated white chocolate/sprinkles or anything you like. Serve chilled or at room temperature.
To make the white chocolate ganache, bring cream to the boil in a medium saucepan. Remove from heat. Stir in the white chocolate. Stir until chocolate is melted and smooth.
Add food colouring and blend well. Allow to cool. Pour cooled white chocolate ganache over cooked tart base.