Disclaimer –This post is brought to you by Aeroplane Jelly. As always, all opinions expressed in this post are entirely my own.
The last few weeks of winter! It's funny how our seasons are diagonally opposite to the rest of the world. The great thing though is that it gives us the chance to whip up cosy, indulgent treats while the rest of the world is enjoying a berry smoothie. Now, would you rather drink a berry smoothie or eat a slice of this indulgent tower of chocolatey deliciousness?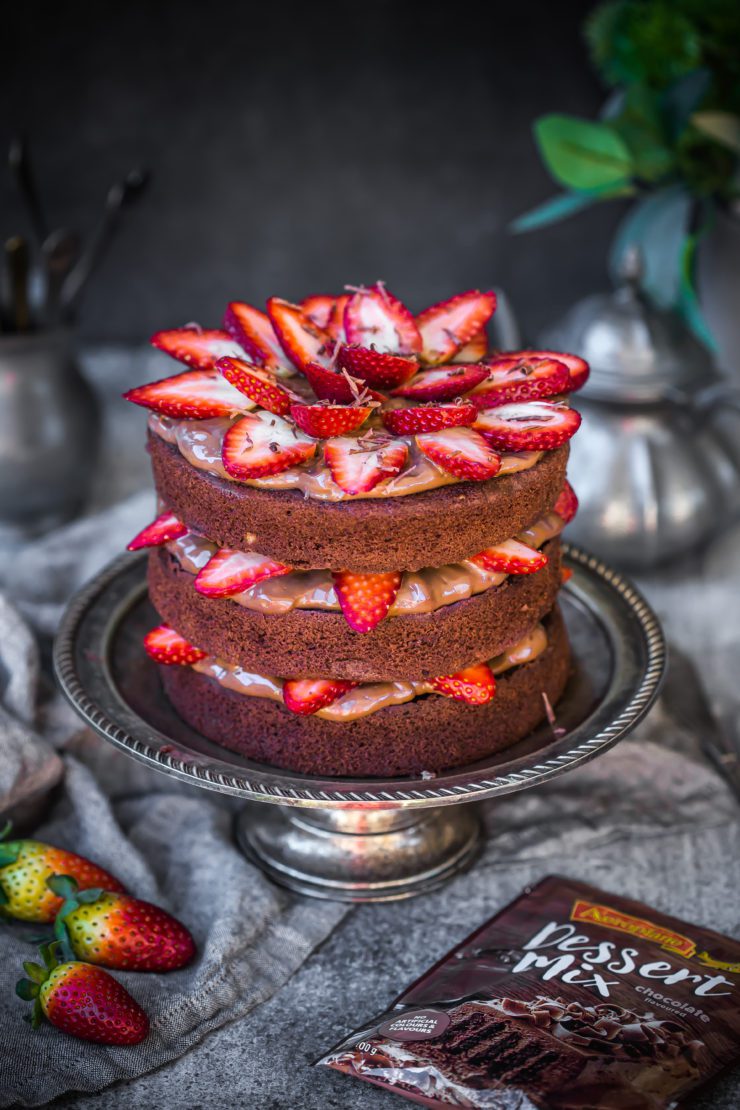 I'm always looking for creative, new desserts with chocolate. It's especially fun to experiment with different flavour and filling combinations when you have a trusty, go-to chocolate cake recipe. I decided to enhance my layered chocolate mud cake with another level of decadence. Sandwiched between the layers of chocolate cake, is a Chocolate flavoured Dessert Mix that not only makes life easier as it is so easy to make and use, but it gives the cake a more decadent finish. Oozy layers of pudding like chocolate accompanied by fresh winter strawberries and rich mud cake. Need I say more?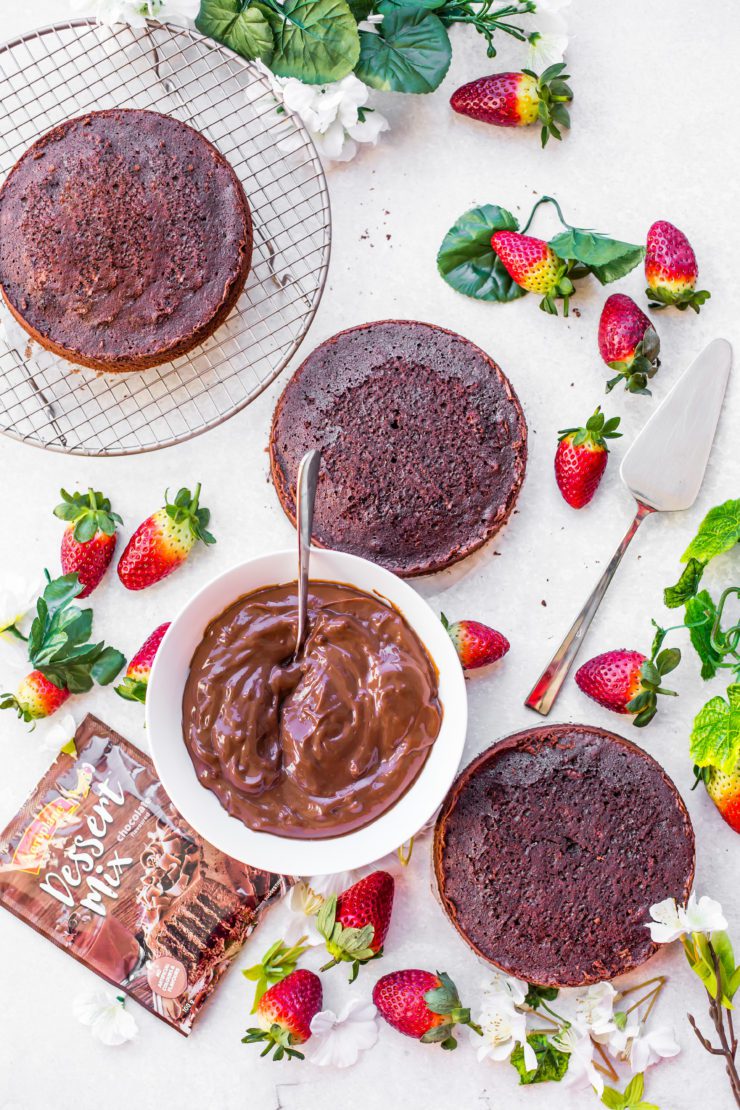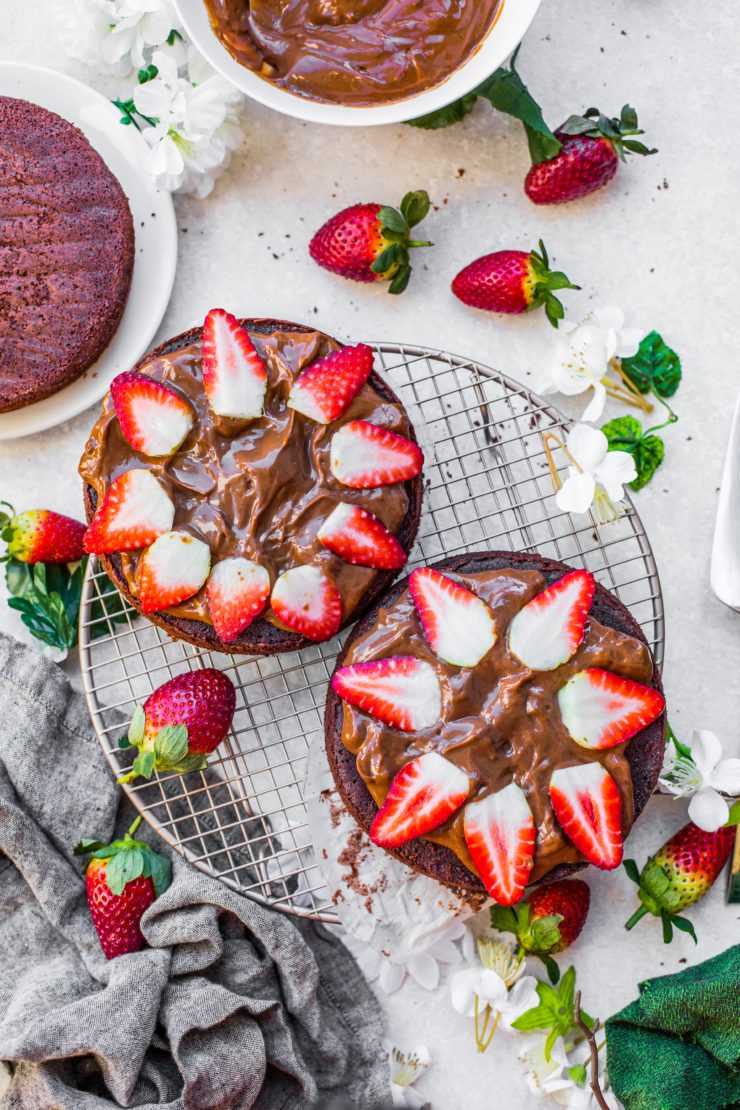 If you live in Australia, you already know the quintessentially Aussie favourite, Aeroplane Jelly. I mean, hasn't every Aussie kid grown up with Aeroplane Jelly and have their favourite memories of brightly coloured birthday treats involving their favourite flavour of jelly? But then is it really just kids? I can vouch for the number of jelly fans simply by the way people react when my desserts involve a jelly component in them. So when I discovered the Chocolate flavoured Dessert Mix, I already knew it was going to be a life changing find. Think, trifles, tarts, and fillings for eclairs, toppings for pancakes and waffles, dip for your churros or just by itself with your choice of fruit. Such a handy mix to have in your pantry.
Coming to this cake, it is as simple to put together as it looks. No fancy ingredients or equipment, just a showstopper that can easily turn your celebrations into a memorable one.
If you'd like your chocolate filling to be sweeter, add a few tablespoons of castor sugar or honey according to taste.
If you do not have 6 inch pans, you could go for larger pans and two layers instead of three. However, please keep in mind the baking time would increase in that scenario.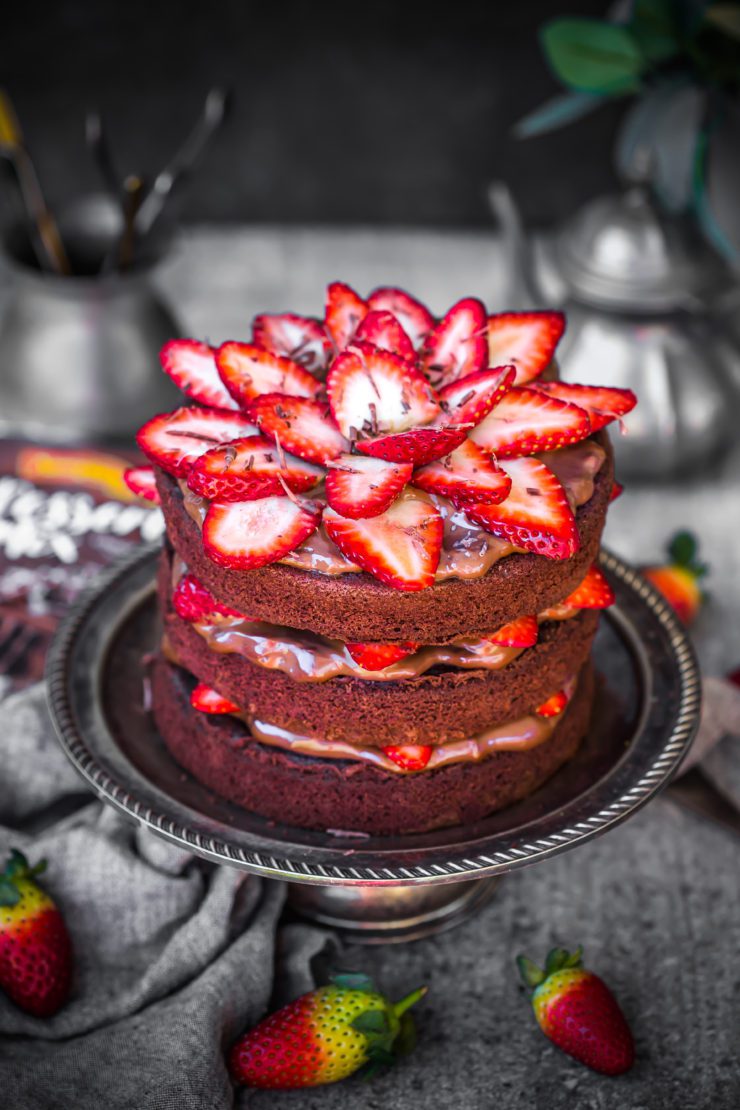 Chocolate and Strawberry Cake
Makes a 6 inch, 3-layered round cake
1 Aeroplane Jelly Chocolate flavoured Dessert Mix
250 g unsalted butter
200 g dark chocolate, roughly chopped
100 ml milk
1 and 2/3 cup self-raising flour
¼ cup Dutch processed cocoa
1 cup castor sugar
4 eggs
1 tsp vanilla extract
½ cup sour cream
1 punnet fresh strawberries, hulled, sliced
dark chocolate, shaved
Method: Prepare Aeroplane Jelly Dessert Mix according to package instructions. Add sugar if you like it sweeter (I added 2 tablespoons of castor sugar). Store in the refrigerator until needed.
Preheat oven to 160 degrees C (140 degrees c for fan forced ovens). Grease the base and sides of three 6 inch cake pans and line the bases with baking paper.
Place the chocolate, butter and milk in a medium saucepan and cook over low heat. Stir occasionally until butter and chocolate have melted and mixture is smooth. Remove from heat, leave aside to cool to room temperature.
Meanwhile, sift flour and cocoa into a large bowl. Add the sugar. Add the eggs, one at a time until well incorporated. Gradually fold in the chocolate mixture and sour cream and vanilla. Whisk until smooth.
Divide the batter between the three prepared pans. Bake for 40-45 mins or until a skewer inserted in the middle comes out with a few moist crumbs but no raw cake batter. Set aside for 10 minutes to cool in pan, then turn out gently onto a wire rack to cool to room temperature.
Once cool, place a layer of cake on a cake stand or a plate. Spread half cup of the dessert mix with a spatula or the back of a spoon. Arrange sliced strawberries as displayed in the pictures. Place the second layer and repeat the process. Cover with the last layer and decorate with sliced strawberries. Decorate with shaved chocolate. Enjoy!