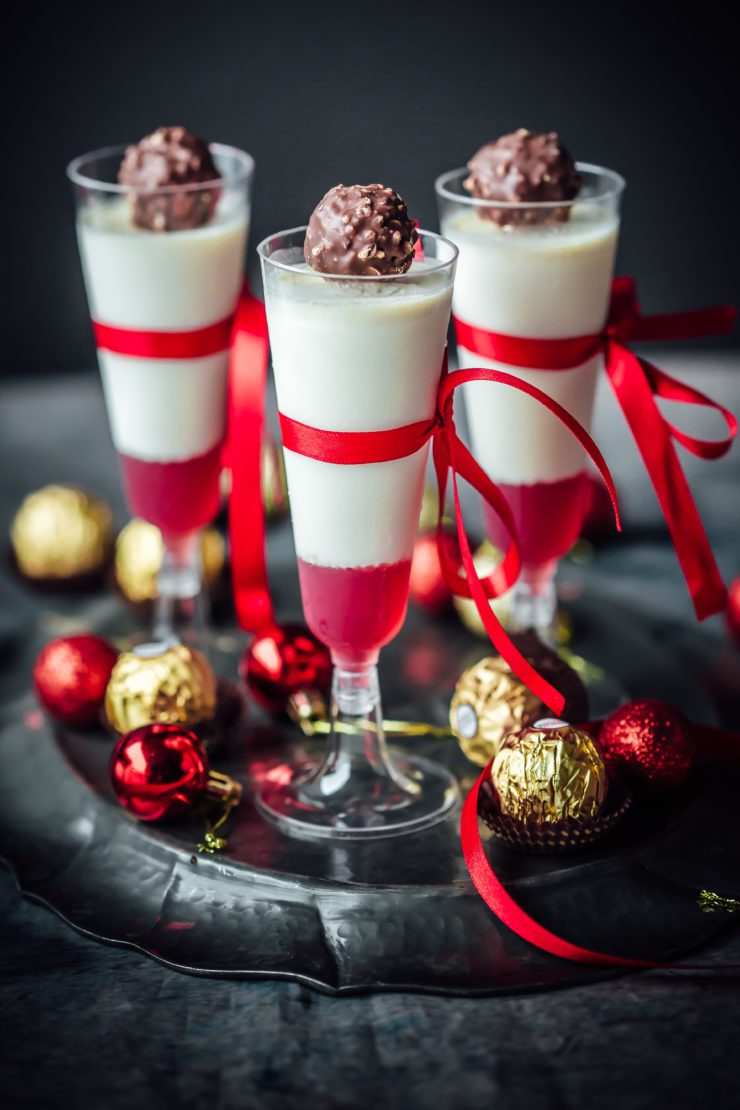 I thought I wouldn't be able to get a post out of me before the start of the next year, but it's Christmas and if this is not the time to indulge then there never will be one. In Australia, Christmas is synonymous with summer. So instead of spices, pies and puddings, it's more about light, cold,  make ahead desserts. I'm a big fan of Panna Cotta at this time because they are not only super easy and portioned for guests in any kind of fancy glass you can find but they're very versatile and can be flavoured in a variety of ways.
Instead of pairing with fresh fruits, like I would normally do, I made a quick cranberry jelly using cranberry juice and topped them with Ferrero Rocher Chocolates. The tart cranberry jelly is just perfect with the white chocolate in the Panna Cotta. And because it's Christmas, it doesn't hurt to dress things up a little bit some bright red ribbons that look amazing around the serving glasses. Overall it's an absolutely delightful treat to enjoy with friends and family.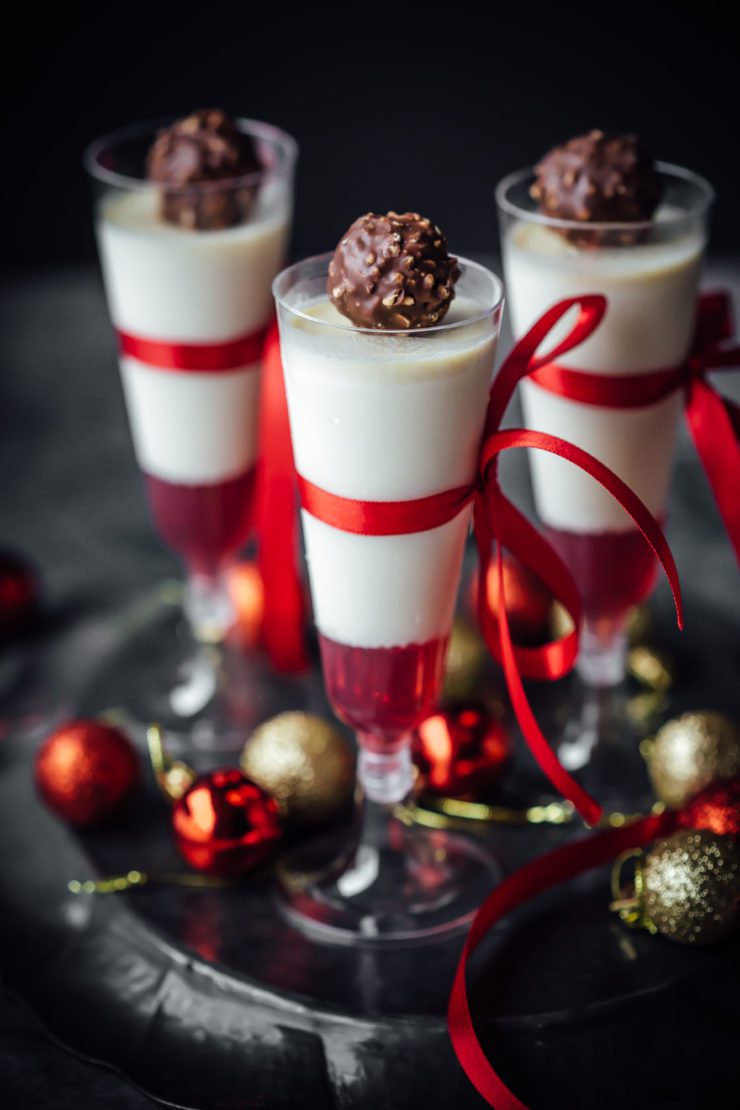 Merry Christmas to you and your family. In case you're not on Instagram, I've moved houses last week and am beyond excited to celebrate Christmas in my new home that we've build with a lot of love and patience for the last couple of years. Finally a space to call my own!
White Chocolate Panna Cotta with Cranberry Jelly
Serves 3
For the cranberry jelly
3/4 cup cranberry juice (store bought)
1/2 tsp powdered gelatine
For the White Chocolate Panna Cotta
1/2 cup + 2 tbsp milk
300 ml thickened cream
100 g white chocolate, roughly chopped
2 tbsp castor sugar (or more if you like it sweeter)
11/2 tsp powdered gelatine
Ferrero Rocher chocolates, shaved dark chocolate or fresh berries, to serve
To make the jelly layer, place the juice and gelatine in a small saucepan. Leave aside for 5 mins for the gelatine to bloom. Warm gently on low heat till gelatine completely dissolves (do not boil). Keep stirring to check (approx 1-2 minutes). Remove from heat, cool to room temperature and divide uniformly between serving glasses. Refrigerate for 1-2 hours until set.
To make the Panna Cotta layer, place the 1/2 cup milk, cream, chocolate and sugar in a saucepan over low heat and cook till chocolate is melted and mixture is smooth (Do not boil.) Remove from heat.Place the 2 tbsp milk and gelatine together in a a small bowl and allow the gelatine to bloom (about 1-2 mins). Pour this gelatine mixture into the saucepan with the milk-cream mixture and mix till blended.
Cool to room temperature and pour on top of the jelly layer. Place in the refrigerator to set (about 4-5 hours). Serve with chocolates or fresh berries.