The sweetest message I have ever read. 'I BELIEVE IN LOVE AT FIRST SIGHT…Because I'VE BEEN LOVING MY MOTHER SINCE THE TIME I OPENED MY EYES…'
I don't really follow 'day-s'. Birthdays are an exception of course. But I would still call myself a person who can go lengths to make someone smile. Just that it would never be restricted to time or occasion. I am certain all of us are like that.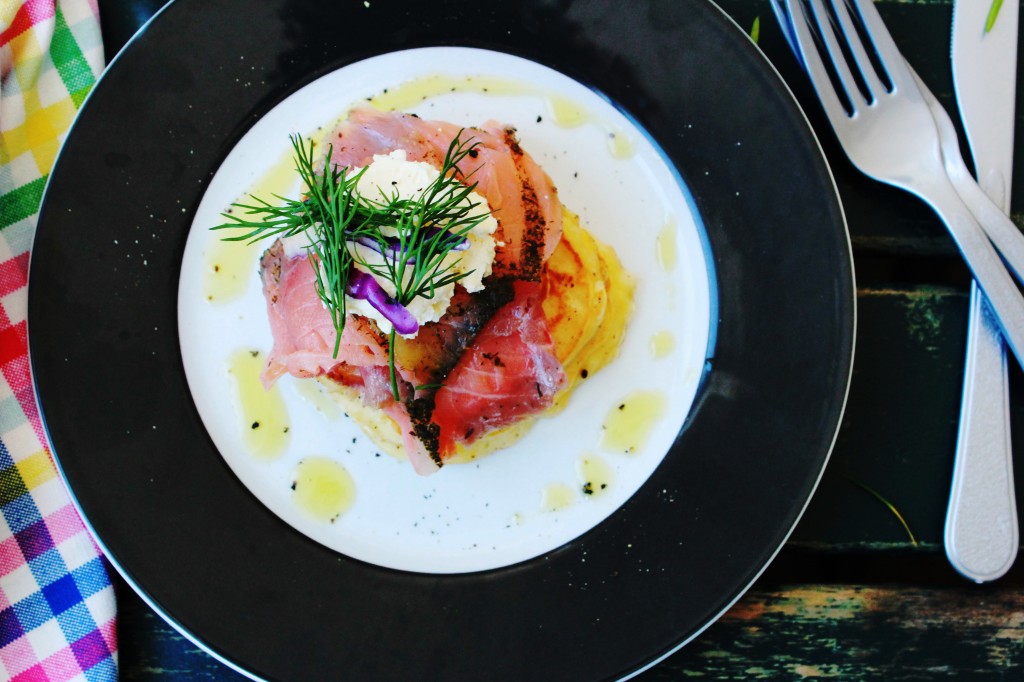 Until a few years ago, I couldn't relate to all the hype about Mother's day. Though I have probably participated every year since I was a little girl by bringing little gifts for my Mommy or cooking something special for her, I have to admit that I did it without much thought or understanding of the significance of Mother's day. I would only think about what gifts she would like or what would make her happy. After my twins came, I looked at motherhood with a whole new perspective. Mothers don't really expect anything..rather nothing!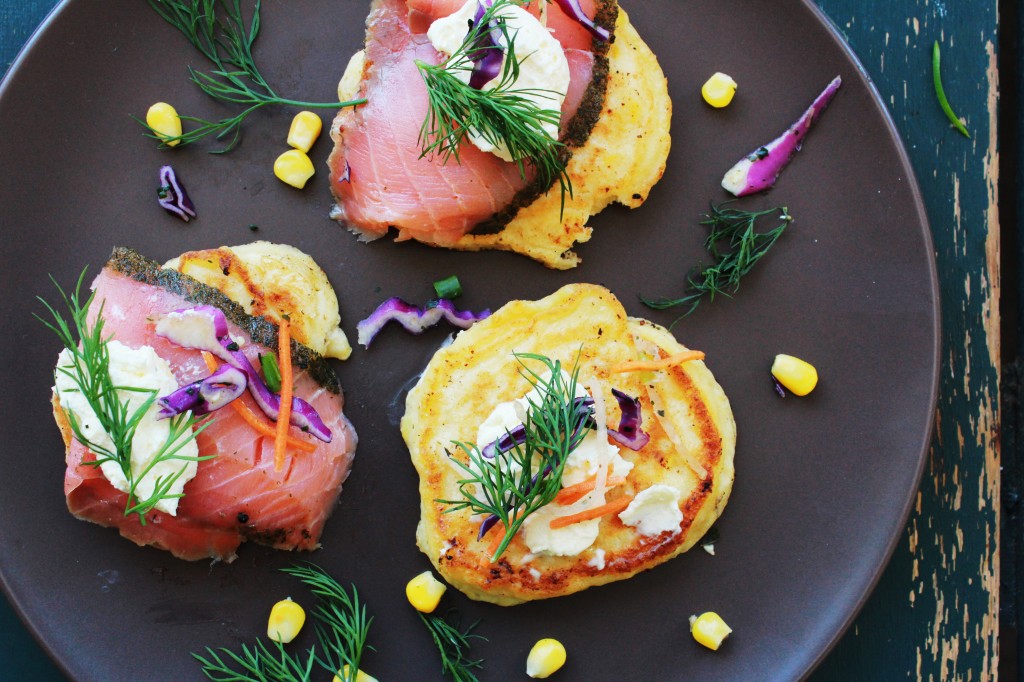 Having said that, being a Mom is the most rewarding role in itself, however thankless or sacrificing it is. Ask any Mommy out there! And making a surprise brunch or a meal can be a small gesture in acknowledging all that she does selflessly day after day. Daddy-s too, I think can lead by example and involve younger kids in putting something together to show how much she is appreciated. You always have the option of taking her out for lunch but isn't it worth spending a little time and doing it at home?
Keeping that in mind, I am posting a recipe that is quick and easy but looks great. Pikelets are nothing but baby pancakes. I often make the batter a day in advance and shallow fry the pikelets when needed. Canned creamed corn is readily available in Australian supermarkets but if you do not have access to it, its easy to make your own and store. Vegetarians can substitute smoked salmon for grilled shaved pumpkin or sweet potato. It looks fantastic and tastes just as good. You can use a grilling pan (or a normal frying pan) sprayed with a little olive oil and cook for 2-3 mins on each side.
In my house, though the kids are too young to understand celebrations, I have received notes every year on their behalf leaving me teary eyed (of course, Daddy at work).Last year, the boy's daycare got their hand and feet impressions in different colours on a card with a sweet message. When I went to pick them up, they came running to me with the cards in their hands shouting 'Appy appy day'. It was touching!
A Mother's love is UNCONDITIONAL. You realise that far more when she is not around. Can you tell me in the current world how many things are unconditional?
To all the Mommy's out there, you are amazing…you are beautiful…what you have accomplished, NOONE else can. Your kids love you and so do I. Happy Mother's day!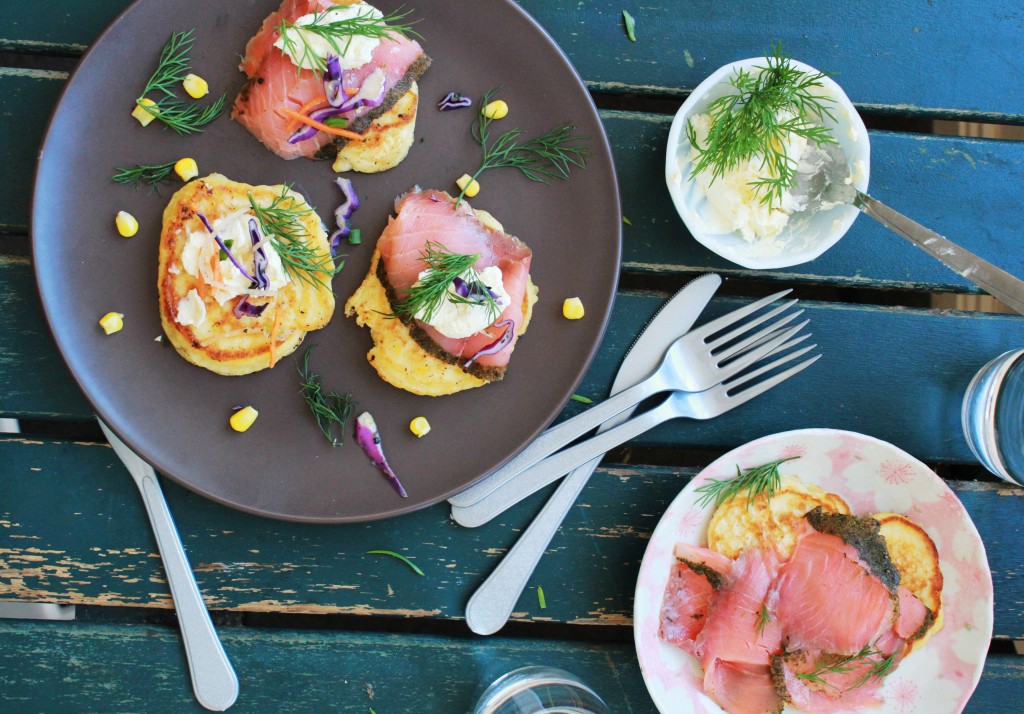 Corn and Chive Pikelets with Smoked Salmon and Sour Cream (pikelets adapted with variation from Taste.com)
serves 4-5
1 cup self-raising flour
1 tsp baking powder
A pinch of salt
3/4 cup milk
1 egg lightly beaten
1 cup creamed corn (store-bought or home made- recipe below)
2 tbsp freshly chopped chives
1/2 cup grated cheese (I use cheddar)
Olive oil for frying
8-10 thinly sliced Smoked Salmon
Sour cream
Fresh Dill for garnish
Extra Virgin Olive oil and cracked pepper (optional)
Sift flour, baking powder and salt in a bowl. Make a well in the centre.
Whisk milk, egg, corn together in another bowl. Add to the flour mixture and stir to combine. Stir in chives and cheese.
Heat 1 tablespoon of olive oil in a pan over medium heat. Using 2 tablespoons of batter at a time, cook pikelets in batches till bubbles appear on the surface (2-3 minutes). Turn over the other side and cook till golden and cooked through. Repeat with the remaining batter to make 20 pikelets.
To serve, place 3-4 pikelets on a plate. Top with 2 slices of smoked salmon. Add a dollop of sour cream and garnish with dill leaves. Drizzle with extra virgin olive oil and a sprinkling of cracked pepper.
Creamed Corn
2 cups frozen whole corn kernels
1/4 cup butter
1/2 cup heavy or whipping cream
1 tsp sugar
salt and pepper to taste
Place butter in a large skillet over medium heat to melt. Add the frozen corn and stir, cooking over medium heat until the corn is mostly thawed. Add in the heavy cream, sugar, salt and pepper. Continue cooking, stirring constantly to prevent cream from scorching (10-15 mins) until corn is cooked through and sauce is thick.