I am very excited about this one. Not only because it is sweet post but it uses one of my cannot-do-without fruits. And in its best form ever – WHOLE! Yes,  skin, pulp..everything. No seeds though. If that has already excited you, I have not even come to the more interesting facts. There is no butter, no flour in the cake. So gluten-free, reduced fat, healthy, however you like to call it. For me, not having to zest an orange for an orange cake is brilliant enough so with pleasure I call it a whole orange cake.
The cake is known to be a classic Passover dessert drawing inspiration from Morocco, the Mediterranean and the Middle East. And trust me when I say, the flavour is to die for!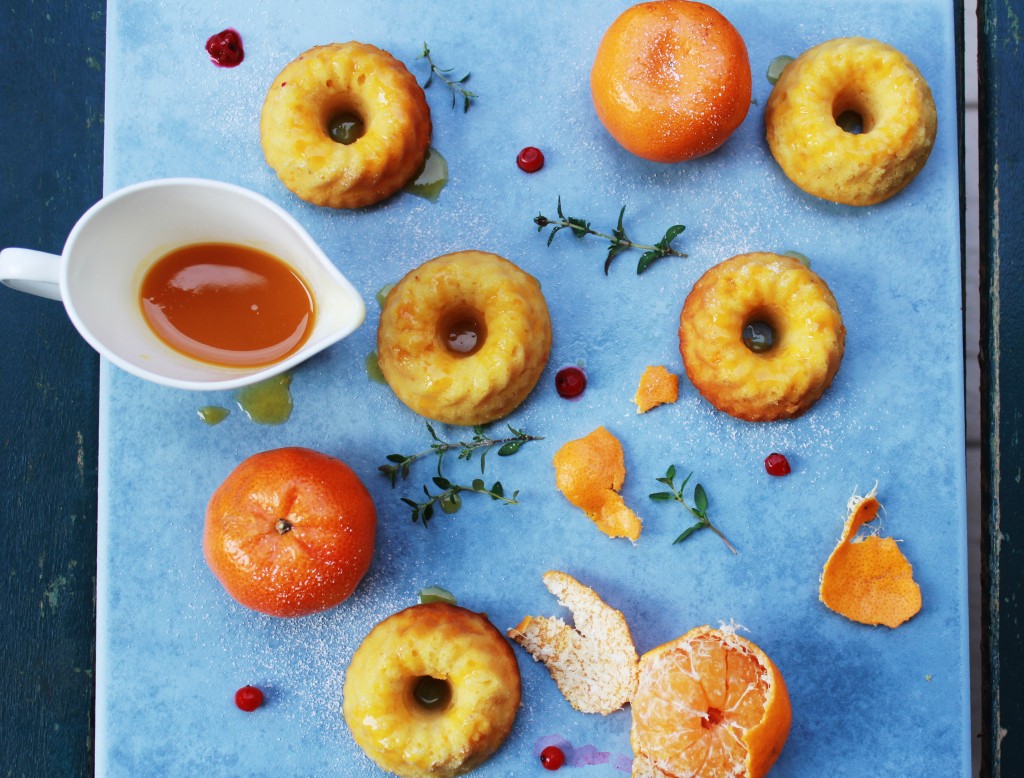 During my childhood, the appearance of oranges marked the onset of winter. One funny memory that I have is dozing off in the school bus on my way home and waking up to the smell of citrus. Almost everybody was biting into an orange. Back then fruits were strictly seasonal. With the way technology has evolved in the present day much of our produce is omnipresent. And we have so many options to choose from. So coming back to the cakes, while all varieties of oranges can be used, Navel being seedless would be the safest bet. If you are using any other variety make sure the seeds are left out. Or the resulting flavour could be bitter.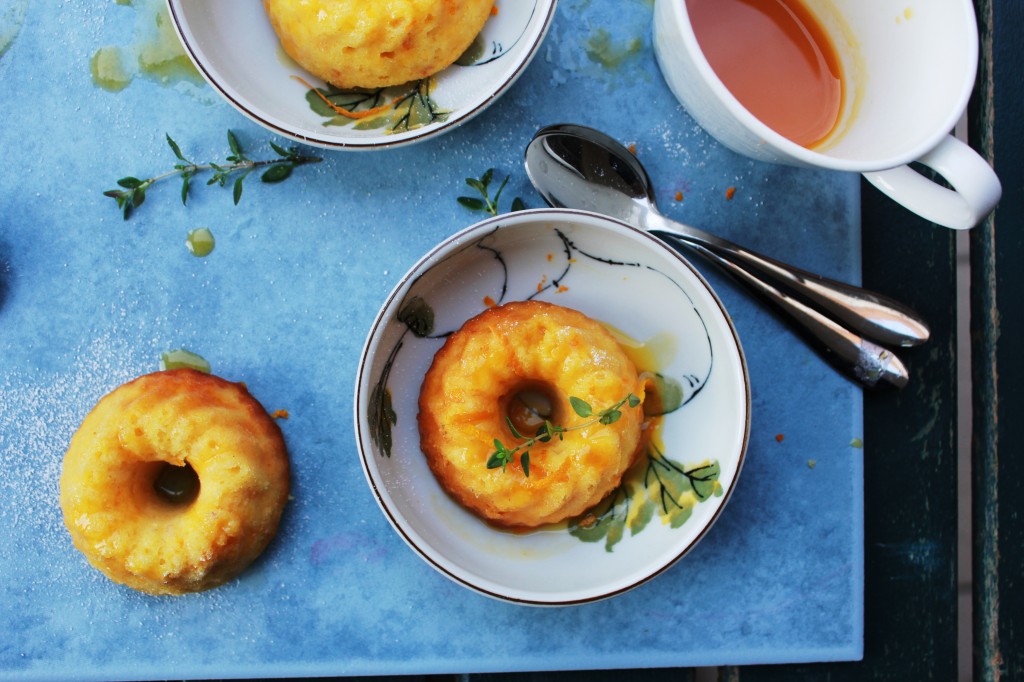 While the cake is extremely simple to put together with just 5 ingredients, I would like to share a few tips that help in the process. After boiling the orange in water let it cool down in the liquid. That way the boiling time (the boiling time mentioned was 2 hours in the recipe, I boil it for 40-45 mins) can be reduced and the fruit is still softened. In case you do not have seedless oranges at hand, before pureeing make sure you take the seeds out by cutting it open. Grease the cake pan well and dust it with a generous amount of sugar so you get a nice caramelisation on the outside of the cakes. I use a mini bundt pan to get individual portions, you can double the recipe and bake a 8 inch cake instead.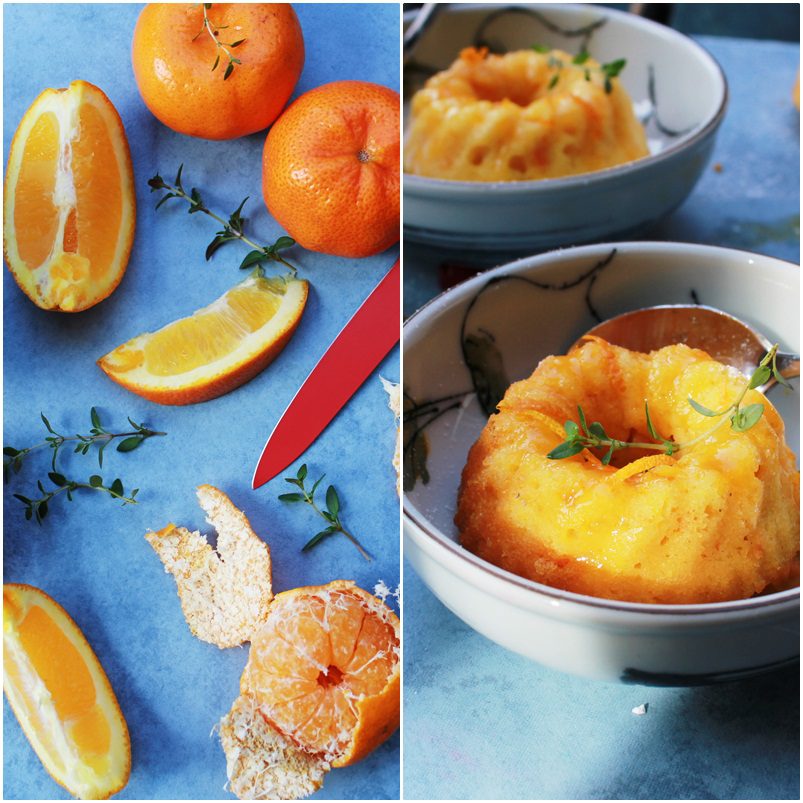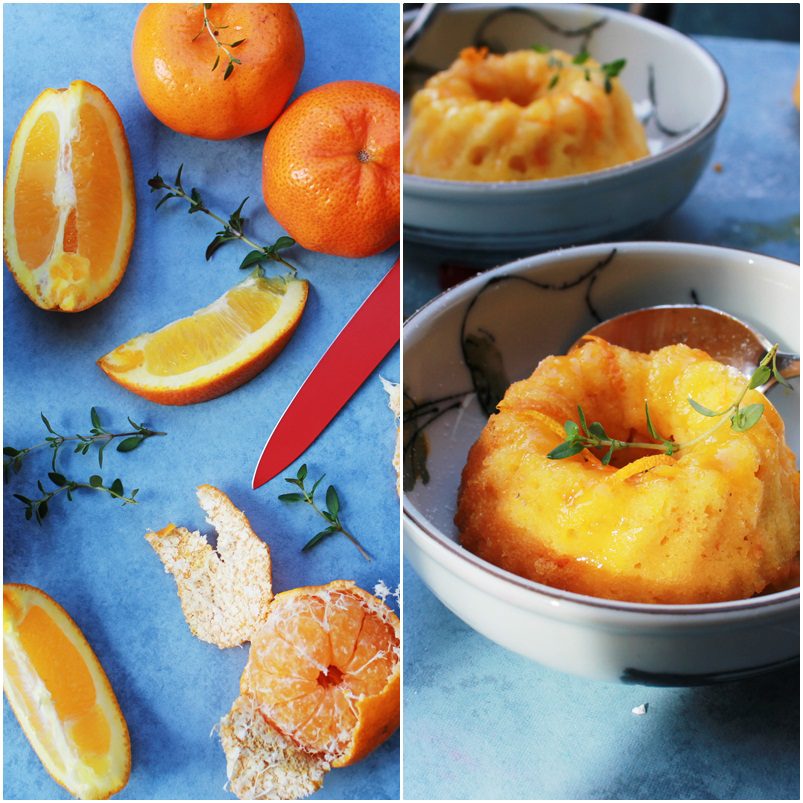 The cake is intensely orangey in flavour, moist and beautifully fragrant. The original recipe did not call for a syrup. But the syrup does give it a touch of sophistication. Serve it warm with some ice cream or whipped cream on the side and you are sure have guests raving about your dessert. Don't believe me, give it a shot!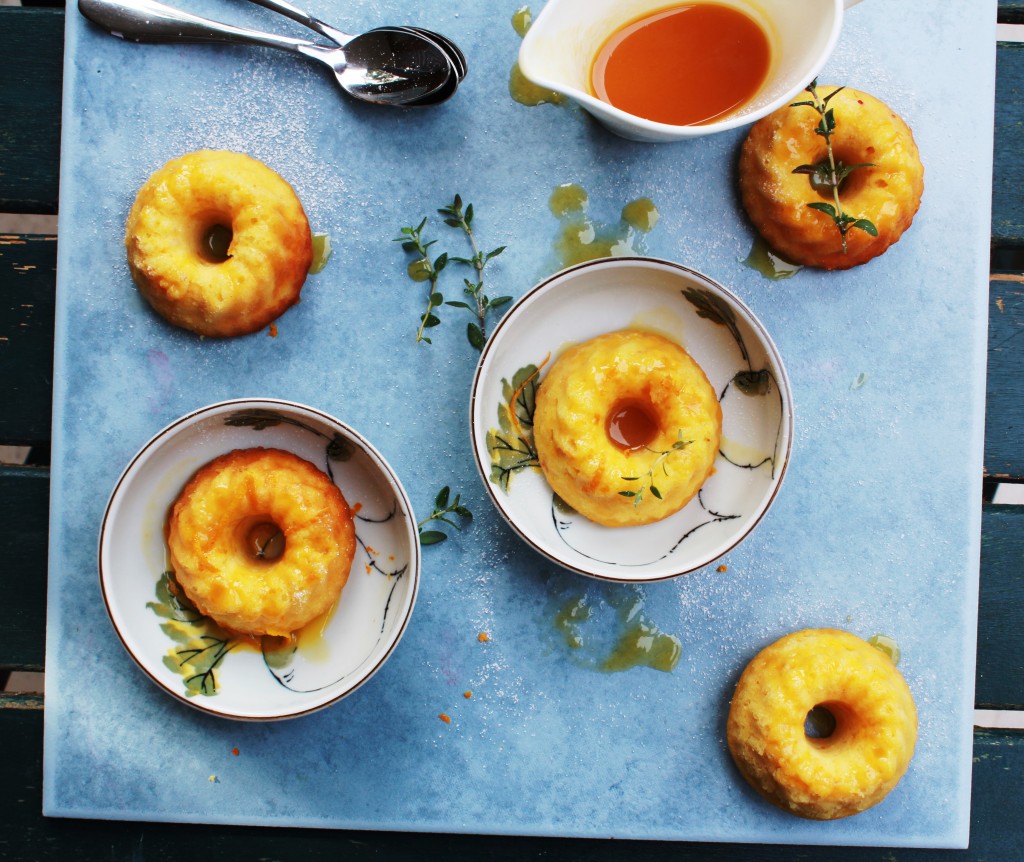 Whole Orange Almond Mini Cakes with Orange Syrup (adapted with variation from SBS.com)
Serves 8
1 Orange (I used Navel Orange)
125 g castor sugar plus extra for dusting (a little more than 1/2 cup)
125 g almond meal/ground almonds (about 2/3 cup)
3 eggs
1/2 tsp baking powder
Wash the orange and cook in boiling water for 40 mins. Allow the orange to cool in the water before pureeing. This can be done ahead of time. Once cooled, puree the orange in a food processor or using a hand blender.
Preheat the oven to 160°C. Butter a mini bundt pan/muffin tin/ramekins and dust it with a little castor sugar. Place the eggs and castor sugar in a mixing bowl and beat well. Stir in the orange puree followed by the almond meal and baking powder. Pour into the bundt pan and dust the top with more castor sugar. Bake for 35-45 mins until the top is golden brown. Drizzle with orange syrup before serving. Serve with vanilla ice cream or whipped cream.
Orange Syrup
Juice of 2 Oranges (when short of time, you can use store-bought juice but the sugar will need adjusting as per sweetness)
2 tbsp castor sugar
Bring the ingredients to a boil and let the mixture reduce slowly till it thickens to a syrupy consistency.