Did you like cereal as a child? I love them now but they never made it to my favourite breakfast list when I was a child. I think I know why! Because they were never as sugary or nutty or as flavourful as they are today. And now I snack on them whenever I am hungry, straight out of the box, pretty much throughout the day.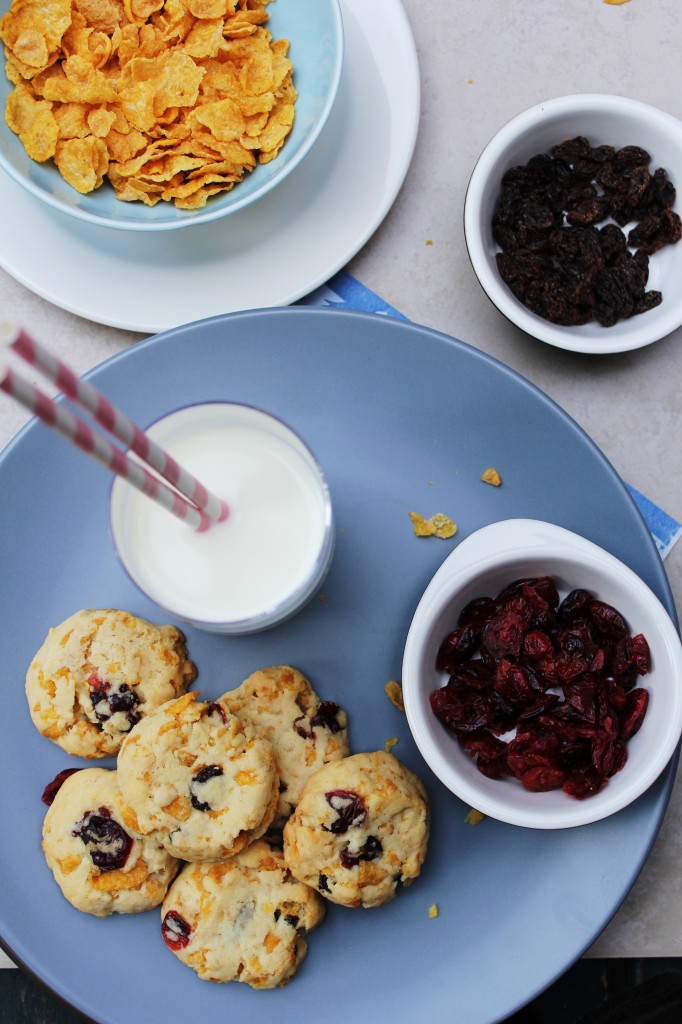 My title is kind of deceptive isn't it? Sounds like a big bowl of health. Yes, the ingredients more or less form a part of the breakfast category. But I am not promoting health here. I can say with absolute certainty that I am promoting deliciousness with a few healthy ingredients.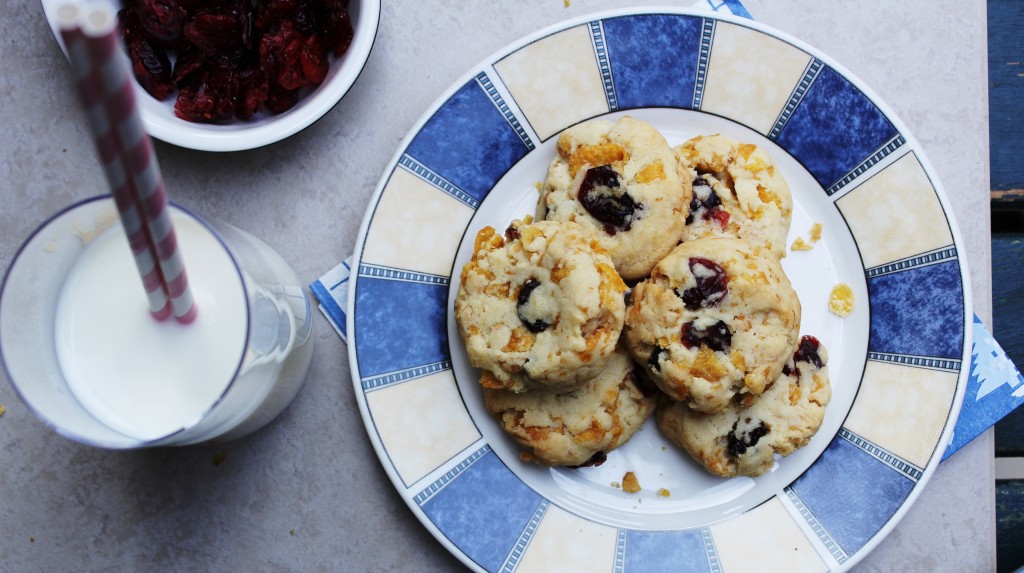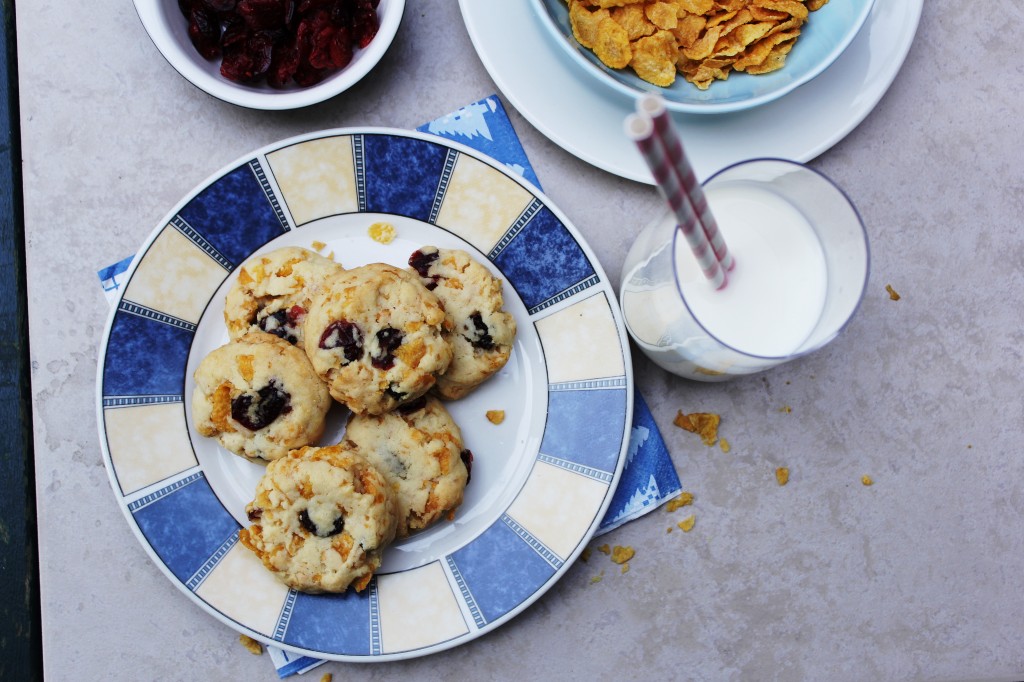 These cookies are so quick and easy to make. They get a nice crunch from the corn flakes and a lovely chewy tang from the cranberries and raisins. The recipe is totally adaptable to use chocolate chips or nuts instead. Also, any crunchy cereal should work. Once, someone asked me if this was a means of getting nutrition over to my kids like a lot of mothers do. Well, fortunately I did not have to. Both my boys are pretty adventurous about food and I have never had to hide cereals in a cookie. But coming to think of it, it's a fantastic idea for fussy or picky eaters. Because these are delicious and addictive. And bright and cheerful.
Big kids will love them too!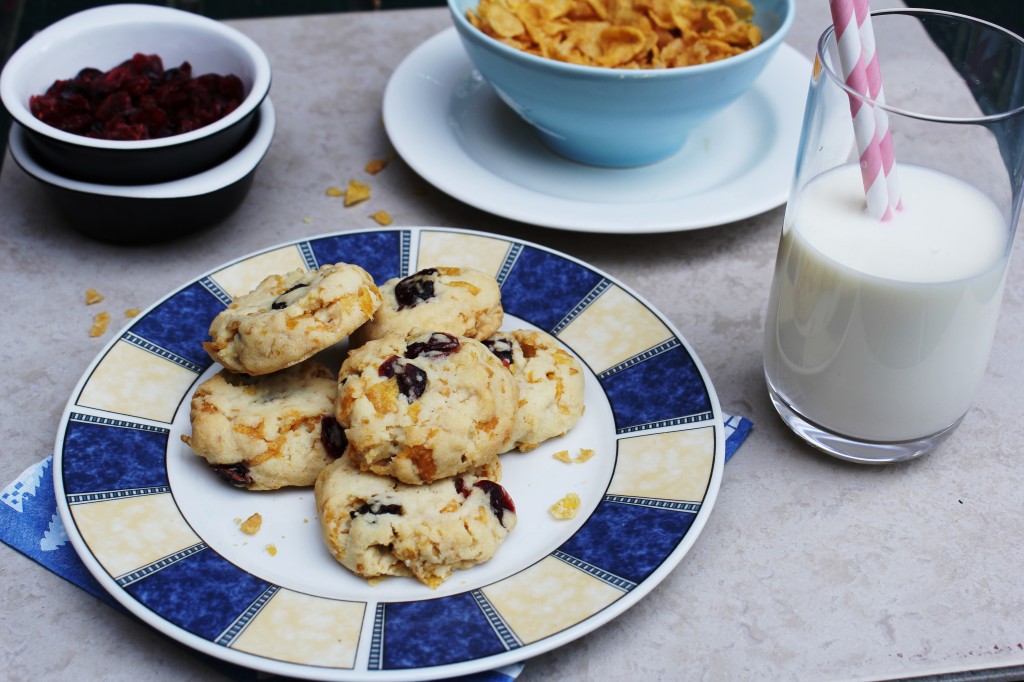 Cornflake, Cranberry and Raisin Cookies (adapted with variation from Taste.com)
Yields 16 cookies
125g butter, chopped, at room temperature
2/3 cup castor sugar
1 tsp vanilla essence
1 1/4 cups self-raising flour, sifted (or 11/4 cup plain flour plus 1 tsp baking powder)
1 tbsp milk
1 1/2 cups cornflakes
1/2 cup cranberries
1/2 cup raisins
Preheat oven to 180°C. Line two large flat baking trays with non-stick paper.
Using an electric mixer, cream the butter, sugar and vanilla essence in a mixing bowl until creamy. Add the flour and mix on low-speed until just combined. Add milk and mix until dough comes together. Using a wooden spoon, stir in corn flakes and sultanas, and mix until well combined.
Using 1 tbsp of mixture, roll into balls. Place onto baking trays allowing room for spreading. Flatten slightly with a spatula. Bake for 12-14 minutes, swapping trays after 8 minutes or until light golden. Stand for 5 minutes on tray before transferring to a wire rack to cool.