Isn't it ironical that I am posting about coffee when my morning coffee has just been replaced by a cup of masala chai (spiced tea)! Life has been wonderful. Despite travelling 5000 miles over, I am anything but jet lagged and loving every bit of my break. So have I been missing coffee? Well, not really. I did make sure I had loads of it in my dessert, before I left.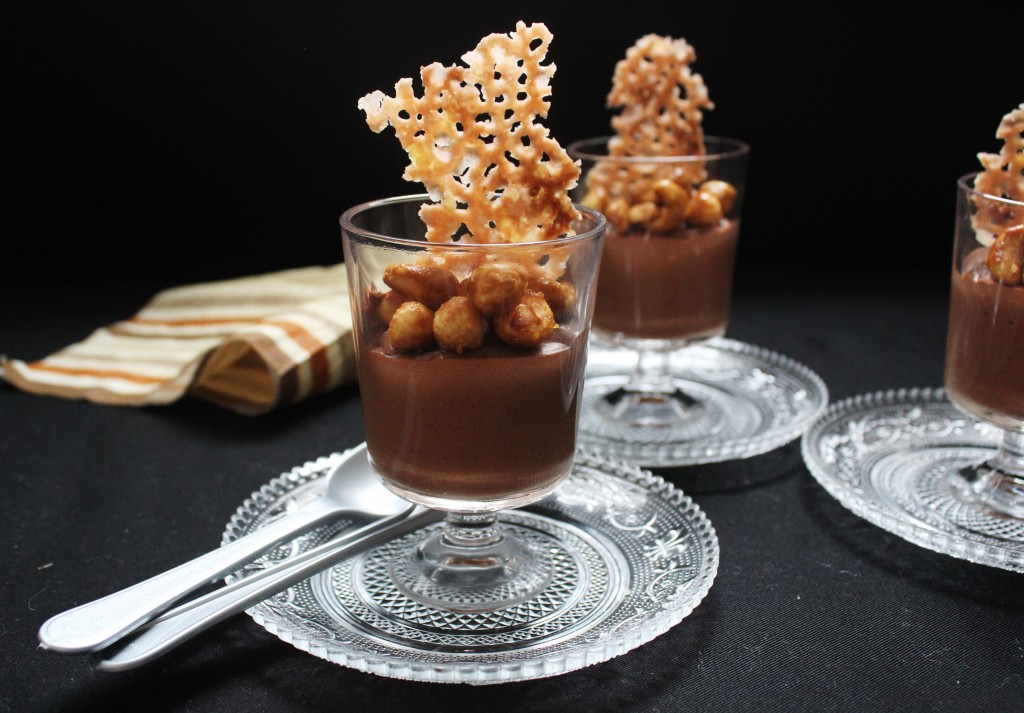 This is the first time I am contributing to the Chocolate Party hosted by Roxana's Home Baking and I couldn't be more excited. Chocolate is one word that is probably scribbled all over my blog and has the most number of recipes dedicated to it. When I learnt the secret ingredient for August was coffee, I didn't want to miss it though I knew it would be a little early on a vacation to open my laptop and think 'blog'. So I prepared my dessert and photographed it well ahead in time.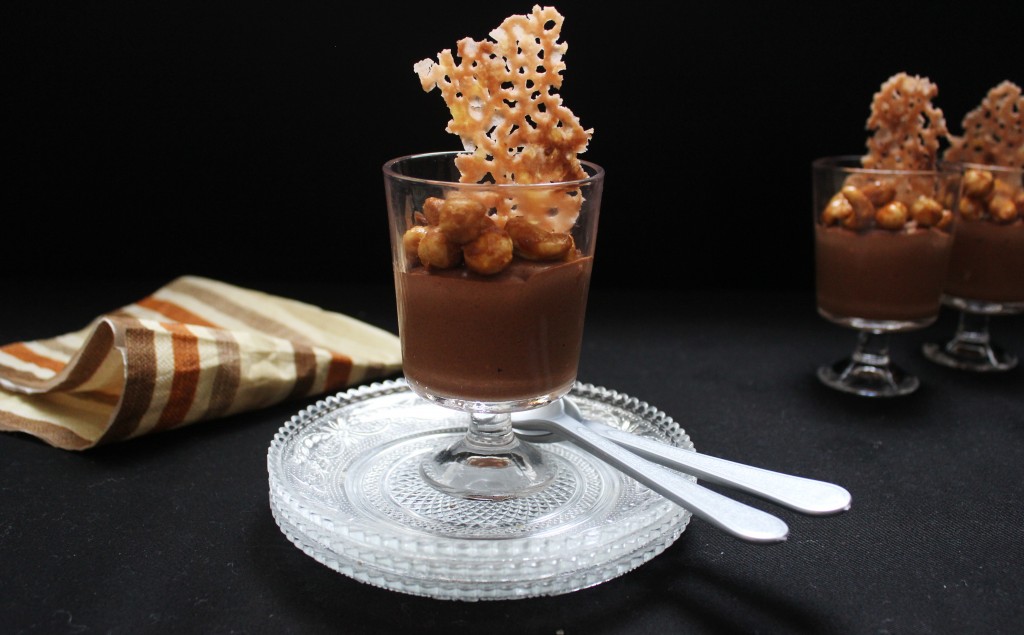 I love this pairing! Needless to say it's a decadent, rich mousse, heady with the triple dose of coffee. If you love coffee, this is the dessert for you. To make it totally coffee-ish I glazed the hazelnuts (along with a few cashew nuts) with a bitter-sweet coating of coffee and baked them to crispness. One spoonful of this and it takes all your willpower to stop. The tuile makes the dessert look stunning though you can leave it out if you think it's a hassle. I added it because I wanted to give equal weightage to both the ingredients.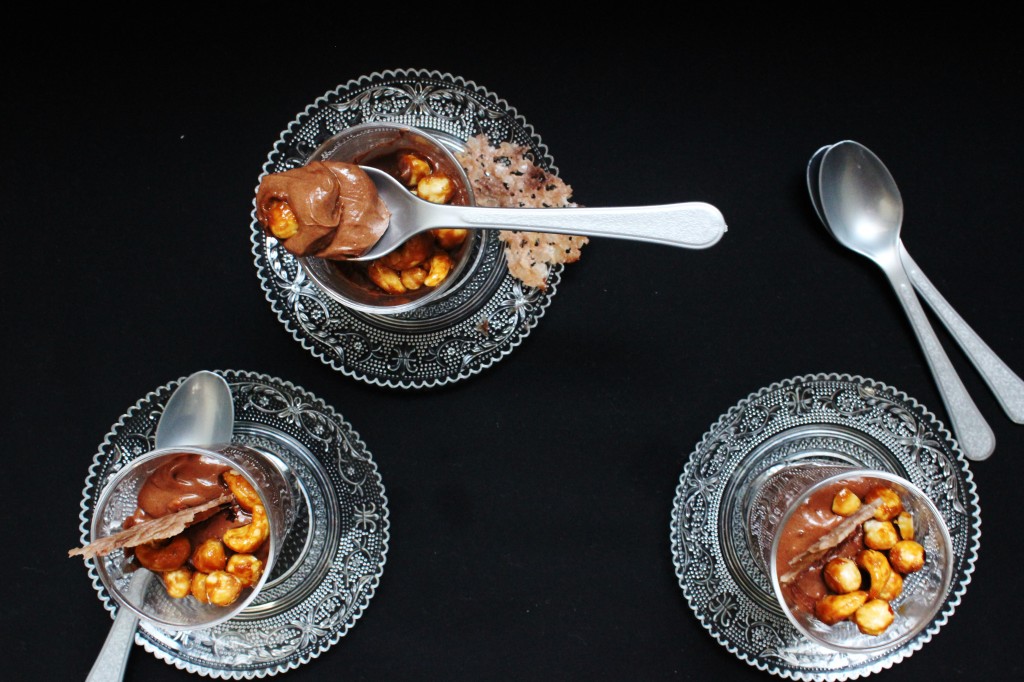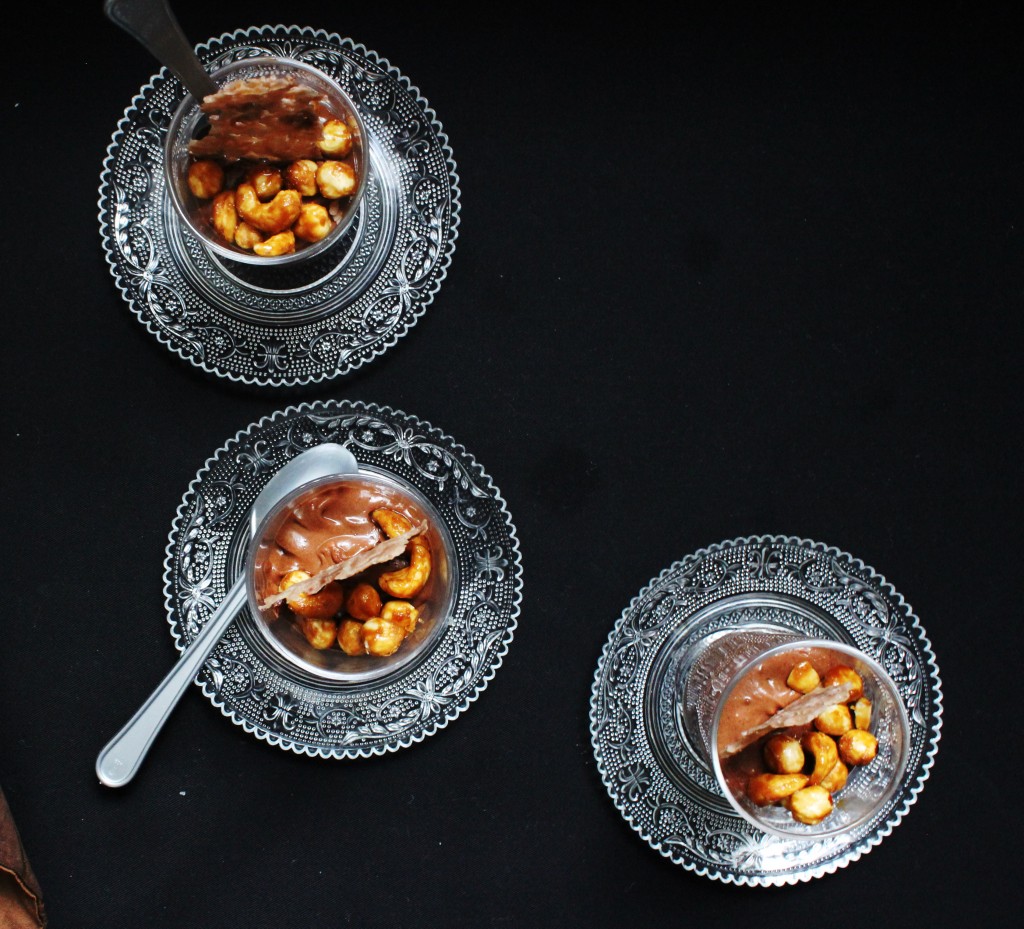 Mocha Mousse with Coffee Glazed Hazelnuts and  Cocoa Tuile
Serves 4
Mocha Mousse
½ Cup heavy cream for the custard (Crème Anglaise)
1 tsp instant coffee powder
4 Egg Yolks
¼ Cup Sugar(or to taste)
3/4 cup Dark Chocolate, chopped
1/2 Cup Heavy Cream for whipping
1 Tablespoon Coffee Liquor, optional (I used Kahlua)
Heat the ½ cup cream over medium heat in a saucepan. Add the instant coffee powder and stir to dissolve. Beat the egg yolks and sugar together in a bowl. When the cream reaches boiling point take it off the heat, add 2 tsp of the coffee cream mixture into the egg mixture and whisk. Gradually pour the remaining cream over the egg mixture whisking constantly till combined. (This is done gradually so as to ensure that the eggs don't scramble) Return the egg-cream mixture to the pan.
Heat the mixture under a medium-low flame, whisking constantly till the mixture thickens enough to coat the back of a spoon. This is called a Creme anglaise/custard.
Place the dark chocolate in a bowl. Remove the custard from heat and pass it through a sieve into the bowl of chocolate. Let the mixture remain undisturbed for a while. Stir to smoothen out the chocolate. Cool to room temperature. While the custard is cooling, whip the remaining 1/2 cup cream to stiff peaks. Add the coffee liquor if using and stir slowly to combine. Store in the refrigerator till needed.
When the chocolate mixture has cooled down completely add it to the whipped cream little at a time & fold in till no white streaks appear. Pour into serving glasses. Refrigerate till set, about 4 hours or preferably overnight.
Coffee Glazed Hazelnuts
1 tbsp water
1/2 tsp instant coffee powder
2 tbsp castor sugar
1 tbsp golden syrup or light corn syrup
1 cup hazelnuts
Preheat oven to 180 degree C. Line a baking tray with aluminium foil.
Add all the ingredients except the hazelnuts to a medium saucepan and place over medium heat. Bring to a boil stirring constantly till the mixture has blended completely and looks dark brown. Remove from heat and add in the nuts and mix till evenly coated. Spread on the baking tray in a single layer. Bake for 10 minutes, stirring once in between. Remove from the oven and cool completely. Break into pieces and store till needed.

Cocoa Tuile
20 g all-purpose flour
20 g butter, room temperature
20 ml water
20 g cocoa powder
70 g icing sugar
Preheat oven to 180 degree C. Line a baking tray with baking paper.
Mix all the ingredients together in a bowl till a smooth paste forms. Spread evenly in a thin layer on the baking sheet. Bake for 10 minutes or until the edges turn golden brown. Remove from the oven and allow to cool for about a minute. Break into desired shapes and let harden for about 2 mins.
[inlinkz_linkup id=301410]