I hope you all had a lovely weekend. Some of you on the other side of the hemisphere had a long one. I wish ours was as long but nevertheless it was a fantastic one.  We celebrated Father's day here in Australia on Sunday.  Since my little ones are getting better at keeping secrets we had quite a few surprises planned for Daddy this time. And I was relieved that none of them were given away, innocently.. like the previous years. Between a fancy home cooked breakfast and dinner we planned lunch outside so I wouldn't end up spending the entire day in the kitchen. But the highlight of the day was this Gluten Free Torte.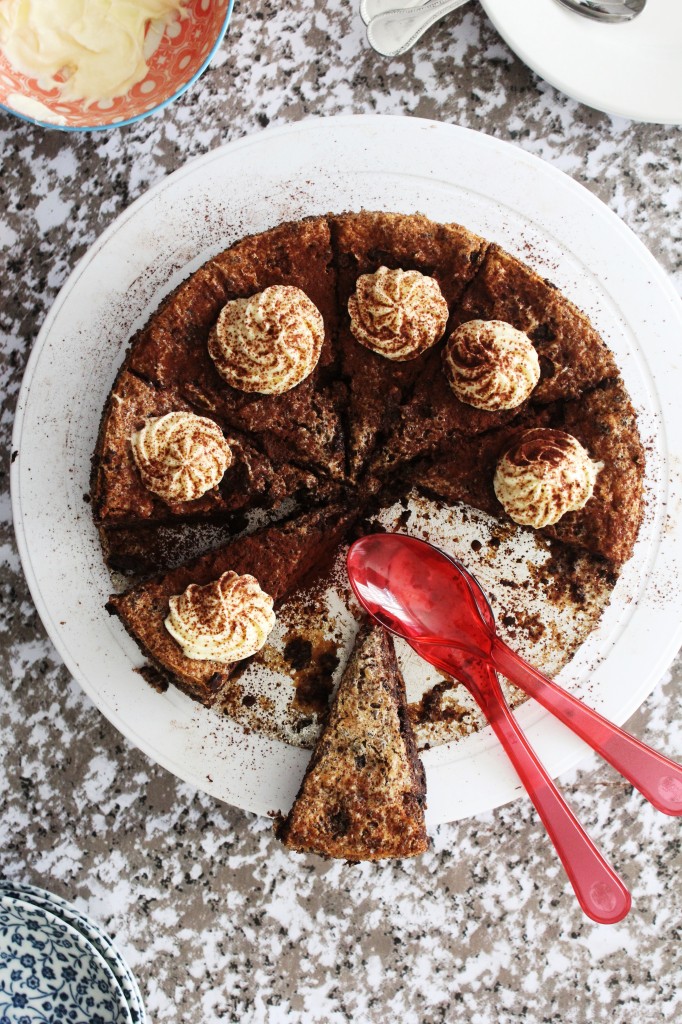 My husband is not too much into desserts but a chocolate indulgence here and there doesn't hurt. So I was not surprised when he chose this Torte out of the options I gave him. Well, if you ask me ANYBODY would. A flourless, butterless cake with bits and chunks of bittersweet chocolate and pecans with the perfect moist gooey texture. It takes a lot on your part to resist the temptation of eating spoonfuls of batter before it goes into the oven and even worse when the Torte is cooling down. I can say with absolute certainty that this is the best thing I have ever baked in my life. My family loved it.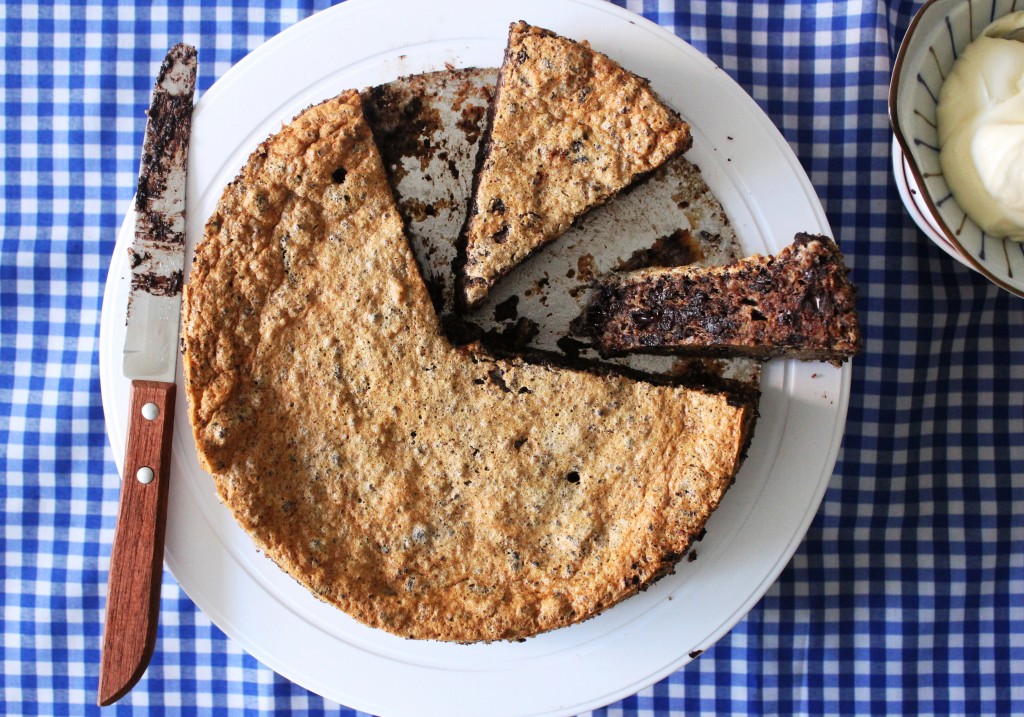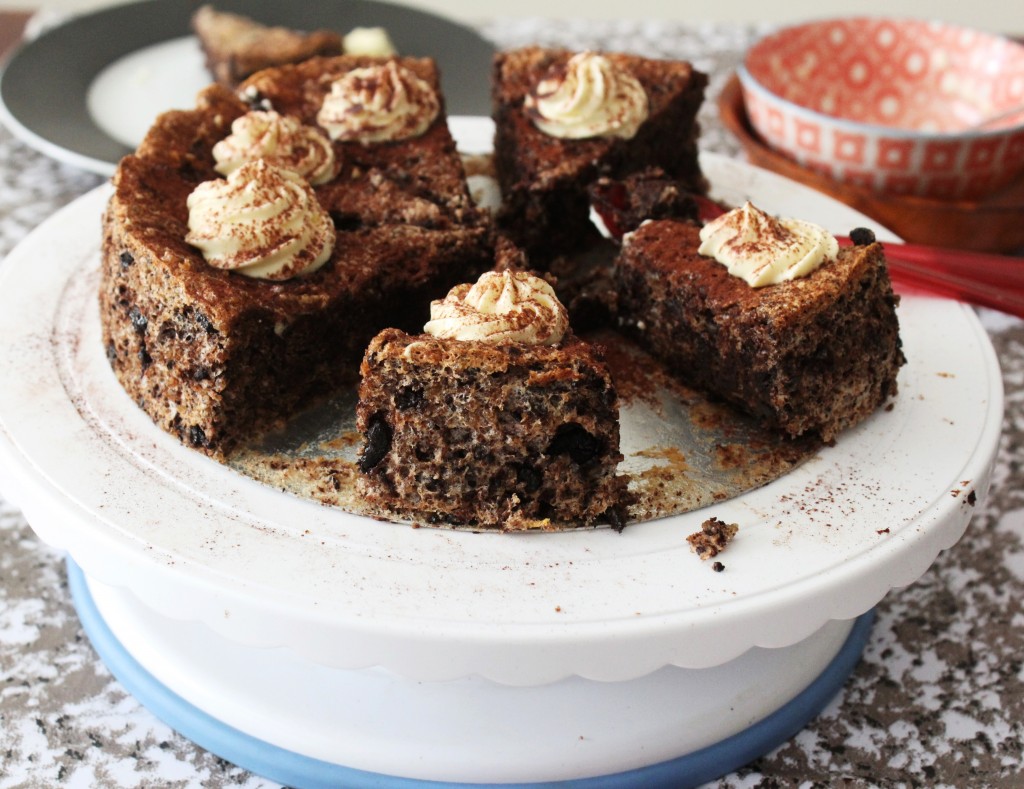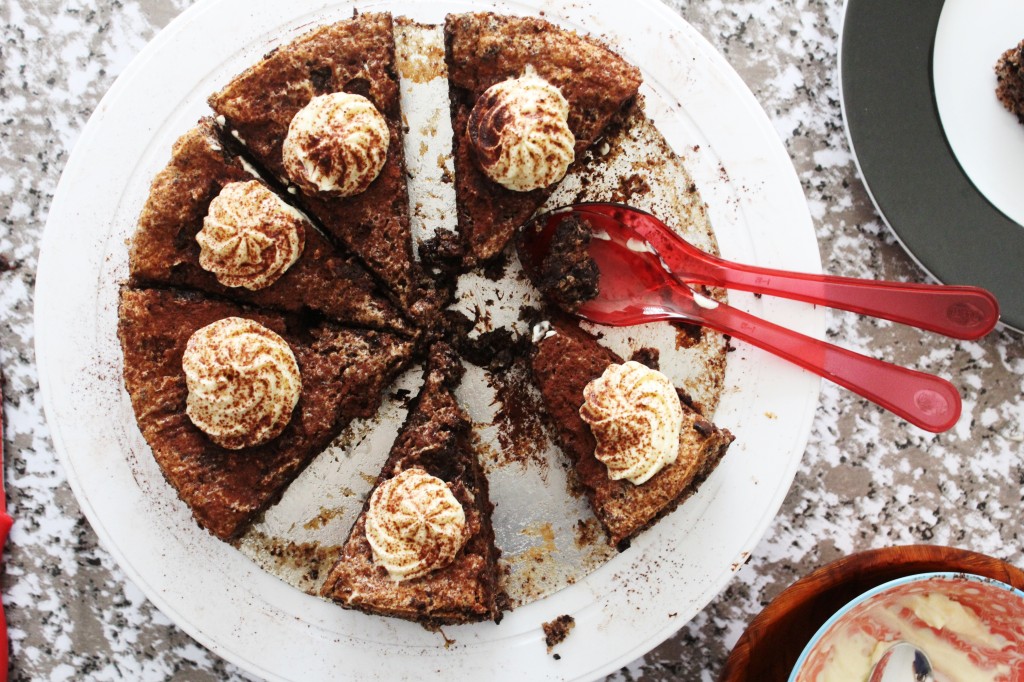 The Torte is actually quite light despite the chocolate overload in it. Needless to say, a good quality chocolate with a high percentage of cocoa butter ( I used Lindt 70% Cocoa) makes all the difference in this recipe. This is such a beautiful dessert whether you are serving it for a dinner party or for a special celebration. Taste aside, what I love the most about this Torte is the way it looks. So rustic…with specs of dark chocolate held together be a delicious meringue. And this is why you don't need any fancy decoration to go with it even for a birthday party. Whipped cream contrasts the bittersweet flavour perfectly so a dollop of it or simply some swirls on the Torte is enough. Dust a little cocoa powder and there you have it.
Chocolate indulgence..the guilt free way (that's what the best 'Daddy' in the world likes to call it)!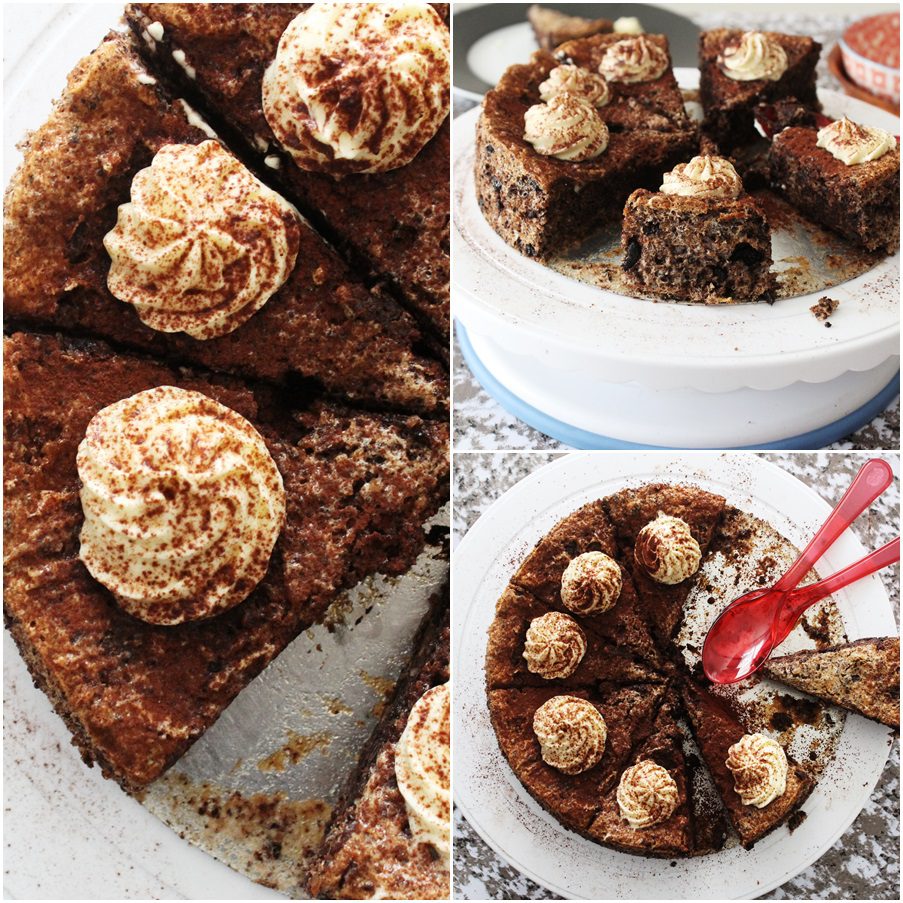 Linking up with the September Chocolate Party.
Bring your favorite chocolate dessert to Roxana's home baking #chocolateparty and win amazing prizes from OXO, Calphalon, Keurig, Imperial Sugar, Honey Ridge Farms and Land O Lakes® Butter
Gluten Free Bittersweet Chocolate Chunk and Pecan Torte (adapted with variation from Fine Cooking)
Serves 8-10
100 g (about 1 cup) pecans/walnuts, or any nut of your choice  (I used pecans and walnuts. As I was running short of the exact amount of pecans, I added some walnuts)
125 g (about 1/2 cup plus 2 Tbsp ) sugar
250 g good quality bittersweet chocolate (70% to 72% cacao), coarsely chopped
Finely grated zest of 1 medium orange (optional)
1/8 tsp. salt
7 egg whites (from large eggs), about 1 cup
1/2 tsp. cream of tartar
Position a rack in the lower third of the oven and preheat the oven to 180 degree C. Lightly grease the bottom and sides of a 8-inch springform pan.
Pulse the pecans/walnuts with 1 Tbsp of the sugar in a food processor until finely ground. Scrape the nuts into another bowl. Use a paper towel to wipe excess oil from the sides of the processor bowl, add the chocolate with 1 Tbsp. sugar, and pulse until it forms crumbs ranging in size from coarse meal to 1/4-inch bits. Add the chocolate to the nuts, along with the orange zest, if using, and salt, and stir to combine. Set aside.
Using an electric mixer, beat the egg whites with the cream of tartar in a large clean, dry bowl at medium speed until the egg whites are creamy white and soft peaks are formed when the beaters are lifted. Gradually add the remaining 1/2 cup sugar, beating at medium-high speed until the egg whites are glossy and stiff but not dry.
Pour half of the chocolate mixture over the egg whites and fold in with a large rubber spatula until nearly incorporated. Repeat with the  remaining chocolate mixture, folding just until evenly incorporated.
Scrape the batter into the prepared pan and spread it evenly. Bake for 25 to 30 minutes, until the Torte is puffed and golden brown on top and springs back when gently pressed with your fingers; a toothpick inserted in the center should come out moist and possibly stained with melted chocolate, but not coated with raw batter. Set the pan on a rack to cool. Slide a thin knife or a small metal spatula around the sides of the Torte to release it from the pan. Remove the pan sides and transfer the cake to a serving platter.
Serve slices with a dollop or swirl of whipped cream.