If you love entertaining and look for recipes that are simple yet impressive, I've got just that for you today. Scotch eggs are great as a starter or a snack or even a side dish. Typically, a Scotch egg is a hard boiled egg encased in sausage meat mixture, crumbed and deep fried. Of course there are many variations that exist mainly in the type of casing that is used. Any kind of mince would work and the type of seasoning largely determines the flavours.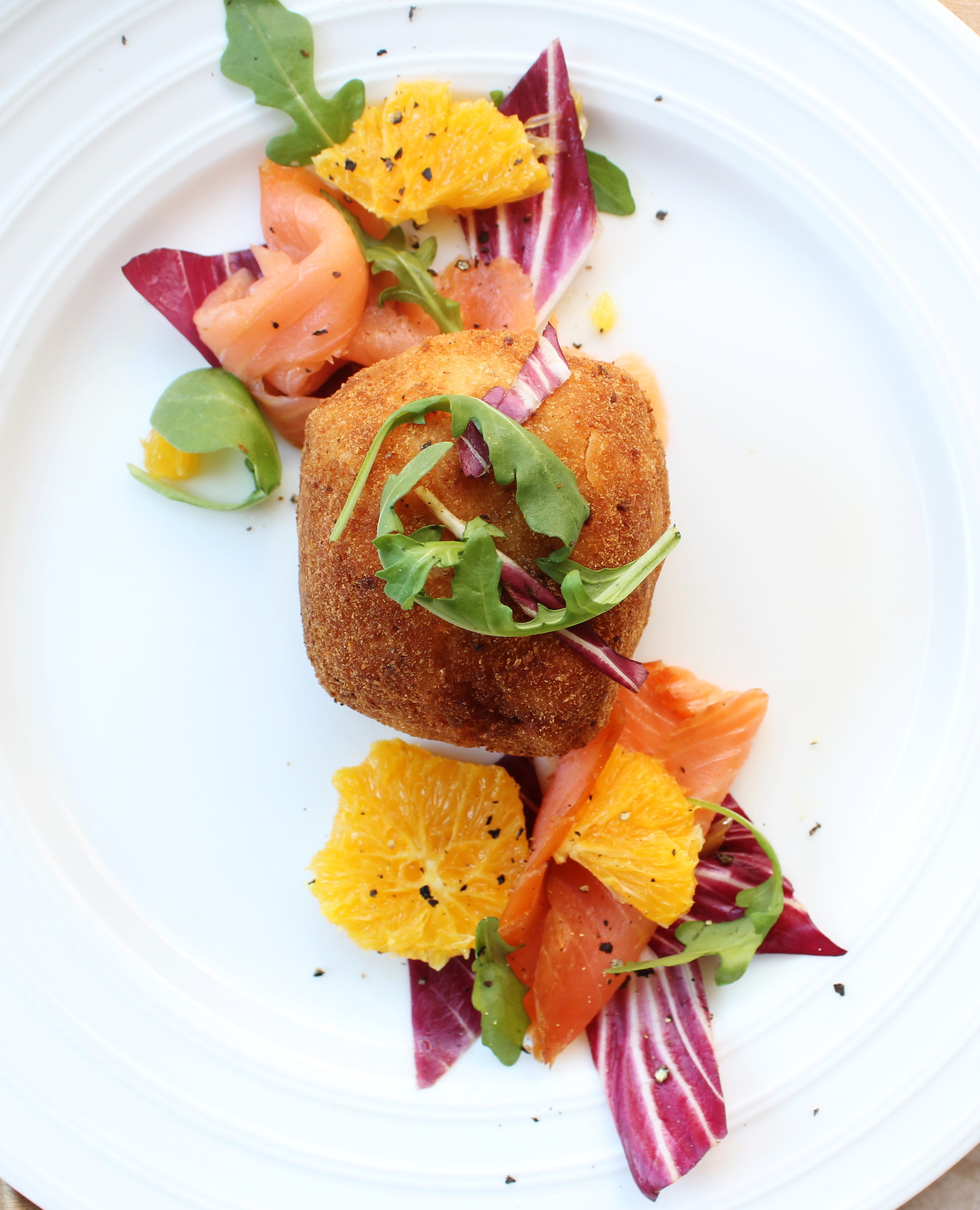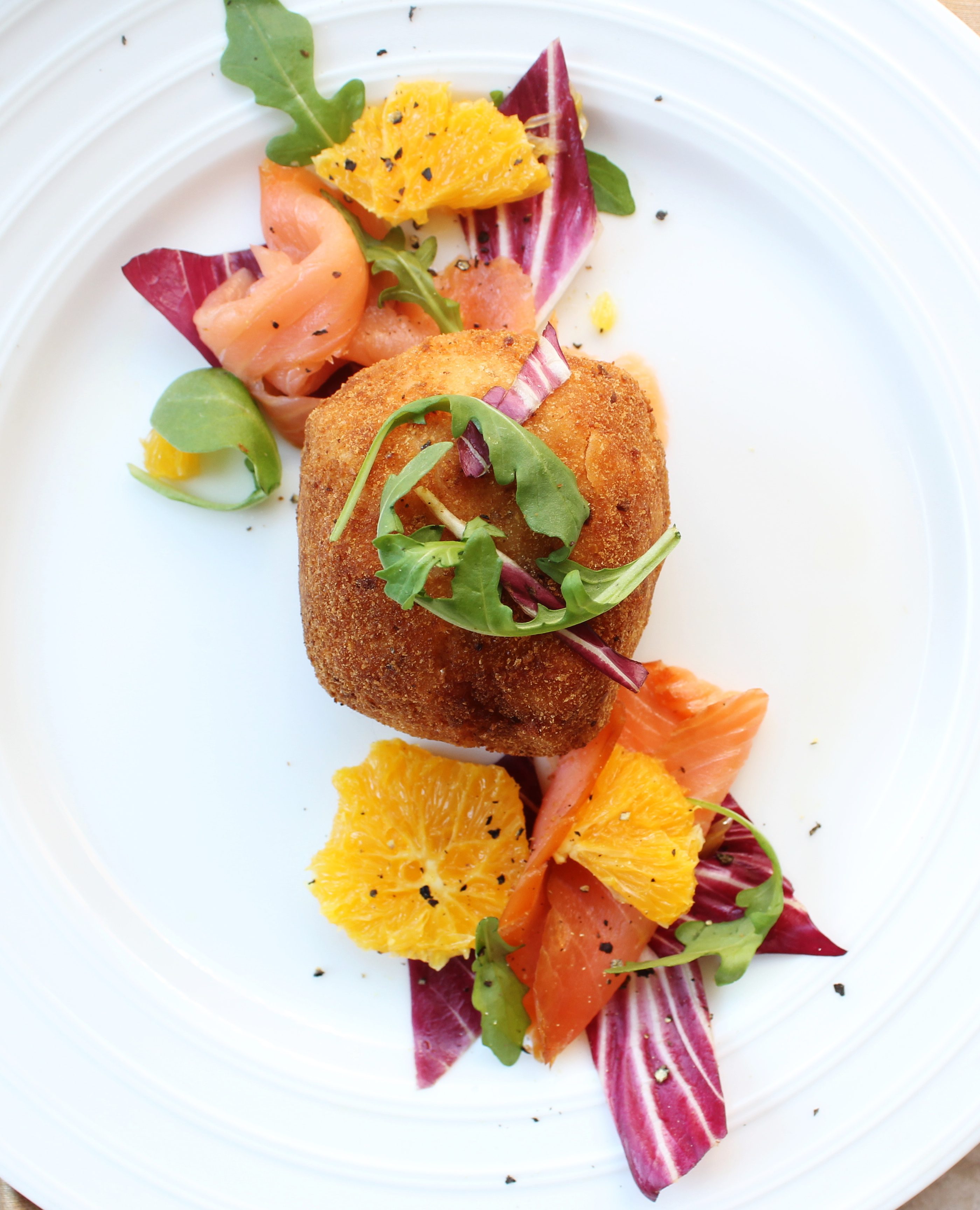 Tweaking the classic ingredients, I used Smoked Salmon to coat the egg and that gave the dish a delicate appeal. It barely took any time to get this ready but the reactions of the people at the table were worth noting. I served it with a orange radicchio salad to have some sweet, bitter tangy flavours on the plate. You can serve it with with any salad of your choice or a simple lemon aioli (lemon infused mayonnaise). I enjoyed plating up this dish as the colours look lovely together. However, I just managed a few photographs with guests waiting at the table.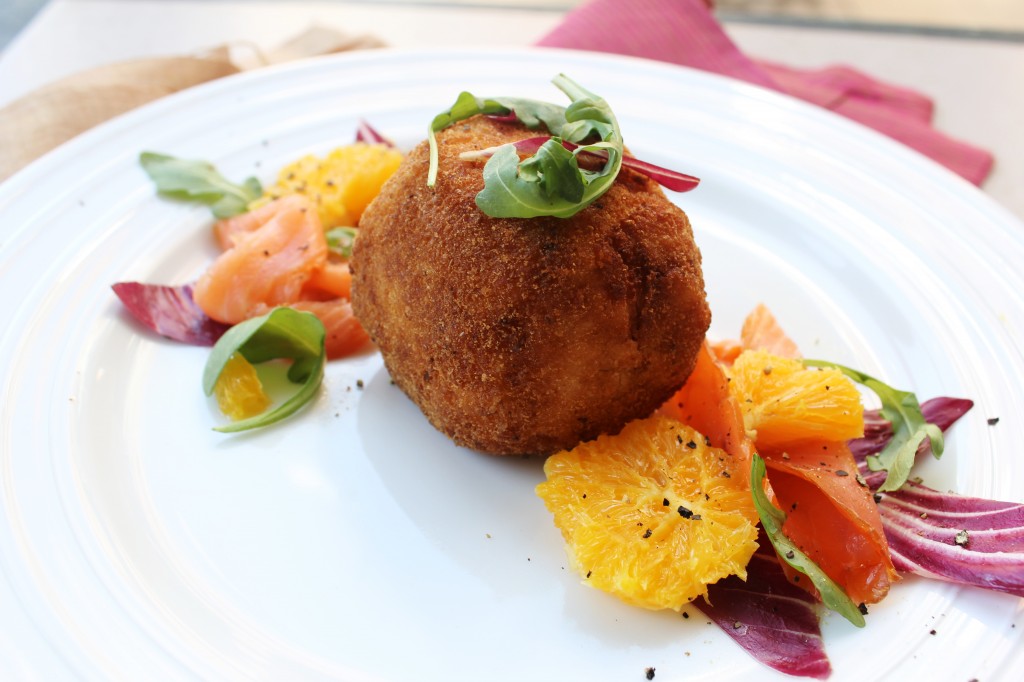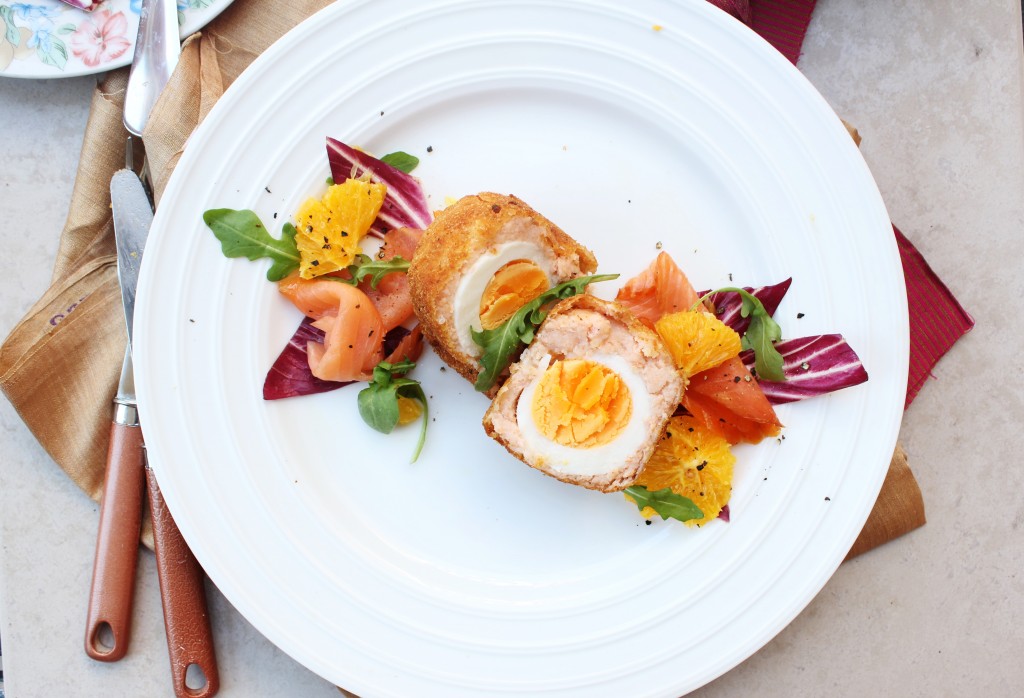 I have been very busy lately. And I apologise for being a bit late in visiting my blogger friends. Most of the times I click through the links but unable to complete reading the full post and make a mental note to go back. And then the backlog just builds up. Along with the number of incomplete drafts in my folders. At times I wish there were more hours to a day. No..not really…then I might have not made it to the bed at all and slept off at my desk.
The good news is that its Spring at last and it's showing. Everywhere.! I love Spring and what it does to the world!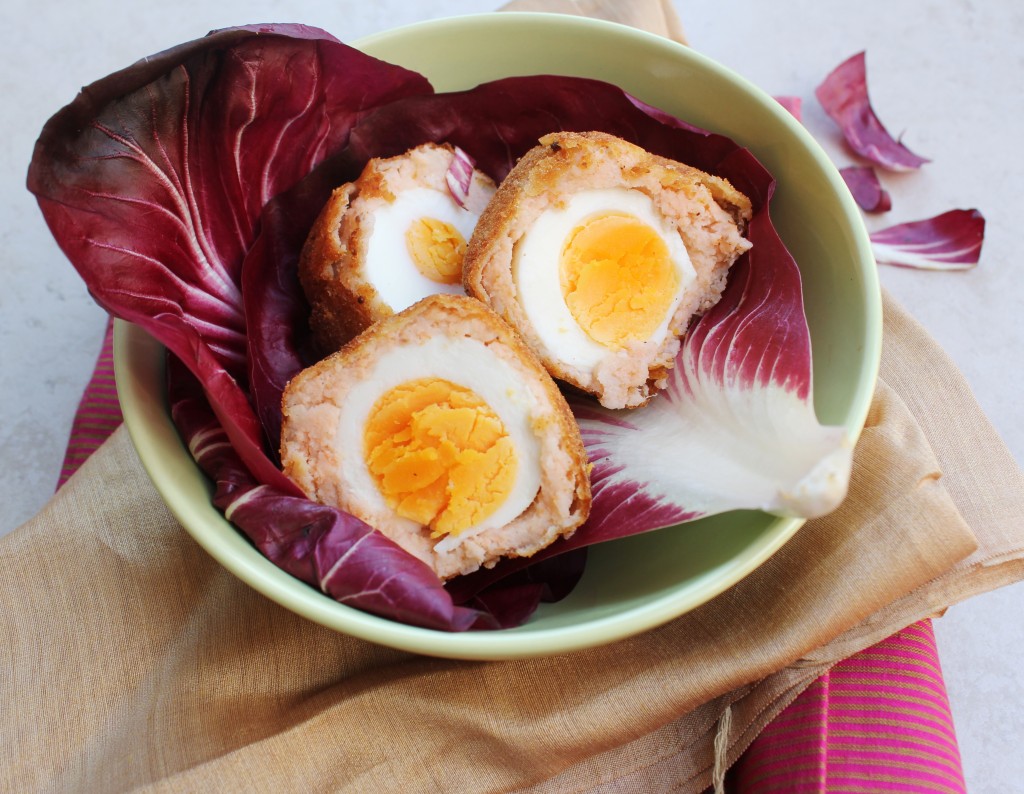 Smoked Salmon Scotch Eggs with Orange Radicchio Salad
Smoked Salmon Scotch Eggs
4 hard boiled eggs
100 g smoked salmon, roughly chopped
2 medium potatoes, boiled and mashed
1 clove garlic
1/2 onion roughly chopped
1 tsp mixed dried herbs (or freshly chopped)
1/2 cup plain flour for dredging
1 large egg lightly beaten
1/2 cup breadcrumbs (I used ordinary breadcrumbs as I ran out of Panko. If available, I prefer using Panko breadcrumbs)
salt and pepper for seasoning
Vegetable oil for deep frying
Place the smoked salmon, garlic, onion and mixed herbs into a food processor and pulse briefly to combine. Transfer the mixture into a bowl and mix with the mashed potatoes. Season with salt and black pepper, mixing well to combine.
Divide the mixture into four, mould one portion around a boiled egg and roll it into a circle. Repeat with the remaining mixture and boiled eggs. Dredge the salmon-wrapped eggs in flour, then dip quickly into the beaten egg to coat. Spread the breadcrumbs out on a plate and roll the wrapped eggs in the breadcrumbs. Repeat the process, dipping each wrapped egg again into the beaten egg and breadcrumbs until thoroughly coated.
Heat vegetable oil in a heavy bottomed pan or wok. Carefully place the eggs into the hot oil, a few at a time, and deep-fry for 2-3 minutes, or until golden-brown and crisp on the outside. Remove from the oil with a slotted spoon and drain on kitchen paper.
Orange Radicchio Salad

2 Navel Oranges peeled and segmented
A few leaves of radicchio, coarsely torn
A handful rocket leaves
2-3 thinly sliced smoked salmon, coarsely chopped
1 tsp honey
1 tbsp lemon juice
1 tbsp extra virgin olive oil
Place the first 4 ingrdients together in a large bowl. Mix the remaining ingredients together to make the dressing. Pour onto the bowl just before serving. Toss to combine.
To plate: Place a scotch egg in the centre of the plate. Arrange the salad around the scotch egg horizontally. Drizzle with a bit of extra virgin olive oil and sprinkle with cracked pepper.