Isn't it great to feel the sun, warm on your skin after being covered in layers all throughout the winter months? In the southern hemisphere, we are well into Spring and trying hard to make our weekends count. There is so much happening around us at the moment that I am finding it hard to pick and choose a single destination or activity to enjoy during the weekends. Sydney comes alive in Spring and the cultural scene just explodes with activity. Festivals, exhibitiions, arts, music, sculpture to name a few. With two little boys in tow, we are trying to combine activities that we we enjoy as a family.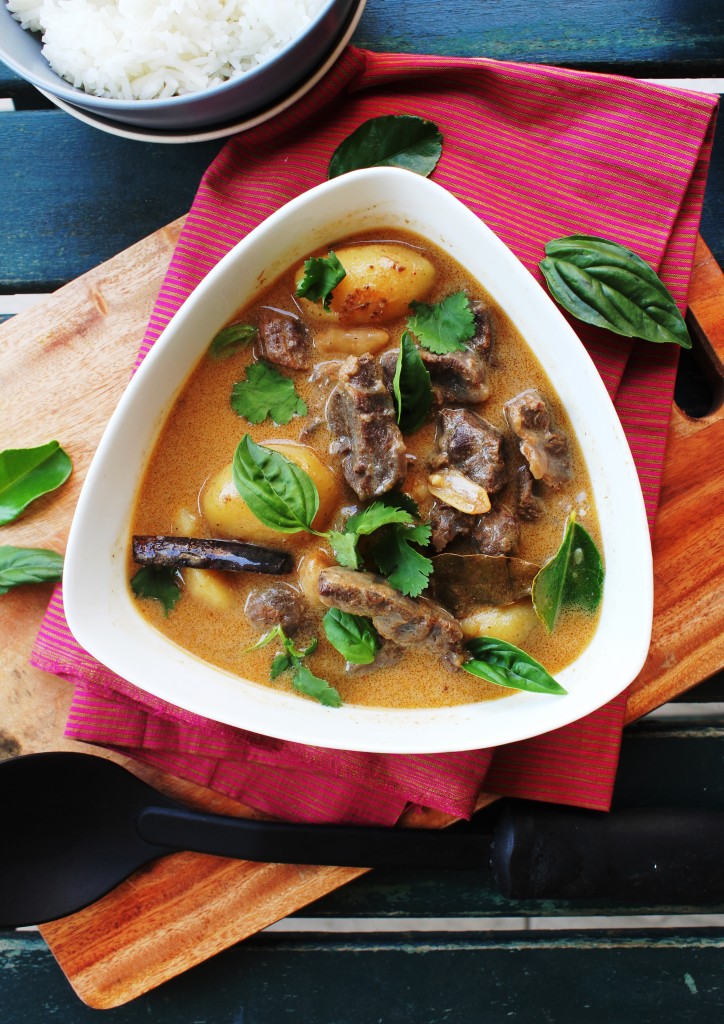 I have plenty of photographs of my gorgeous city in Spring to share with you much like I did in Autumn. Well, that would have to wait a bit. This year is moving faster than I had imagined. I complained a lot during the colder months…it's just not my kind of season! But curling up in bed early with a book and sleeping in late was such an easy habit to fall into. Along with the roast dinners, heart warming stews, spicy curries and warm crumbles. I cooked a lot of lamb this year, mainly because my boys have started to enjoy it as much as I do.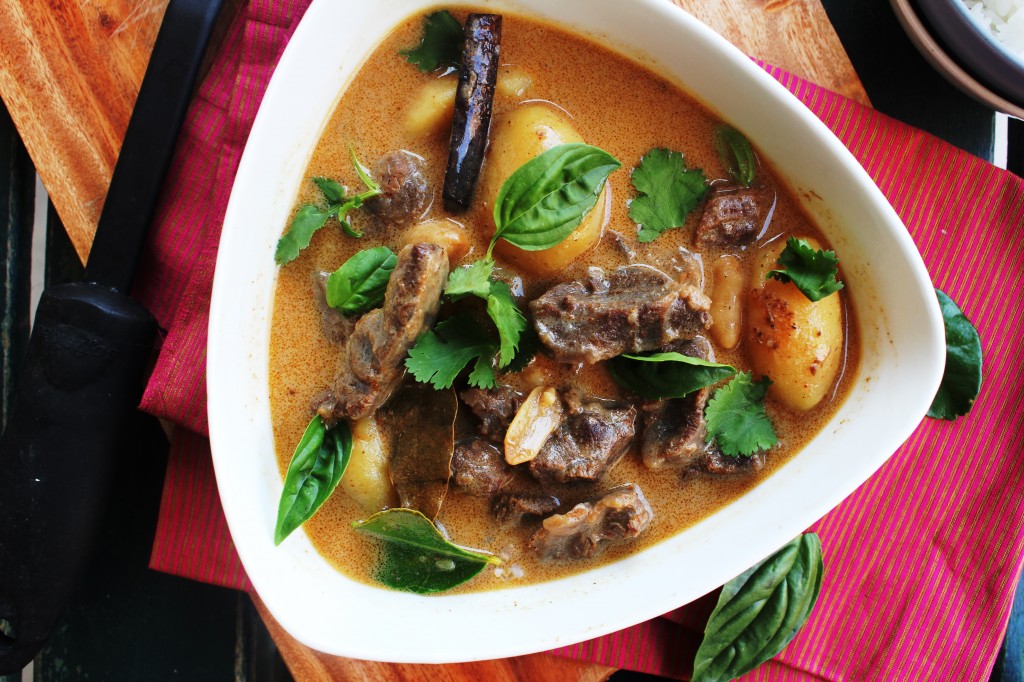 Thai food is my one of my favourites and I cook it quite often. But never from scratch, until now. The spice pastes are more easily available than the traditional ingredients that go into making it. However, you should be able to get most of them from any Asian supermarket. These are the foundation of many Asian dishes, so once you have them, you can try out pretty much any of the curries from scratch. A tiny little warning when you are roasting belacan/shrimp paste…please make sure you have all your windows open as the odour can be really pungent and strong (I didn't quite enjoy the experience but later realised how important it was) You can substitute it with fish sauce but to get the REAL taste, this is critical.
That being said, once the curry starts to cook, you should experience the most amazing aroma sensations that come with Thai curries. I have cooked this with beef chuck steaks at a different time. Though it takes longer to cook the flavours are great too. Also, if you do not have the time to make the spice paste from scratch, you could use the store bought one and follow the rest of the recipe.
Now if you are wondering what my winter cooking is doing in Spring, this was made, photographed and consumed in winter. Along came sweet treats and this one went back into my drafts awaiting its turn. But you know what, a dish like this can be made anytime of the year. How about this weekend?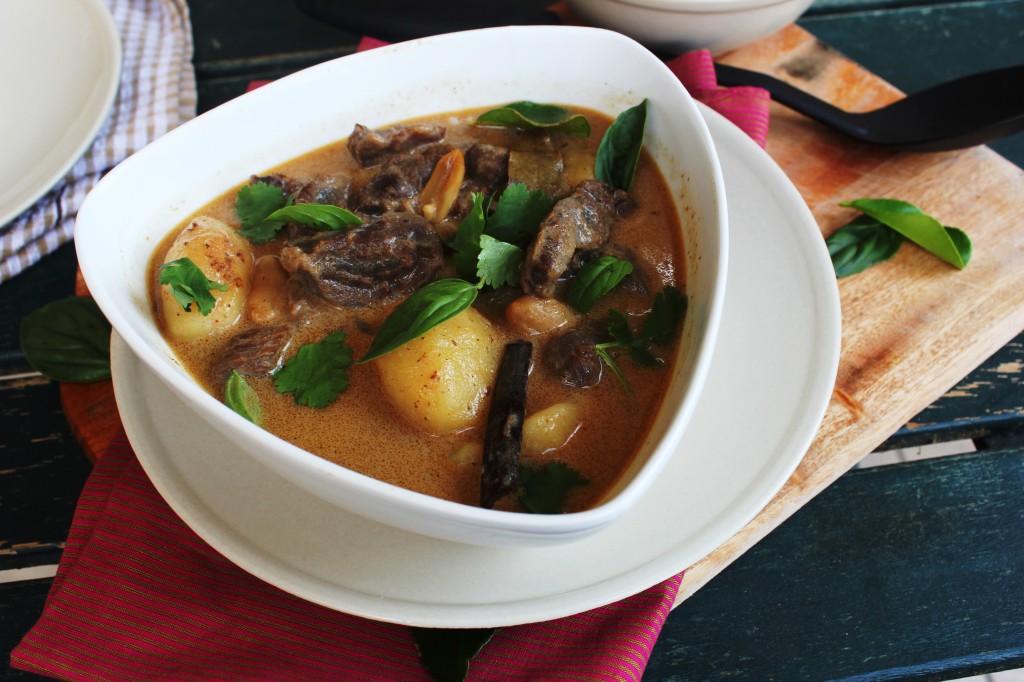 Lamb Massaman Curry
For the Spice Paste
8 dried long red chillies, deseeded
1 teaspoon shrimp paste/belacan (preferably the block/slab)
2 teaspoons ground coriander
2 teaspoons ground cumin
1 teaspoon ground cinnamon
1/4 teaspoon ground cloves
1 teaspoon ground white pepper
1/2 brown onion, chopped
3 garlic cloves, chopped
1 stem lemon grass, trimmed, white part chopped
3cm piece galangal, peeled, chopped
For the Curry
2 tablespoons vegetable oil
500g lamb shoulder chopped into cubes
1 cup coconut cream
2 tablespoons of the prepared massaman curry paste
1 cup coconut milk
1 cup chicken stock
1/2 cup unsalted roasted peanuts
2 medium potatoes, peeled, cut into 3cm pieces or baby chat potatoes
1 cinnamon stick
2 bay leaves
5 cardamom pods, lightly crushed
2 tablespoons palm sugar syrup (can be substituted with brown sugar but palm sugar makes it taste authentic)
1 tablespoon tamarind concentrate/paste
1 tablespoon fish sauce
salt, to taste
lime and basil leaves to serve
To make the Spice Paste:
Place chillies in a heatproof bowl. Cover with boiling water. Stand for 20 minutes or until soft. Drain well. Roughly chop. Wrap shrimp paste in foil. Heat in a frying pan over medium heat for 2 to 3 minutes each side or until roasted.
Blend or process chillies, roasted shrimp paste, coriander, cumin, cinnamon, cloves, white pepper and 1 tablespoon cold water until smooth. Add remaining ingredients, one at a time, blending well after each addition until mixture forms a thick paste. Store paste in a clean, airtight jar in the fridge for up to 6 months.
To make the Curry:
Heat oil in a large saucepan over medium-high heat until hot. Add lamb. Cook, stirring constantly, until evenly browned. Transfer to a plate. Add 2 tablespoons coconut cream to pan. Cook over medium heat for 20 seconds or until hot. Add curry paste. Cook for 1 minute or until aromatic.
Return lamb and juices to pan. Add coconut milk, stock, peanuts, potatoes, cinnamon stick, bay leaves, cardamom pods, palm sugar, tamarind concentrate, fish sauce,salt and remaining coconut cream. Stir to combine.
Reduce heat to low. Cover and simmer, stirring occasionally, for 40-50 minutes or until lamb is tender. You can use a pressure cooker if available. It would take about 15 minutes. Taste before serving. If you need a bit more sweetness, add another tsp of palm sugar. Pour the curry into a serving bowl and garnish with lime leaves and basil leaves. Serve with Jasmine rice.