If you have kids at home, it is likely that your house is never short of candies. At least, in my house even if I don't buy them, they find a way to my pantry through friends and visitors. And with so many different varieties around I am never short of inspiration to create. My favourite candies have to be the ones with chocolate in them.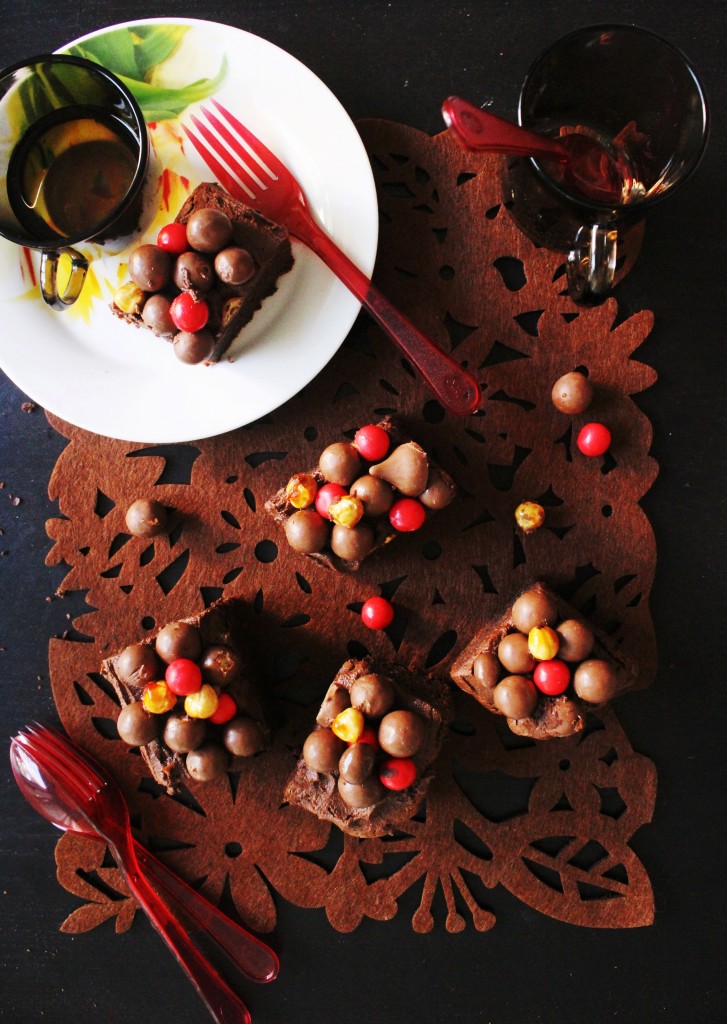 At this time of the year, you will definitely notice candies all over the blogosphere on account of Halloween. It's also not surprising that our Chocolate Party theme for October is Chocolate and Candy. For the time being, I am leaving the spooky ones to my incredibly talented blogger friends and using up mine instead to decorate my flourless hazelnut chocolate cake. Please don't forget to check out the fantastic creations of my friends at the bottom of the post.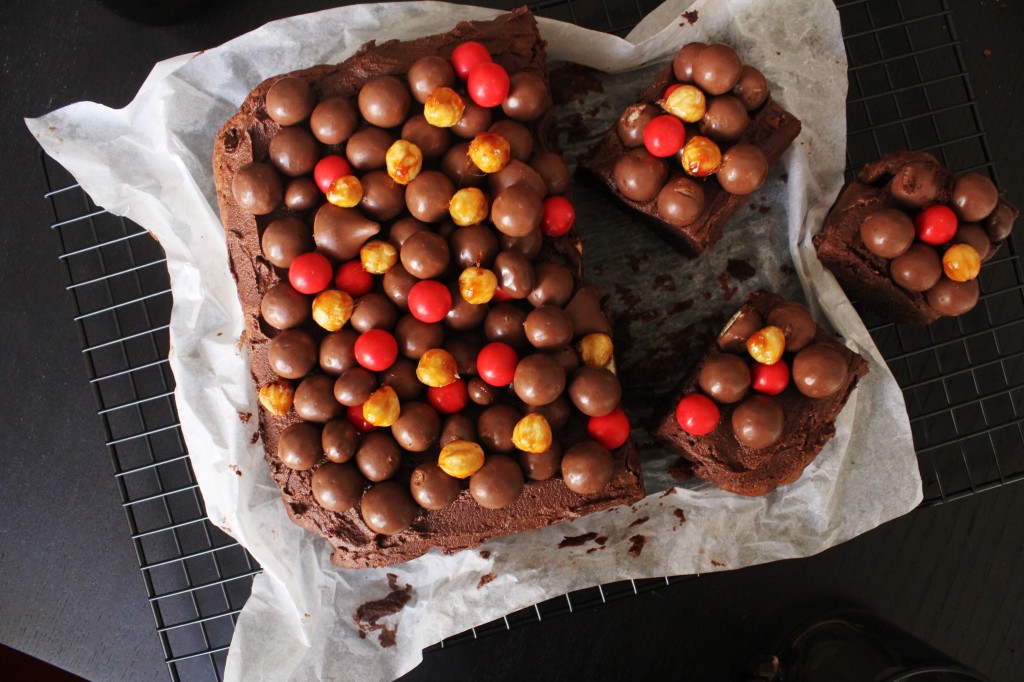 Like most flourless cakes, this one uses hazelnut meal (ground hazelnuts) and separated eggs. I love the nutty yet moist texture of this cake. I know that a lot of people find it intimidating to make recipes where meringue is involved but trust me when I say this. Those recipes are more forgiving than a normal cake recipe and for just 5 basic ingredients the results are always great. Please feel free to substitute hazelnuts with whichever nut you prefer or even a mix. The only thing to note here is that the egg whites are to be beaten to a soft peak (when the peaks are just starting to hold)…this gives an amazing texture to the cake.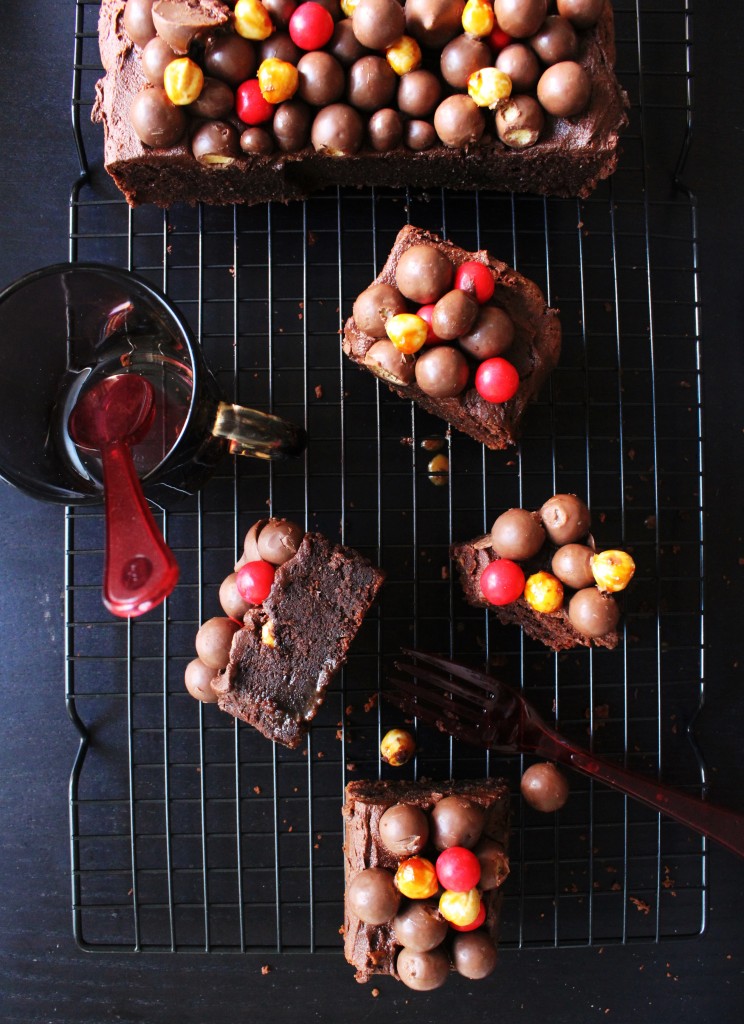 I have used a thin layer of chocolate ganache to hold the candies together. The topping consists of chocolate coated nuts, candies hazelnuts, chocolate kisses and jaffa (orange chocolate candies). They can be easily replaced with your favourite candies or even eaten as it is, without the topping. Also, if you want a round cake you can use an 8 inch round cake pan for the same recipe. The baking time may need adjustment though.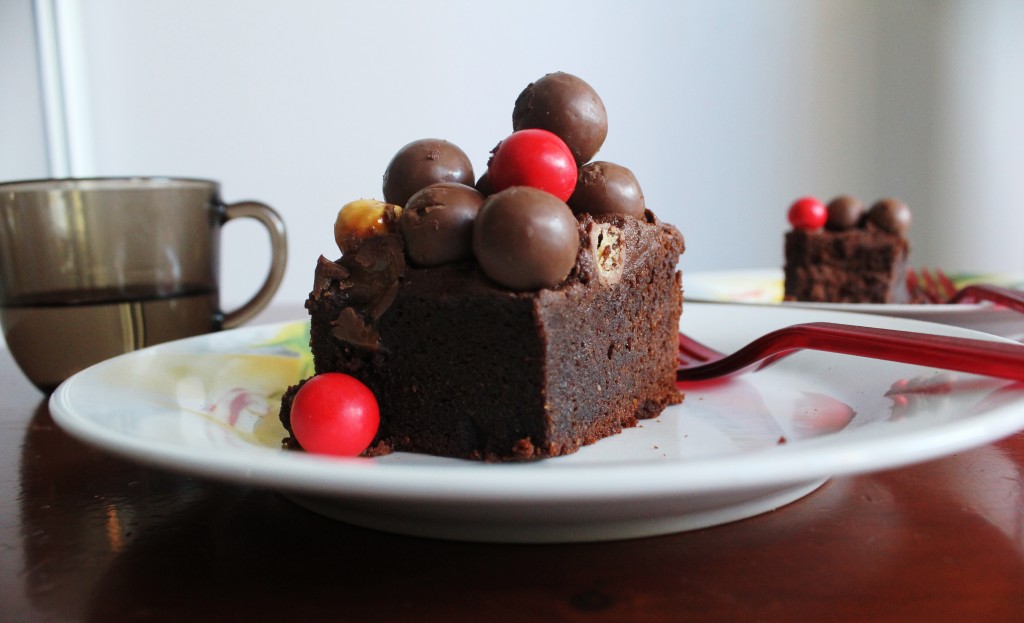 This cake is a huge hit with kids and adults alike. I say this from my experience. The difficult part is to resist from eating the candies as you layer them on the top of the cake.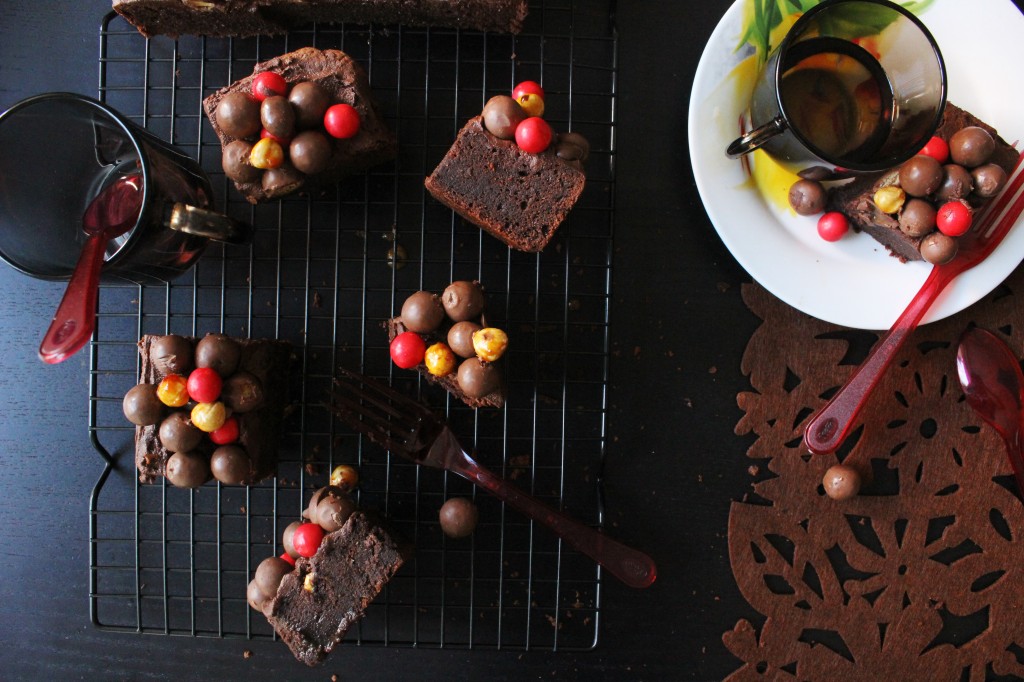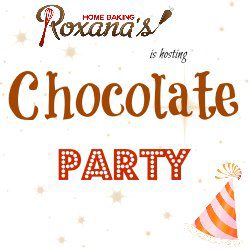 Flourless Chocolate Nut and Candy Cake
Serves 10
200g dark chocolate, chopped
150g butter, chopped
6 eggs, separated
2/3 cup castor sugar
1 1/2 cups hazelnut meal
Preheat oven to 170°C/150°C fan-forced. Line base and sides of a 25 cm square baking pan with baking paper. Combine chocolate and butter in a small saucepan over low heat. Stir until melted. Alternately melt the two together in short bursts of 20 seconds in a microwave Set aside to cool.
Place egg yolks and sugar in a bowl. Using an electric mixer, beat until thick and creamy. Add chocolate mixture. Beat to combine. Add hazelnut meal. Beat to combine.
Place egg whites in a bowl. Using an electric mixer, beat until soft peaks form. Using a metal spoon, stir one-third of egg whites into chocolate mixture. Gently fold remaining egg white through chocolate mixture.
Pour mixture into prepared pan. Bake for 30-40 minutes or until a skewer inserted into the centre has moist crumbs clinging. Stand in pan for 10 minutes. Turn out onto a wire rack to cool.
Chocolate Ganache and Candy Topping
150 g dark chocolate, chopped
1/4 cup heavy cream
1 cup of chocolate coated nuts, candied hazelnuts, chocolate kisses, jaffa or any candy of your choice.
Place chocolate and cream in a saucepan over low heat. Cook, stirring constantly, for 3 to 4 minutes or until smooth. Spread over top of the cake. Place the candies on top.
[inlinkz_linkup id=325537]