The last quarter of the year is certainly my favourite. From one celebration or festival to another and all the excitement in between. And with celebrations come great food…get togethers…some nostalgia filled cooking and the most awaited traditional dishes of the year. I am also fortunate that our beautiful Spring is just so perfectly aligned with this time of the year. Celebration is in the air!

Diwali, rightly called the Festival of Lights is moments away and I am in high spirits as I cook my way through the preparations for perhaps the most food-oriented Indian festival. I say that because, this is the time we splurge, we indulge, we over eat, we gorge on our favourite sweets. Could I be happier! That word you notice at the top of my blog title…yes, Sugar…I get to use it to my heart's content! And there's hardly a soul who would refuse at this time.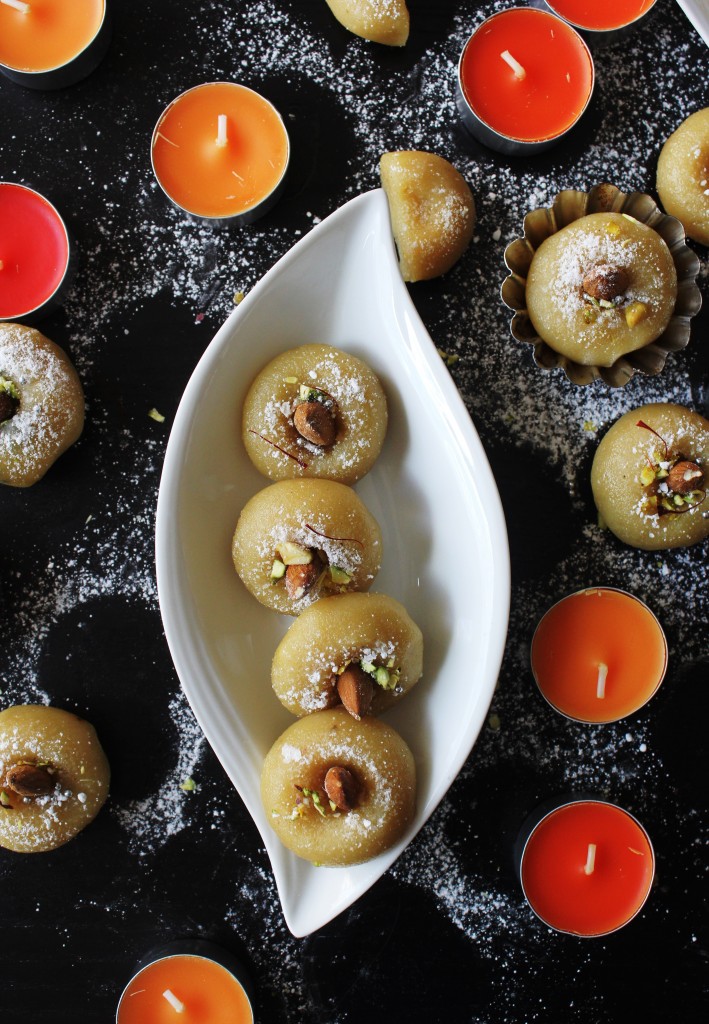 Talking of sweets the most loved sweet during Diwali are cashew nut based. Nuts do form an integral part of Indian desserts and people spend a fortune buying boxes of cashew nut barfis and other sweets to gift or eat at home. This year, I had promised myself that I wouldn't buy a single one and make all of them at home. These cashew nut sweets are very easy to make and ready under 30 minutes.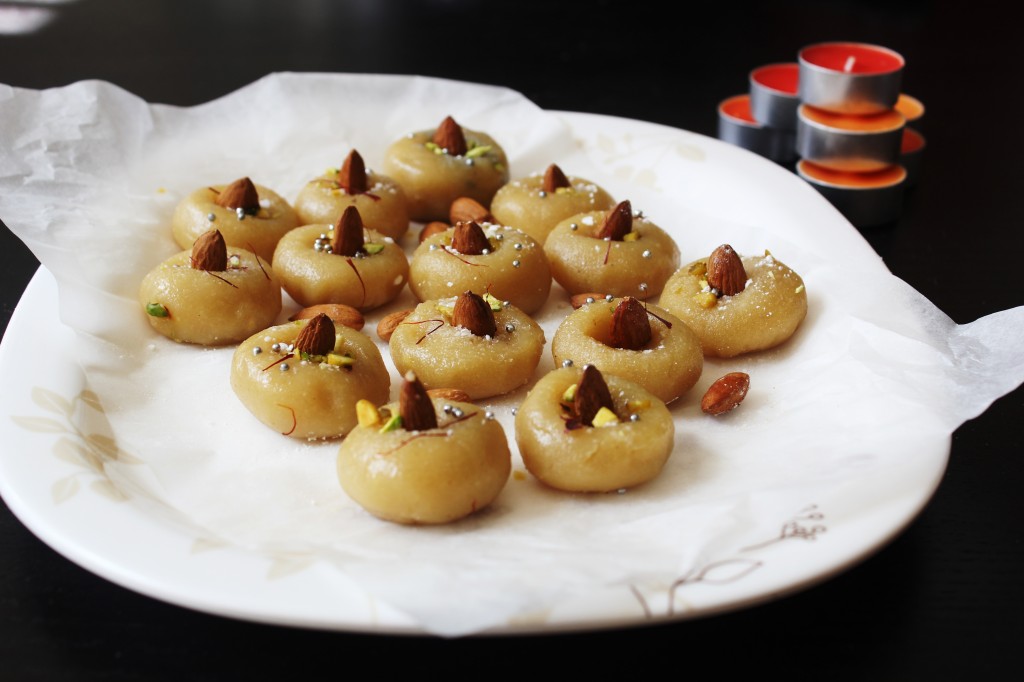 There are hundreds of recipes for the Kaju barfi on the Internet so I wanted to do mine differently. My recipe is pretty simple and forgiving..there is little scope to go wrong. Rather than cutting it into diamonds, (which can be difficult if you don't get the right consistency of the dough), I rolled out little rounds  with my palm (Pedas) and inserted an almond in the centre.
The highlight of a celebratory Indian sweet is also the silver foil on top that gives it a shiny appearance. I have not been able to find it in Sydney so I have dusted it with icing sugar and decorated it with chopped pistachios and silver cachous pearls which is available in any bakeware store. Also, if you do not have access to cardamom powder, it can be made at home by running the seeds of 4-5 cardamom pods through a grinder.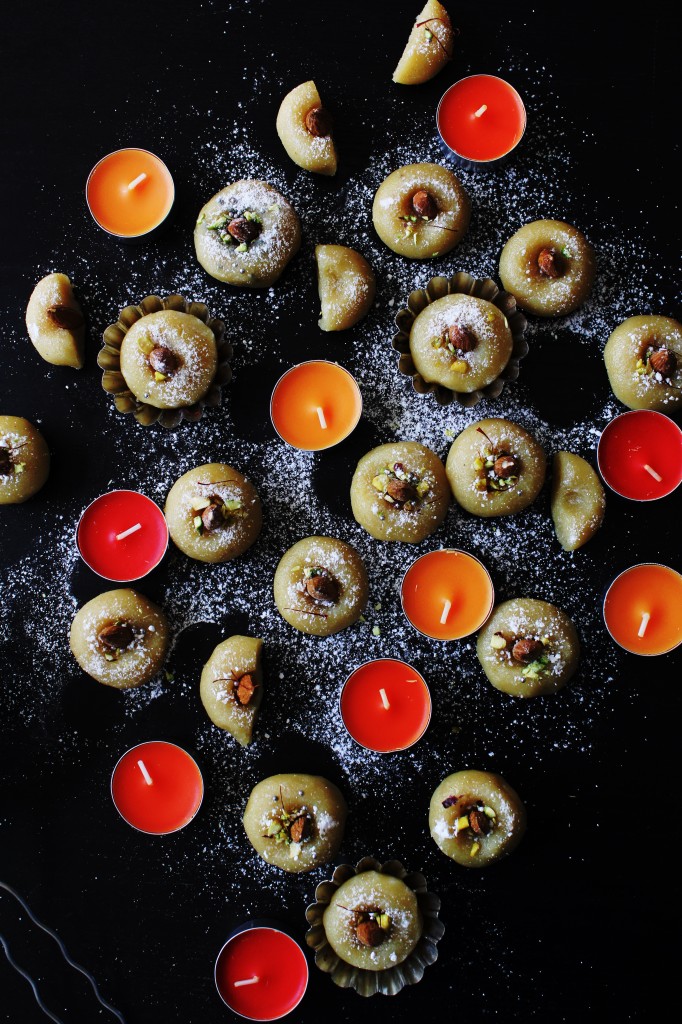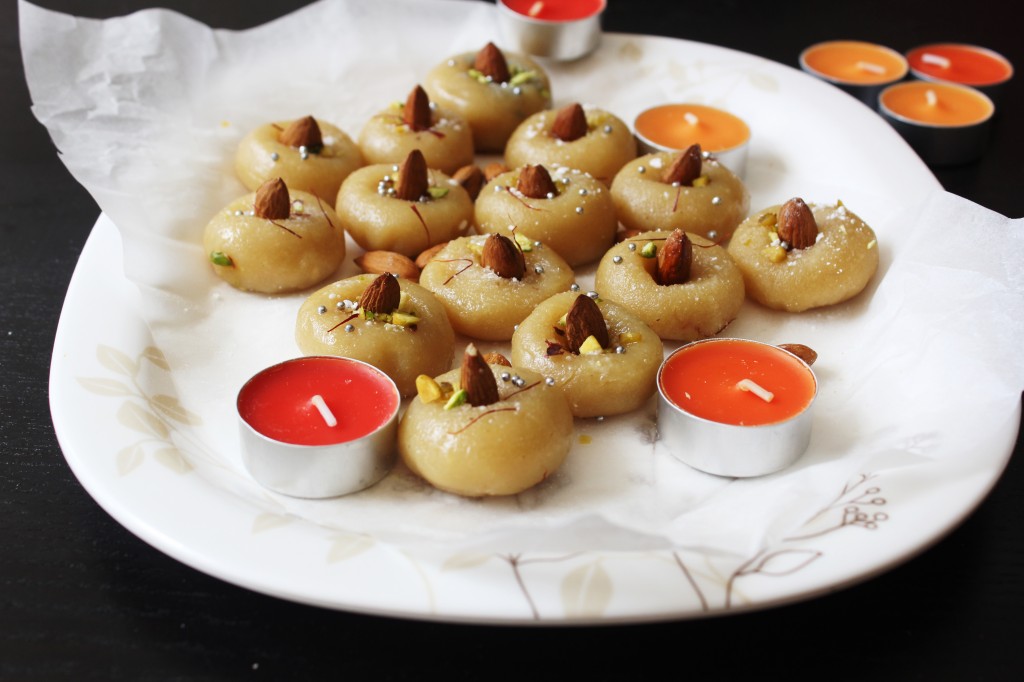 Wish you all a happy, safe and prosperous Diwali!
Kaju Peda. Indian Cashew Nut Fudge
Makes 22-25 medium Pedas
250 g cashew nuts (plain)
1 cup icing sugar/powdered sugar
1 tbsp ghee/clarified butter
1/2 tsp cardamom powder
1/4 cup milk
To serve/decorate
1/8 cup icing sugar
22-25 toasted whole almonds
a few stands saffron (optional)
a few chopped pistachios (optional)
silver cachous to decorate (optional)
Soak the cashew nuts in 1 cup water for 4 hours, preferably overnight. Drain three-fourths of the water and grind the cashew nuts with the remaining water to a smooth paste in the food processor. You can check at intervals by rubbing the paste between your fingers to find out if the desired consistency has been reached. It should not be grainy.
Heat the ghee on medium heat in a thick bottomed pan or wok. When the ghee melts, add the cashew paste, sugar, cardamom powder and milk to the pan and stir to mix. Keep stirring till all the sugar dissolves and the mixture starts to pull away from the sides of the pan. (It is important to keep stirring or the mixture can burn at the bottom). At this stage, the cashew nut mixture resembles a dough and is quite thick. To test, pinch off a portion of the dough and try to make a ball out of it by rolling it between your palms (like you would for a cookie). If you are able to do it with ease, then the dough is ready. If not, put it back on the heat and keep stirring to thicken up further. Also note, the dough thickens up slightly as it cools down.
Once you have the desired consistency, let the dough cool down for 5 minutes. Roll out portions (about 1 tbsp) of the dough between your palms to make rounds. Press the centre of the round slightly and insert an almond. Keep the cashew nut fudge rounds aside to cool completely. Once, cooled to room temperature, dust with icing sugar, garnish with chopped pistachios, silver cachous and saffron strands.
These will keep for 3-4 days at room temperature and up to 2 weeks in the refrigerator.