We were so busy with our Diwali celebrations this weekend that despite visits to the bakery and supermarket, we forgot to stock up on a few of our essentials. One of them was bread. That was just the perfect excuse I needed to make this pumpkin bread.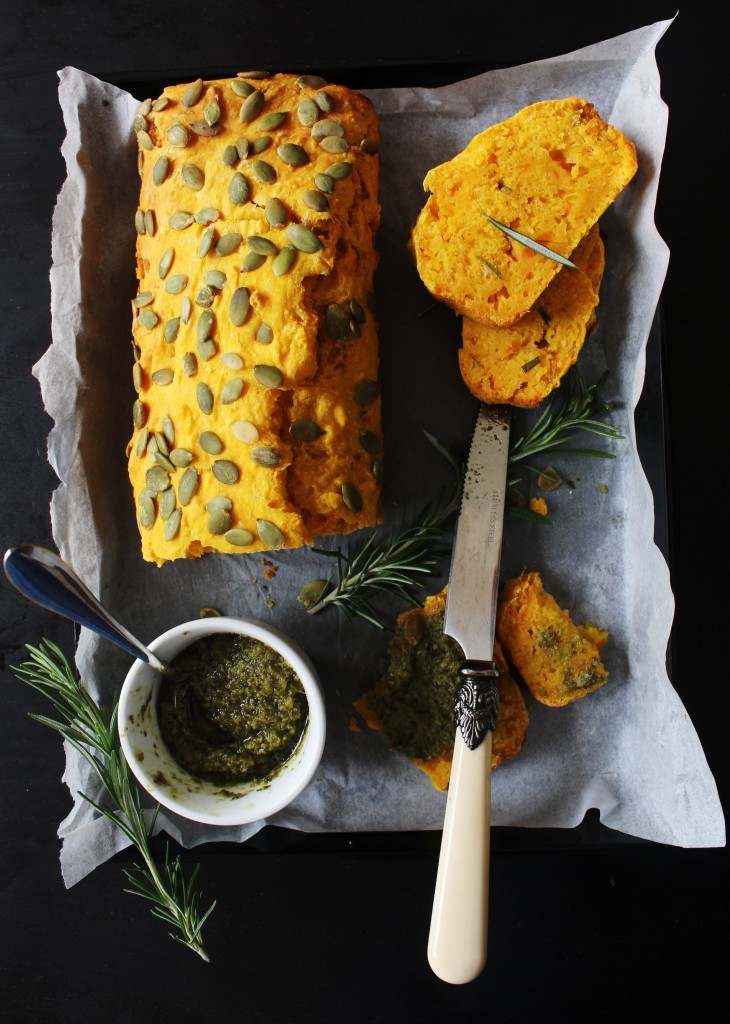 The pumpkin puree was ready sitting in my refrigerator thanks to all the work I did the last week. So all that was required of me was to throw in the ingredients into a mixing bowl, mix and bake. The smell of rosemary wafted in the air as the baking progressed reminding me of the winter that was. Before the children woke up and I could put together the rest of breakfast, the bread was ready! Yes, a great looking and smelling, delicious, healthy loaf of bread.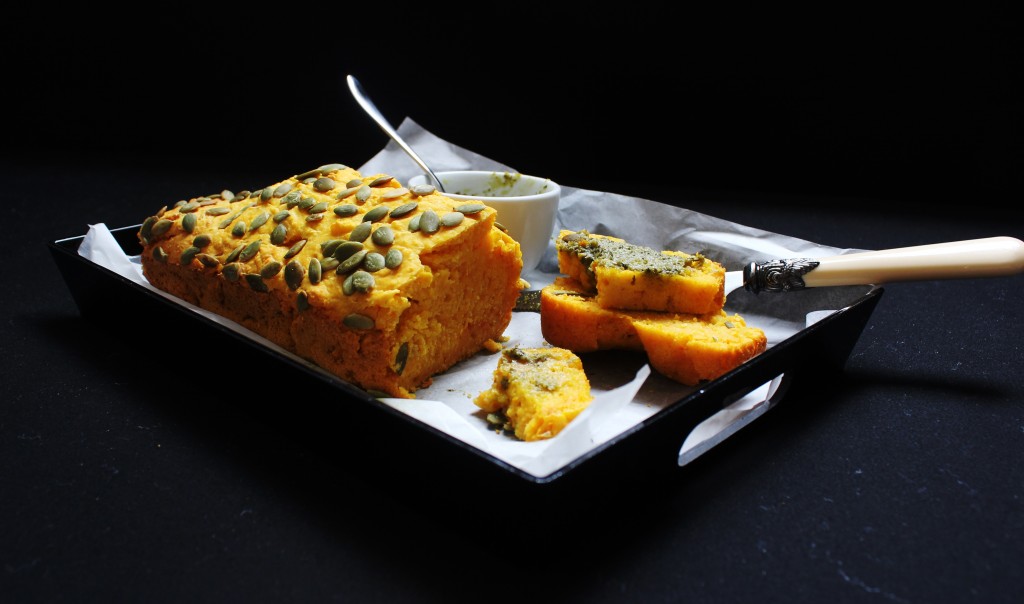 The best thing about this bread is that there is no waiting…proofing etc. No added fat..no eggs either…and a handful of ingredients. Who doesn't like a simple, one bowl recipe!. If you have been visiting this space regularly, you would know that I seldom replicate a recipe. I would always add my own personal touches and little twists to make it my own. But this time I haven't changed a thing except reducing the quantity of salt. The original recipe is just perfect the way it is with a mellow pumpkin flavour in the bread, saltiness from the parmesan, earthy notes of rosemary and the crunchiness from the pumpkin seeds.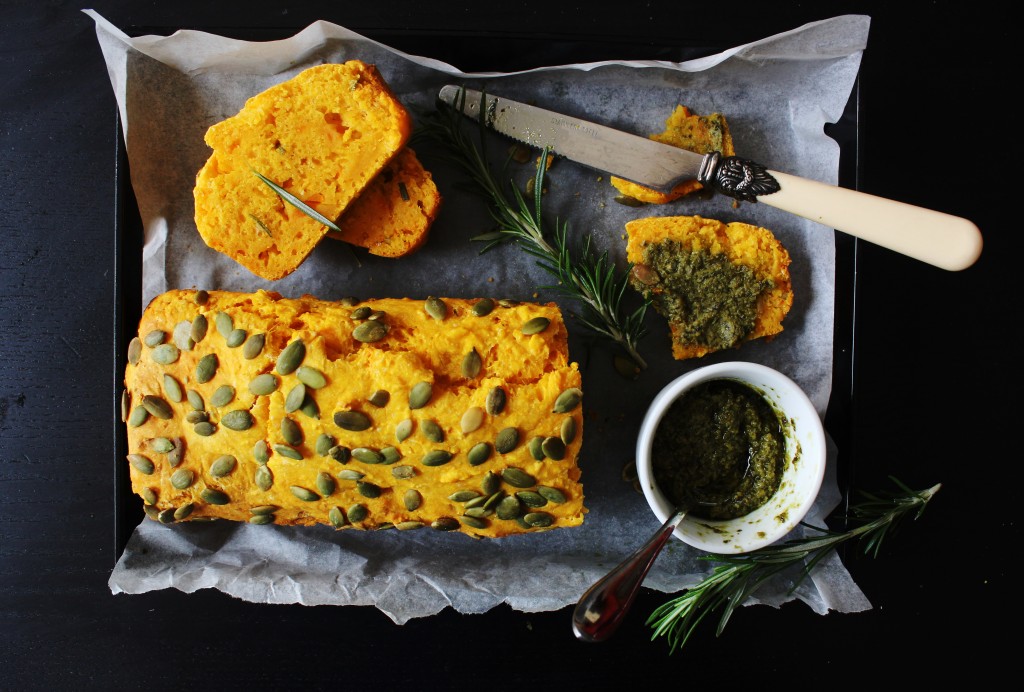 Though we tried the bread with various dips and spreads, I thought the best accompaniment was pesto.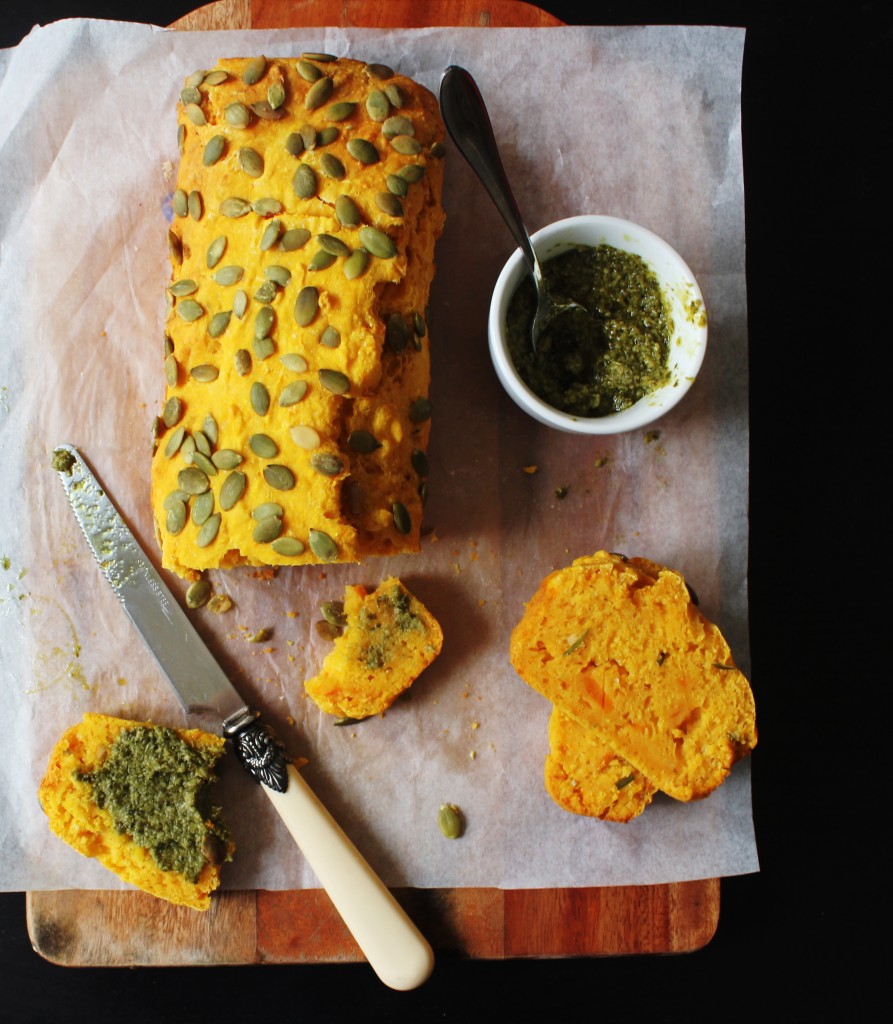 Pumpkin and Rosemary Bread
Adapted from Taste.com

500g butternut pumpkin, peeled, chopped OR 11/3 cup unsweetened pumpkin puree
2 cups self-raising flour
2 tablespoons chopped fresh rosemary
1/4 cup polenta
2 tablespoons grated parmesan cheese
1 tsp salt
1 cup milk
2 tablespoons pumpkin seeds (pepitas)
Pesto, to serve
Cook pumpkin in a saucepan of boiling water for 10 to 12 minutes or until tender. Drain. Return to pan. Mash until smooth. Cool. Ignore this step if using ready pumpkin puree.
Preheat oven to 180°C/160°C fan-forced. Grease a 6cm-deep, 9cm x 19cm loaf pan. Sift flour into a large bowl. Stir in rosemary, polenta, parmesan and salt. Make a well in centre. Add pumpkin and milk. Stir until just combined. Spoon into prepared pan. Top with pepitas.
Bake for 45 to 50 minutes or until golden brown and hollow when tapped on top. Stand in pan for 5 minutes. Transfer to a wire rack to cool. Serve with Pesto.