Every time I talk about rains in my posts, it is followed by comfort food. Today is no different. It has rained all of this week keeping us indoors, craving for some fresh air. The little sunshine that followed almost tricked me into believing that the weather has improved and twice I found myself caught in the middle of a heavy downpour, racing home to save my head.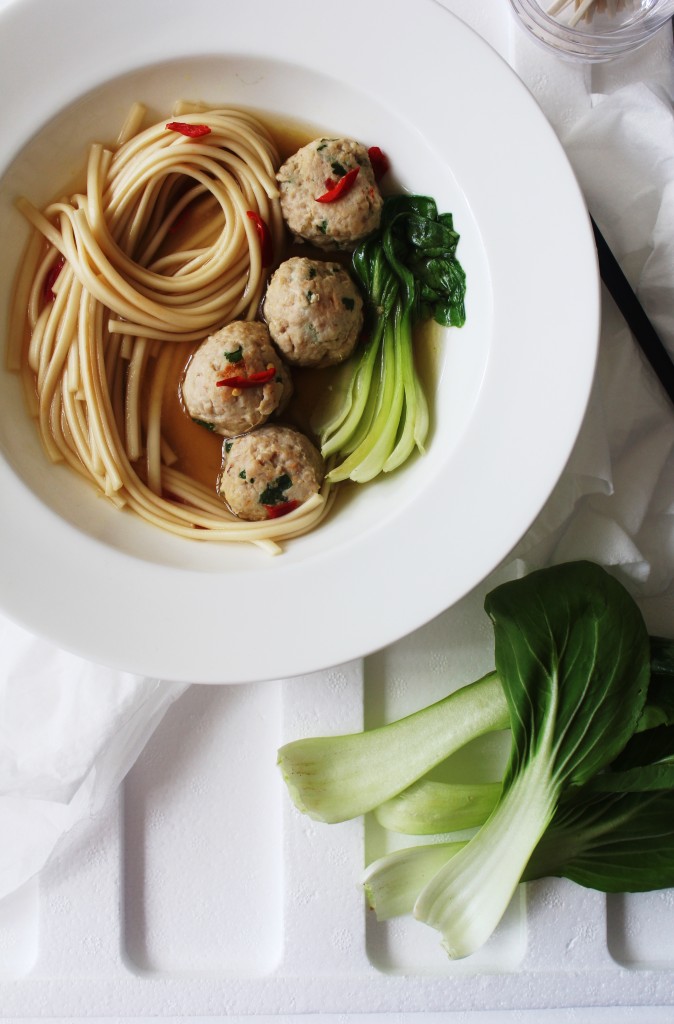 In such situations, I have learnt to treasure a warm bowl of soup. Especially the ones which make a meal by itself. More importantly, the ones that come together quickly. This Asian flavoured soup has no added fats…the chicken dumplings are put together in minutes and poached in the broth. I did tell you how much I rely on minced meat or chicken to come up with simple and quick meals. While I am making the dumplings, the noodles gets cooked on another burner…drain, rinse and add to the broth. That simple. The flavours are gorgeous..ginger-y…so refreshing and warm.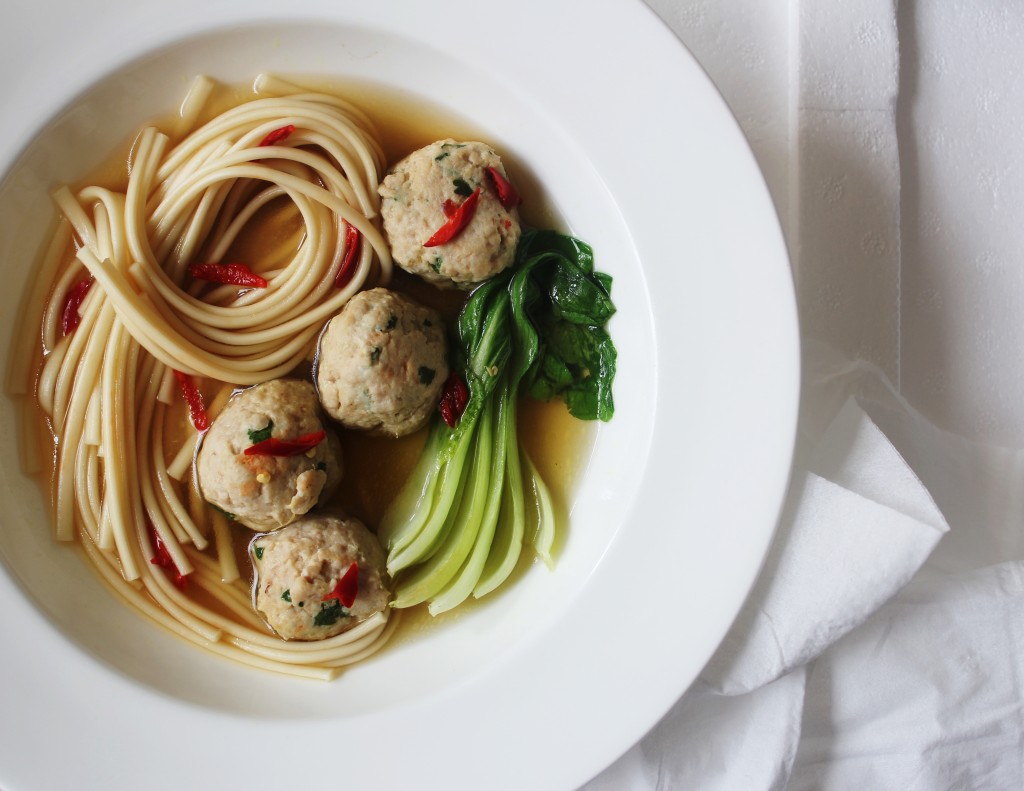 If you are sharing this with children, remove the chillies. Add them separately to your meal like I do. If you find the mince mixture too soft to shape into dumplings, add a tbsp of rice flour. The dumplings cook pretty fast. Take care not to overcook them. 3-4 minutes on either side should do. You can break open one to check. If cooked correctly, they will be juicy and soft. Kecap Manis is a sweet Indonesian Soya Sauce..if not available at hand, you can use equal measures of regular soya sauce and palm sugar or honey. Bok Choy also referred to as Chinese cabbage is extensively used in Asian cuisine. If you do not have access to it, substitute with spring onions, basil or coriander.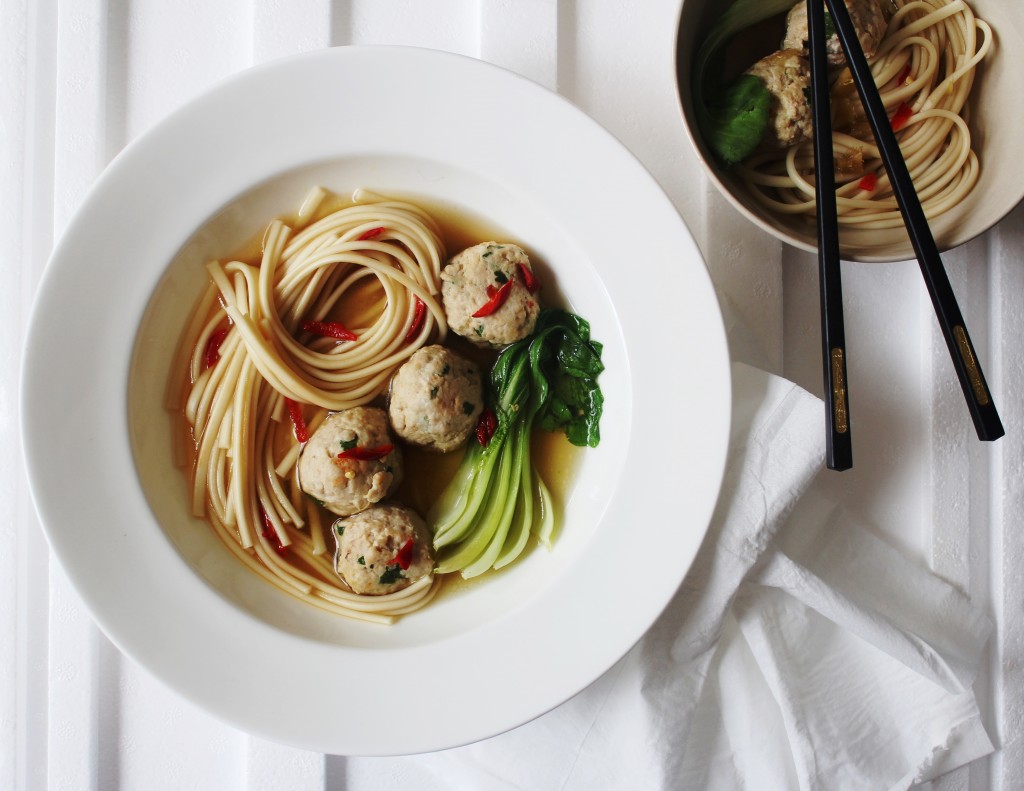 Ginger and Chilli Chicken Dumpling Soup
Serves 4
For the dumplings
400 g chicken mince
1 tbsp grated ginger
2 tbsp sweet chilli sauce
1 egg white (small)
a handful, coriander leaves, finely chopped
For the broth
4 cups chicken stock
1 tbsp grated ginger
1 tbsp red chillies, finely sliced
1 tbsp lime juice
1 tbsp Kecap Manis
Salt to taste
To Serve
Noodles (Udon or rice noodles cooked as per instructions on the pack..I used Udon Noodles)
4 baby Bok Choy, leaves separated
Extra red chillies, to serve
Prepare the noodles following packet directions or until tender. Drain.
Meanwhile, place the chicken, egg white, ginger, coriander and sweet chilli sauce together in a bowl. Using wet hands shape a tablespoon of mixture into a ball. Repeat with the remaining chicken mixture.
Place the stock, lime juice, Kecap Manis, ginger, sliced chilli, in a large saucepan over medium-high heat. Bring to the boil. Reduce heat to medium-low. Add the chicken balls gradually and cook turning once in between (3-4 minutes on each side) or until cooked through.
Add the Bok Choy to the pan and cook for 30 seconds or until Bok Choy just wilts. Divide the noodles and dumpling soup among serving bowls. Garnish with extra chillies. Serve immediately.