I know I am starting early but it's hard to resist with all the inspiration around. The shelves at the stores are filled with sweet holiday inspiration…Candies, cookies, puddings and so on..I am excited just looking at them. I so love this time of the year. And I plan to do a lot of baking in the next few days leading up to New Year's.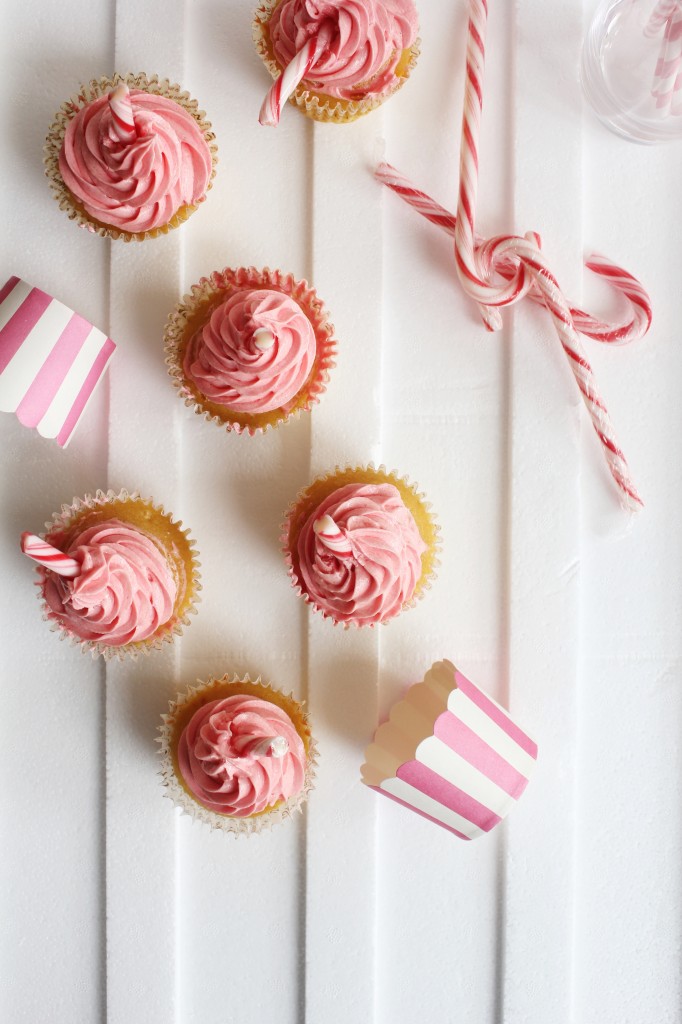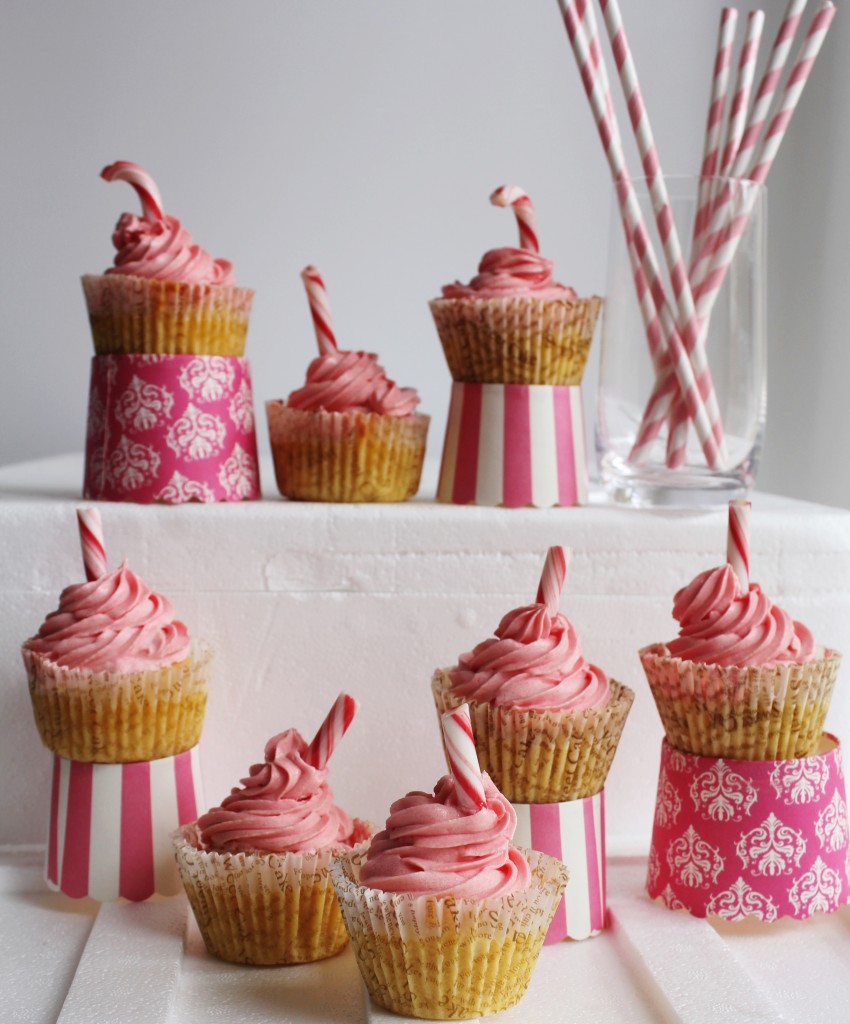 I intended to post this along with my children's favourite recipes last week but couldn't do so. Kids and candies..classic pairing! So I had to do at least one candy based recipe. I've come across a lot of candy cane cupcakes mostly using dark chocolate, therefore I made mine using White chocolate. The frosting is a simple buttercream flavoured with peppermint extract. There is a subtle caramel flavour from the white chocolate in the cupcakes. I wouldn't say I was blown away by the pairing, but it tasted good.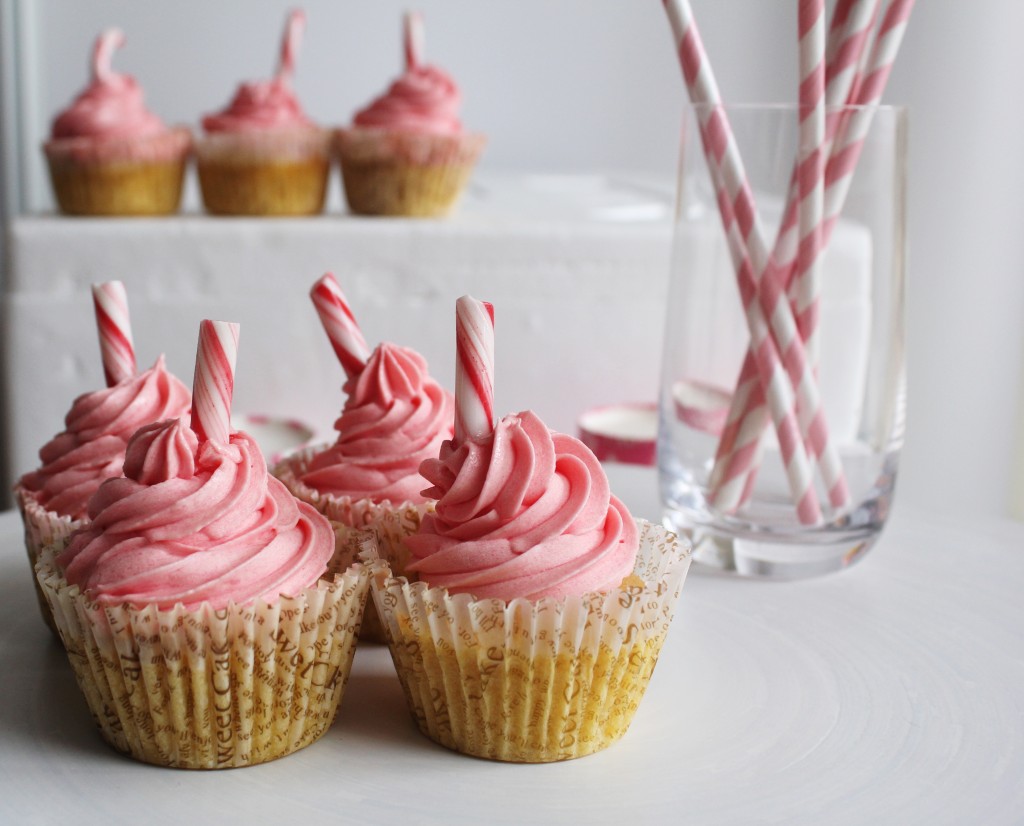 I have used my basic vanilla cupcake recipe (from Joy of Baking) with a little melted white chocolate added to it. I love the pink colour in the frosting…actually I love pink desserts. Which means you need to watch out for what is coming up next. Or can I say I have been painting the town pink.
I will be back with more of my pink creations shortly!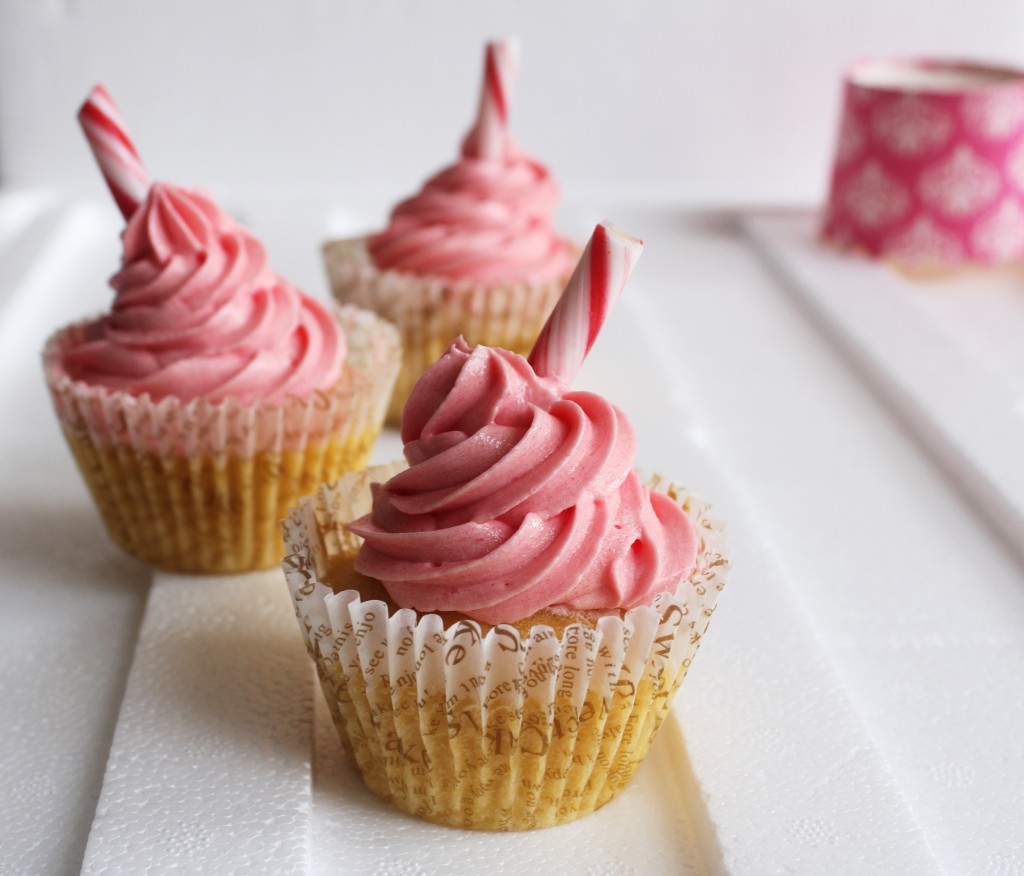 Candy Cane Cupcakes. White Chocolate Cupcakes with Peppermint Buttercream
Yields 12
White Chocolate Cupcakes
1/2 cup unsalted butter (113 g), room temperature
1/2 cup castor sugar
3 large eggs
100 g white chocolate, melted
11/2 cups all-purpose flour
11/2 tsp baking powder
1/4 tsp salt
1/4 cup milk
Preheat oven to 180 degrees C and line a muffin tray with 12 paper liners. In the bowl of your electric mixer or with a hand mixer, beat the butter and sugar until light and fluffy. Add the eggs, one at a time, beating well after each addition. Add the melted white chocolate and stir to combine. In a separate bowl, whisk together the flour, baking powder and salt. With the mixer on low speed, alternately add the flour mixture and milk in three additionss, scrape down the sides of the bowl as needed. Evenly fill the muffin cups with the batter and bake for about 15-20 mins or just until set and a toothpick inserted into a cupcake comes out clean. (Do not over bake or the cupcakes will be dry). Remove from oven and place on a wire rack to cool. Once the cupcakes have cooled completely, frost with icing.
Peppermint Buttercream
2 cups icing sugar, sifted
1/2 cup unsalted butter, room temperature
2 tbsp milk
1 tsp peppermint extract
3-4 drops pink food colouring
In an electric mixer or with a hand mixer, cream the butter until smooth and well blended. With the mixer on low-speed, gradually beat in the sugar. Scrape down the sides of the bowl. Add the milk and beat on high-speed until frosting is light and fluffy (about 3-4 minutes). Add a little more sugar or milk as needed. Add the peppermint extract. Tint with pink food colouring.