I had to make room in my freezer to put in the tubs of ice cream I bought this morning. A big pack of frozen peas prevented the freezer door from closing. So that resulted in a few curried pea stuffed flatbreads and this soup. You might be wondering, on a hot sunny afternoon, wouldn't it make sense to finish the ice cream than go through the trouble of making and eating a soup. It would. If along the way, I had not pictured  myself cutting though layers of ice cream cake covered in pretty swirls of raspberry puree and adorned with juicy fresh berries. We'll keep the ice cream cake for later.
The flatbreads disappeared leaving no scope for photography. I took a few quick pictures of the soup while nibbling on a flatbread. Nobody complained about a not-so-warm soup anyway.

This soup goes down really well with my children mainly for its colour and the crispy prosciutto on the side. I have figured out a an easier and quicker way of making soups that involve potato. Instant mashed potato flakes. This is pretty much available in any supermarket and saves you the work of boiling and mashing potatoes. It acts as a great thickening agent too. All you do is add it to the pea and stock mixture and you have a thick soup in minutes. I would generally not use it as a substitute for the real potato mash but in soups, you can barely notice the difference.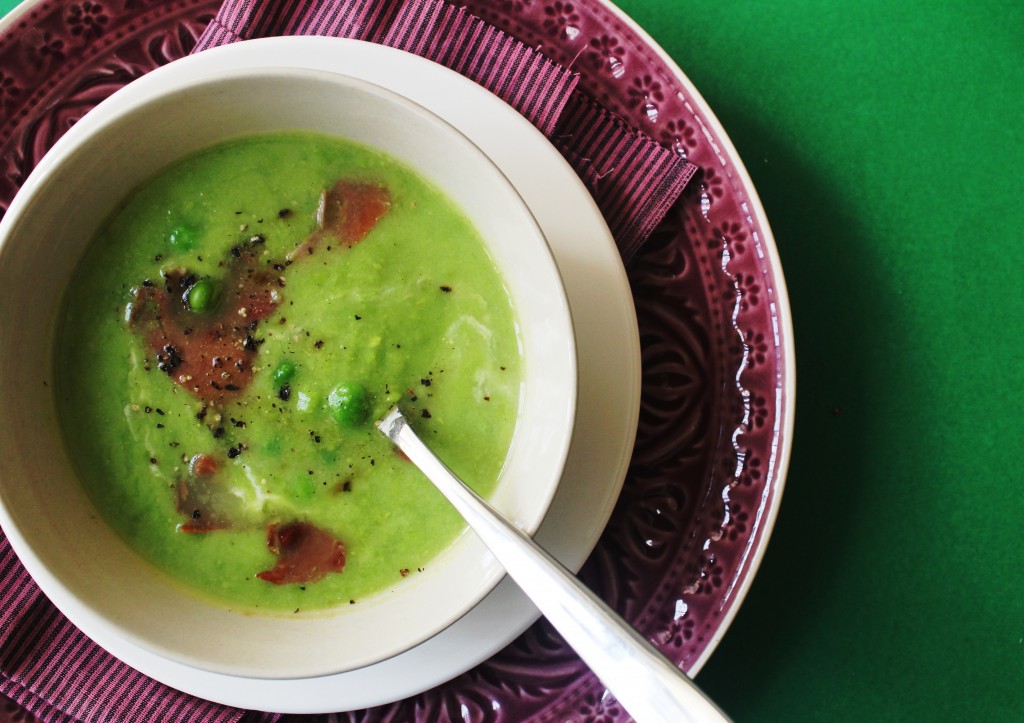 Prosciutto can be substituted with bacon if that is your preference. Vegetarians can omit it altogether and add croutons instead for a little crunch and replace the chicken stock with vegetable stock. If you do not want to use Instant mashed potatoes, you can use 1 medium potato, peeled and grated.
Pea, Potato and Prosciutto Soup
Serves 4
I onion, finely chopped
2 tbsp olive oil
3 cups frozen peas
3 cups chicken stock
1/2 cup instant potato mash powder
1 cup water
5-6 slices of proscuitto
salt and cracked pepper to serve
a dollop of sour cream to serve
Heat a saucepan over medium heat. Add 1 tbsp of olive oil and the onion and cook till soft. Add the peas, stock, water and instant mash (or grated potato if you are using one) and stir to mix. Cook till peas become tender and the soup thickens.
Meanwhile, heat the remaining oil in a large frying pan over medium-high heat. Add the prosciutto and cook for 2-3 minutes each side or until crisp. Transfer to a plate lined with paper towel. Set aside to cool.
Transfer the pea mixture to the bowl of a food processor or the jug of a blender. (If you have a stick blender, you can blend it directly in the saucepan). Process or blend until the mixture is smooth. Transfer the soup to a clean saucepan over medium heat and stir until heated through. Taste and season with salt and pepper.
Ladle the soup among serving bowls and dollop the sour cream. Break the prosciutto into large pieces and arrange on top of the soup to serve.