Holding on to the last two weeks of a beautiful year. And I cannot find a better way of bidding farewell to it than filling it with some more sweet treats. You know all the joy and cheer of the holiday season makes it harder to say goodbye. You really don't want the party to end…when you are enjoying so much. Almost makes me sad. But there will always be good memories to take forward…some learning..a lot of hope AND a thousand ideas to work on for my dear little blog.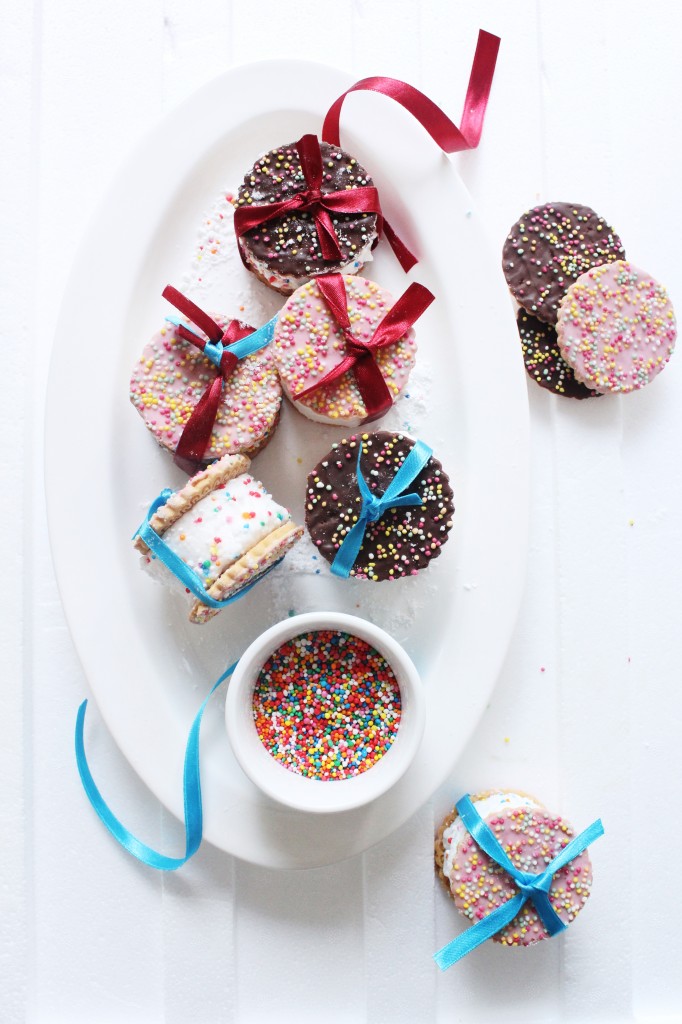 I've been meaning to make marshmallows at home since months. I made them a couple of years back and promised myself never to get store-bought ones again. But when something is so easily available you don't give much thought to recipes however simple they may be.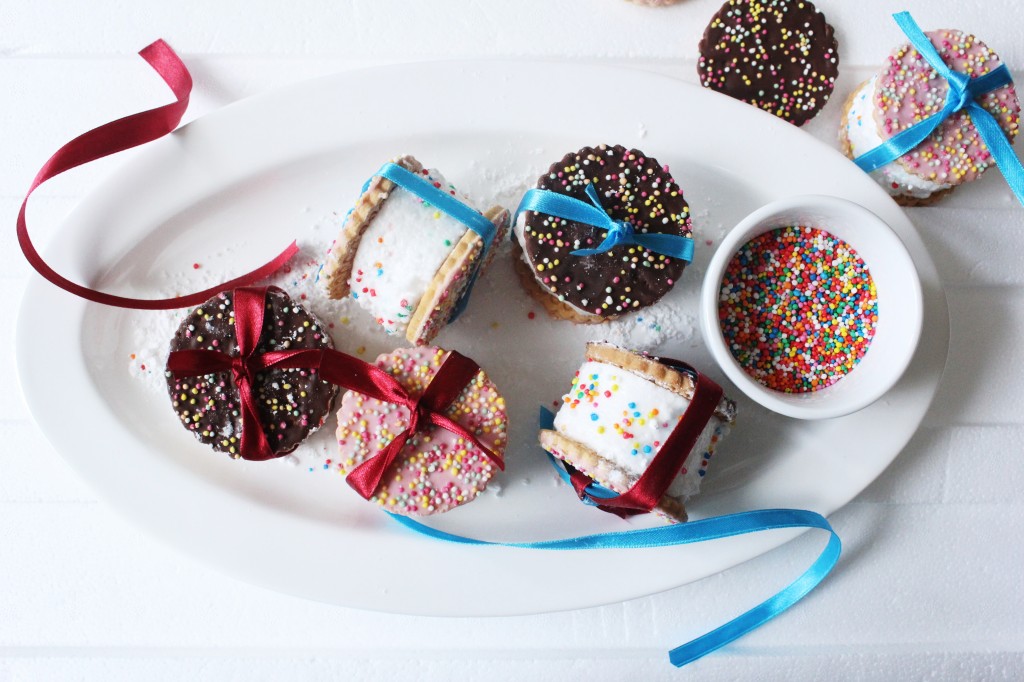 Home made marshmallows not only taste better than the store-bought ones, you can do so much with them. Colour them, flavour them, cut them into any shapes…coat them with your favourite candies. And just 2 basic ingredients. It can't get easier than this. I have used a 5 cm round cutter to cut out rounds and sandwiched them between store-bought biscuits. If you want to make the biscuits from scratch, you can use any basic cookie recipe (that is not crumbly) or similar cookies with this recipe. The best part is that they are gluten-free and if you sandwich them between gluten-free cookies, they will make a lovely gluten-free gift too.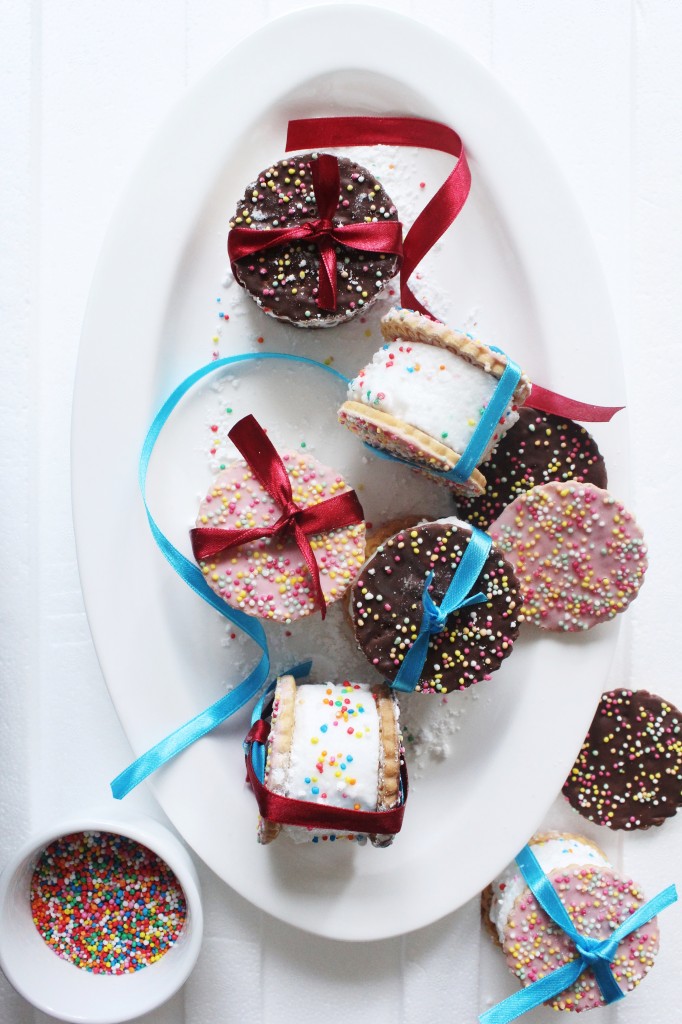 A few things to note about the recipe. Do make sure you beat the sugar mixture till it is really thick..it should somewhat hold its shape for a few seconds when you lift the beaters. You can coat them in dessicated coconut or equal parts of corns starch and icing sugar.  After 3-4 hours if you find the marshmallow too sticky to work with, put the tray in the refrigerator for an hour. Dust your cookie cutter or knife with the sugar- corn starch mixture each time you cut into the slab of marshmallow. Tying ribbons around the cookies not only makes them look festive and pretty but keeps them intact.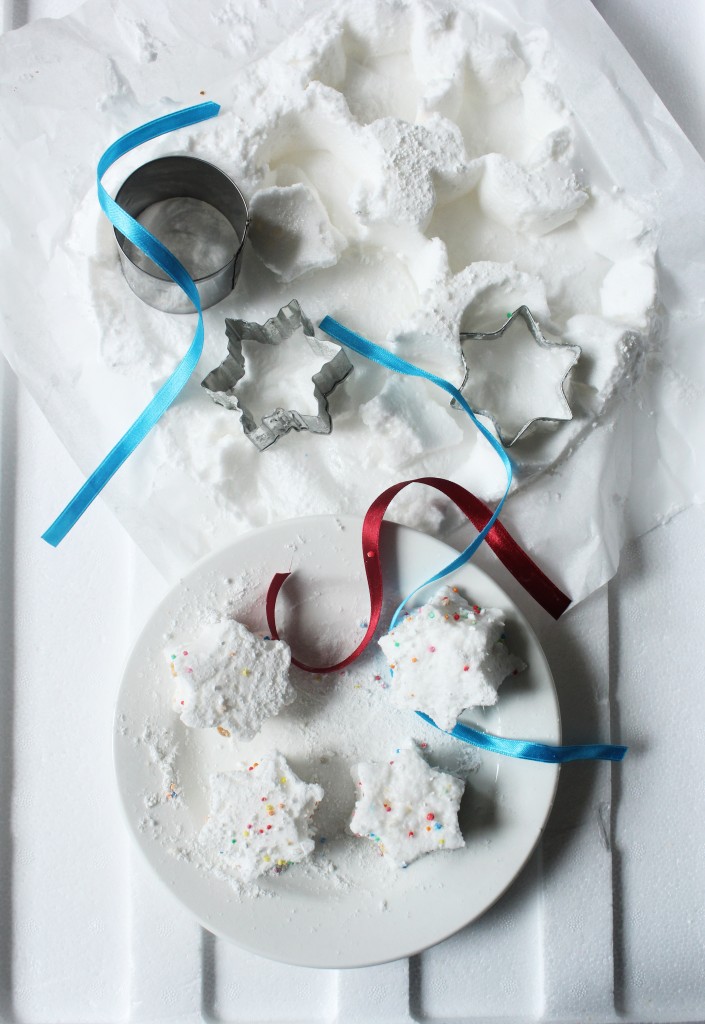 Marshmallow Sandwich Cookies with Homemade Marshmallows (Marshmallow recipe adapted from here)
Makes 12-14 sandwich cookies
1 1/2 cups castor sugar
2 tablespoons gelatine
1 teaspoon vanilla extract
1 cup icing sugar and corn starch mixture (equal parts)
Cookies (home-made or store-bought) to sandwich the marshmallows
1/2 cup of either melted chocolate, nutella or jam of your choice
Grease a 3cm deep, 16.5cm x 26cm (base) slab pan. Line base and sides with baking paper, allowing a 2cm overhang at both long ends. Combine sugar and 2/3 cup hot water in a saucepan over medium heat. Cook, stirring, for 3 minutes or until sugar dissolves and syrup is clear.
Using a fork, combine gelatine and 2/3 cup cold water in a jug. Pour into hot syrup. Cook, stirring, for 2 to 3 minutes or until gelatine has dissolved and mixture is clear. Pour into bowl of an electric mixer. Set aside to cool to room temperature (about 30 minutes).
Using an electric mixer, beat sugar and gelatine mixture on high for 6 to 10 minutes or until very thick. Add vanilla and beat for 1 minute. Spread into prepared pan. Smooth top. Set aside, at room temperature, for 4 hours or until set. Lift onto a board. Using a round cutter that is dusted with a mixture of icing sugar and corn starch, cut out round marshmallows (depending on the size of the cookies).
Sieve 1/2 cup icing sugar and 1/2 cup corn starch in a large bowl. Place 1 marshmallow at a time in the bowl and gently toss in the mixture to coat. Remove to a wire rack. Set marshmallows aside until surfaces feel dry (about 1 hour). Meanwhile, apply a little melted chocolate or Nutella or jam on the under side of each cookie and keep aside. Once the marshmallows are dry to touch, sandwich between two cookies and press firmly. To retain shape, you can tie them up with kitchen strings or ribbons.