Happy New Year Everyone! A great beginning….I can feel the vibe! Really! It does amaze me though that we all look at the New Year as a fresh start though we are constantly a part of beginnings and endings all throughout the year. But why not! With a beginning comes hope and.. belief. In yourself..in the world around you…in good. Hope is good, isn't it?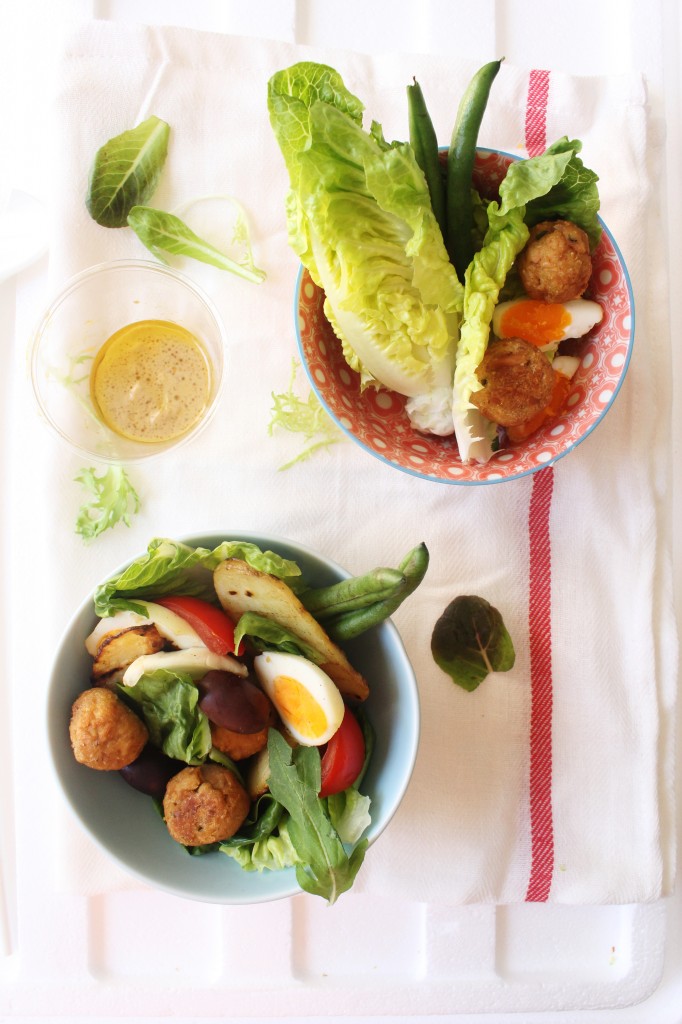 Life just got insanely exciting and relaxed for me at the same time. Moving houses at the end of December is not exactly the perfect time to pack away bakeware and dinnerware in boxes. Though I managed to put up a decent number of cookie and other posts, it almost hurt not being able to carry it through to the end. Cooking and Photography are an integral part of my being today and I cannot imagine a day without doing it. Somehow life makes a lot more sense when I am whisking, stirring, chopping, mixing or piping.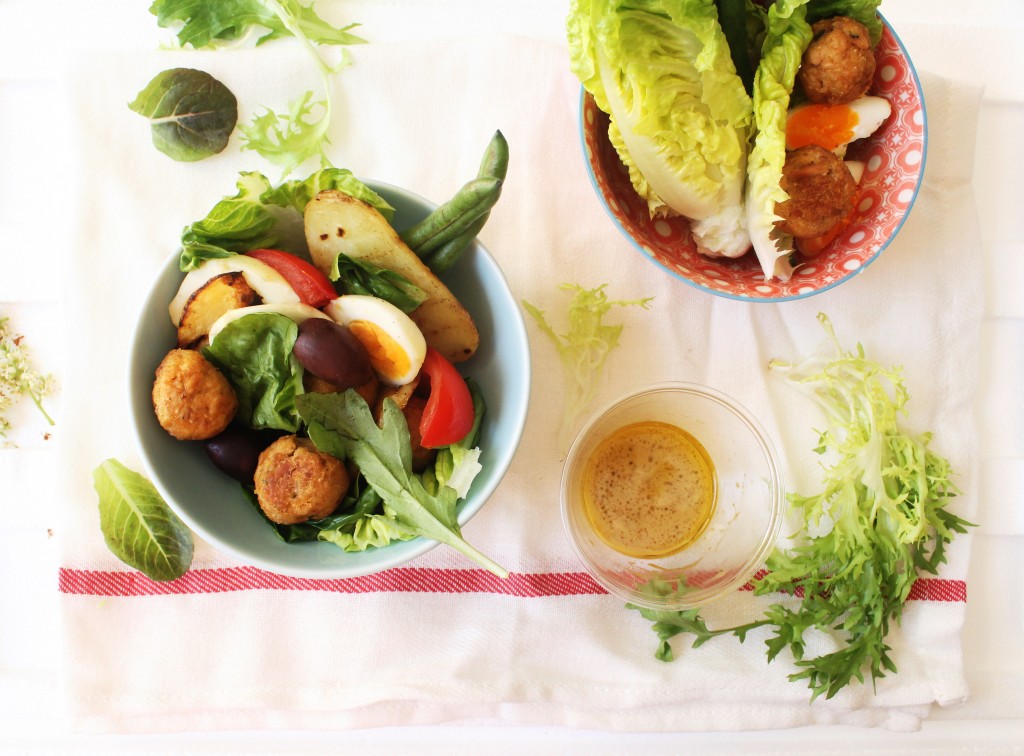 Our move was seamless though hectic as expected. But we've been anything but tired….lazy but not tired. Living on the waterfront does have its advantages. We've been getting into a crazy habit of packing our meals and eating them outside. I've been getting some pretend haircuts and therapies from soft little hands while listening to a different version of 'Poky Little Puppy'. each time. Lucky me also got to eat some 'masterpiece' cookies made with care. All in all I love the exciting little changes that have come about with a change in surroundings.
Talking about food, I don't have any New Year resolutions and not even the slightest intention of swaying away from Sugar recipes. But I love salads, soups or any other food and they will continue to appear on the blog. It's more of a creative outlet for me. As with this one. I wanted to give the classic Nicoise a little makeover and make it filling enough to substitute a meal for the health conscious resolution-makers.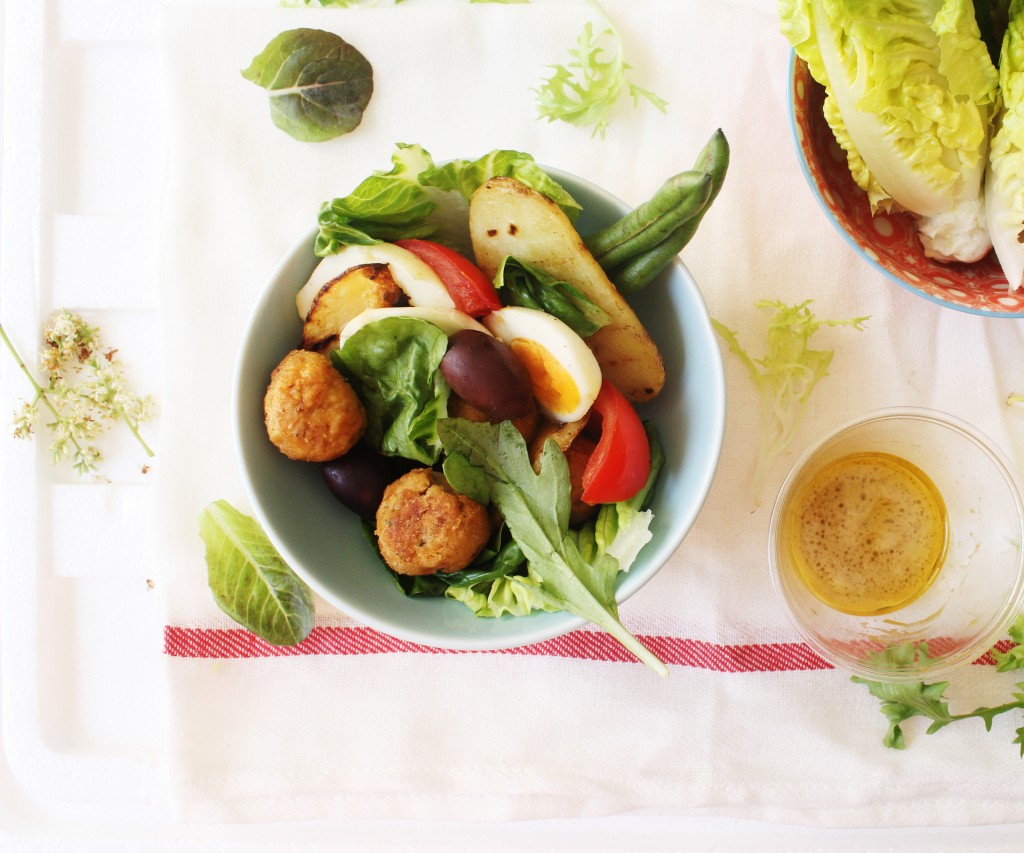 Instead of boiled potatoes, I have grilled them. To do that quickly, I cooked the potatoes in the microwave and finished them on the chargrill. The Tuna steaks or flakes in a typical Nicoise Salad have been replaced by Tuna meatballs that are pretty quick to put together. The tuna meatball recipe will yield about 25 meatballs. If you don't want to use up all of them in the salad, you can serve some with a pasta or wrap. With the meatballs, hard-boiled eggs, beans, olives, tomatoes, lettuce you can imagine how nutritious, tasty and filling this will be.
I hope you all are off to a great start after spending 'quality' time with family, friends and food. Isn't that what matters, whatever the day or whichever the year!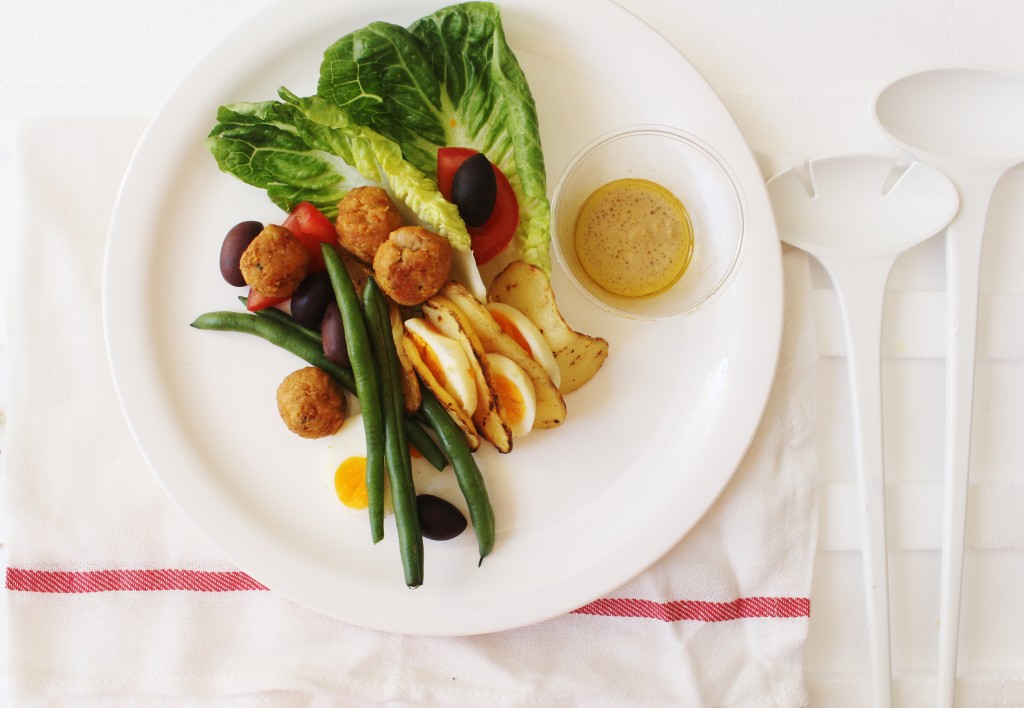 A Crunchier and Filling Nicoise Salad
Serves 4

For the Salad
Tuna Meatballs (recipe below)
2 grilled potatoes (recipe below)
4 hard-boiled eggs, peeled and sliced
300 g green beans, cooked (to do this, cook in boiling water for 2-3 minutes until bright green and tender crisp. Refresh under cold running water and drain)
1/2 cup kalamata olives
1 tomato, seeded and sliced
Cos lettuce and salad leaves of your choice
1 tsp Dijon mustard
1 tbsp. red wine vinegar
1/4 cup extra virgin olive oil
Whisk together the olive oil, vinegar, mustard and sugar until combined. Season with salt and pepper. Divide the salad leaves, meatballs, eggs, potatoes, green beans, tomatoes and olives evenly among serving bowls. Drizzle with dressing. Sprinkle salt and pepper if required. Serve
For the Tuna Meatballs
450 g canned Tuna (in spring water or Brine), drained
1/2 cup fresh breadcrumbs, from a day old whole grain bread (to make, just run a slice of bread through the food processor)
1/4 cup finely chopped parsley
1/2 tsp dried mixed herbs
2 tbsp. grated parmesan
1 tbsp. grated lemon zest
1 egg lightly beaten
Salt and pepper to season
Preheat oven to 200 degrees C. Brush a baking tray with olive oil
Place the canned tuna, breadcrumbs, herbs, parmesan, lemon zest, salt and pepper and mix with your hand until well combined. Add egg and mix well. Roll into medium meatballs between your palms.
Place on the oiled baking tray and brush with oil. Bake for 15 minutes or until form and slightly golden brown. Once cooked, set aside to cool.
For the Grilled Potatoes
2 large Russet potatoes
1 tbsp. olive oil
salt to taste
Pierce each potato all over with a fork. Cook them on high in a microwave for 5 mins. Turn over and cook for another 5 mins. (Take care while doing this as the potatoes are extremely hot). Let cool for 10 minutes. Slice into wedges. Drizzle with oil and season. Heat a chargrill pan on high heat and place the wedges. Cook for 5 minutes on each side until cooked through and charred. Set aside