One of the significant things that has changed ever since I started blogging is the way 'days' have assumed an importance in my life. I guess it's because I have so many to share it with. It makes me feel belonged…makes me feel like a part of the food blogging community. And very responsible too. I certainly don't start a countdown but I make a mental note if a celebratory day is coming up.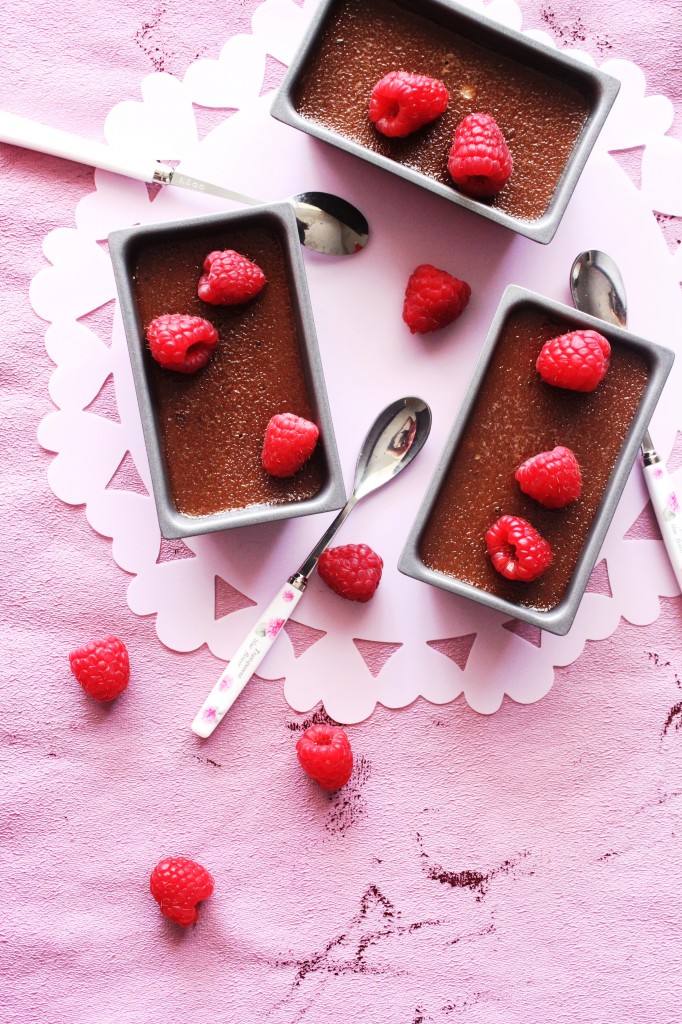 And when the occasion or theme is love, (Valentine's Day) it is equally easy and difficult to come up with something. At home there is no major fan fare… we express love for each other through food. That's convenient and enjoyable too. It's like any other day save that there will be more food on the table. Favourite dishes. Not necessary, home cooked. A Chinese takeaway or even a good pizza. And dessert for sure!  One of the rare opportunities to force a dessert on my other half. I grab the opportunity with both hands.
The key to a good Valentine's day dessert for me is based on 3 principles- make-ahead, chilled and spiced. Add chocolate to it and I am ready with a recipe. I know there's going to be dark chocolate everywhere so my pick is Milk chocolate. Milk chocolate can be really sweet but when balanced with spice or a tart fruit, it can turn into the most exotic flavour. I am yet to take a count of the number of ginger recipes I have in my blog and I am yet to outgrow my love for it. Possibly never! My very first blog post happened to be a ginger infused sweet. Which brings us back to the topic of love. Love for ingredients…love for  flavours..love for cooking…love for desserts! I shall reserve that topic for another upcoming celebratory day in my life. My blog anniversary.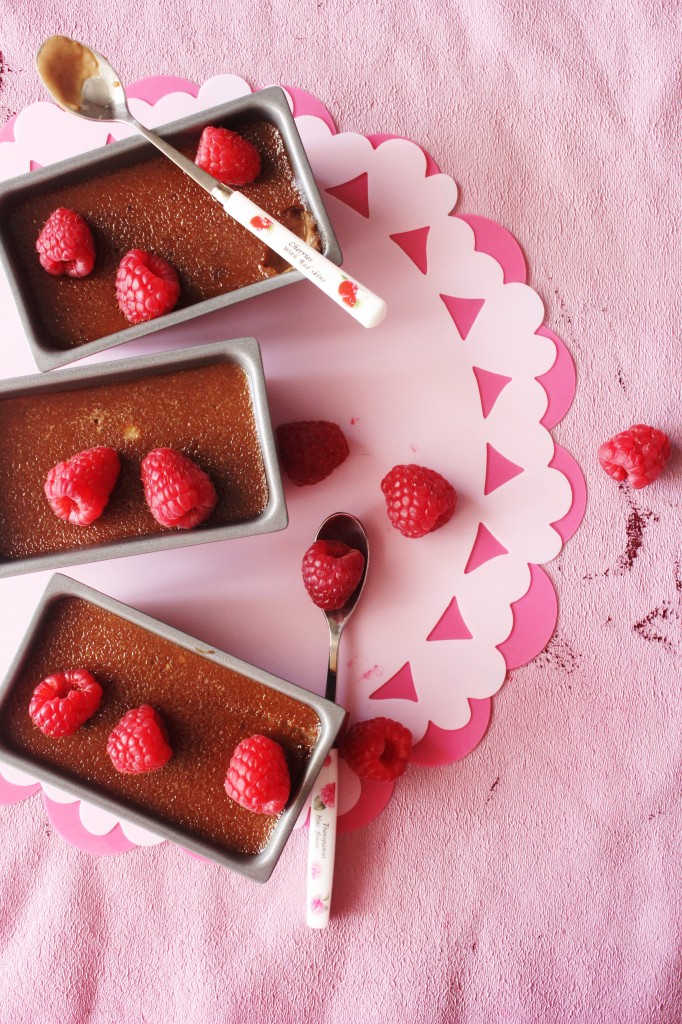 These custard pots are one of the simplest things to bake. Little effort and grand results. If you haven't tried out this combination before, it's really worth a try. Sweet, creamy with earthy notes of ginger. In case you haven't attempted a baked custard before, the cooking takes place in two stages. The first during baking and the second while refrigeration. To get the right consistency, that is smooth and creamy you need to remove the ramekins from the oven while the centres are not completely set..slightly wobbly. The edges would be firm. You can check this by giving the ramekins a gentle shake. The custards will totally set once they chill in the refrigerator. Needless to say they are Gluten free and Paleo.
This recipe makes 4 servings. Perfect for our family of four. If you are making it for yourself and your date, lucky you! Because chances are high that you'll be going in for seconds. I happily polish off the remaining from my little ones if they struggle to finish it.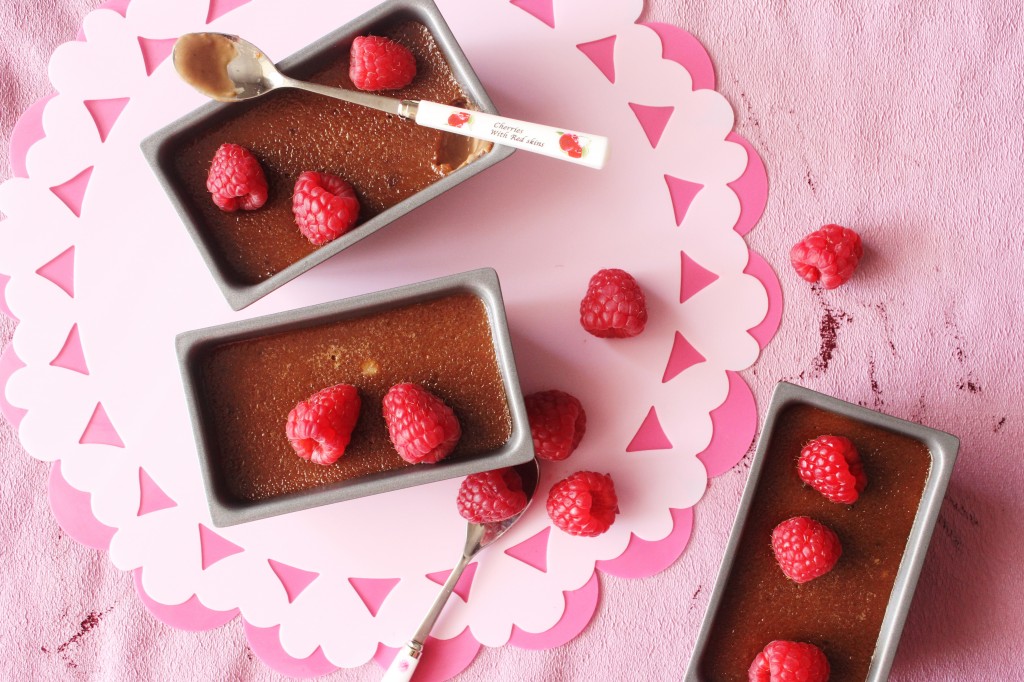 Milk Chocolate and Ginger Baked Custards
Serves 4
11/2 cups heavy cream
1/2 cup milk
100g good-quality milk chocolate, roughly chopped
4 egg yolks
2 tbsp. castor sugar (more if you require it sweeter)
2 tsp ginger powder
1 tsp cinnamon powder
Raspberries or any fruit of your choice to serve
Whipped Cream, to serve (optional)
Preheat oven to 150 degrees C.
Combine cream and milk in a saucepan over medium heat. Cook, stirring constantly, for 5 minutes or until hot (do not allow to boil). Remove saucepan from heat. Add chocolate and leave undisturbed for 5 minutes. Stir till smooth.
Whisk egg yolks, sugar and spices in a heatproof bowl until well combined. Pour the warm cream mixture over the egg yolk mixture, little at a time whisking constantly until smooth. Take care not to add the entire cream to the eggs together as it can overcook the eggs resulting in scrambled eggs.
Divide the custard into four lightly-greased, ramekins or ovenproof cups. Place in a deep baking tray. Pour boiling water into baking tray until halfway up sides of ramekins.
Bake custards, uncovered, for 45 minutes or until just set (while the centres are slightly jiggly when shaken). Remove from the oven and take the ramekins out of the water bath. Leave to cool to room temperature. Refrigerate for at least 2 hours. Serve with fruit and/or whipped cream.
The custards can be made up to 3 days in advance. and stored in the refrigerator.