Sometimes all it takes is a few simple ingredients to turn dinner into a happy family meal. You know the ones that bring out smiles across the table. The ones where everyone wants to reach out for another helping and you end up eating less because you are too busy serving. I actually like that. It gives me the drive for a repeat performance. If it is something as wonderful as this French classic ( pronounced boo yah behss) that takes only a few minutes to serve up and is equally healthy, I am up for it. Even on a hot day like ours was today. A unique combination of ingredients that magically transform into complex flavours in a beautiful seafood soup.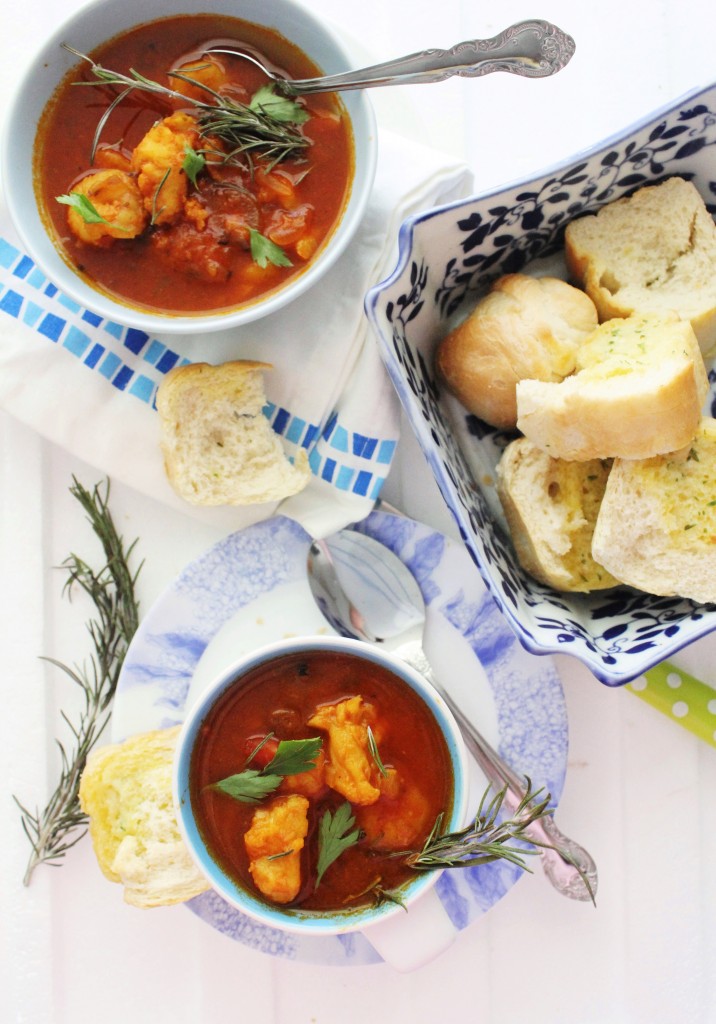 I wonder what took me so long to share this recipe. This is a dish that I almost instantly fell in love with when I saw it on a cooking show, years ago. Without even cooking or tasting it I could feel the flavours dancing on my palate. Tangy tomato, mild notes of citrus, the subtle scent but deep colour from the saffron and the sweetness of the sea from the prawns. Garlic, onions…I consider my safe zone. A splash of white wine makes it very French but I decided to skip it the last few times I cooked this and yet it was nothing short of delicious.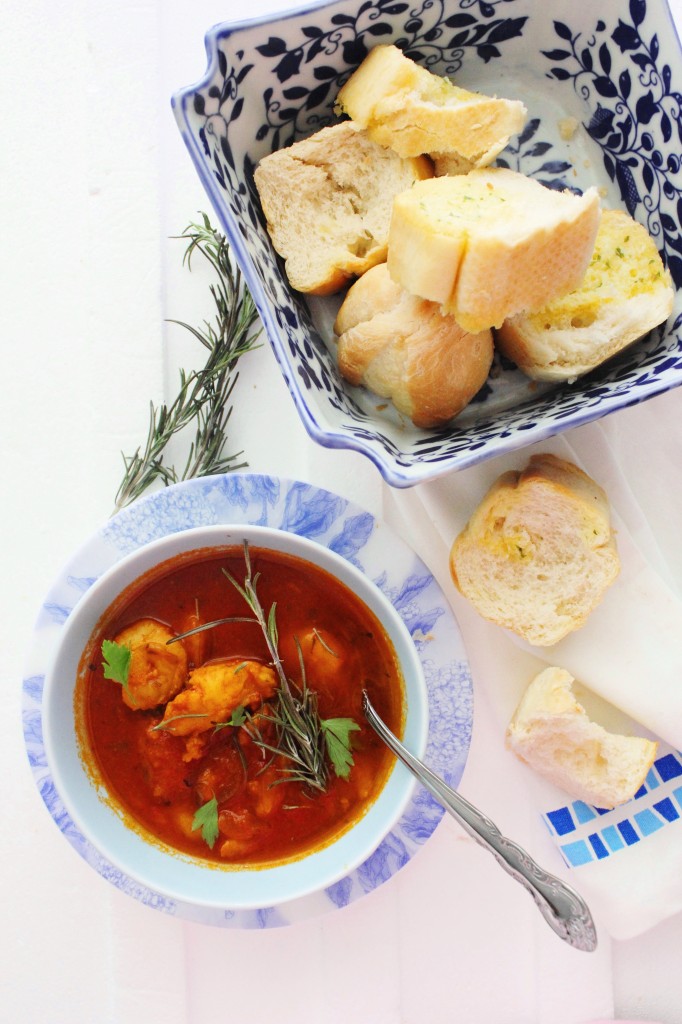 I only followed the exact recipe and measurements once and that was the first time I made it. Ever since then, it has been based on intuitive cooking. You just add as you go according to taste and consistency. Saffron can be expensive and if you don't have it, leave it out. It is an important constituent of the dish and I cannot really recommend a substitute as the flavour is unique. I also remember adding Cointreau once as I did not have oranges at home and yet it turned out great. Over time, I have simplified the recipe with ingredients that are available at hand but maybe slightly different from the classic recipe.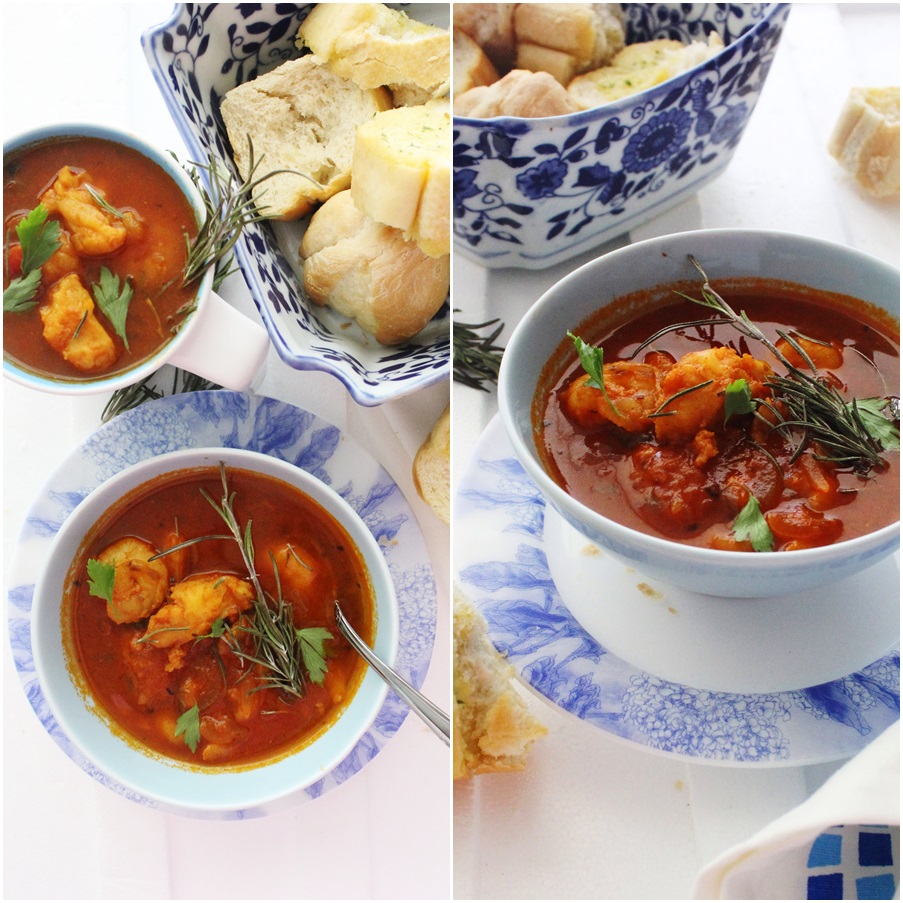 You can get fancy with your choice of seafood. I have used frozen fish and prawns as that is more of a quick convenient option for me. The seafood is poached in the soup and that makes it soft while adding to the flavour and making it equally healthy.
The best way of enjoying this soup is with some crusty bread along side. I love to serve it with slices of well toasted garlic bread.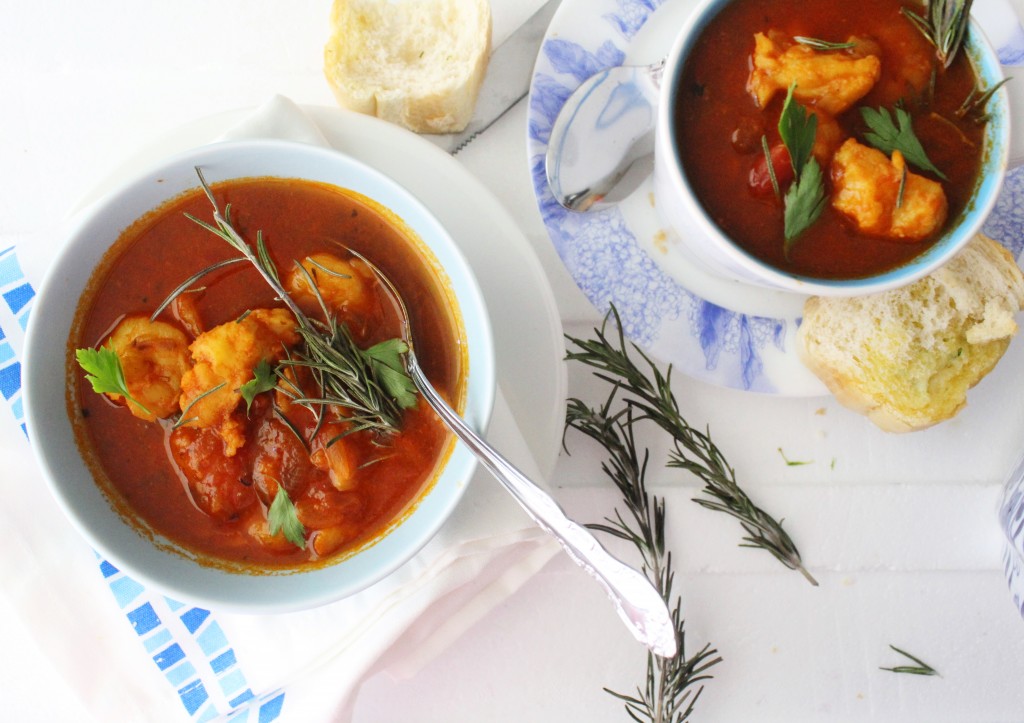 Bouillabaisse- French Seafood Soup
1 tbsp olive oil
1 medium onion, thinly sliced or 1 leek, white part only, ends trimmed, thinly sliced
2 garlic cloves, crushed
Large pinch of saffron threads
2 cups chicken stock
1 cup tomato based pasta sauce (I used chunky vegetables)
2 sprigs rosemary or thyme
2 tsp orange zest
2 bay leaves
1/2 tsp chilli powder
300 g firm white fish fillets (fresh or frozen), cut into small cubes
16-18 small/medium prawns, cleaned (fresh or frozen)
salt and pepper to taste
A few sprigs of rosemary and a handful of parsley for garnish
Crusty bread to serve
Heat olive oil in a large saucepan over medium heat. Add the onions (or leeks if using), garlic and cook for 2 minutes or until the onions soften slightly.
Add the pasta sauce, chicken stock, saffron, rosemary, orange zest, bay leaves and chilli powder. Season with salt and pepper (take care not to over season as there will be a slight saltiness from the prawns). Bring to a simmer over medium heat and cook for 5 minutes.
Add the fish and prawns to the stock mixture and cook for 7-8 minutes or until the fish and prawns are just cooked through. Divide the soup among serving bowls. Garnish with rosemary and parsley leaves. Serve with your choice of bread.