A quick and easy salmon curry that is made by poaching salmon in creamy coconut milk.
These days when I am at the supermarket, I am mostly found at the seafood section. With good reason. I am expecting a visit from family and since they love seafood, I thought I would use this opportunity to increase my repertoire of seafood recipes. At home I usually don't cook a lot of seafood. Fortunately, we have easy access to a variety of seafood in our city so eating it outside is such a convenient option.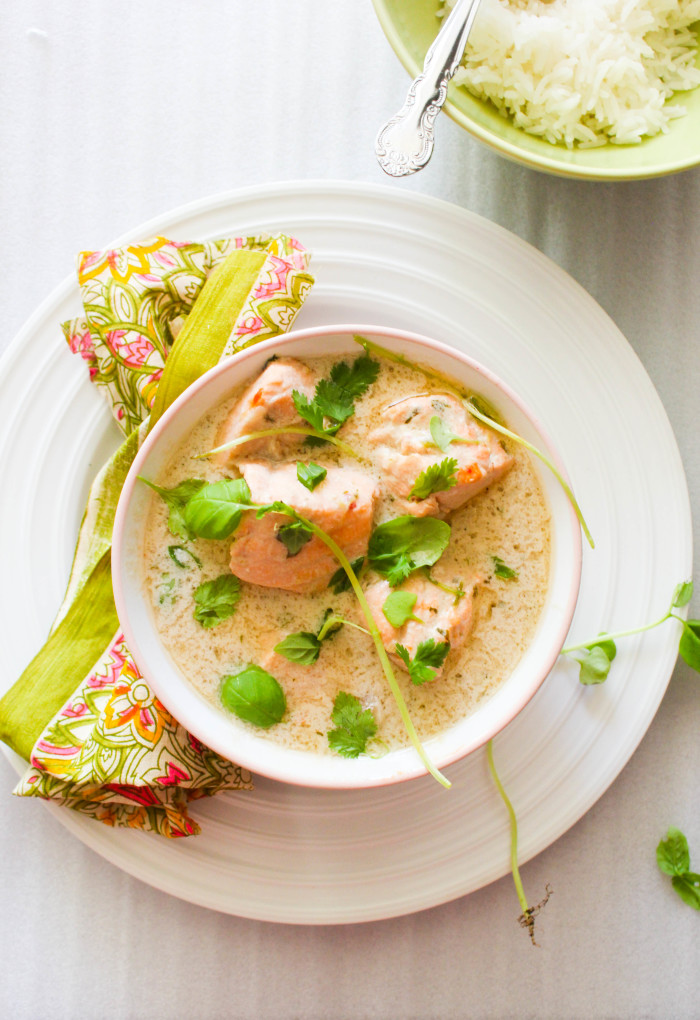 So while planning on my menu I decided on quick and easy ones at home. The exotic ones, I leave it to the experts. The prep is something I don't enjoy at all. I can be weird that way. Ask me to bake a 4 tiered cake. I will weigh out every individual component, sieve the flour, make two different frostings, think of fancy garnishes…basically take care of every little detail. But when it comes to savory dishes, I look for short cuts. Quick and easy does it for me. So if there is a dish that cooks under 30 minutes I will find it. And make it. And blog about it.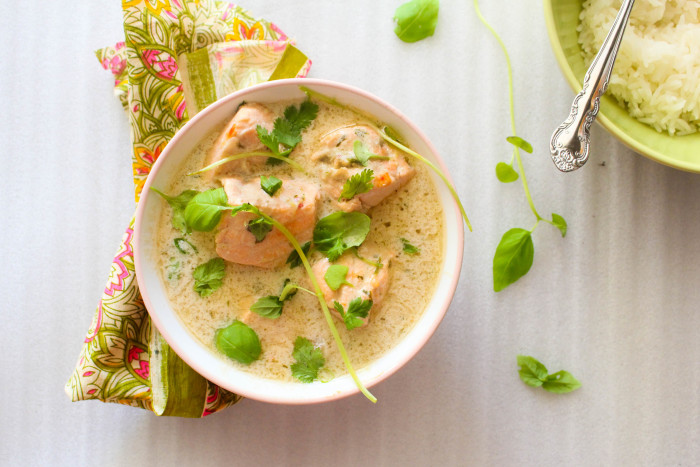 Salmon is easy to cook, it has huge health benefits and is available pretty much in any supermarket these days. All I need to do is pick up a pack that is already cleaned and prepped and store it till I need it. If I am pan frying it, I buy the ones with skin or if it's a curry like this one, I would prefer the skin to be removed. Lately, I have discovered a great way of eating it is poaching it in a curry or sauce. That way it becomes a one-pot meal and the salmon remains juicy and succulent. It takes less than 5 minutes to make the paste and 5-6 minutes to cook the salmon. And there you go. You have a pot of fragrant curry ready on the table.
Coconut Poached Salmon (Curry in a Hurry)
Serves 4
5 cm piece of ginger, peeled and sliced
2 stalks lemongrass, white part only (remove the hard outer covering)
4-5 kaffir lime leaves
1-2 red chillies, stalk  removed
1 tbsp. vegetable oil
400 ml can coconut milk
500g skinless salmon fillets (about 4 fillets, cut into 5 cm cubes)
1 tsp fish sauce
1 tsp palm sugar (optional)
Salt, to taste
Coriander leaves for garnish
Basil leaves for garnish
Place the ginger, lime leaves, lemongrass and chilli in the bowl of a small food processor and process to a paste.
Heat the oil in a large frying pan over medium heat. Add the ginger lemongrass paste and stir for 3-4 minutes till fragrant.
Add the coconut milk, fish sauce, palm sugar (if using), salt and gently simmer for 2 minutes. Add the salmon fillets and simmer for another 4-5 minutes till salmon is cooked through (pink in the centre).
Garnish with coriander and basil leaves. Serve with jasmine rice.