Quick smart dinners are becoming a way of life in our house. Why lock myself up in the kitchen and get involved in stages of cooking when a delicious dinner can be produced at the table within minutes with the least effort. Don't get me wrong. I love cooking elaborate meals, 4 course dinners and over anything else spending time in the kitchen. But summer evenings don't last forever and hanging around outside with the kids in the lingering daylight can at times sound like a better proposition.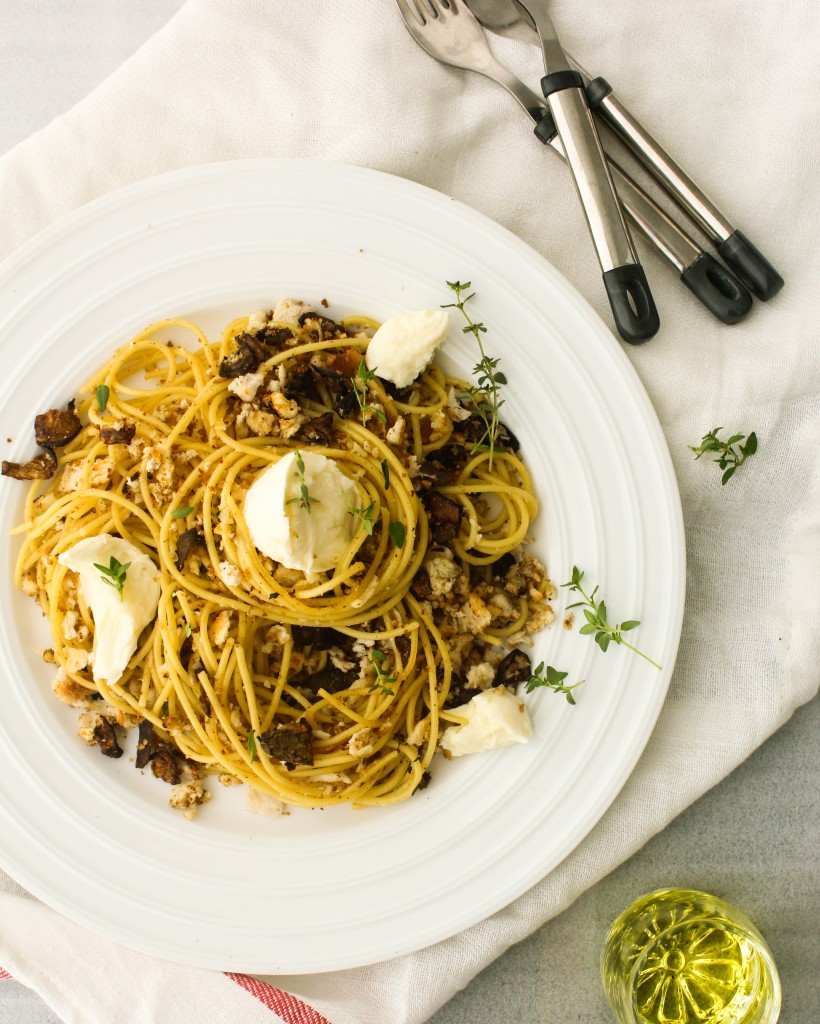 Quite a few of my go-to recipes in such a scenario happen to come from Donna Hay's Fast Fresh Simple. This simple vegetarian pasta dish is not only easy to put together and delicious, it uses a few ingredients. And a unique way of using them. When I first saw the recipe with breadcrumbs, I was quite unsure how it would turn out. But since it involved dried porcini mushrooms which happened to be at home, I was willing to take the risk as I really love the deep earthy flavour of mushrooms. I am not a big fan of thick, heavy sauces with my pasta so I found this a refreshing change. Crunchy bits of porcini flavoured crumbs thoroughly coating threads of spaghetti. Some herbs, garlic, lemon zest and parmesan and that's about it. To serve I like to add torn Bocconcini to the pasta that melts a tad bid from the heat in the pasta making it even more delicious. I also found it a great way of using up old bread.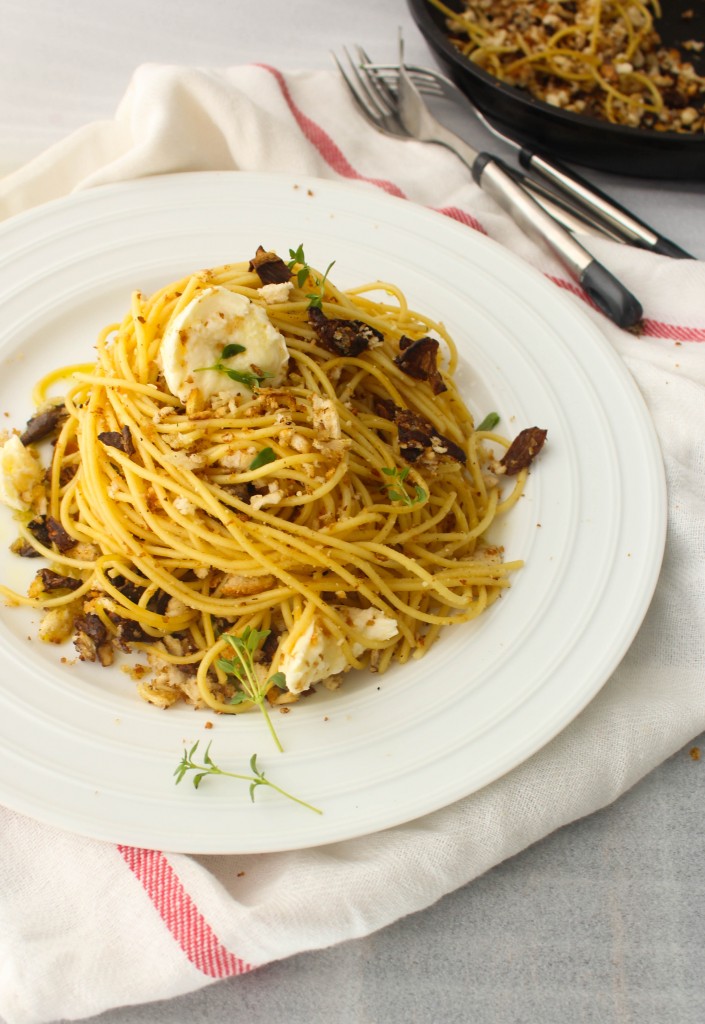 Mushroom and Breadcrumb Pasta (adapted with a slight variation from Donna Hay's Fast Fresh Simple)
Serves 2-3
20 g dried porcini
200 g spaghetti
1 1/2 tbsp olive oil
2 garlic cloves, crushed
1 tsp lemon zest
1 tbsp thyme leaves
70 g breadcrumbs
Salt and pepper, to taste
Olive oil and finely grated parmesan, to serve
Bocconcini cheese, to serve
Place the porcini in a bowl, cover with boiling water and set aside. Cook the pasta in a large saucepan of boiling salted water for 8–10 minutes or until al dente. Drain and keep warm.
Place the pan back on the heat. Add the oil, garlic, lemon zest and thyme and cook for 2 minutes. Drain the porcini and roughly chop.
Add the porcini to the pan with the breadcrumbs and cook, stirring, for 4 minutes or until crumbs are golden. Add the pasta to the pan with salt and pepper and toss to coat.
Divide between serving plates and sprinkle with parmesan, extra virgin olive oil and Bocconcini cheese.