A good chutney is not just a condiment but a great way of sprucing up a dish. Whether you want something flavourful to accompany your cheese platter, jazz up your burgers and sandwiches or a tasty side to complement your meat dishes, a chutney is a handy thing to have in your pantry.
Chutney has been known to have originated in the Eastern part of India but have, over time adapted itself to the taste and local produce in regions across the globe. And that is perhaps why it is so versatile and accommodating. The core of a chutney rests on three basic elements. The fruit or vegetable, sugar and spice.  The flavours are intense and would be a balance of sweet, tangy and spicy. One can literally play around with the components, add or remove and get creative with them. Having grown up in the land of the Chutney, I have sampled thousands of them loved them and make them frequently at home. Since it is so easy to make, most of my chutneys are a last-minute creation. Ripe peaches..make a chutney! Tomato season…make a chutney! Beautiful mangoes….make a chutney! Something to go with my roasts…make a chutney!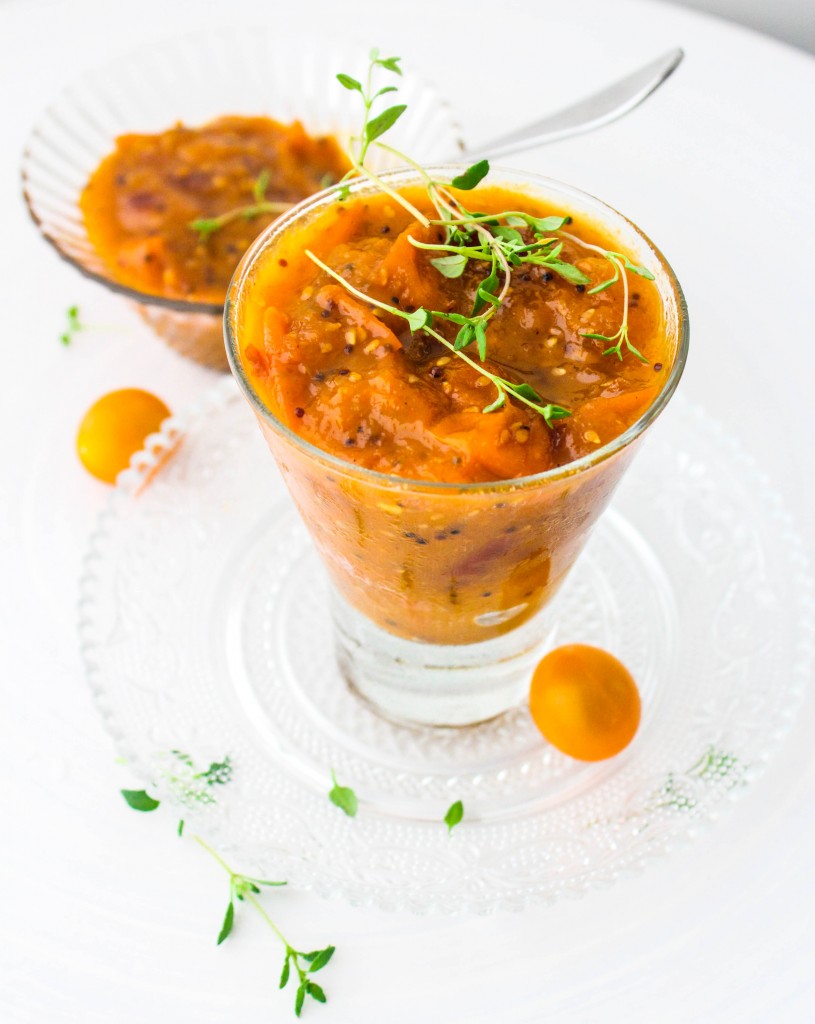 There is no such thing like a correct consistency for a chutney. Really, it is left to your preference. Some like it thin and runny, some prefer it thick and spoonable. Typically it would be somewhere between the consistency of a jam and a sauce and have a bite to it. And there in lies the beauty of this condiment. One doesn't need a food processor or a strainer unlike a sauce.
Mustard seeds and red chillies go well with tomatoes in a chutney. They are childhood flavours I have a deep relationship with. They are flavours my mother's chutney recipes always have. The heat is optional and the mustard seeds can be substituted with cumin seeds if not available. The thyme leaves lend an earthy woody flavour that goes well with the sweet and spicy tomatoes. I have to admit that I am in love with the little thyme plant in my garden so the leaves make an appearance in quite a few of my recipes. The recipe can be easily adapted to use red or green tomatoes. Sweetness can be adjusted as per taste.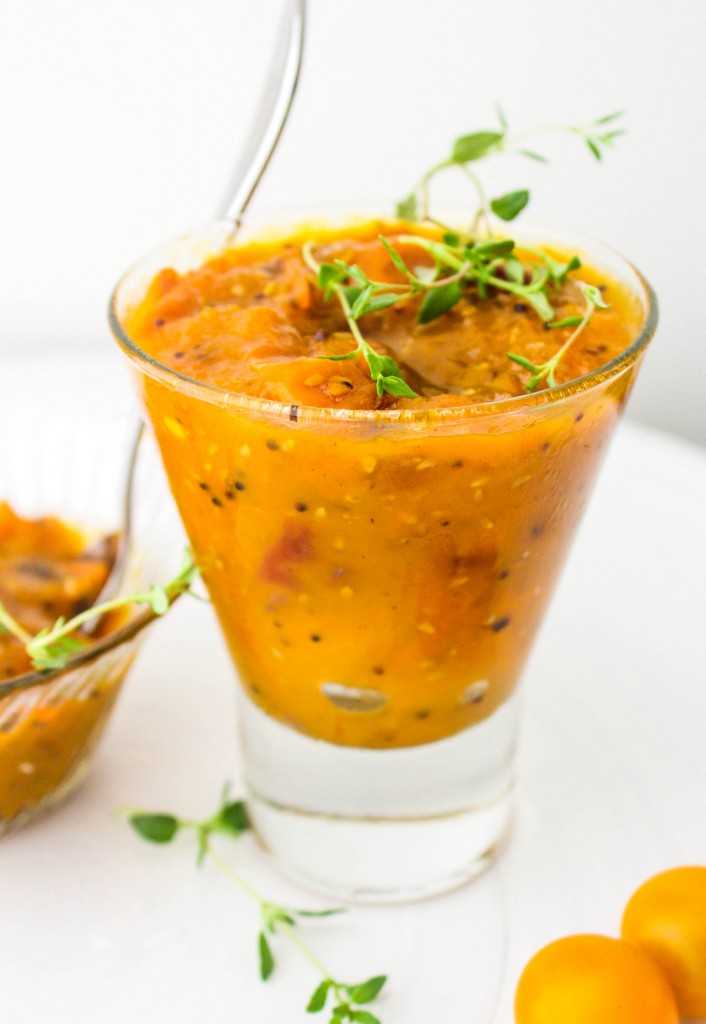 Yellow Tomato, Mustard and Thyme Chutney
Makes 11/2 cups chutney
1 tbsp. vegetable oil
11/2 tsp mustard seeds
2 dry red chillies
1/2 red onion, finely chopped
1 clove garlic, finely chopped
300 g yellow tomatoes, roughly chopped
1 tsp lemon zest
1/2 tsp dried thyme leaves
1/2 cup water
1/2 cup sugar
Fresh thyme leaves, to serve (optional)
Heat the oil over medium heat in a heavy bottomed saucepan. Add the mustard seeds and dry red chillies and heat for 30 seconds or till the seeds splutter. Add the onions and garlic and cook till soft.
Add the tomatoes, lemon zest, thyme and water. When the tomatoes have softened and become pulpy, add in the sugar. Stir to mix. Cook till the mixture thickens, stirring in between to prevent burning at the bottom. Once the mixture reaches the desired consistency (about 10 mins) take it off the heat. Cool slightly and place in a serving bowl. (The mixture will thicken slightly on cooling).
The chutney will keep in the refrigerator for up to 10 days. Can be served warm or cold. Serve with fresh thyme leaves.