I wanted to start this post by saying Thank You! It's been a year only, yet I feel I have done this all my life. I don't remember having a single day in this year that I didn't enjoy coming up with recipes, styling them, photographing them and blogging about them. And this experience has certainly left a desire in me to do more. To create, share, bond, grow!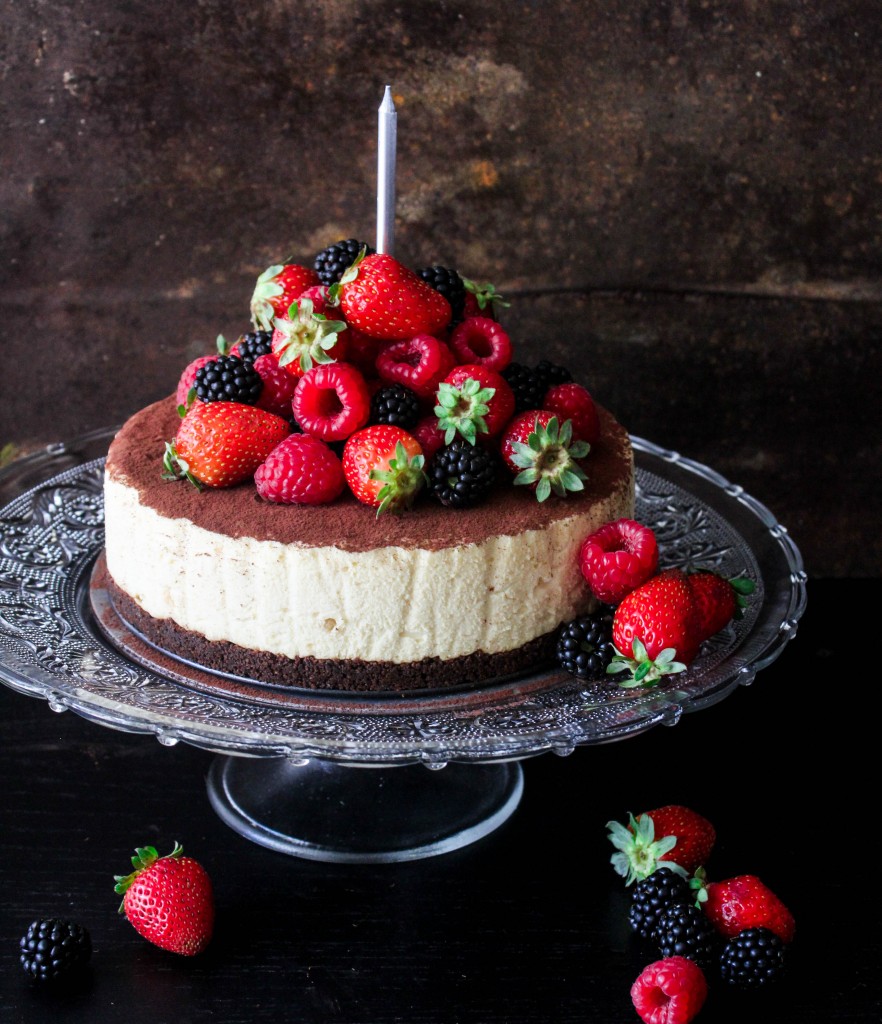 This has been such an eventful phase in my life. Exploring blogging and uncovering a whole new world out there while discovering facets of my own personality that were unknown to me. I came across incredible bloggers who inspired me every day. I found friendship across the globe. So many of them made me feel like I'd go out for coffee with them every other day had we been aligned geographically.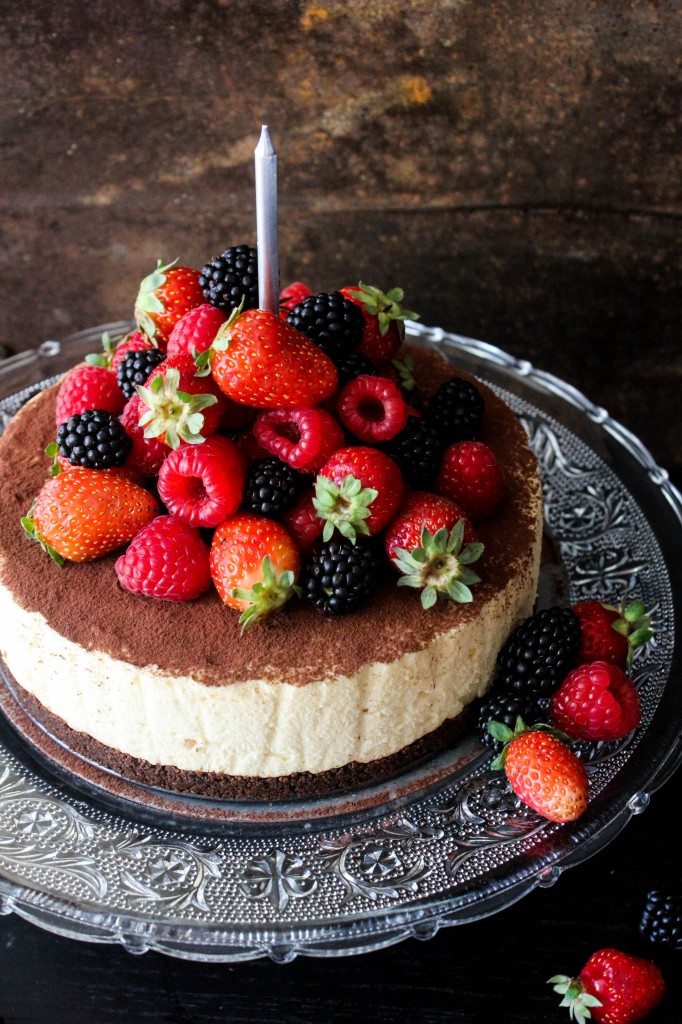 Caramelised White Chocolate is my favourite thing in the world. I created a recipe around it during my first few days of blogging and have been wanting to do another one ever since. So I thought it was only appropriate that I make a cake around that. If you are new to caramelised white chocolate, it's the most delicious thing one can taste. The chocolate caramelises on cooking slowly in the oven and turns into a light brown shade. It is very similar in taste to Dulce de Leche. I use David Lebovitz's method of making this and have had success each and every time.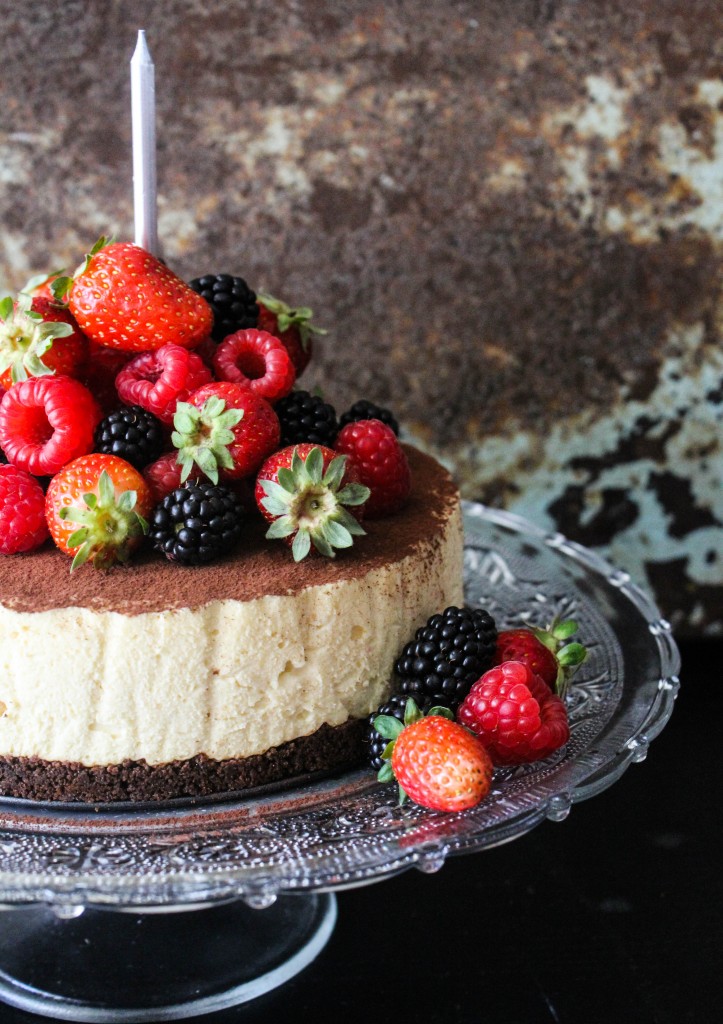 Putting the cheesecake together is a breeze. I made the base out of chocolate cookies. Then it's a matter of mixing the components and placing it in the refrigerator to set. I contemplated the addition of a dark chocolate ganache topping. I wanted the white chocolate to shine in the recipe so I skipped the ganache and added a good dusting of cocoa. Good enough to look like a layer on top. We are enjoying berry season at the moment so it was easy for me to visualise my cheesecake. But if you don't want to use berries, use shavings of dark chocolate, Maltesers (or a mix of other candies) or pretty swirls of whipped cream.
There is more cake coming up on my blog. The celebration has just started. Well to be honest, I am all for Sugar. I love cakes and desserts. But I have to think about how to get them finished since I don't allow my pre-schoolers to indulge…let's say over-indulge. Now, with family around there is enough reason to bake cakes.
Thank you once again for the wonderful year gone by. I am so excited to have started another one with you..another year of Sugar…..et al!
 No Bake Caramelised White Chocolate Cheesecake with Berries
Serves 8-10
220 g chocolate cookies
50g butter, melted
2 tbsp. boiling water
3 teaspoons gelatine powder
300 ml thickened or heavy cream
500g cream cheese, softened
3 tbsp. Castor sugar (more if you prefer it sweeter, taste as you go)
1 cup caramelised white chocolate (recipe from David Lebovitz, here)
generous dusting of cocoa powder, to serve
Berries, to serve (or chocolate shavings, chocolate ganache or whipped cream)
Grease a 19 cm round Springform pan. Line the base and sides with baking paper.
Place the cookies in a food processor. Process until fine crumbs. Add melted butter and mix to combine. Using your fingertips, press biscuit mixture over base of prepared pan. Refrigerate for 30 minutes or until firm.
Pour boiling water into a small bowl. Sprinkle over gelatine. Using a fork, whisk until gelatine is dissolved. Set aside to cool slightly.
Using an electric mixer, beat cream cheese and sugar in a large bowl until smooth. Add in the caramelised white chocolate and combine. Stir gelatine mixture through cream cheese mixture to combine. In a separate bowl, whip heavy cream to soft peaks. Fold through cream in the cream cheese mixture, gradually. Spoon over the base of the cookie mixture. Smooth out the surface with a palette knife or the back of a spoon. Cover. Refrigerate for 4 hours or until set. Sprinkle generously with cocoa. Serve with berries.