Brownies!!! I can never have enough of them. How about you?
Perhaps this is one sweet treat that one can go on talking about. None of which is new. But the thought of it can make one feel warm and fuzzy and mushy and gooey and like the best things in life make one feel.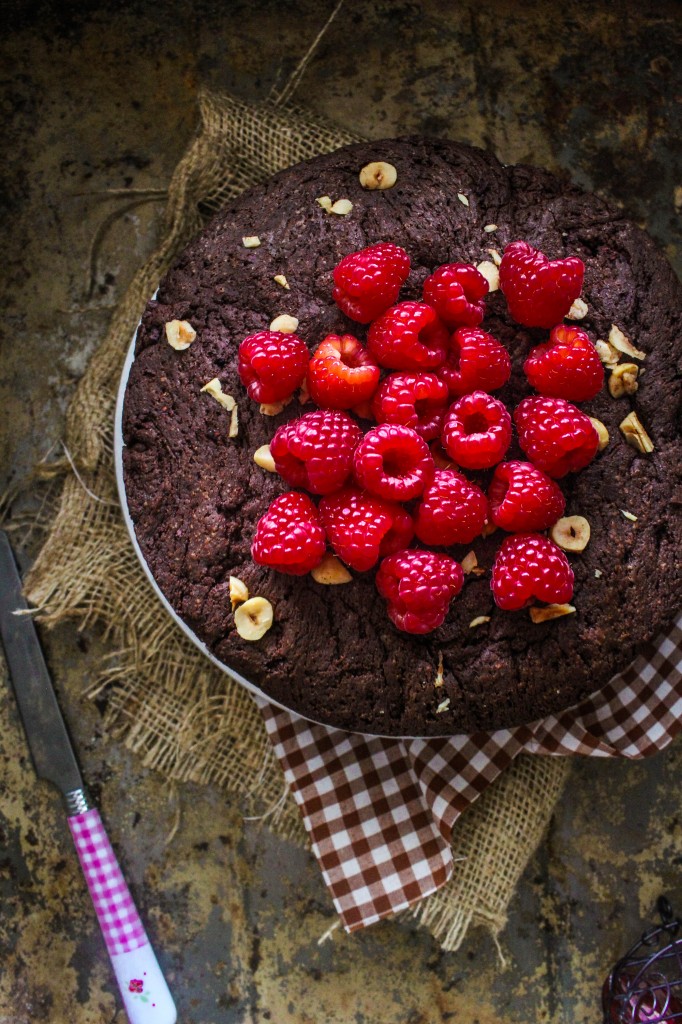 If you've been with me for a while now, you know my love for raspberries. I would give you brownie points for that one. Or maybe this cake. Combining the best of the two. This cake is fudgy, rich and decadent. Firm on the outside, moist and a tad bit tart from the raspberries. I added a handful of hazelnuts to include an element of crunch.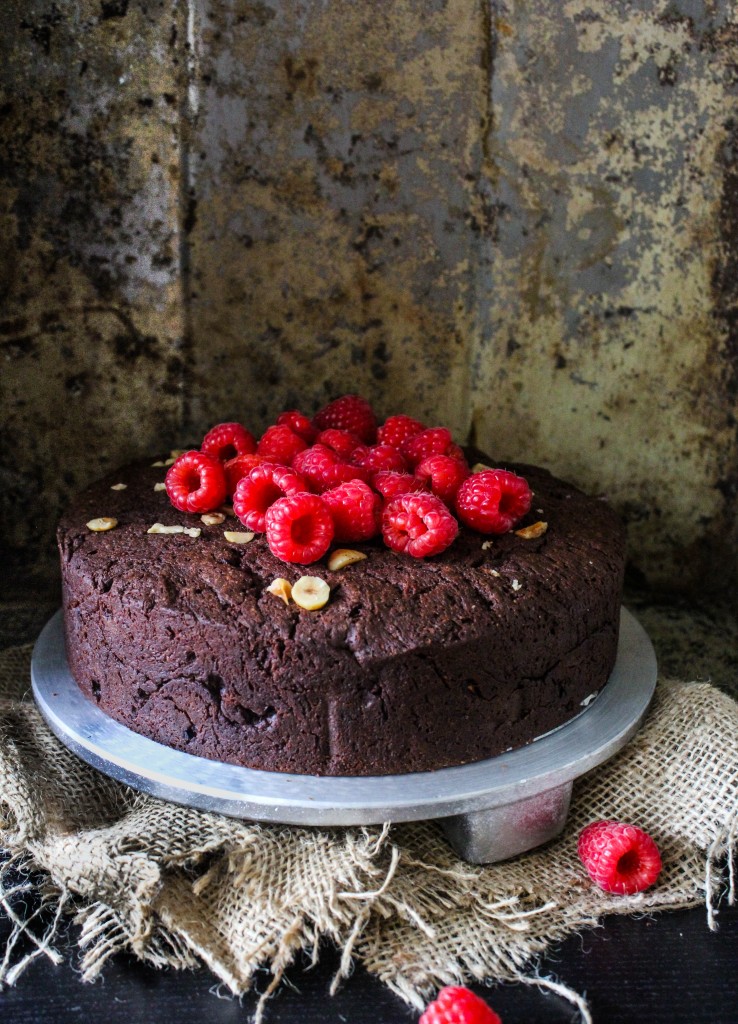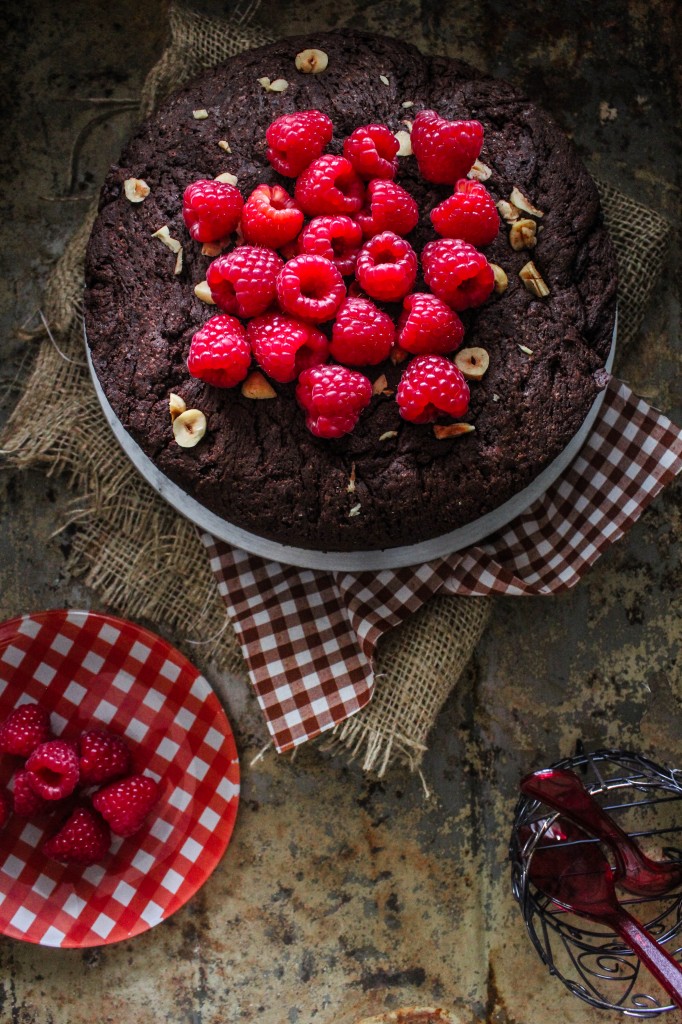 The cake would easily qualify for a celebration cake. It has a good height and texture. While it is extremely easy to put together it is not an everyday dessert. There are frozen raspberries within the batter so it can be made at any time of the year. Feel free to add a ganache topping to make it sinful. Actually, it already is but maybe look wise it can benefit from the ganache. But looks can be deceptive. Like the little shadow that paced my kitchen, peeking through the glass while the oven was doing it's work.
'Brownie!!' He exclaimed. 'I want a large one!'
Much to my surprise, he ate a large one. Large for his size. Crumbs and all!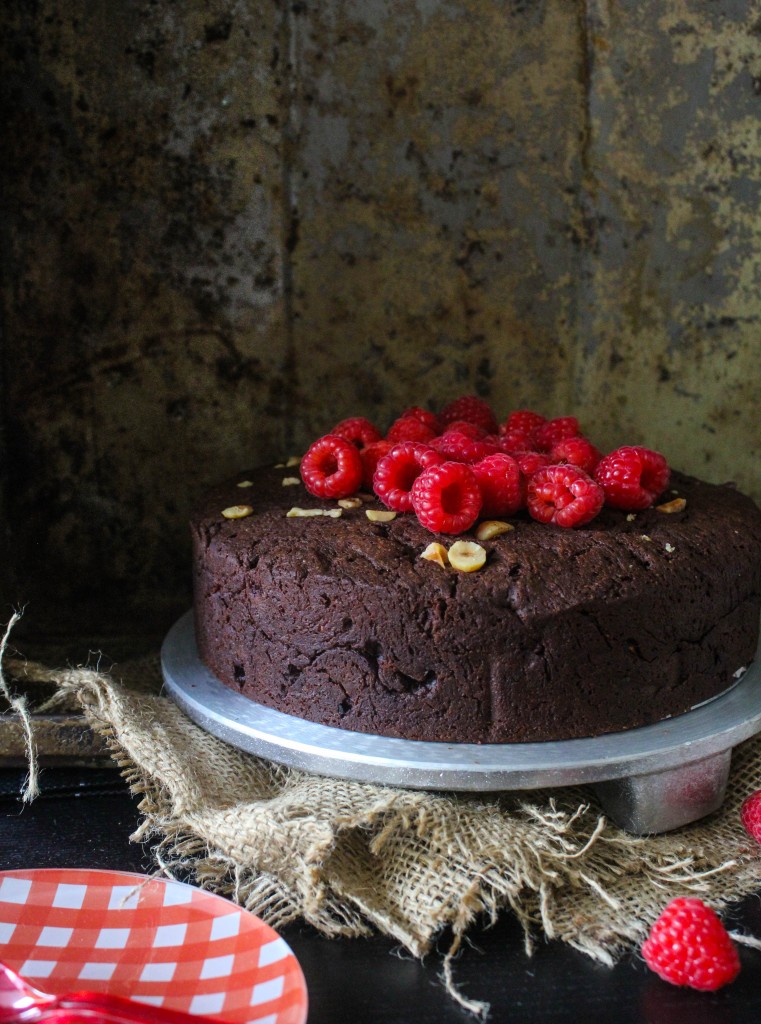 Chocolate Raspberry Brownie Cake
Serves 10-12
300g butter, roughly chopped
400g dark chocolate, chopped
11/4 cup castor sugar
4 eggs, lightly beaten
2 cups plain flour
2/3 cup self-raising flour
2 tablespoons cocoa powder
1/2 cup hazelnuts, chopped
11/2 cups frozen raspberries (or fresh)
Fresh raspberries, to serve
Preheat oven to 190 degrees C. Grease a 22 cm round cake pan and line the base and sides with baking paper. Place butter and chocolate in a saucepan over medium heat. Cook, stirring occasionally, for 6 to 8 minutes or until smooth and combined. Set aside for 10 minutes to cool.
Add sugar, egg, flours and cocoa. Mix well to combine. Fold in the raspberries and hazelnuts, reserving 2 tbsp of the hazelnuts to place on top. Carefully pour the mixture into the prepared pan. Level top with a spatula or the back of a spoon. Top with reserved hazelnuts. Bake for 40 to 50 minutes or until top of the cake is firm to touch. a skewer inserted in the middle should come out with a few crumbs. Cool completely in the pan. Once cooled, top with fresh raspberries. Serve with whipped cream or ice cream.