There is something magical about egg whites. They can transform from a tiny fluid into something magnificent. Capable of existing in different textures, there are innumerable ways in which they can be used. They have the ability to create cakes and baked treats without the presence of fat or even flour. As for me, I can completely lose myself to those clouds of white puff whenever I am working with egg whites. This Irish Cream Pavlova is a an amazing example of this.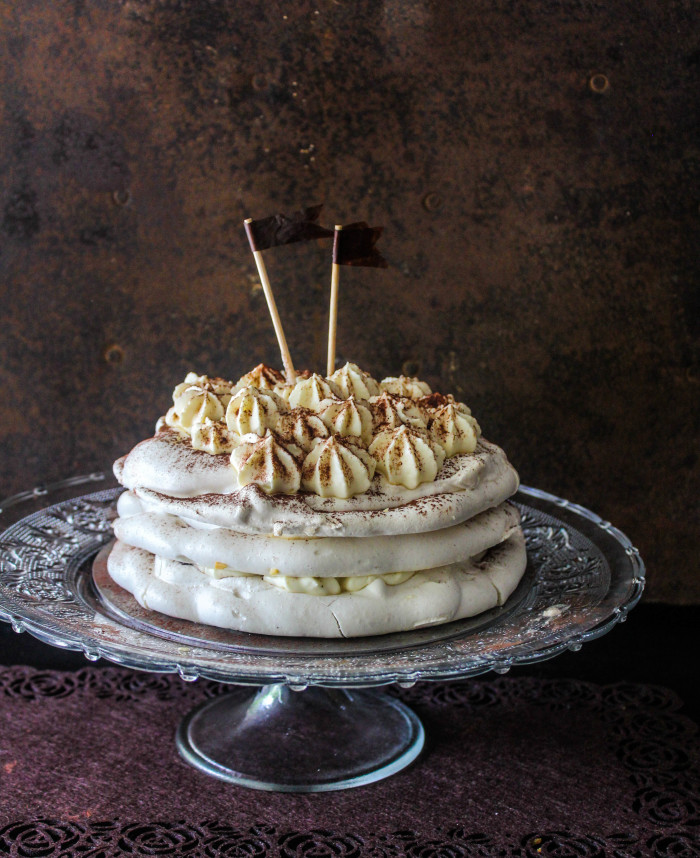 I am a self confessed meringue maniac! I enjoy watching the process as they whip up….as they peak, as they create swirls and patterns with the beaters..as they burn in the most fabulous way when you torch them.  I playfully stick my finger in the mixture several times and love the way a tiny peak curls down and then eventually holds up. Seriously, with a bowl of freshly whipped egg whites I feel sort of empowered. To give shape and structure to the desserts of my imagination.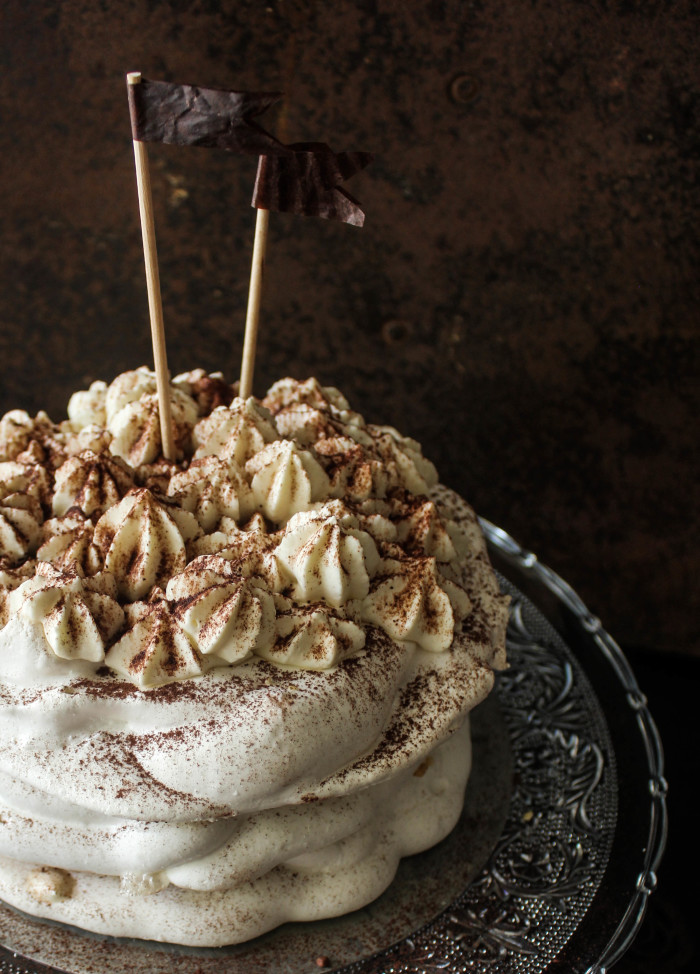 I have a fair collection of meringue recipes in my blog but it hit me hard when I realised I don't have the Pavlova. Pavlovas, big and small are made at my place like cookies at a baker's home. Also taking pride in the fact that I belong to the land of the Pavlova. There are thousands of recipes and variations of this dessert all over the globe so I wanted to make something different…a different flavour profile and layers instead of the dome shaped dessert. With St Patrick's Day round the corner and recipes circulating around the theme, it wasn't difficult to imagine my Pavlova.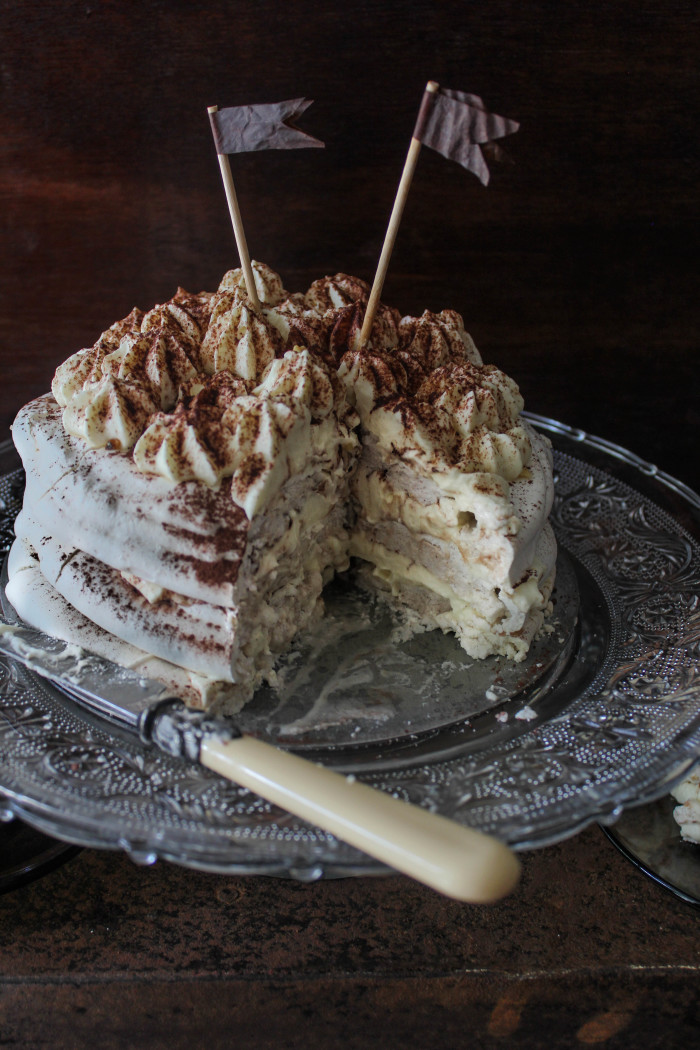 This dessert is actually easier than it looks. Deceptively simple with a few ingredients. The layers of meringue can be made by tracing circles on a baking paper using it as a guide to shape the meringue or inside a cake pan (which I find tricky). However, I find it easier to use the back of a cake pan (upside down). I trace out circles with the baking pans, then cut out rounds to fit the back of the pan (leaving a slight overhang). Then, I pipe or spoon the meringue over the prepared pans. That way they always remain in shape within the circle and are easier to take out.
Bailey's Irish Cream is available pretty much everywhere today. If you are making it for a different occasion, you can experiment with Kahlua in the cream with a coffee flavoured meringue. Or for that matter any other liquor. To compliment the sweetness of the meringue and the cream, I've added a hint of cinnamon to the meringue. They smells amazing together.
The little flag toppers were a last minute addition while photographing the cake. I made them out of the brown cupcake liners I used for my Banana Coconut Chocolate Chip Muffins, bamboo skewers and glue. They took me less than 2 minutes but add great height to the cake and make it look celebratory.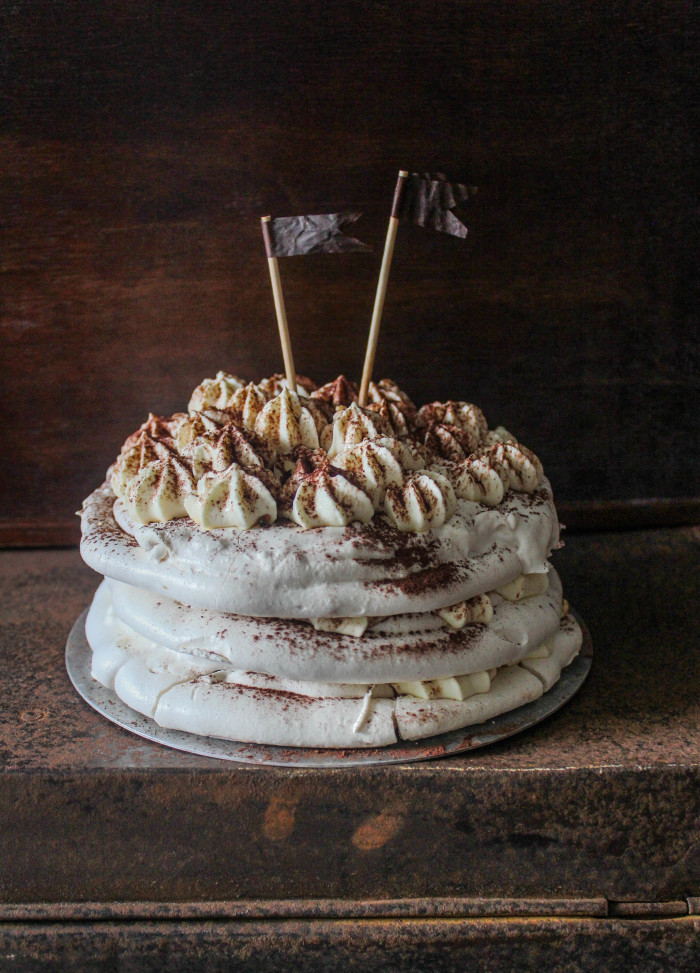 Irish Cream Layered Pavlova
Serves 6-8
11/2 cups castor sugar
11/2 teaspoons cornflour
1/2 teaspoon ground cinnamon
5 large egg whites (or 6 regular egg whites)
400 ml thickened or heavy cream
1/4 cup icing sugar
4 tablespoons Baileys Irish Cream
Cocoa powder, to dust
Preheat oven to 140 degrees C. Line the back of three 18 cm cake pans (upside down) with baking paper, or lay three 18 cm rounds of baking paper on baking trays.
Combine sugar, cornflour and cinnamon in a bowl.
Using electric beaters, whisk the egg whites in a clean, dry bowl until firm peaks form. Gradually add the sugar mixture, 1 tablespoonful at a time, until the sugar dissolves and the mixture is thick, glossy and holds stiff peaks. Divide among pans or trays and spread over bases. Bake for 1 hour, then leave to cool in switched-off oven for 1 hour. Remove from oven and cool completely.
Whip cream, icing sugar and Baileys to stiff peaks. Place 1 layer of meringue on a cake stand and pipe (or dollop) 1/3rd of the cream. (I used a large open star tip to pipe the cream). Dust with cocoa powder. Continue layering with the remaining meringue discs, cream and cocoa powder, finishing with the cream mixture. Dust generously with cocoa or shaved chocolate or drizzle with chocolate sauce.  Serve immediately. The finished cake can be stored in the refrigerator for a few hours but the meringue tends to lose its texture gradually. If you are making it ahead of time, its best to assemble the cake before serving.