A salad that does not look like a salad. Trust me, it works for people like me who believe in checking the buffet menus backwards in a restaurant. The space and calories in my case, are reserved for the sweeter things in life. Having said that, this is a great salad bursting with flavour, nutrition and natural sweetness from the pomegranate seeds. Not to mention, the colour!
This Middle Eastern inspired salad is light, refreshing, filling and most importantly easy to make. As with most salads there is plenty of room for creativity and variation. Burghul wheat is a great form of whole wheat that has already been cleaned, parboiled, dried and is ready to use. It does not need cooking, just softening in the recipe. The pomegranate shells make for a colourful container to hold the salad while also taking care of portion sizes. The little grains of burghul wheat also help to soak up some of the pomegranate juice that remains in the pomegranate skin after the seeds are taken out.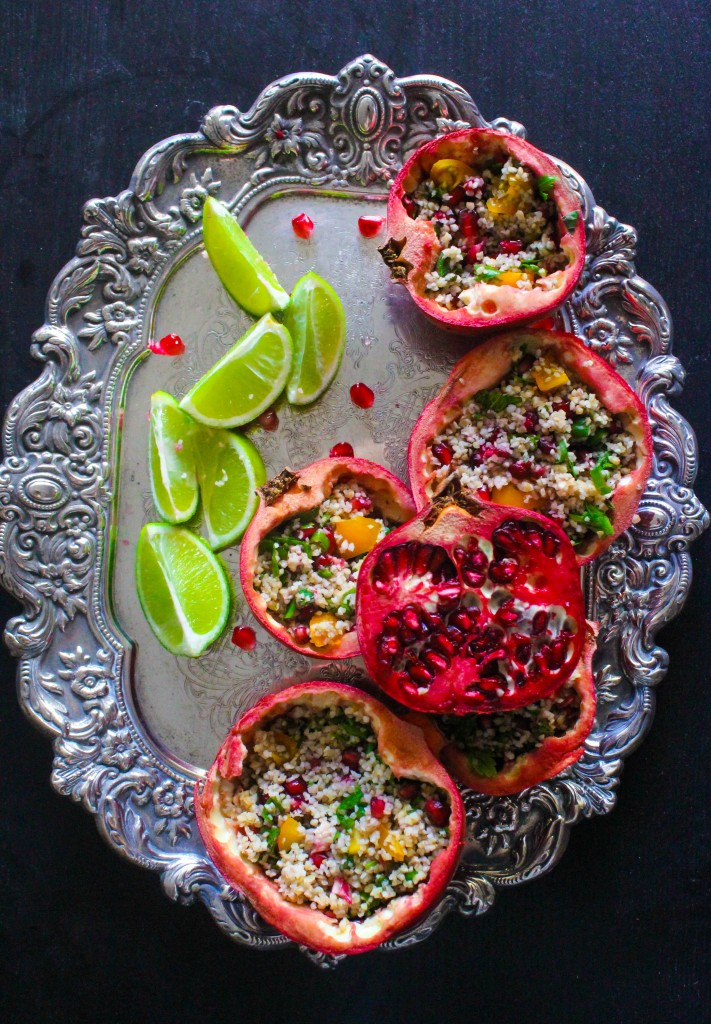 Burghul wheat (also known as bulgur, bulghur) is available in the health section of supermarkets or in health stores. The salad is great on its own or a perfect side to meat dishes. If you are planning to make it ahead (by a few hours), store it in the refrigerator and spoon into shells just before serving.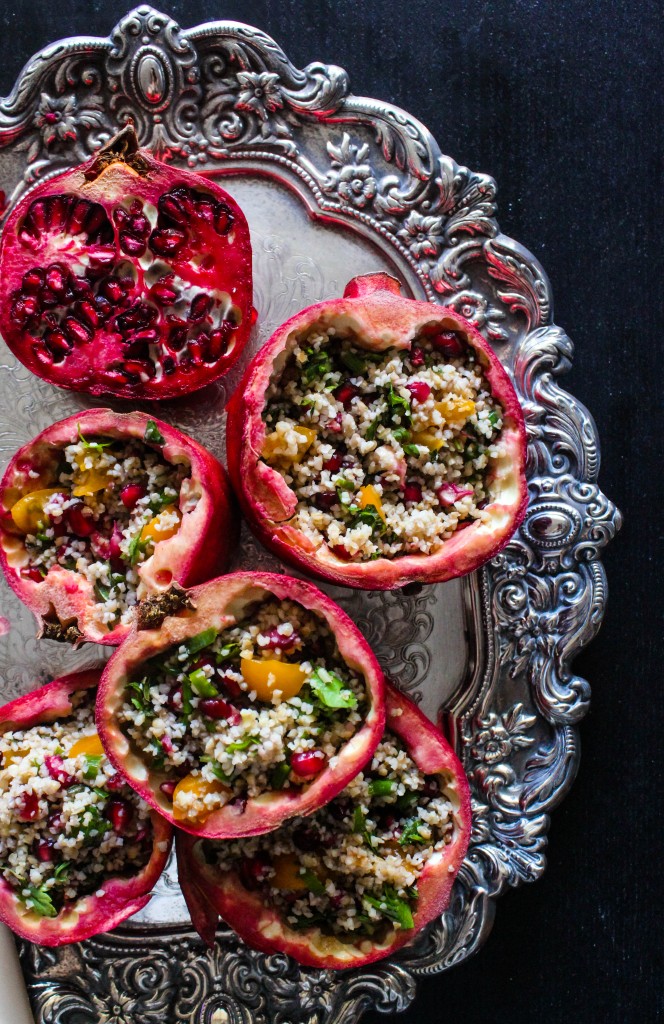 Pomegranate Tabouli Salad
Serves 8
4 pomegranates halved and seeds removed, 1 cup seeds reserved for the salad
(1/2 cup) burghul
(3/4 cup) boiling water
1 cup chopped fresh parsley
3/4 cup chopped fresh mint
3/4 cup tomatoes, finely chopped (I used yellow tomatoes)
1 tbsp. olive oil
1 tbsp. fresh lime juice
Place the burghul in a large heatproof bowl. Add the boiling water and set aside for 10 minutes to soak. Drain.
Add the tomatoes, parsley, mint, pomegranate seeds, oil and lime juice. Season with salt and pepper. Mix until well combined. Spoon into pomegranate shells. Serve