I've been a bit under the weather. I don't enjoy being tied down to the bed so it was not the best of times for me. I love standing on my two feet even if it means standing long hours without a break so this was a kind of situation-imposed rest from which I was desperate to recover. Not being able to bake or photograph or shop for ingredients can affect me in a big way and I was really looking forward to some baking action.
Finally I did. After a whole week.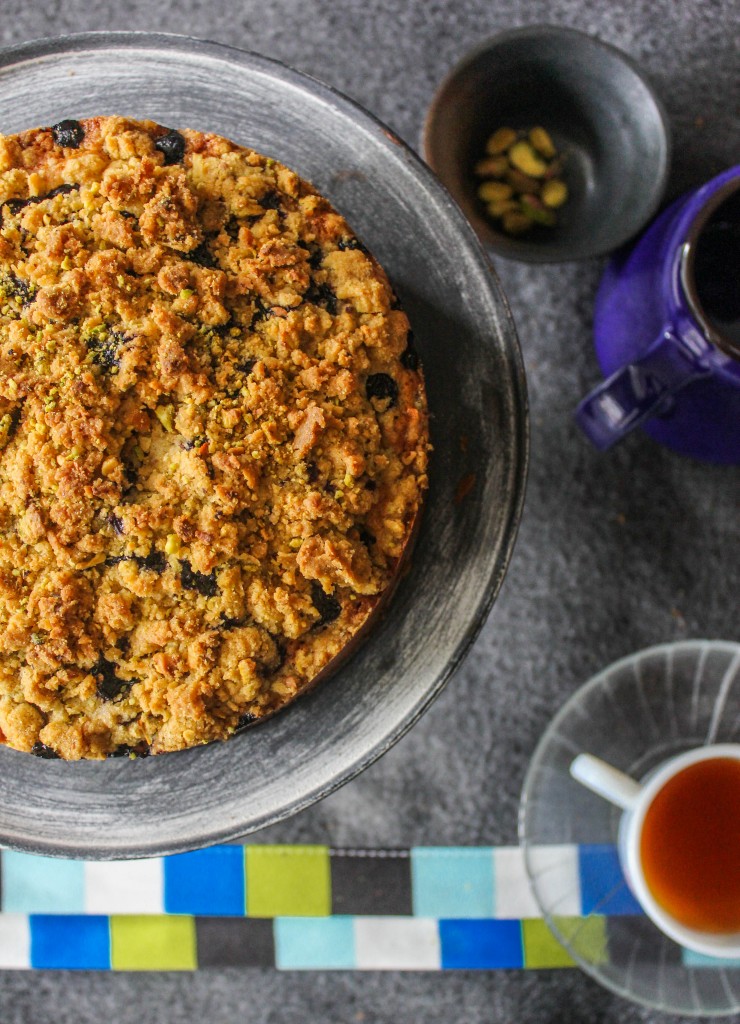 As it turns out, this is my 100th post. I've been slow that way. Taking a little over a year to reach here while also enjoying every bit of this journey. So it goes without saying that this had to be a cake post. I would have loved to do a fancy one with a few candles but honestly I didn't have the stamina to do so. This crumble cake has been on my mind since months…I wanted to use pistachios in a crumble cake and I had pictured this rustic blue-green pairing so clearly in my mind that I could hardly wait for the cake to finish baking. I was almost certain the cake would look the way it did.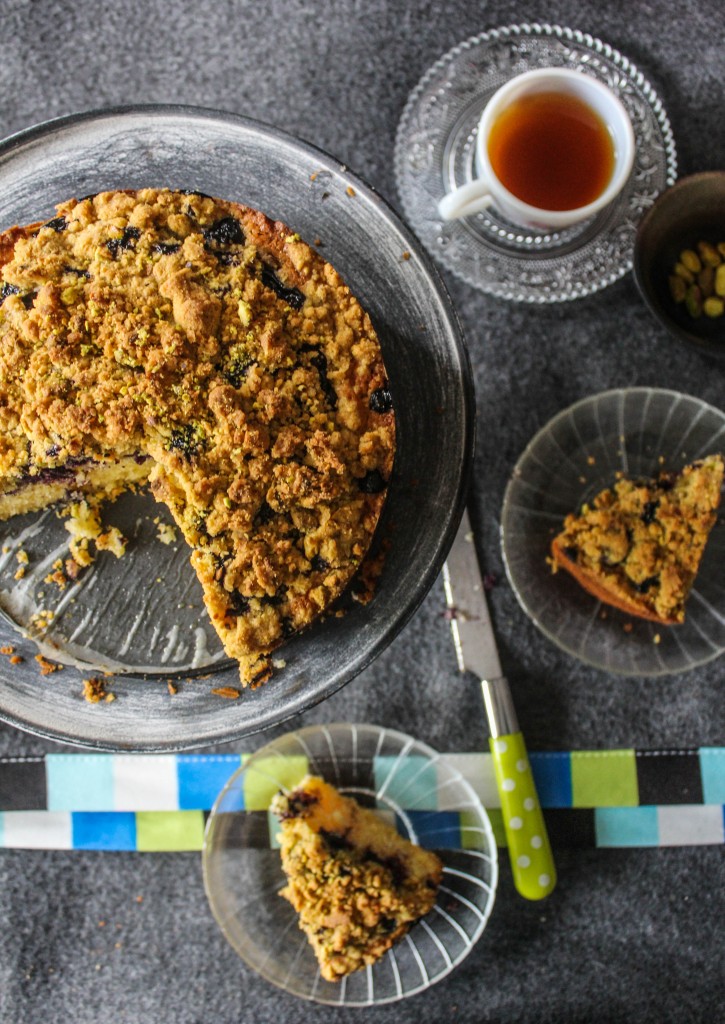 This is the kind of cake I enjoy baking and eating. Simple yet satisfying. There's something so gorgeous about a crumble cake. Especially if the base is as moist and soft as this one. So many textures with each mouthful…almost like eating a cake and cookie together. And juicy blueberries tying the two layers together.
I blitzed the pistachios in the food processor in a way so as to keep a mix of finely ground as well as coarser crumbs in the crumble. They taste and look better. Any other nut would work just as well. Or any other berry in the cake.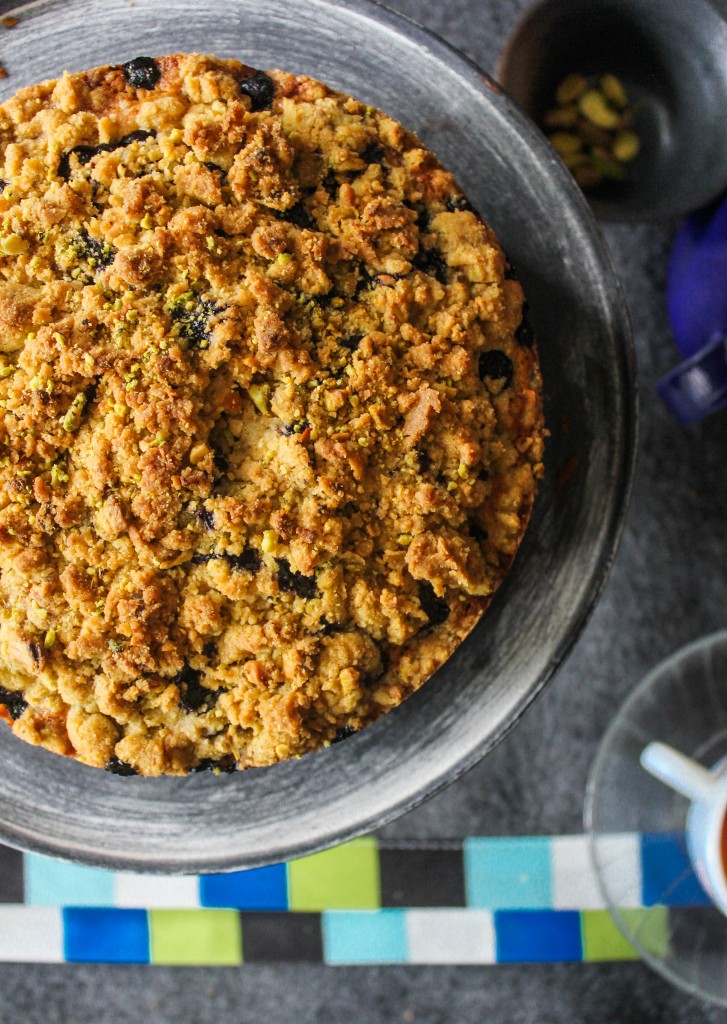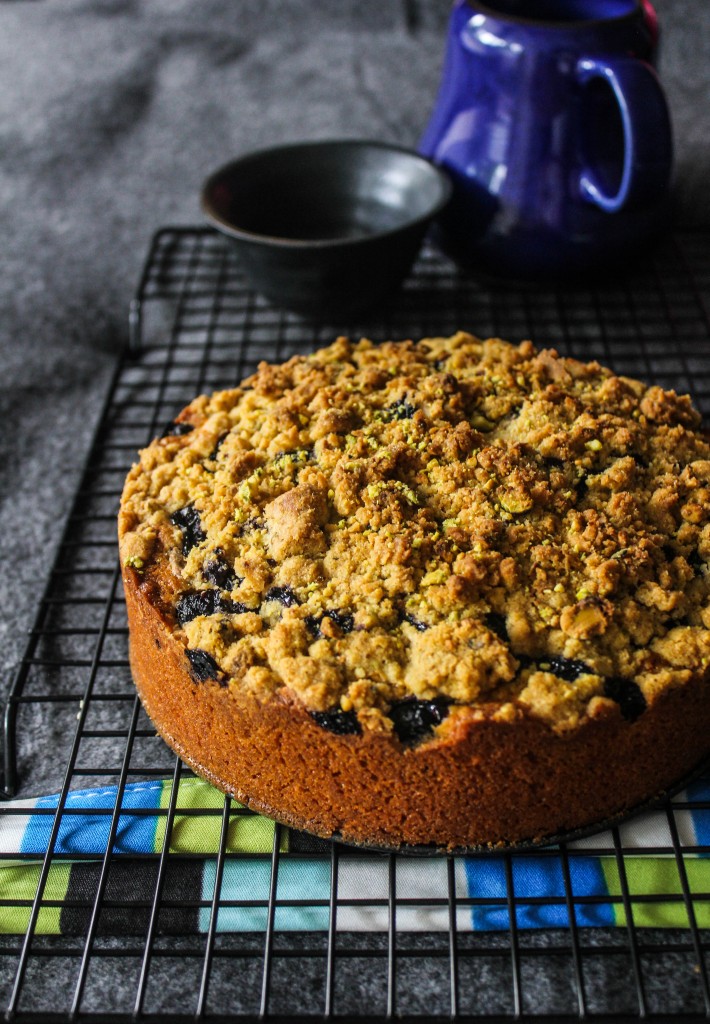 Blueberry Pistachio Crumble Cake
Serves 10-12
Melted butter, to grease
200g butter, room temperature
3/4 cup castor sugar
2 teaspoons vanilla essence
2 eggs, room temperature
1 cup self-raising flour
1 cup plain flour
3/4 cup milk
200g blueberries fresh or frozen (I used fresh)
Crumble Topping
1/2 cup plain flour
50 g butter, chilled and chopped into cubes
1/4 cup brown sugar
1/3 cup pistachios, skinned and ground to a coarse powder in the food processor
Preheat oven to 180 degrees C. Brush a round 20 cm spring form pan with melted butter to lightly grease. Line the base with non-stick baking paper. Place the prepared pan on a baking tray.
Using an electric mixer or with a hand mixer, beat the butter, sugar and vanilla until pale and creamy. Add the eggs, 1 at a time, beating well after each addition. Use a large metal spoon to fold in the combined flour and the milk until well combined.
Spoon into the prepared pan. Use the back of the spoon to smooth the surface. Arrange the blueberries on the top.
To make the crumble topping, place all the ingredients in a bowl. Use your fingertips to rub the butter into the mixture until the mixture contains large and small crumbs.
Sprinkle the crumble topping over the blueberry layer. Bake in oven for 1 hour 10 minutes or until a skewer inserted into the centre comes out clean. Set aside in the pan for 10 minutes before transferring to a wire rack to cool slightly. Serve cake warm or at room temperature