If there is something that is always present in my refrigerator, greatly appreciated by my family and finds its use in multiple savory or sweet dishes cooked in my kitchen, it has to Greek Yogurt. Because of it's thick creamy consistency, slightly acidic taste and significantly high health benefits, I find myself including it in my everyday diet, slowly using it instead of cream (single or double) sour cream and even cream cheese in recipes that require their usage.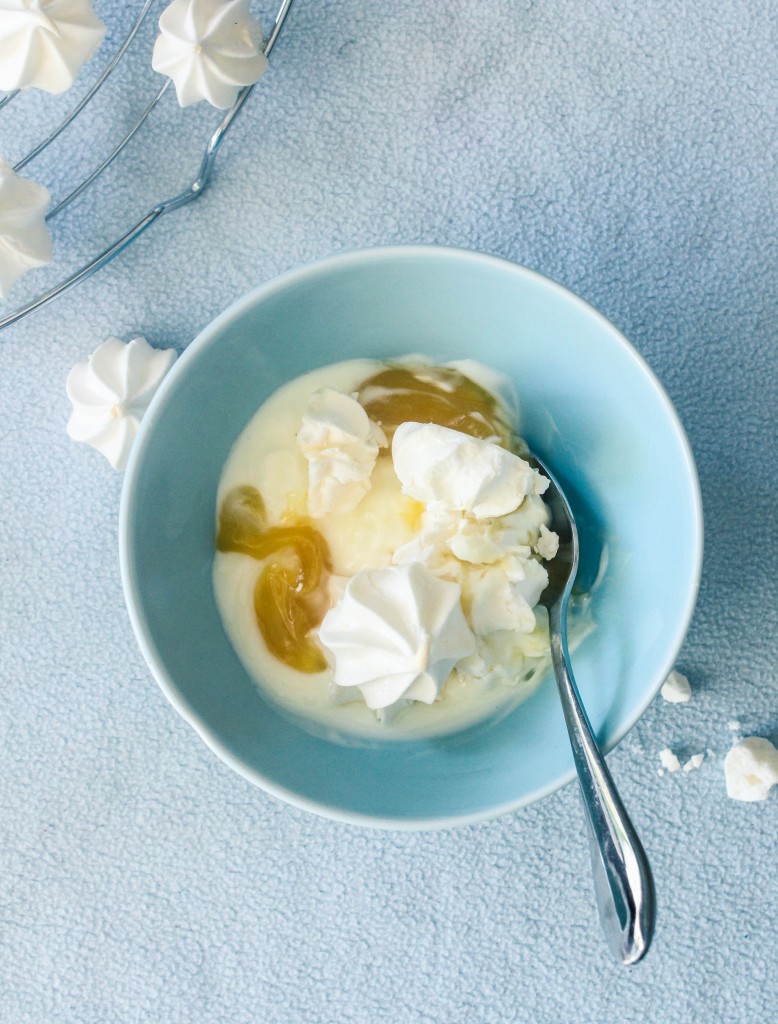 In Australia we have easy access to Greek yogurt. On account of that, it is widely used to replace mayonnaise in burgers, in salad dressings, dips, marinades, cakes and of course frozen yogurt. My latest way of using it is in a Greek inspired home made lamb pizza in the form of a  tzatziki topping (recipe coming soon). What are benefits of Greek Yoghurt over regular yoghurt, you may ask. The answer lies in the way it has been processed. Extra steps in straining the yoghurt results in a more concentrated, thicker consistency which is higher in protein, lower in sugar and carbohydrates. Basically, it keeps you feeling full longer.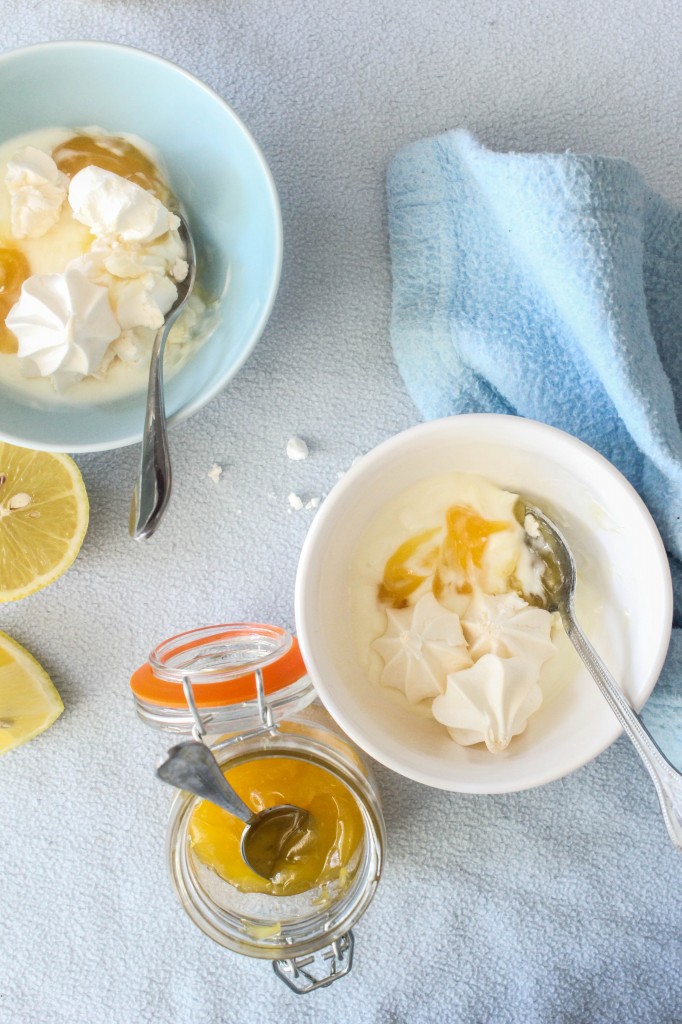 It is no secret to my regular readers how much I love meringue…making it and eating. I usually don't have leftover egg whites at home as they are quickly turned into meringue. Home made lemon curd on the other hand is again another lemony treat that frequents my fridge. It's easy to make and dolloping it on any sweet treat takes the sweet to a different level. I have been combining the 3 together for a quick, light sweet fix since years and the combination is always appreciated. Being gluten free and rich in probiotic goodness makes it what it is…guilt free!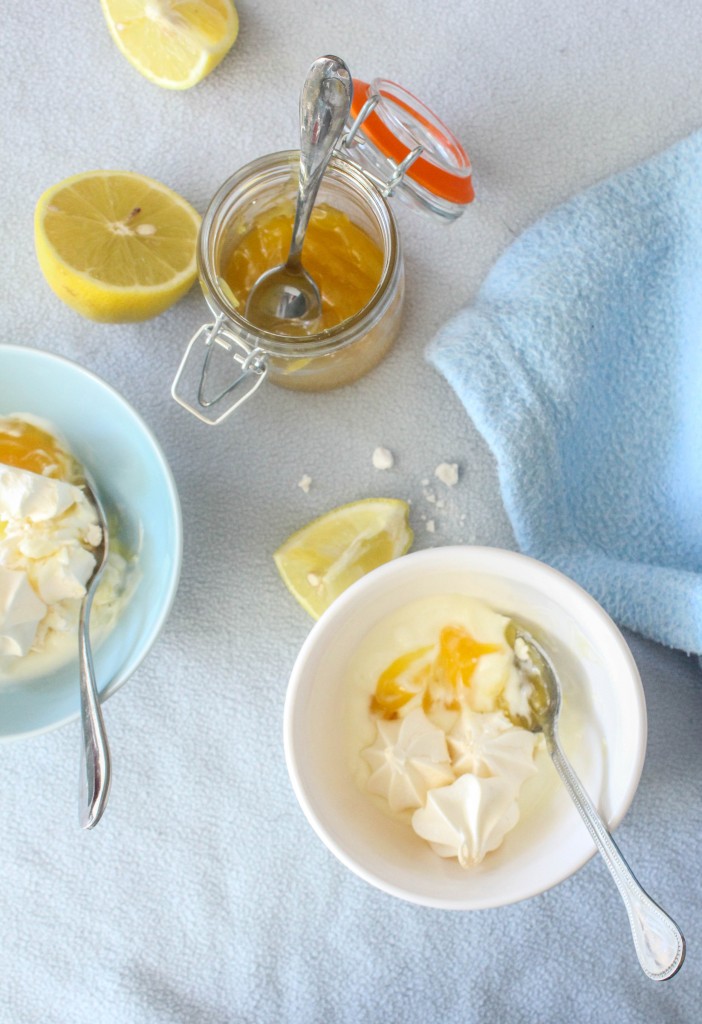 The greatest thing with this dessert is that the individual elements can be made ahead and stored separately. Better still, for those who may find it hard to make meringue or lemon curd, go ahead and use store bought and assemble before serving. If you are making meringue (or meringue nests) at home, particularly for a Eton Mess, you don't have to be neat or use a piping bag. It's supposed to be messy and that is how it is enjoyed. Therefore dolloping whipped egg whites with a spoon is just fine. Just make sure that the sizes (big or small)  are more or less uniform so they are baked evenly.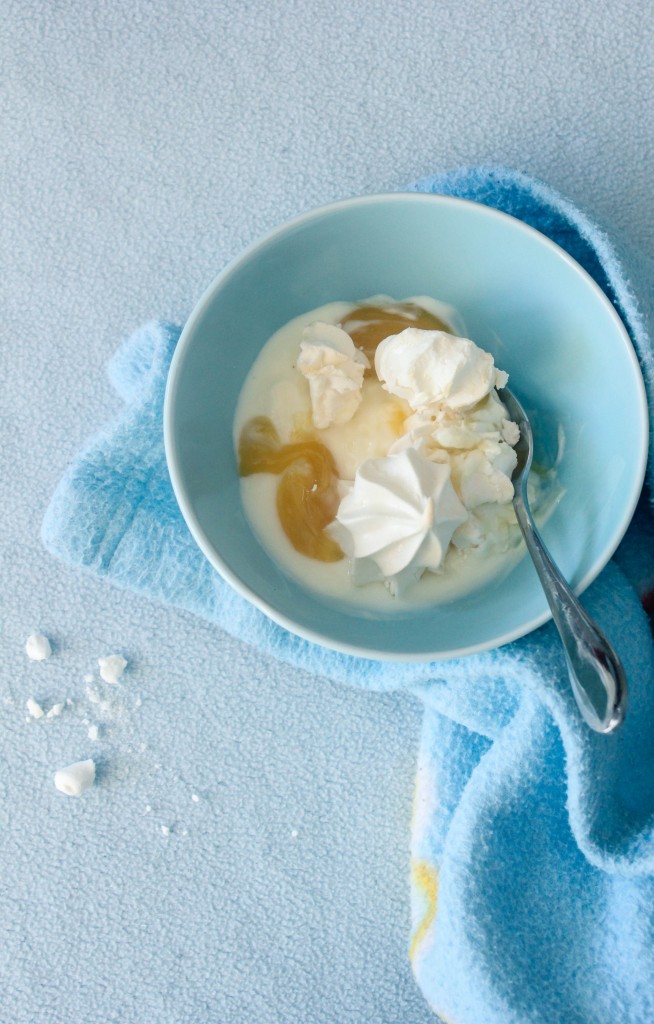 Lemon Curd and Yoghurt Eton Mess
Serves 4
400 g Greek Yoghurt (Plain or Vanilla), slightly cold
24 meringue kisses (or 4 meringue nests), a few crushed (recipe below)
1/2 cup Lemon Curd (recipe here)
In a medium bowl, whisk the Greek Yoghurt slightly to make it light and airy (about a minute). Spoon it into 4 serving bowls. Divide the meringue kisses and lemon curd equally between the bowls. Swirl slowly with a spoon. Serve immediately.
Meringue Kisses (Makes 24-26 meringue kisses)
3 egg whites
3/4 cup Castor Sugar
Preheat oven to 110 degrees C. Line 2 baking trays with baking paper.
Using an electric mixer, beat eggwhites until stiff peaks form. Add caster sugar. Beat for 8 minutes or until sugar has dissolved.
Place mixture into a piping bag fitted with a star or plain nozzle. Pipe 3cm wide meringue rounds or kisses onto prepared trays, allowing 2cm between each for spreading. Bake for 30 minutes or until meringues are firm to touch. Turn off oven and allow to cool in the oven with door slightly ajar.