A few days ago, I was reading an article in Good Housekeeping (via the Kitchn) about '10 foods that make you sleepy and 10 that keep you up'. Since I frequently deal with sleep problems, I thought it was quite appropriate for me. Incidentally, a batch of these were baking in the oven as I was reading through. Topping the list of things that help one sleep better were oats and almonds, both of which were present in these biscuits. I almost found myself wishing that all that was written in the article were true and I could eat biscuits and go to bed. How does that sound?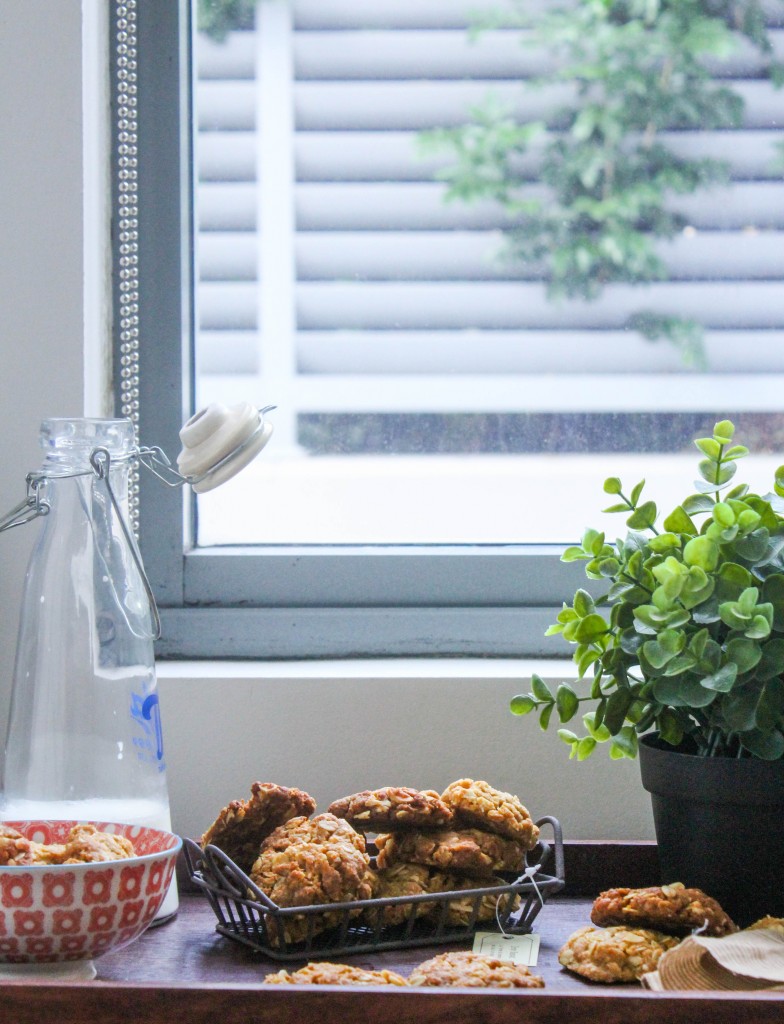 To be honest, these have nothing to do with sleep. Partly true. That is if you are not dreaming of them. They are deliciously addictive biscuits with a gorgeous caramel like flavour, accompanied by a slight chew from the coconut, a nutty bite from the almonds and a mild flavour and fragrance from the orange. Too many good things happening there.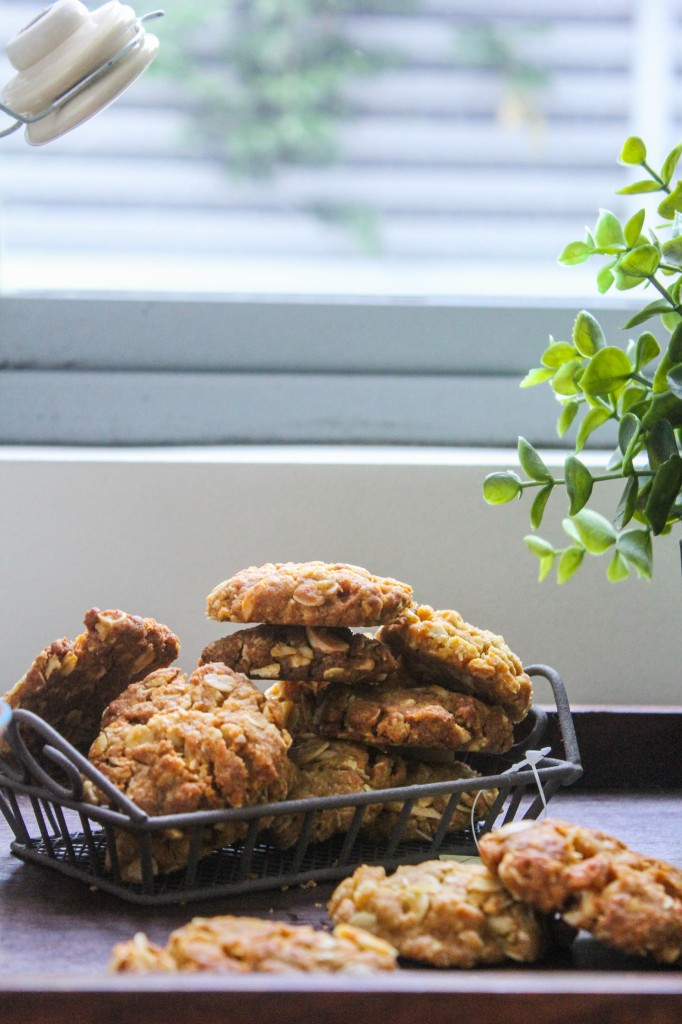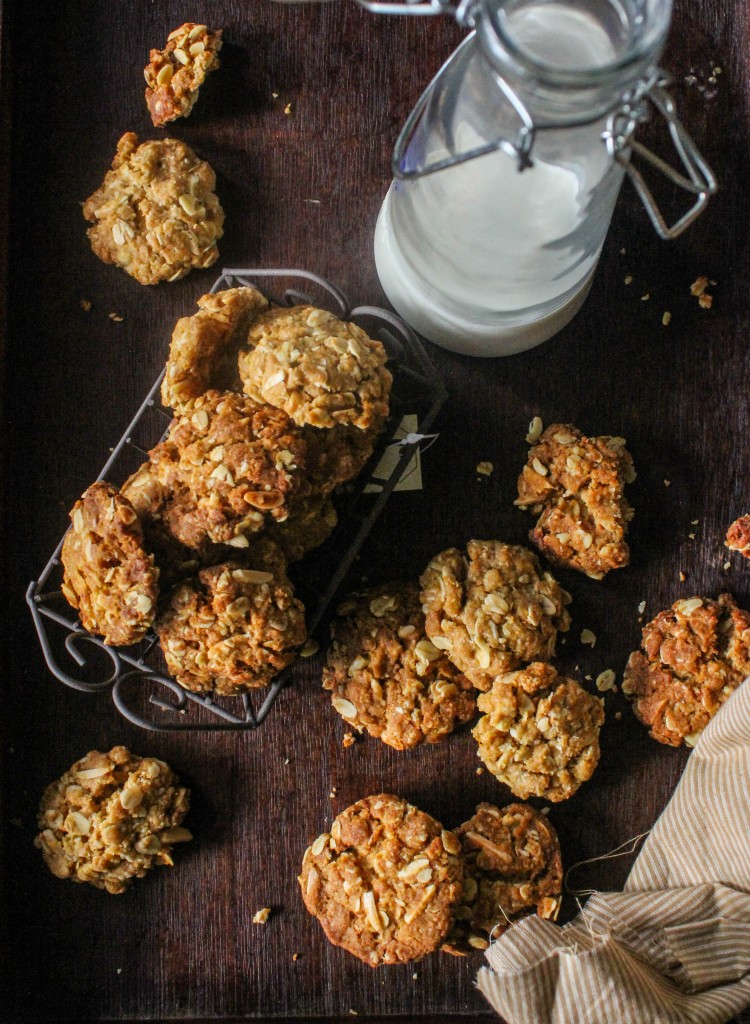 We enjoyed two long weekends this month..first Easter and then Anzac Day. And that is precisely why I made these in the first place. These are perhaps biscuits that are held in the highest regard in Australia. I made 3 different versions of the traditional Anzac biscuits and we ate them all though the weekend.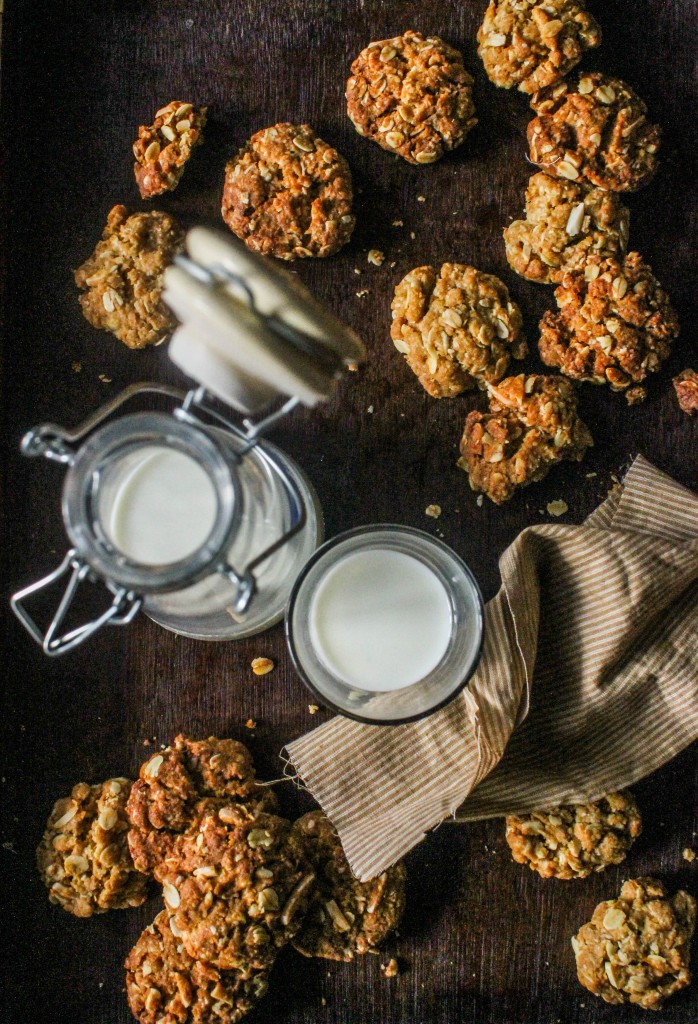 Did I sleep better?
I did. Whether it has any connection with the ingredients at all or not, I had plenty of activity, winter shopping, cooking and eating to get my mind tired.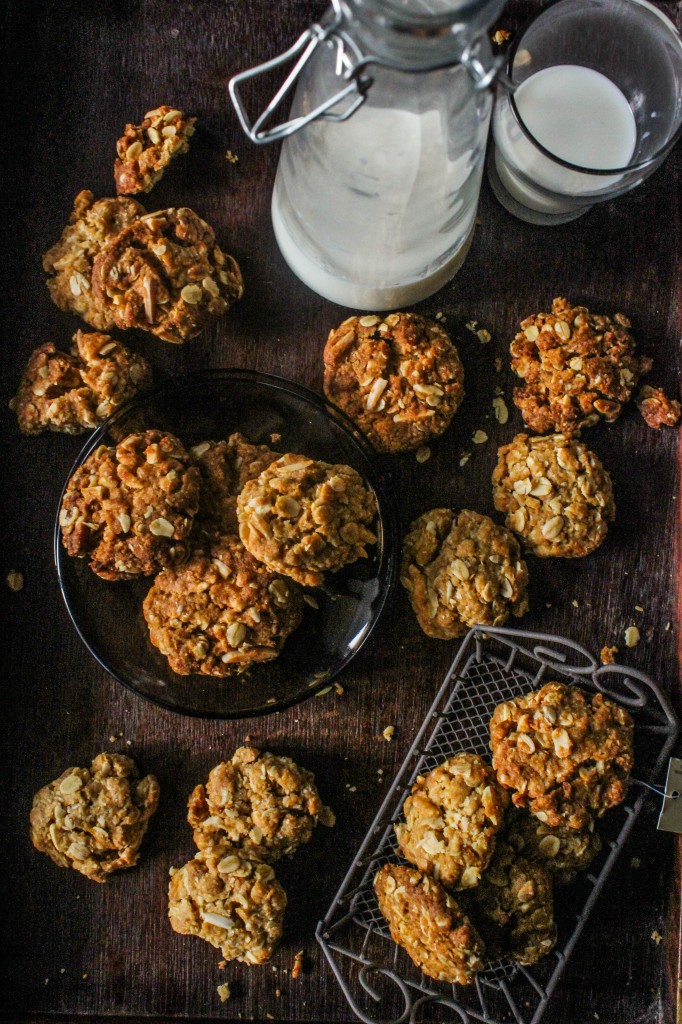 Orange Almond Anzac Biscuits (adapted with variation from Taste.com)
Makes 20 biscuits
1 cup plain flour
1 cup whole rolled oats
1 cup dessicated coconut
1/2 cup almond slivers
3/4 cup firmly packed brown sugar
1 tablespoon finely grated orange zest (I used a Navel Orange)
125g butter (use Earth Balance for lactose free)
2 tablespoons golden syrup
2 tablespoons water
1/2 teaspoon bicarbonate of soda
Preheat oven to 160 degrees C. Line 2 large baking trays with non-stick baking paper.
Combine the flour, oats, coconut, almonds, sugar and orange zest in a large bowl. Stir the butter, golden syrup and water in a small saucepan over medium heat until the butter melts and the mixture is smooth.
Stir in the bicarbonate of soda. Add to the oat mixture and stir until well combined.
Roll level tablespoons of the mixture into balls and place, about 5cm apart, on the lined trays. (If you find the mixture too crumbly to roll, place the mixture in the fridge for 10 minutes.) Flatten until about 1cm thick. Bake, swapping trays to upper and lower oven shelves halfway through cooking, for 18 minutes or until light golden.
Set aside for 10 minutes to cool before transferring to a wire rack to cool completely.