Quinoa. Everyone apparently wants to include it in their diet, it is increasingly visible in supermarkets and health stores. there are recipes doing the rounds all over the Internet, even in restaurant menus and it is categorised as a Superfood. Right? These are facts that I came to learn about Quinoa since it took the food industry by storm. But despite knowing this I was never convinced to buy quinoa or cook with it. I would come across packaged quinoa every time I would go past the health section of the grocery store, hold it in my hands…take a good look and then return it back on the shelf. Nothing about it appeared different from any other grain.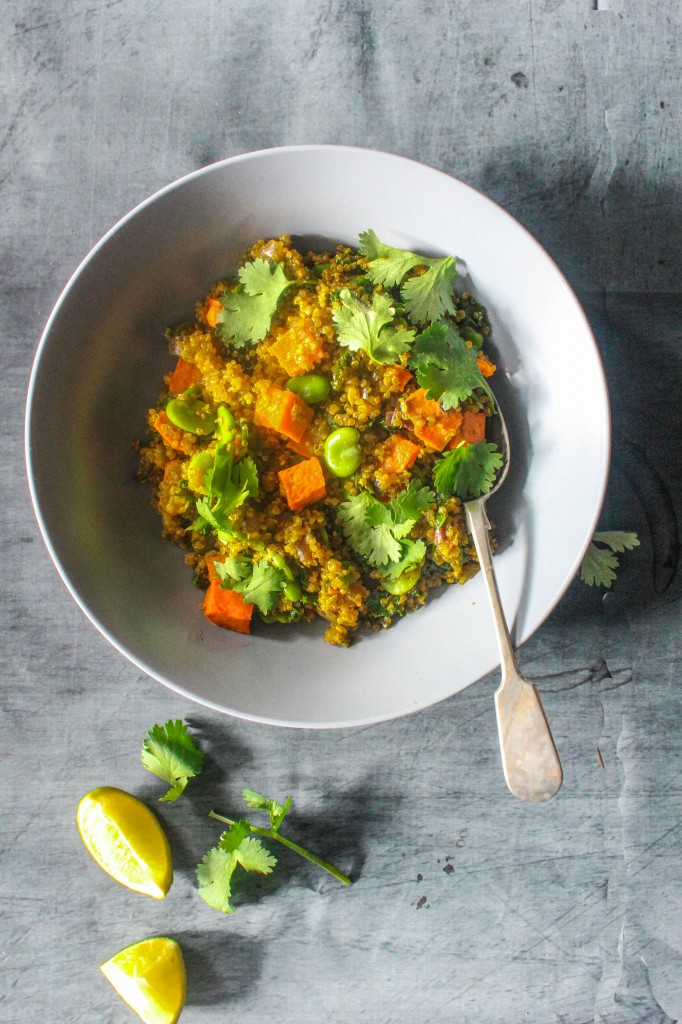 It was not until recently that I started including quinoa in my meals. I was looking for healthy alternatives to rice that would make a meal by itself without much fuss. More importantly it had to take up flavours well. Though I use couscous at times on account of the convenience of making it, I've never been a fan. I was surprised how easy it was to cook with quinoa and it would go with any kind of cuisine. It was easy to blend it into a dish whether Italian, Mexican or Indian.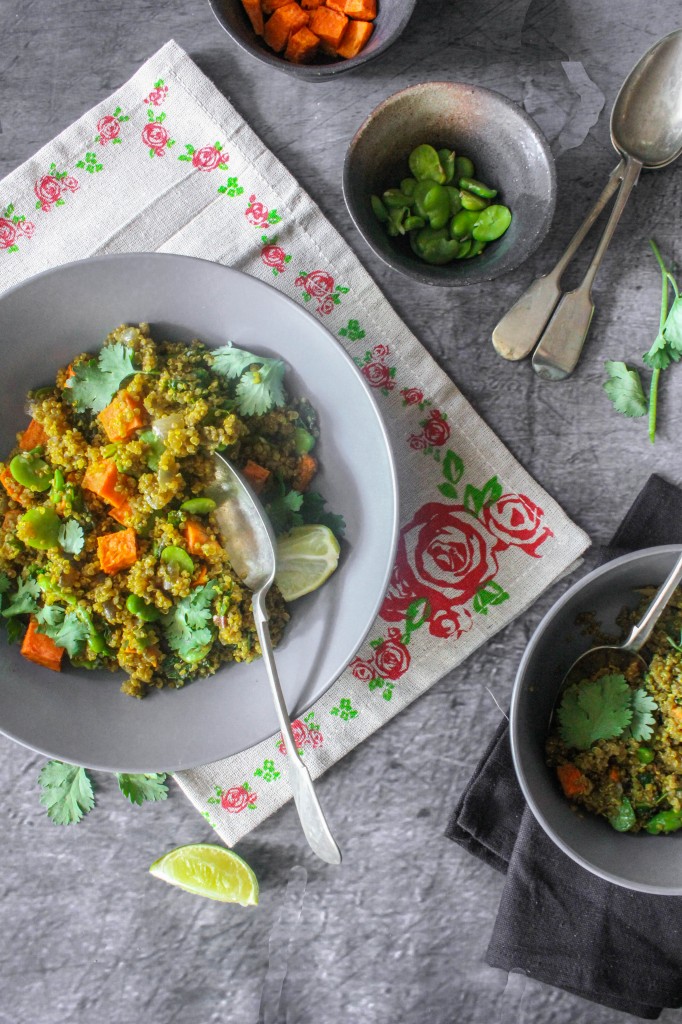 But what is a Superfood? And why is Quinoa one? There is so much information on these topics in the Internet but in simple terms, Superfoods are those foods that offer multiple benefits for the body without a high amount of fat or calories accompanying them. Clearly, Quinoa offers many proven nutritional benefits while introducing very little calories and fat to the diet.  It is a tiny grain that cooks up like rice and has a mild, nutty flavor and a light, fluffy texture. High in protein and fibres, it's benefits have far outdone the benefits of any other grain available. The important thing is that you can incorporate it into your breakfast, lunch or supper as it is versatile.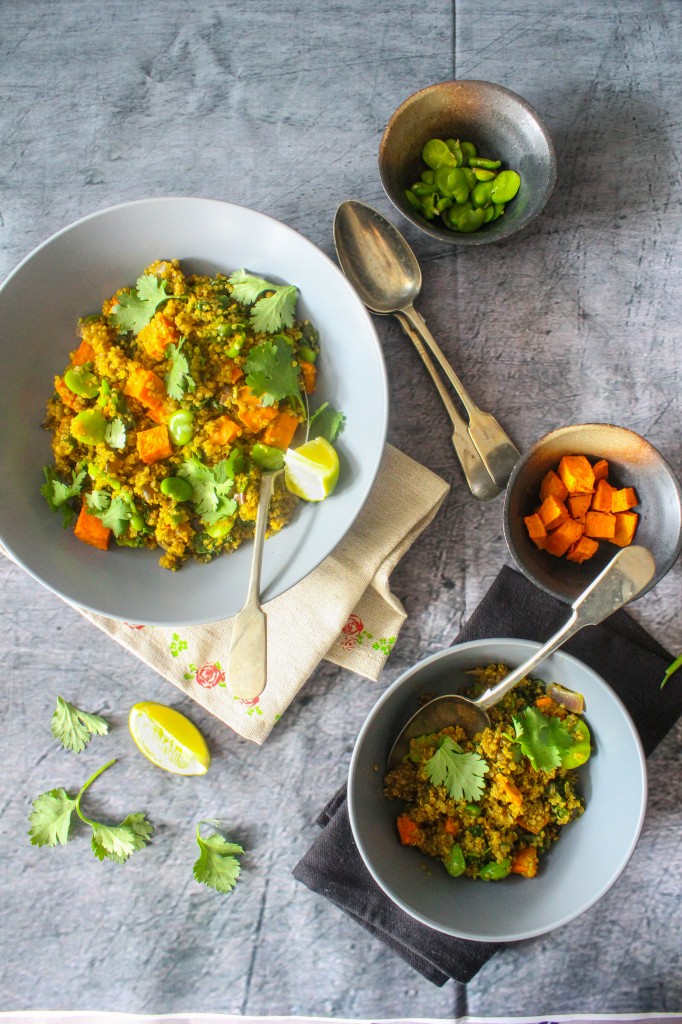 In this recipe, I've gone with spices and it tastes delicious. I found this recipe on Taste magazine which is generally my go-to for simple recipes.It is easy to prepare and you can use your choice of vegetables. It took me about 20 minutes to make this. While the quinoa was cooking, my sweet potatoes were roasting in the oven while I prepped my broad beans. I've been generous on the turmeric as I like the curry kind of look for this dish. You could reduce it or leave it out if you want to.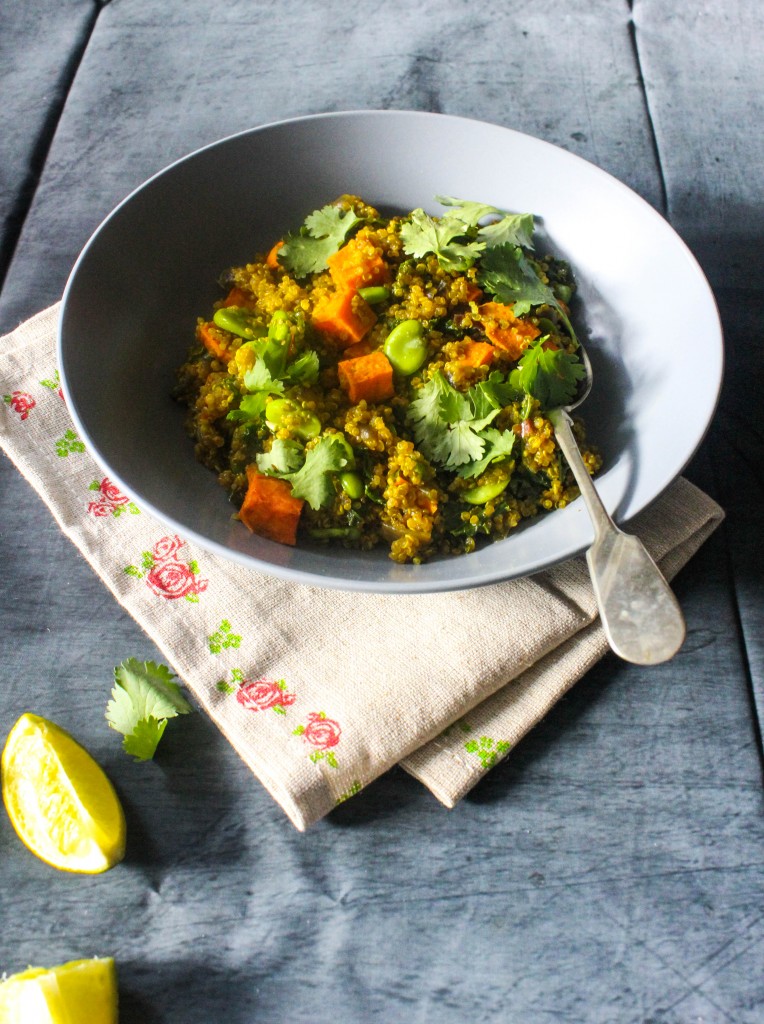 This dish is healthy, vegan, gluten-free and packed with flavours. I am eating this for lunch often with a combination of different vegetables. Frozen vegetables are also easy to incorporate if you want to eat it as a quick, hassle free midweek dinner.
The other discovery I made about Quinoa- it is hard to overcook. So many reasons to bring Quinoa into your life.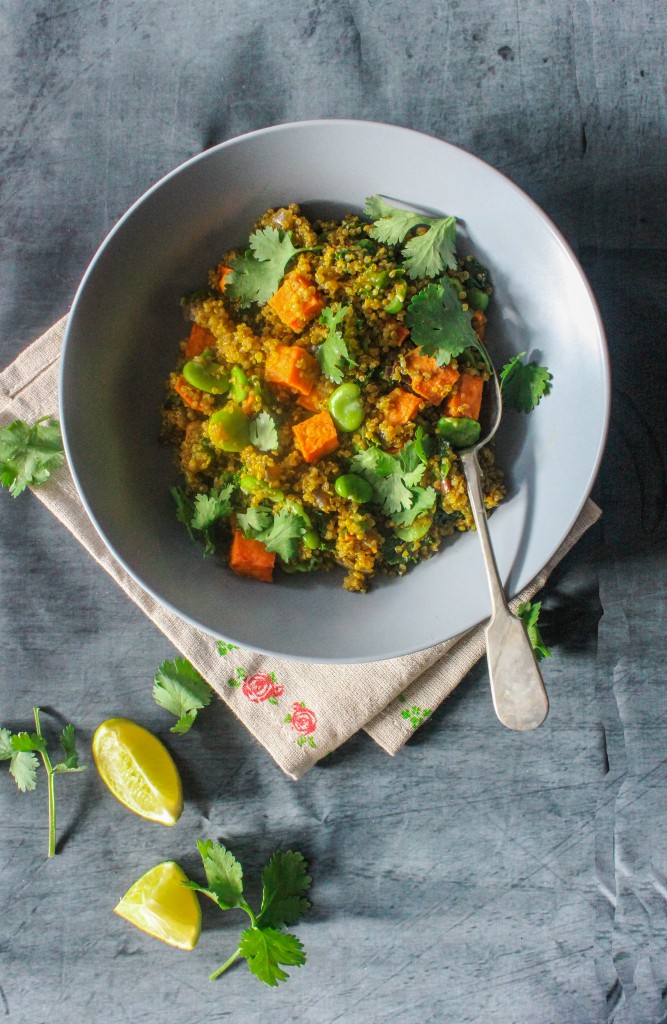 Spicy Kale, Sweet Potato And Broad Bean Quinoa Pilaf (adapted with variation from Taste.com)
Serves 4

150g (1 cup) frozen broad beans
1 tablespoon olive oil
1 large orange sweet potato, peeled, cut into 2cm cubes
1 red onion, finely chopped
2 teaspoons finely grated ginger
1 teaspoon ground cumin
1 teaspoon ground coriander
1 teaspoon ground turmeric
1 teaspoon ground paprika
190 g (1 cup) quinoa, rinsed, drained
500 ml (2 cups) vegetable stock (can be substituted with chicken stock if not vegan)
1 bunch kale, stems trimmed, shredded
1/2 cup coriander leaves
Salt and Pepper, to taste
Lemon wedges, to serve
Preheat oven to 200 degrees C. Line a baking tray with baking paper. Place the sweet potato on the lined tray and drizzle with half the oil. Season with salt and pepper. Roast for 20 minutes or until tender.
Meanwhile, cook the broad beans in a medium saucepan of boiling water for 2 minutes or until heated through. Refresh under cold running water. Drain well. Peel broad beans and set aside.
Heat remaining oil in a large saucepan over a medium heat. Add onion and cook, stirring, for 5 minutes or until softened. Add the ginger, cumin, coriander, turmeric and paprika; cook, stirring, for 1 minute or until aromatic.
Add quinoa and stock and bring to the boil. Reduce heat to low, cover and simmer for 15 minutes or until liquid evaporates and quinoa is al dente. Stir through kale until just wilted. Add the sweet potatoes and broad beans and season with salt and pepper. Divide among serving bowls and sprinkle with coriander. Serve with lemon wedges.