I am on a Pesto making mission. I have two jars permanently dedicated to it. The sight of it makes me feel good like nothing else. This feel-good is different from the one I get from baking cakes:-) But I guess it's fierce and it's related. One exists on account of the other. Well, it's hard to describe but let's say I have a place and passion for both in my life. Weird?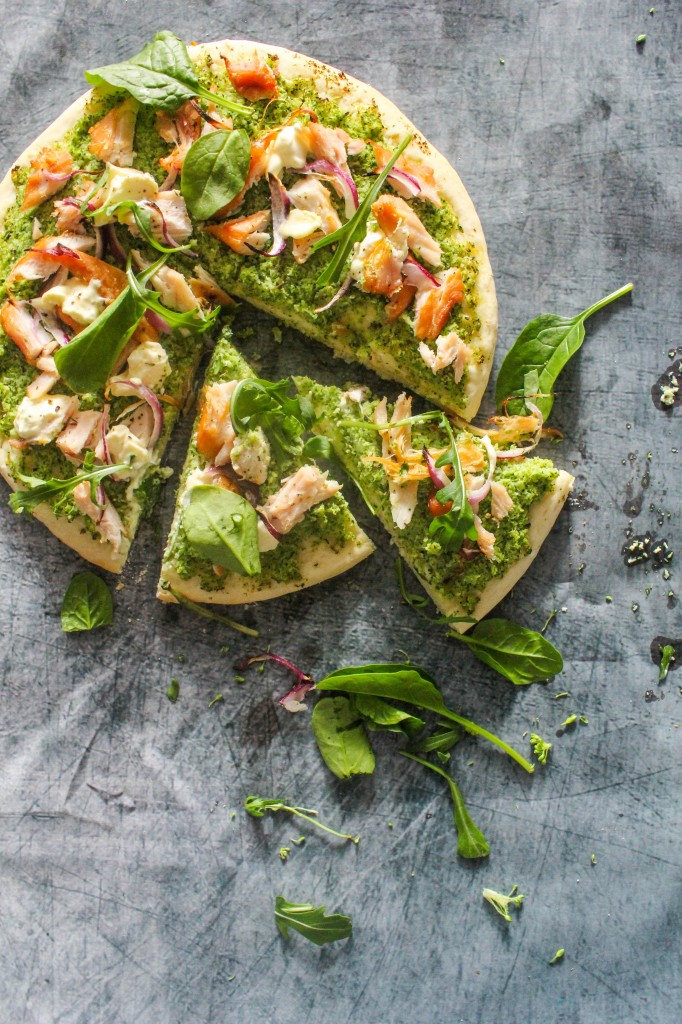 You know there are times I tell my husband that I would like to have my own little chicken farm, have them lay eggs and then bake with them. That is my favourite culinary dream. It's not impossible but at the moment I cannot even imagine squeezing in a teeny-weeny responsibility into my daily routine. On the other hand however, I have a little herb garden that doesn't take up too much of my time but it provides so much of the flavour, nutrition and green that is needed to complete my meals.
I don't follow a strict recipe anymore while making pesto. Most often, it is a bit of this and that (herbs and nuts) to bring together my magic green potion. That is the amazing thing about pesto. It is versatile, adaptable and personal. The kale pesto I posted a couple of weeks ago turned out to be an instant hit so I decided to share my broccoli pesto. Unlike the kale pesto, this one goes down well with my kids. Kids seem to love broccoli. And if you love broccoli, you are going to love this pizza too. I don't like my pizzas loaded with toppings…a few complementing flavours that you can identify as you eat does it best for me.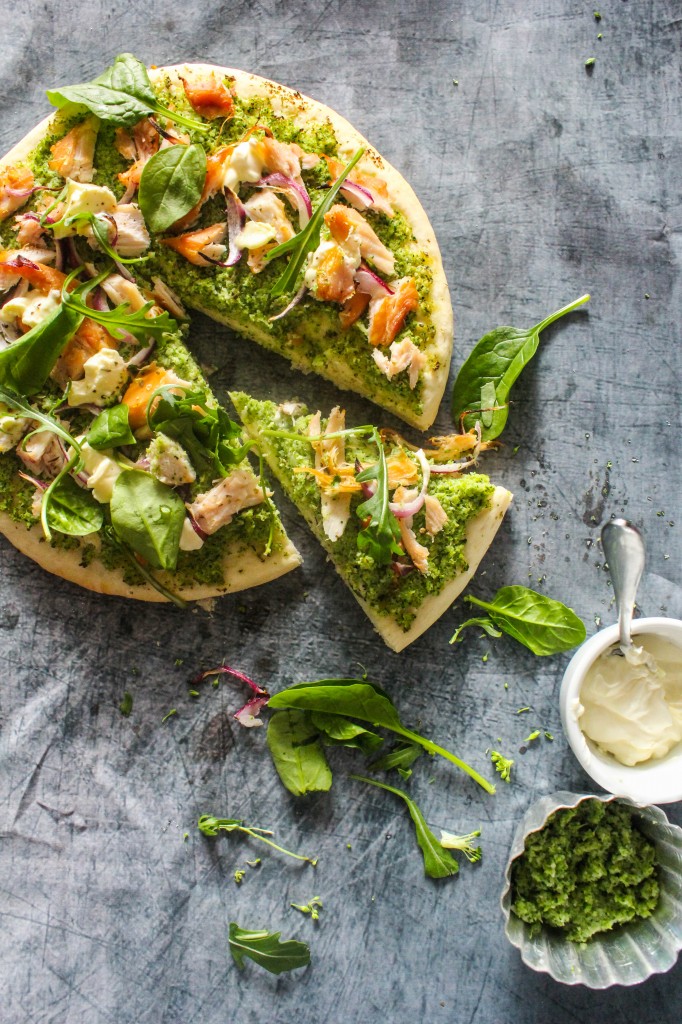 While broccoli is the core ingredient here, you can substitute the other herbs and nut as per convenience and availability. I've made this pesto with green chillies earlier but If kids are eating, I prefer to leave them out. The pesto is flavourful enough to replace tomato and cheese in a pizza. So it is certainly healthier. I LOVE cheese but it's nice to try out different things. In this recipe I have used store-bought smoked chicken which is handy to dish out quick meals. I also tend to use leftover roasted chicken from the previous day which I reserve for making quick curries and snacks. Frozen pizza dough, a jar of home-made prepared pesto, leftover chicken and a dollop of sour cream…it is as simple as that to make your pizza from scratch.
The broccoli pesto can also be used with pasta, on toast and soups. Vegetarians can replace the chicken with tofu or mushrooms.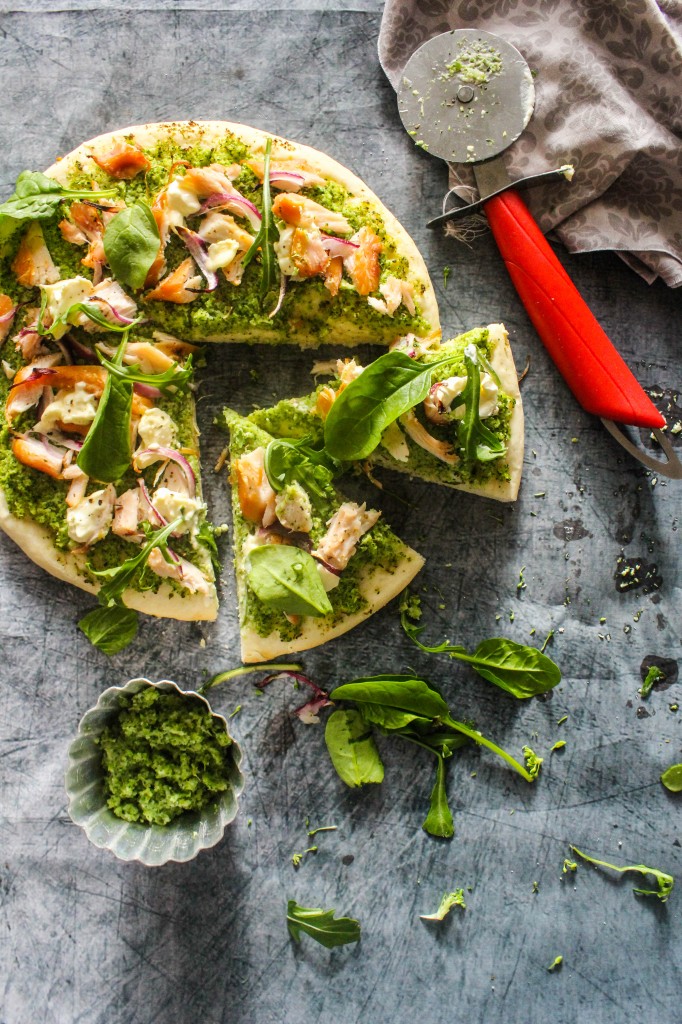 Now for the winner of the Harris Coffee give away who receives a fabulous Harris coffee pack.
The winner is Krissie from Pearls of Style. Congratulations Krissie! You will be receiving your package shortly.
Green No-Cheese Pizza with Broccoli Pesto, Chicken and Sour Cream
Serves 3-4
Pizza Dough (makes two 12 inch pizzas)
3 cups Plain Flour
2 tsp/7g/1 sachet dried yeast
1/2 tsp castor sugar
1/2 tsp salt
1 1/4 cups warm water
1 tbsp olive oil
Olive oil, for brushing
Semolina or Polenta, to dust
Pizza Topping
1 recipe Broccoli Pesto
1 smoked chicken breast (or fresh, cooked chicken), roughly chopped
1/2 red onion, finely chopped
1/2 cup sour cream
Baby Spinach and Rocket leaves, for garnish
Cracked Pepper, to serve
Extra virgin olive oil, to drizzle (I use garlic infused extra virgin olive oil)
Broccoli Pesto
1 head broccoli (about 400 g), cut into florets
3 cloves garlic,
1 tbsp. almonds, toasted and roughly chopped
1/4 cup basil leaves
2 springs thyme
1 tbsp. freshly squeezed lemon juice
salt and pepper, to season
2 tbsp. extra virgin olive oil
Make the dough: Combine the dry ingredients in a large bowl and make a well in the centre. Add the warm water and olive oil. Mix together and use your hands to bring it to a soft dough. Knead it on a floured surface to make it smooth and pliable. Return it to the mixing bowl that has been brushed with oil. Add the dough and turn to coat.
Cover with a damp tea towel. Set aside in a warm place for 30 minutes or until dough doubles in size. Punch down dough with your fist. Remove the dough from the bowl and knead it gently for a minute. Halve the dough (for one 12 inch pizza) and roll it out to the desired portion and thickness.
Make the Pesto : Heat 3/4 cup salted water on medium heat in a saucepan. add the broccoli and simmer for 3- minutes until just tender. Most of the water would be absorbed by now. Cool the mixture slightly. Add to the processor along with garlic, basil, thyme, almonds, lemon juice. Process to a coarse paste. Season with salt and pepper. Add the olive oil and mix until smooth. Store in the refrigerator until needed.
Make the pizza: Preheat the oven to 220 degrees C. Dust pizza tray with semolina or polenta. Place the rolled out dough onto the prepared tray. Spread a thick layer of broccoli pesto around the base of the pizza. Top with smoked chicken and red onion. Season with salt and pepper and drizzle with olive oil. Bake for 10 minutes or until base is crisp. Remove the pizza from the oven, dollop with sour cream and top with leafy greens. Serve with an extra drizzle of extra virgin olive oil and cracked pepper.