If soup is synonymous with comfort in winter, I cannot get enough. The smell of a pot of deliciousness simmering away on the cooktop, makes me hungry. The thought of a bowl of fresh, steaming soup cradled within the confines of fine china warms up my insides like snuggling by a fireplace in the company of loved ones on a cold wintry evening. I wrap my hands around it. I enjoy moving my spoon in circles picking up pieces of crispy garlic croutons or chunky vegetables on the way before they plump up within the soup.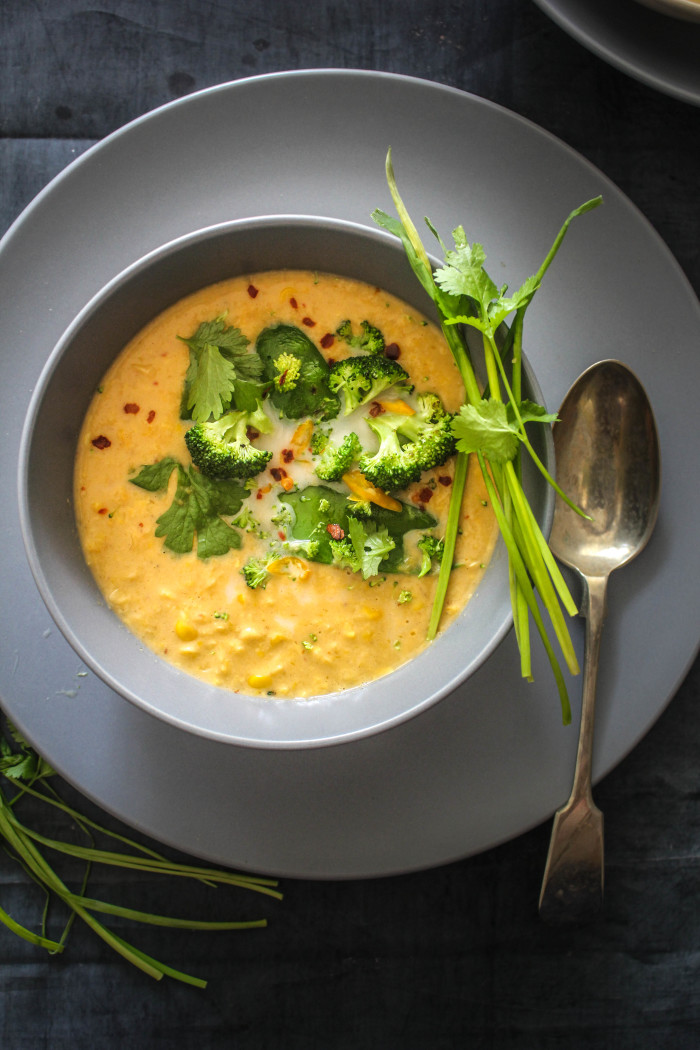 Although soup has a year-round occurrence in our home, it tends to take centre stage as soon as the weather turns nippy. To turn it into a main meal, I cook it in either of the two ways. A noodle soup of broth-like consistency with Asian flavours, greens and some form of protein. Or a thick soup comprising of lentils, beans or barley cooked in a flavourful and spicy stock with vegetables. This one is somewhere in the middle. The soup is thick, spicy, filling, satisfying and tastes every bit like a Thai red curry without going through the actual process of cooking a curry. Thai curry pastes are extremely handy when you are not in the mood of making your stock from scratch. The base of a good soup lies in the stock in which it is cooked. Using a strong flavouring agent like a curry paste rules out the necessity of a stock and makes life so much easier. Plus you get all the sweet, spicy, acidic flavours that are unique to Asian cuisine. If you have not already realised, the convenience of this soup is that you are making it from few and ingredients that are tinned or canned which makes it perfect for a rainy day.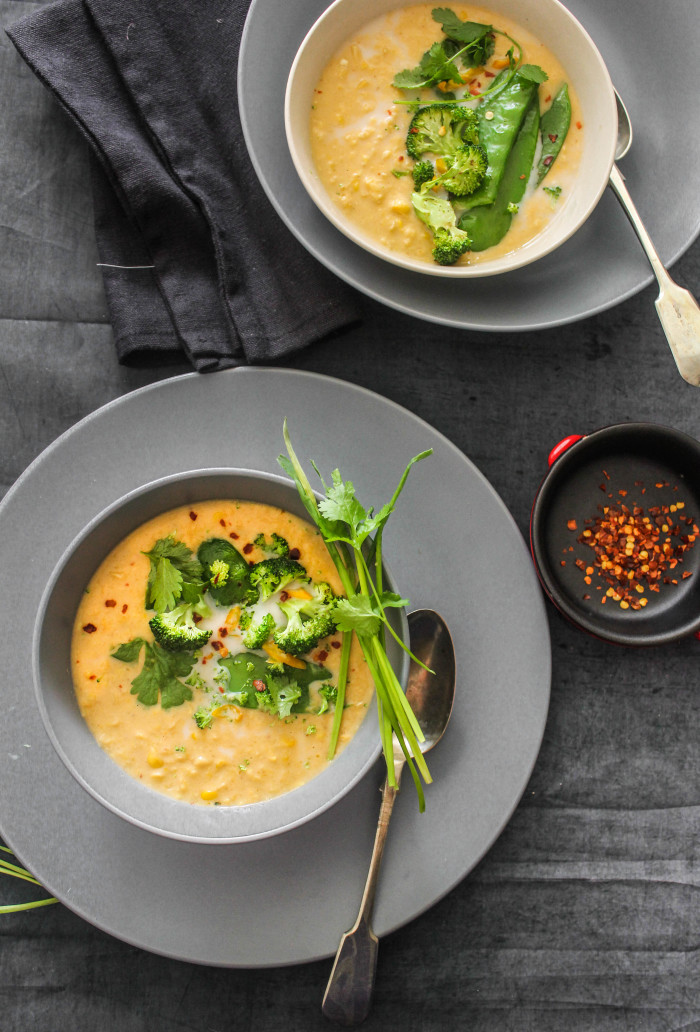 I have kept the soup vegetarian. You can add your choice of protein to make it your own. The creaminess of coconut milk paired with sweet corn and heat from the curry paste makes the soup outright delicious. Adding greens like broccoli, snow peas, green beans and fresh herbs like coriander, basil or chives makes it nutritious and gives it another level of texture. I enjoy the added heat of chilli flakes in my soups so I sprinkled some on top. It can be easily left out as the soup itself is moderately hot.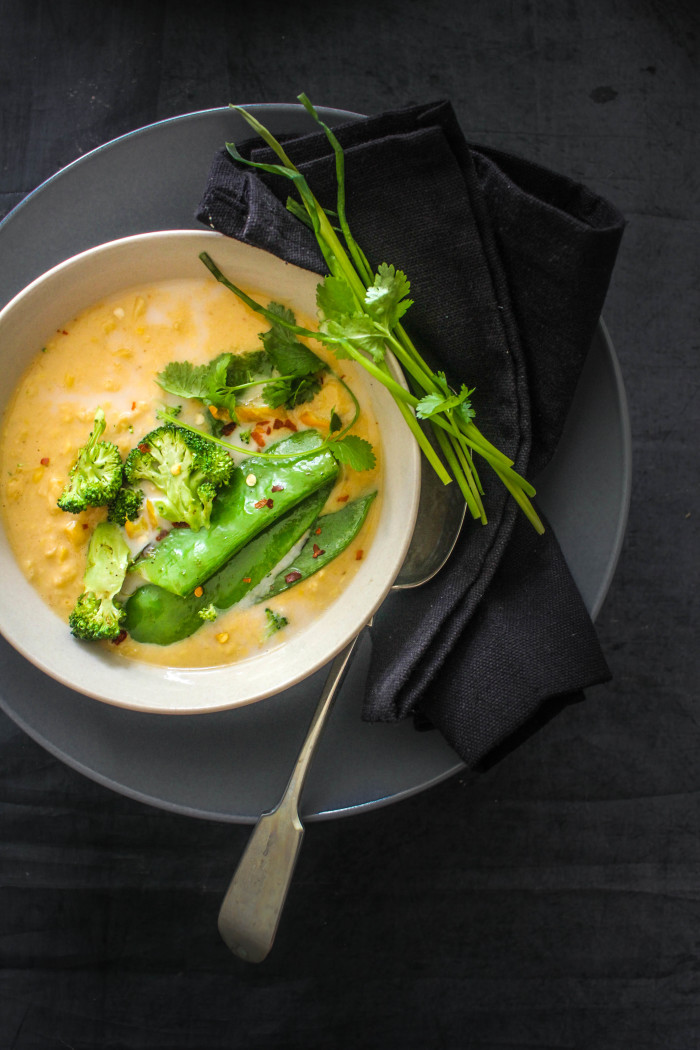 Spicy Thai Corn Soup with Greens
Serves 3
2 tsp Thai Red Curry paste
1 canned of corn kernels (400 g)/ frozen corn kernels
1 can coconut milk (400 g)
1/2 cup water (depending on the consistency of the soup you are after)
Salt and pepper, to season
1 tbsp. palm sugar/brown sugar
Greens- broccoli florets, green beans, snow peas
Fresh herbs- Basil, Coriander, Chives
Red Chilli flakes, for garnish (optional)
Heat the Red Curry paste in a large saucepan till aromatic (about 1 minute). Add the corn kernels, coconut milk (reserving 3 tbsp. coconut milk for serving later) and water to the saucepan. Simmer on medium heat for 15 minutes, stirring at intervals till corn is slightly tender. Remove from heat. Season. With a stick blender (or in the food processor), blend the soup into a thick somewhat smooth consistency. (You could go with a finely blended soup or slightly coarse like the one above). Put it back on the heat, add the palm sugar and vegetables. Cook for 5 minutes or till vegetables are slightly tender. Ladle into serving bowls, spoon over reserved coconut milk. Garnish with herbs and a sprinkling of chilli flakes (if using). Serve warm