This has been one long winter. Now that it is in its last stretch, the wait is the hardest. The last always seems like the longest, coldest and darkest to me. The length of this wait, however is not as lasting, extended and painted as the dreams and plans I have for the upcoming Spring and Summer.  There will be fresh berries. Picking, eating and adorning my cakes. There will be the colours of Spring, spilling out everywhere. There will be picnics. Planned, impromptu ones (the ones you plan in your head, then do on an impulse). A mega dose of sunshine. And a good few extra hours to photograph.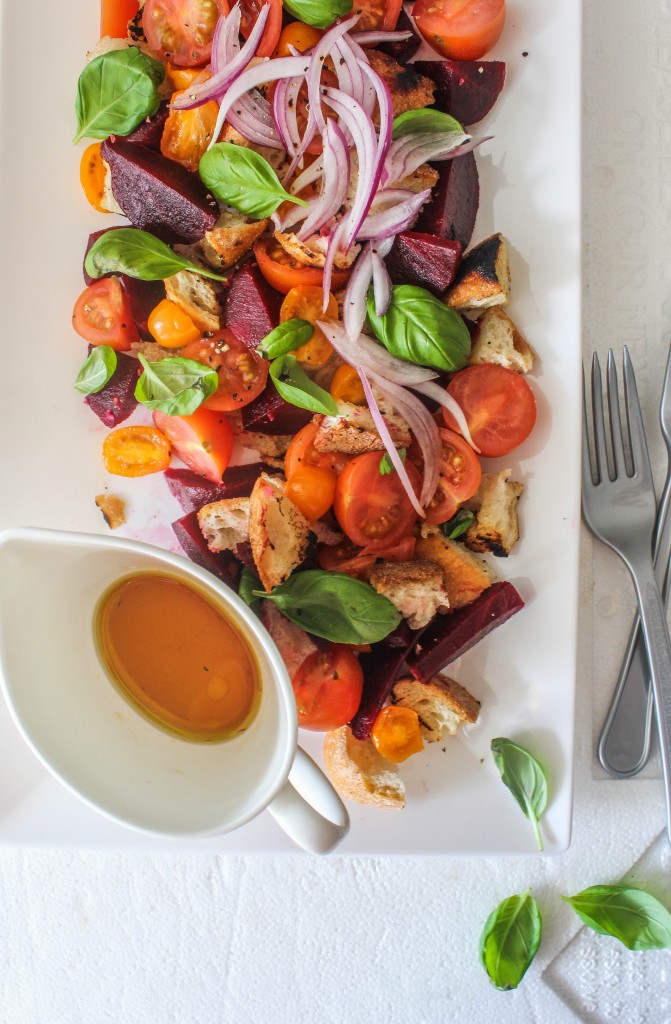 We are fortunate in Australia to have access to pretty much every fruit and vegetable, round the year. But I still tend to look at root vegetables as a winter thing particularly for their warming characteristics in food. Part of this stems from my growing up years in India when beetroot, radishes and good quality carrots were available only during the colder months. Beetroot is my favourite, which is apparent since this is the second recipe I am dedicating this season.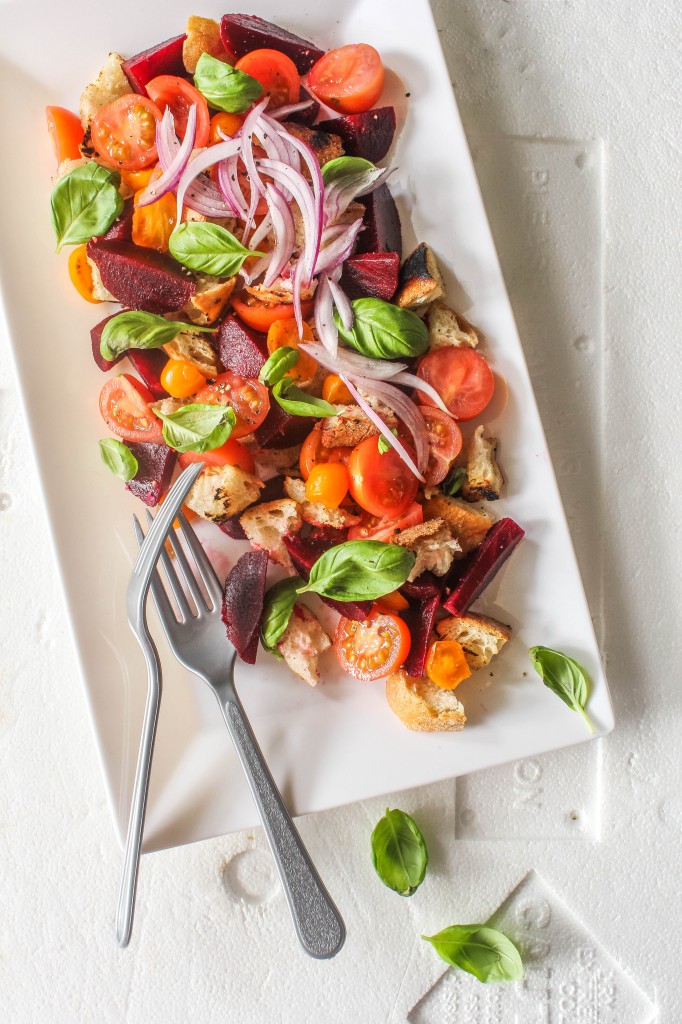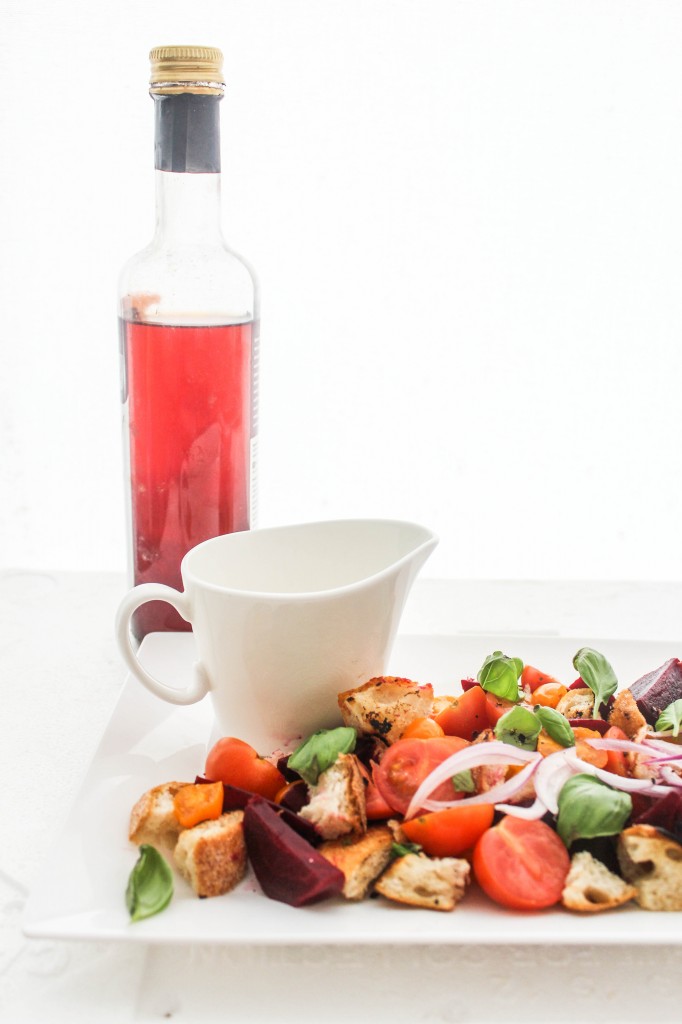 I have been making Panzanella even before I knew it was called Panzanella salad. Crusty bread, ripe tomatoes, leftover vegetables from the fridge, a good dose of extra virgin olive oil (I use a garlic infused one), a hint of vinegar and fresh basil from my garden, It is as simple as it sounds. This is one salad which is not only refreshing but can fill up your stomach while feeding your body with a whole lot of nutrition. The classic Panzanella is a celebration of juicy tomatoes, torn stale toasted bread that soaks up the tart vinaigrette and the fresh flavours of basil. More of a summertime salad. I am however happy to eat it and feed it to my pre-schoolers with the addition of sweet beetroot in winter. It provides a nice balance to the sharpness of the vinegar. It is important to use a crusty bread with body that does not become soggy in the salad. Olives, cucumber are added in some recipes. But basically, you can go ahead and make the recipe your own.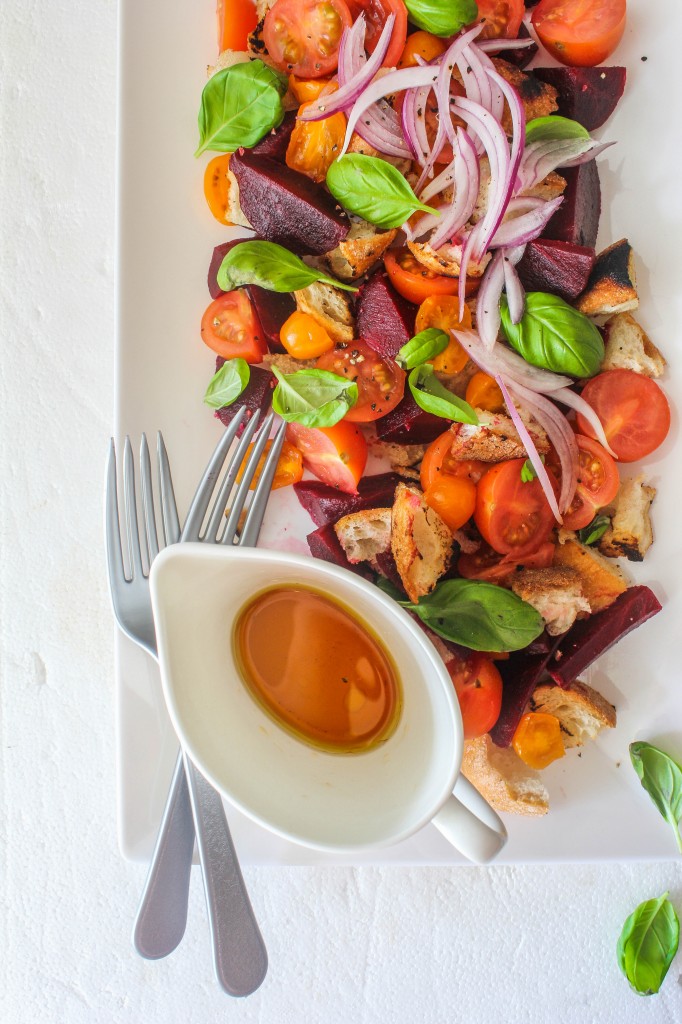 Beetroot Panzanella Salad
Serves 4
200 g (about 1/3rd a loaf) sliced Sourdough bread
2 tablespoons olive oil
250 g cherry tomatoes, halved
200 g yellow tomatoes, halved
200 g baby beetroot, peeled, cooked and quartered (I use the packaged ones from Coles, Australia. Canned will also do)
1/4 red onion, thinly sliced 2 tablespoons extra virgin olive oil (I use garlic infused extra virgin olive oil)
1 tablespoon red wine vinegar (or balsamic vinegar) 1
1 garlic clove, finely chopped (optional, not required if you are using the garlic infused variety of olive oil)
Salt & freshly ground pepper
Fresh basil, to scatter
Tear the sliced bread into rough pieces about 3-5cm in size. Heat 1 tbsp. olive oil in a large frying pan over a medium-high heat. Add half of the bread. Cook, tossing occasionally, for 4 minutes or until golden. Transfer to a large bowl. Repeat with the remaining olive oil and bread.
Place the tomatoes, beetroot, red onion and bread in a salad bowl or tray. Combine the extra virgin olive oil, red wine vinegar and garlic (if using). Add to the salad. Season with salt and pepper. Use clean hands to toss until well combined. Scatter with torn basil leaves to serve.